When Renaissance Theaterworks' production of "Cost Of Living" opens Friday, Jan. 20, it will set out to accomplish something never tried before in the history of Milwaukee theater: It will put on a play about disabled people, performed by disabled actors.
It sounds obvious in 2023 that playwright Martyna Majok would insist that her cast was diverse and actually disabled when playing disabled characters, but to the best of her knowledge, Marketing Director Sarah Kriger Hwang says this is a first.
And that's personally important to Kriger Hwang, who has been living with MS for 23 years.
"I ride a scooter, I have a service dog," says Hwang, who returned to the industry this winter. "So it's very apparent that I have a disability. I know what it's like to feel not seen, and there's something just beautiful about this play."
Kriger Hwang describes "Cost of Living" as a non-linear plot that emphasizes themes and relationships over the stories of its characters' disabilities. The two main characters, unemployed truck driver Eddie (played by Bryant Bentley) and his estranged wife Ani (Regan Linton), each have relationships with someone else who is in their lives to help them.
"It's really about what brings people together," says Kriger Hwang. "It's about the costs of living with a disability and the challenges of living with a disability, but it's also a love story about how we all meet each other."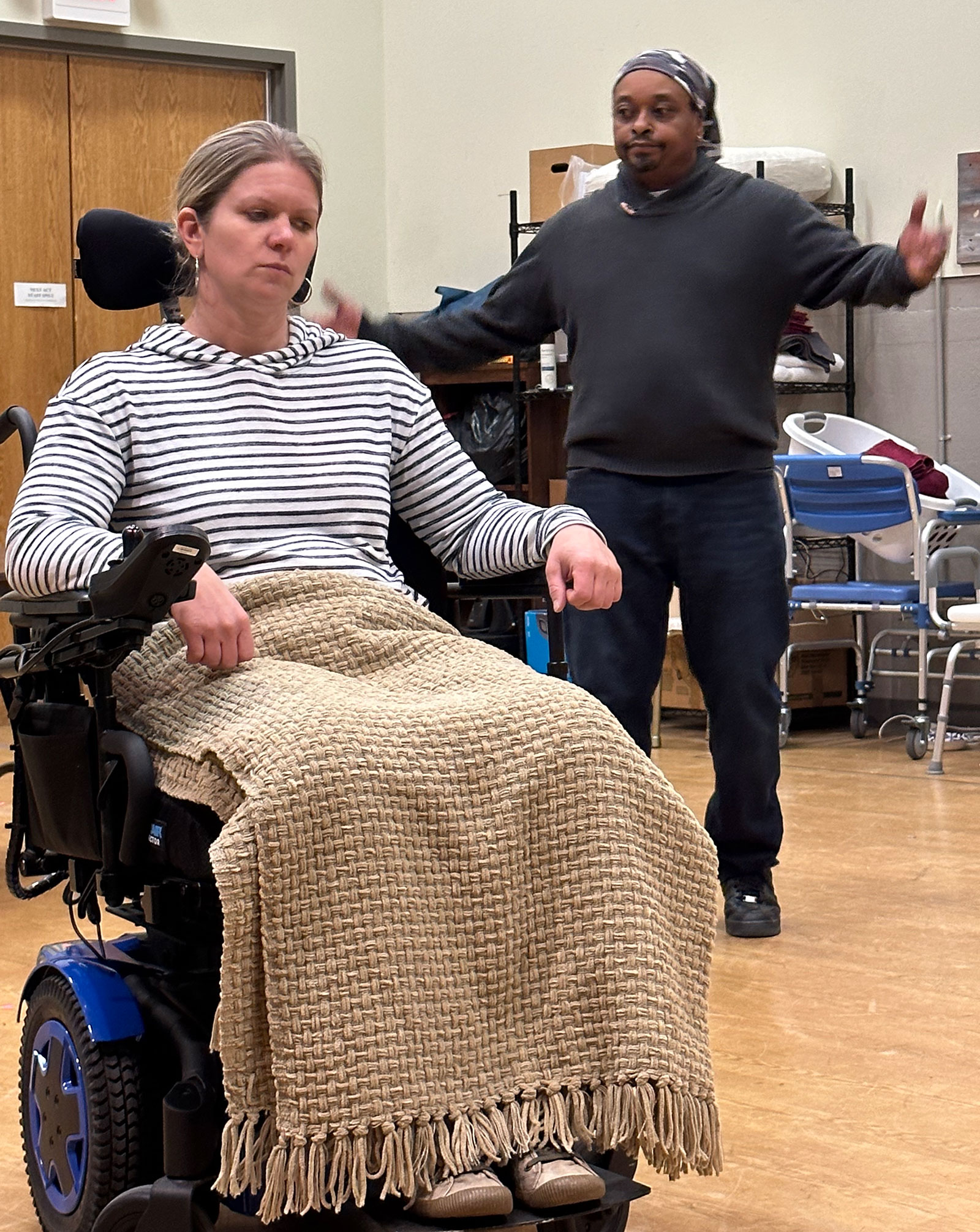 Winner of the 2018 Pulitzer Prize for Drama, Kriger Hwang calls "Cost of Living" both a tearjerker and funny story – "the universal themes of relationships and being there for people, everyone can relate to that."
According to Director Ben Ranaan, "For me, (this play) is about hope. It's about four people who are at the end of their rope making one last sincere connection with another human being."
In other words, this is a play for everybody, not just the disabled.
Still, Kriger Hwang says, "We are definitely trying to reach out to the disabled community because they don't get to see themselves being represented on stage like so many people do when they go to the theater."
That means Renaissance Theaterworks has made alterations to Next Act Theatre, 255 S. Water St., to the seating area on lobby for accessibility. Typically, says Kriger Hwang, a theater will offer two to four accessible seats, but this run will have nine, and visitors in wheelchairs can enter through the front door without having to climb stairs.
For Kriger Hwang, who is actually an understudy for the play, she's ready to lean into this challenge and has collaborated with other groups to execute a logistically-challenging performance. The play's director, for example, is also the artistic director with the Phamaly Theater Company in Denver, which performs all its plays with disabled actors. And Renaissance has partnered with Pink Umbrella Theater Company, a local group that offers opportunities for people with disabilities.
"Cost of Living" runs from Jan. 20 through Feb. 12, with 22 shows increasing in frequency on Wednesdays-Sundays. Tickets are available at r-t-w.com.
Andy is the president, publisher and founder of OnMilwaukee. He returned to Milwaukee in 1996 after living on the East Coast for nine years, where he wrote for The Dallas Morning News Washington Bureau and worked in the White House Office of Communications. He was also Associate Editor of The GW Hatchet, his college newspaper at The George Washington University.
Before launching OnMilwaukee.com in 1998 at age 23, he worked in public relations for two Milwaukee firms, most of the time daydreaming about starting his own publication.
Hobbies include running when he finds the time, fixing the rust on his '75 MGB, mowing the lawn at his cottage in the Northwoods, and making an annual pilgrimage to Phoenix for Brewers Spring Training.