The County Parks headquarters, 9508 W. Watertown Plank Rd., sits alone atop high ground on the Milwaukee County Grounds overlooking Watertown Plank Road, a not especially expressionistic cream city brick structure that is full of history that it embraces quietly.
The gabled structure, built in 1898, was once the administration building of the Milwaukee County Home for Dependent Children, the heartbeat of a multi-building complex once interconnected by artery-like tunnels, that is now entirely demolished, except for this lone survivor.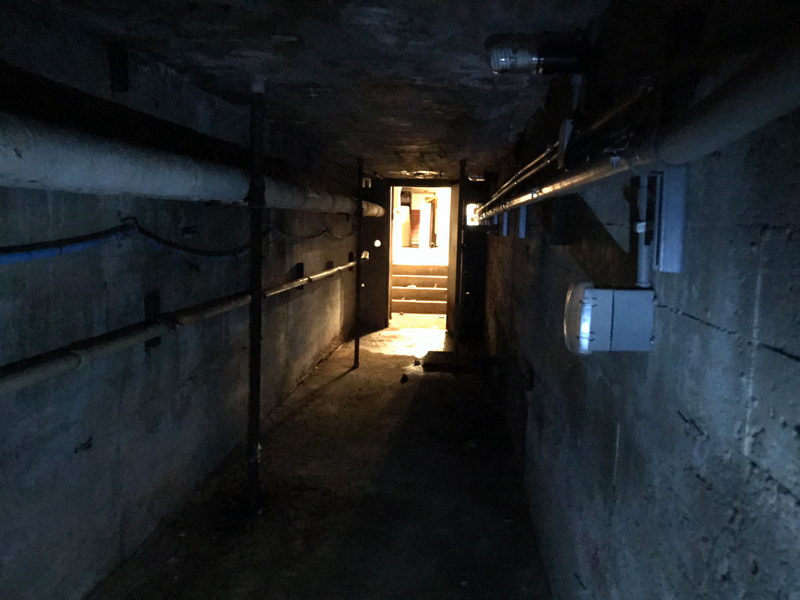 Though some sources say the three-story building was the work of architect R.A. Messmer, a pair of panels in the foyer names Edward Townsend Mix partner Walter Holbrook as the designer.
Since it looks a fair bit like a 19th century schoolhouse, including Holbrook's Trowbridge Street School in Bay View – and his name's on the plaque – I'm going with him.
Because the building – which is on the National Register of Historic Places – was never home to the "inmates" of the orphanage, but served as office space and dormitories for staff, the feel of the space may not be much different today (though none of the employees actually lives there, to the best of my knowledge).
Inside the lobby is a grand wooden reception desk that occupies the space beneath an impressive pine staircase, stained dark brown, with turned balusters.
Transom windows survive above the doors, maintaining the vintage feel of the space and another, more modest staircase at the back has classic wainscoting and a banister of imposing heft and patina.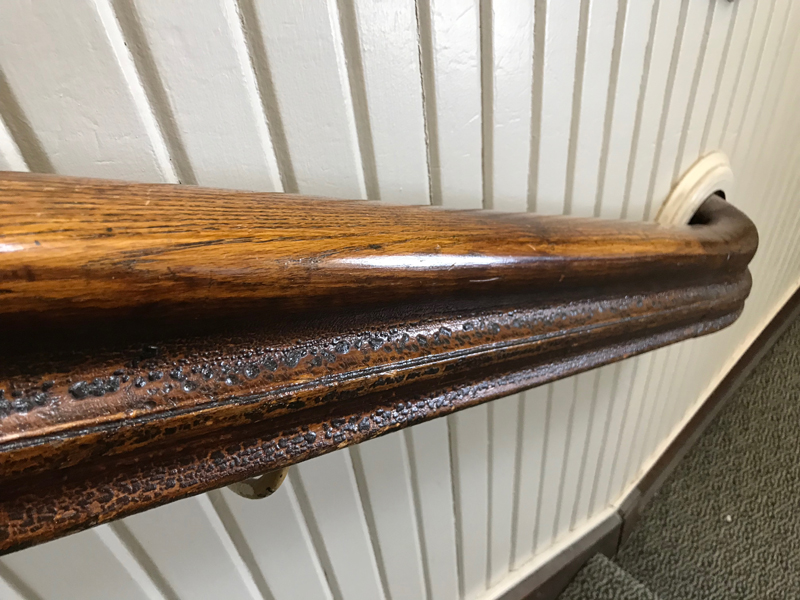 On the third floor, the former hall has some decorative details and a raised stage area still occupies the area directly behind those five windows that you can see on the gable as you pass by outside.
In the lower level the former dining room is easy to spot as the iron posts and tiled floor that can be seen in vintage photographs are still there.
There's also still a short section of one of the tunnels that joined the building to the boys and girls dorms, which flanked the admin building.
In the basement, the County Parks have stored all sorts of wondrous items, including landscape plans and architectural drawings for all the parks, the County Zoo and the Domes.
There are park signs and a quirky diorama down there, as well as scrapbooks of the construction on the zoo, books full of newspaper clippings, maps and more. It's a real trove for anyone researching the parks.
A little history
The Milwaukee County Grounds, which are, of course, a mix of both open space and expansive development, were originally a farm owned by the Gregg family, which sold 160 acres of land, as well as a farmhouse and agricultural structures, to Milwaukee County in 1852.
The County opened a "poor farm" on the site, as well as a combined school and orphanage, which operated until 1876, at which point a change in state law meant that orphans were cared for in private orphanages. Until 1892, that is, when a new temporary orphanage was built on the grounds.
A permanent Home for Dependent Children was built in 1898, and soon the 160 acres housed the Milwaukee County Hospital, the School of Agriculture, Muirdale and Blue Mound Sanitoriums, the Asylum for the Mentally Diseased and other public welfare institutions.
At the same time, some of the land was used for cemeteries, while other areas were still being planted with crops.
Who lived at the home?
There were children of poor families that couldn't afford to care for them, there were delinquent children (at least for a time), there were children whose parents were incarcerated, there were orphans.
According to a preservation report prepared for the National Parks Service:
"Reasons for admittance of the children varied, but the following justifications, applying to one or both parents, are described in the Annual Reports of the home: deceased, ill, in State Prison or House of Correction, cannot provide care, abandoned children, deserted family, drinks, immoral, insane, cruel to children, neglects children or cannot give proper care. The Children's Home was intended to be a temporary home. Children were returned to their parents once an appropriate home environment could be established. If the children could not be returned to their parents, foster homes or indentured homes were found."
The number of children living in the home varied over the years. Early on there were often fewer than 60 a day. But by 1905 the average was 136 a day (and they remained an average of 13 months) and in 1915, that number was 297 (but they didn't stay as long, only 8.4 months on average).
By the time the Depression his, the number ballooned to 471 children daily in 1930 (staying an average of a little more than a year) and 555 the following year.
By 1934, the average stay had shot up to two years.
That report also details the many uses of the administration building:
"The Administration Building contained all the necessary rooms for a functioning children's home. ... The basement was used for a laundry, a children's dining room, kitchen preparation areas and washrooms. The large open spaces allowed for the serving of a number of children. The main floor contained all offices, a kitchen, a sewing room, faculty dining room and a reception area. Faculty living quarters were found on the second floor, and the third was used for storage and auditorium space."
The facility closed in 1982 and children in need were served by other, smaller facilities. The school was run by the Wauwatosa School District and the other buildings were used for storage, if at all. The dorms, and later the school, were all demolished.
County Parks
Despite its heavy history as a place surely of sorrow for countless children, the building now has a lively atmosphere, with parks planners, designers, architects, accountants and other administrators going about their daily work.
"It's a great building, a lot of history to work in," says Ian Everett, who is the marketing manager for the parks.
"There's a real treasure trove of stuff downstairs. We have here most of our administrative departments. We have the marketing team. We have finance. We have a public services team that helps book picnic shelters and pavilions. We have a recreation team. We have park security team. The park rangers are headquartered here. Then we have some of the park operations staff. The regional managers have their offices here. There's a lot that goes on in this building on a day to day basis."
Though I rarely am convinced by stories I hear of haunted buildings, when I read that 30 children died in the home in the first year alone, I figure if anyplace in Milwaukee is filled with swirling karma it would surely be this one.
"It's nothing I've experienced but colleagues have stores, especially when they're here after normal hours or early in the morning or weekends and they're on their own," says Everett. "It's a very different vibe in this building and some of them have stories.
"They've had children running down the corridor or even people whispering things to them in their ear and they turn around and there's no one there. There have been staff that have said they can hear children laughing. Just last week one of our staff was in here early. He was in the kitchen and someone said "good morning" to him, and he turned around and there was no one there."
Up in the old auditorium, a staffer was going about her work and we asked if she's heard the stories.
"Oh, yes, I've heard about it," she said. "I'm up here all the time by myself."
And?
"I don't believe it."
Everett adds, "There's a joke that when you go by on the expressway, getting off on that Watertown Plank Road, you can look in the attic window and wave to the ghosts as they're there in the evenings. Because we have the great uplighting of the building so at night it looks pretty spooky. But next time you're driving by at night, just take a peek at the attic window and see what's up there.
"But we have a lot of people here that have worked here for decades. Obviously, the ghost activity is not enough to scare them off."
Born in Brooklyn, N.Y., where he lived until he was 17, Bobby received his BA-Mass Communications from UWM in 1989 and has lived in Walker's Point, Bay View, Enderis Park, South Milwaukee and on the East Side.
He has published three non-fiction books in Italy – including one about an event in Milwaukee history, which was published in the U.S. in autumn 2010. Four more books, all about Milwaukee, have been published by The History Press.
With his most recent band, The Yell Leaders, Bobby released four LPs and had a songs featured in episodes of TV's "Party of Five" and "Dawson's Creek," and films in Japan, South America and the U.S. The Yell Leaders were named the best unsigned band in their region by VH-1 as part of its Rock Across America 1998 Tour. Most recently, the band contributed tracks to a UK vinyl/CD tribute to the Redskins and collaborated on a track with Italian novelist Enrico Remmert.
He's produced three installments of the "OMCD" series of local music compilations for OnMilwaukee.com and in 2007 produced a CD of Italian music and poetry.
In 2005, he was awarded the City of Asti's (Italy) Journalism Prize for his work focusing on that area. He has also won awards from the Milwaukee Press Club.
He can be heard weekly on 88Nine Radio Milwaukee talking about his "Urban Spelunking" series of stories.