In these pandemic times, Leah and Jim Zaffiro log a lot of hours sitting at their dining room table, working. In September, the Washington Heights couple – who will celebrate 30 years of marriage in 2021 – decided to invigorate their daily routine with fresh air and exercise. Whereas some might simply stroll around the neighborhood or head for the lake, the Zaffiros made a very specific, ambitious plan: they would visit all of the Milwaukee County Parks before hardcore winter set in.
"Jim is a planner – he makes lists and spreadsheets for everything – so once we decided to do this, he put together a spreadsheet alphabetizing all of the parks," says Leah.
The Zaffiros "kind of" followed the list, but sometimes went to parks out of the alphabetized order if it made logical geographical sense. They decided on very few rules for their park visits, just that they needed to spend time and get some steps in at all of them, regardless of size. (This included Atkinson Triangle on 18th Street and Atkinson Avenue which is just over an acre.)
"All of the parks are so different, so our experience at each park was different, too," says Jim. "One of the parks is a boat launch – a really nice boat launch – but still, there's only so much you can do at a boat launch."
The couple documented their park-ventures on Facebook with a map, description of the amenities and photos of every green space they visited. They made their final post on Sunday, Nov. 29 when they completed their mission at Washington Park just two months after they started toward their goal.
"We actually found an extra park that was not on the Milwaukee County website or app so we get to say we've now visited 158 out of 157 County Parks," says Leah.
The "extra" park, which does not appear on the County Parks' website or app, is located in Franklin on Oakwood Road.
The Zaffiros usually visited the parks after work, but this got tricky after turning the clocks back and darkness fell before 5 p.m. every night. Within the last week, Leah and Jim say they went to 25 parks to squeeze them in before the snow started to fly. Plus, it was a holiday week so they had extra time off from their jobs.
Some of the parks the couple had been to before, so they challenged themselves to find a section of the park they had not yet explored.
"We had been to Kletzsch Park and driven by the waterfall before many times, but never got out and walked around it and checked it out," says Jim. "So we did."
The couple learned a lot about the park system, including how they are funded (hi, volunteer fundraisers!) and the broad scope of recreational activities that are available.
"We tend to think of parks as places to walk, maybe play softball or soccer, but we were impressed and surprised to find people doing all sorts of activities: fishing, horseshoes, cricket, lawn bowling – among others," says Jim.
Most of all, the Zaffiros took away from the experience how important parks are to people, especially now during a whirlwind of politics and the pandemic. During their walks they saw people picking up garbage, chalking inspirational messages on the pavement and "planting" silk flowers into empty containers.
"People take ownership of their parks. There's a sense of 'this is our park and we want it to be nice.' We all have 'our' park," says Leah, who grew up going to Smith Park with her mom; and Jim's childhood park was LaFollette in West Allis.
The Zaffiros experienced one unfortunate experience during their 158 park tour. When they walked into Wahl Park on 48th and Hampton Ave., they encountered a dead body in a car. They called 911 and spent over an hour talking to the police.
After the unsettling experience, the couple went home instead of walking through the park as planned, but after a few days decided they had to go back, not only to be able to cross it off their list, but to create a better memory.
"I felt anxious going back. But once we got there, we were taken with how beautiful the park is," says Leah. "And then we noticed a couple decorating their house on the south end of the park with a 'peace on earth' sign. We saw this as a symbol of hope. I needed that."
Now that they are officially finished with the list, the Zaffiros look forward to going back and spending more time at some of their new favorites, like Cambridge Woods Park near the University of Wisconsin-Milwaukee and the South Side's recently renovated Pulaski Park.
And the experience led them to a life-changing experience: they decided to adopt a dog. This week, the Zaffiros will welcome a 3-year-old Lab mix into their family.
"We know a dog will motivate us to keep walking as a family," says Leah. "We're really looking forward to this."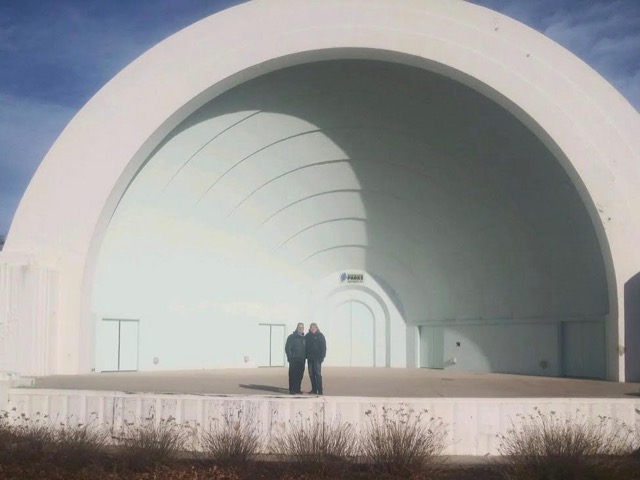 Molly Snyder started writing and publishing her work at the age 10, when her community newspaper printed her poem, "The Unicorn." Since then, she's expanded beyond the subject of mythical creatures and written in many different mediums but, nearest and dearest to her heart, thousands of articles for OnMilwaukee.

Molly is a regular contributor to FOX6 News and numerous radio stations as well as the co-host of "Dandelions: A Podcast For Women." She's received five Milwaukee Press Club Awards, served as the Pfister Narrator and is the Wisconsin State Fair's Celebrity Cream Puff Eating Champion of 2019.