The coronavirus pandemic has changed our everyday life, but it doesn't need to change who we are. So, in addition to our ongoing coverage of the coronavirus, OnMilwaukee will continue to report on cool, fun, inspiring and strange stories from our city and beyond. Stay safe, stay healthy, stay informed and stay joyful. We're all in this together. #InThisTogetherMKE
Ever wish you could have brunch on a Wednesday afternoon? Or how about a Friday fish fry on a Saturday?
Well, you can do that now thanks to the crafty folks at Crafty Cow.
The restaurant -- known for its stuffed burgers -- has launched three new virtual pop-up restaurant menus available for carry-out or delivery at Crafty Cow locations in Bay View (2675 S. Kinnickinnic Ave.) and Oconomowoc (153 E. Wisconsin Ave.).
The pop-ups, which debuted last Friday, feature three new menus: Brunch and Chill, Fish and Chip and Curb Your Infusiasm. Dishes from all three menus will be available Wednesday through Sunday from 11 a.m. to 8 p.m. for curbside pick-up and delivery.
The Brunch and Chill menu, which features brunch fare as well as Bloody Marys in howlers or growlers ($11 or $20 respectively, garnish included) will be available at both the Oconomowoc and Milwaukee locations.
Featured dishes include chicken and waffles ($12); brunch poutine with tater tots, cheese curds, buttermilk biscuits, fried eggs and sausage gravy ($11); the Denver omelette burger featuring a burger stuffed with pepperjack cheese and topped with American cheese, poblano pepper medley, fire smoked ham, a fried egg and hot sauce hollandaise and served on a doughnut bun (pictured above $12); and the BBQ brisket burrito stuffed with mac & cheese, beer brisket, pimento, bourbon bacon, crispy Brussels sprouts, BBQ and white BBQ sauces ($13).
Meanwhile, the Fish and Chip menu features a fish fry plate featuring three pieces of beer-battered cod, fries, coleslaw, housemade tartar and lemon ($14); a cod sandwich ($10)and a Nashville hot fish sandwich featuring beer-battered cod tossed in Nashville hot sauce, topped with slaw and chipotle aioli ($11).
Curb Your Infusiasm – a Milwaukee exclusive – will feature a selection of fusion-style dishes inspired by the cuisines of Asia, Mexico and more.
Dishes include Nashville hot lumpia, a collaboration with Lumpia City food truck featuring macaroni and cheese and Nashville hot chicken rolled together in a crispy Filipino-style spring roll ($9); a pulled bacon banh mi with cucumber, pickled onion, pineapple and apple pico, cilantro and Korean BBQ sauce on a baguette style roll ($12); and the ramen burrito featuring a flour tortilla filled with all the flavors you love in a bowl of ramen ($15).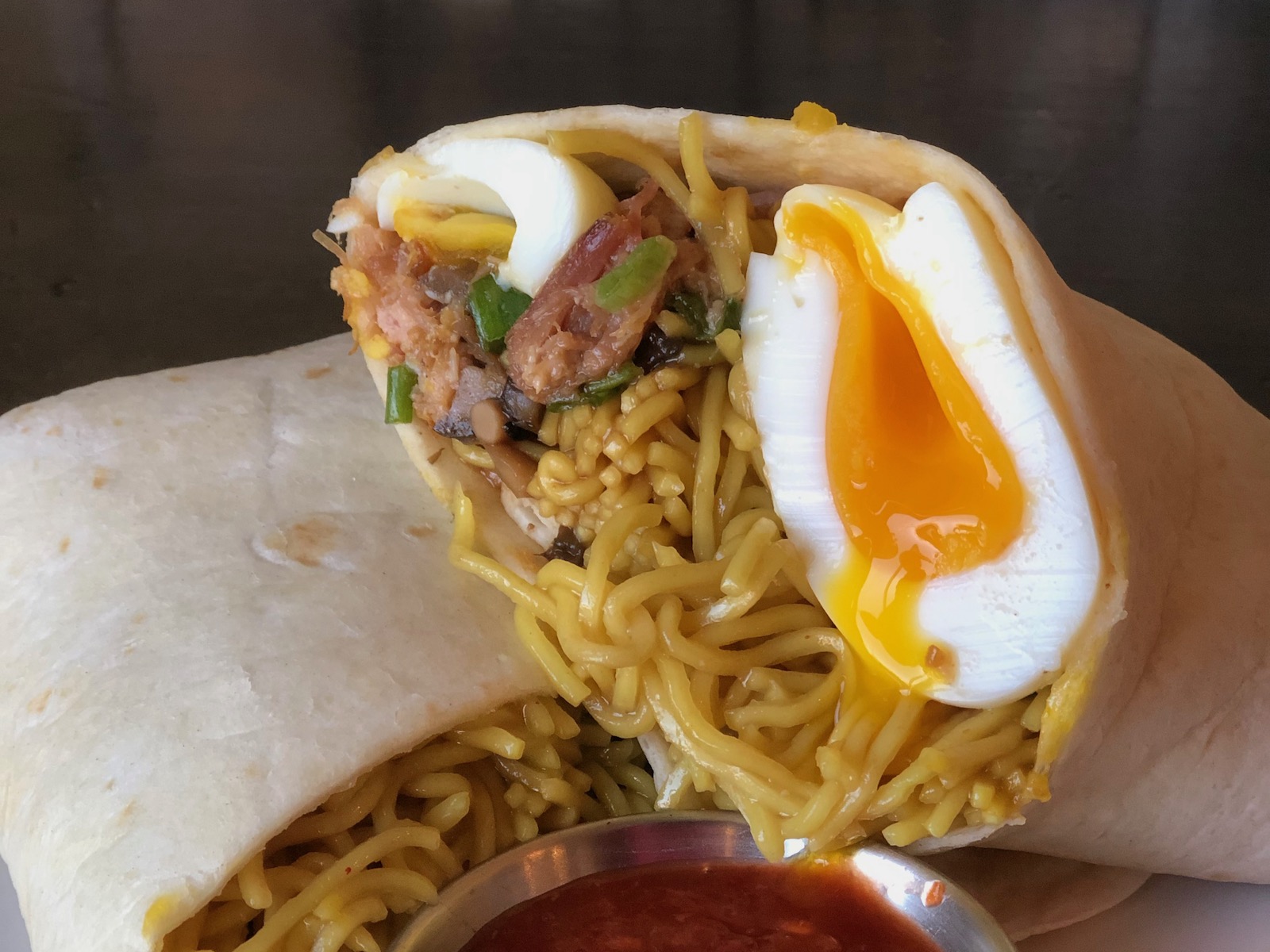 In addition to the pop-up menus, Crafty Cow locations will also offer restaurant favorites including signature burgers, fried chicken plates and a variety of side dishes including tater tots, fried green tomatoes and deep-fried cheese curds.
How to order
Head to the Crafty Cow website to view the menus. Choose your location and click on "Order Online" to view and place your order on the ChowNow platform. Scroll down for pop-up menus. Please note that pop-up menus and promotions are not available on Grubhub or UberEATS.
When you place your order online with ChowNow, use promo code CRAFTY10 and you'll receive a 10% discount (good through the duration of the pop-ups)
You can also call in your order to the Crafty Cow location nearest you.
Lori Fredrich (Lo) is an eater, writer, wonderer, bon vivante, traveler, cook, gardener and girlwonder. Born and raised in the Milwaukee area, she has tried to leave many times, but seems to be drawn to this quirky city that smells of beer and alewives.
Some might say that she is a little obsessed with food. Lo would say she is A LOT obsessed with food. After all, she has been cooking, eating and enjoying food for decades and has no plans to retire anytime soon.
Lo's recipes and writing have been featured in a variety of publications including GO: Airtran Inflight Magazine, Cheese Connoisseur, Cooking Light, Edible Milwaukee, Milwaukee Magazine and the Milwaukee Journal Sentinel, as well as on the blog Go Bold with Butter, the web site Wisconsin Cheese Talk, and in the quarterly online magazine Grate. Pair. Share.