Little reminders of Sunday night's protest remain on Center Street. A cardboard sign leans on a bus stop bench sign and reads "I can't breathe." Further down the street past a liquor store sits the Cream City Hostel, the name spelled out in clear black font underneath four lights. Like its name states, it's made up of cream-colored brick with ornate flourishes from its days as a bank. It's almost a year old. Before COVID-19, Carolyn Weber, one of the hostel's three owners, says that they were planning on having a band concert in the backyard to celebrate.
"This time last year, we were still putting up ceilings," Weber says, laughing as she eats some chocolate cake made by one of the guests.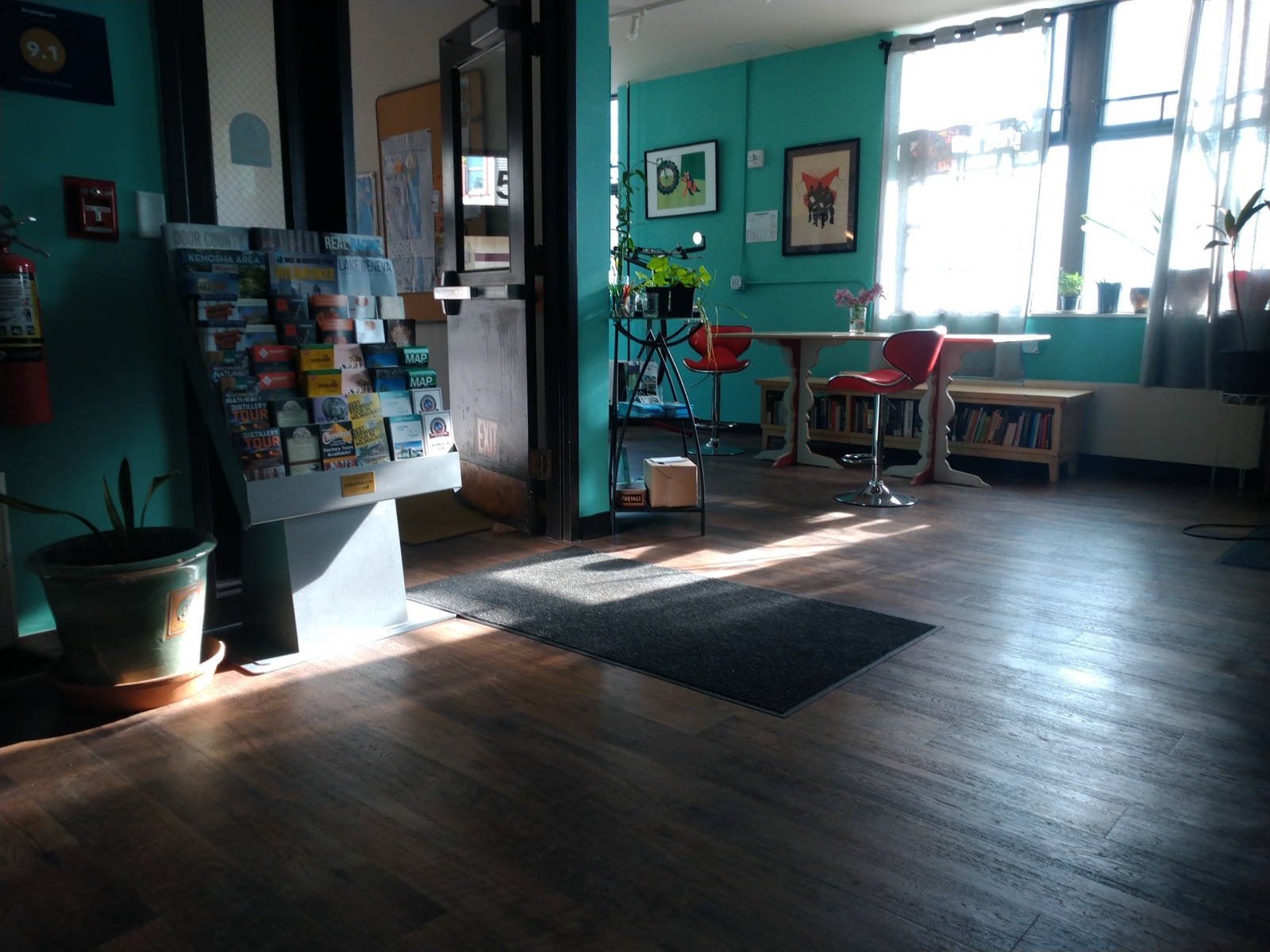 We're in the lobby, a very green room, with teal walls and tropical-looking plants on shelves next to puzzles and brochures for guests. Her short straight blonde hair is wrapped up in a ponytail. Her hands are still covered in grease after coming from her other job fixing bikes at DreamBikes. As a college graduate from UWM during the Great Recession, she worked as a rickshaw driver. Around this period in her life, she traveled and spent time in hostels in San Francisco, among other places, originally spurring her interest in starting her own hostel.
However, the project wasn't hers alone. In addition to fellow owners Wendy Mesich, many investors from across Riverwest supported the project. Weber is quick to point out how incredible this is with so many investors helping to support the community "because they believe in the spirit of traveling."
"People think it's scary, and there's a lot of negativity around hostels in the U.S.," she says. "A big part of what our mission has been, is to expose hostel living to the community."
Before the pandemic, the hostel hosted a variety of events like ramen nights and pancake socials open to both the public and the guests. Weber says the events were so successful that people around the community are still asking when the next one is scheduled. She and past employee Tea Krulos reminisce about one event in particular. It was hosted by an international guest, Carol, from Brazil.
"Brazilians sure can party," Weber says. Krulos wrote in an email that, "I have a fond memory of it as the last public party I attended (before COVID-19), and it was really what the hostel is all about – sharing food, culture and good company. Carol moved on to Colorado, but she knows she always has a home here in Milwaukee."
One of the guests comes in: a shorter man with long dark brown hair. He dumps his laundry into one of the washing machines. Weber throws a couple of words his way. She tells him that one of the washing machines isn't working, and he might have a new roommate tonight. He doesn't seem too pleased by the latter. Dealing with personalities and keeping them busy during lockdown has been one of Weber's main challenges in the six weeks.
"I mean think about it: Do roommates all get along?" she asks.
"No," I respond.
"Now amplify that with ten strangers," Weber says.
Most of the time, this isn't much of an issue; guests normally have a 14-day limit on their stay. But the virus has forced the hostel to consider guests for the long term. Weber is planning on converting some of the dorm styled rooms into private ones. She stresses that at this moment, hostels must be flexible, shifting from favoring long term stays to short term stays with the ebb and flow of the virus. But even with these concessions, Cream City Hostel, like most businesses, is struggling. It's having difficulties paying operation costs much less rent, and of course, no one's getting paid.
Despite the staff being let go, many of the employees still try to help. Krulos writes blog posts for the hostel's website, and Jess Poisl, another employee, has been making masks sold on the website. "I'm grateful to be in a very stable financial situation, so I was able to shift into being laid off and not having to worry too much about an income," says Poisl, a graphic designer by trade. She says she's "a bit of a craft hoarder" and has been "pretty much been rocking on masks when orders come in." Both Krulos and Poisl praised the owners and their efforts to communicate and help their employees, and hope they can return someday.
The hostel shut down on March 1, a week before the official Wisconsin lockdown. Staff was paid two paychecks after the closure, but after that, there wasn't enough money. Weber says they've received a Federal Paycheck Protection Program (PPP) loan. But, she says, "hospitality needs funds later," because even if it can rehire staff, there's not enough business for them to handle.
"This whole summer was predicted to be an awesome summer in Milwaukee; we were working with Harley-Davidson to provide housing for 20 international workers," Weber says. "It's like, what's the point somedays if we don't know if we're still going to be open. We had about 95 percent of our reservations cancel."
Cream City Hostel reopened on April 30, but of course, guests who had nowhere else to go had to stay at the hostel. During the lockdown, Weber says, laughing, "Everyone chipped in ... well, for the most part, we would make meals together and eat it together, play games together." However, after three weeks, guests started to get a little less friendly. She says that's expected, especially during the unprecedented nature of the past couple of months.
"There are really good moments sometimes, and there are days you don't like each other and some that you do," Weber says.
About twenty percent of residents tend to be from abroad, and about eighty percent are from the Midwest, Weber says. The hostel attracts people from all walks of life: trade workers, young solo travelers, retirees, veterans and more.
"I recall one guest that stayed with us last summer who said they specifically came to Milwaukee because there was finally a hostel to stay in," says Poisl.
Some guests, Weber says, stay at the hostel and end up moving to Milwaukee because they grew to love the city during their trip. "I know people who are still in touch with each other after meeting here last summer," she adds.
After checking in a guest, staying for a couple of nights after a breakup, she gives me a tour. Everything looks immaculate, and with the virus, Weber tells me all the surfaces are being wiped as best they can. It's filled top to bottom with new furniture, blazingly white tiled bathrooms, with chrome appliances everywhere. Every dorm room has a laminated poster on it with a different Milwaukee neighborhood. Behind the building, the hostel owns a large backyard. It was a bank previously as well as a school, with sturdy, rusted and worn playground equipment still strewn about the backyard. A fire pit sits further away from the stoop, a small hill blocking it from view.
Guests in the basement talk and recline on sofas and at tables under warm lamplight. A veteran staying at the hostel for a surgery leans forward in his chair talking to another, a day trader from Mississippi intently watching his stocks on his laptop. They're busy making comparisons between poker and the stock market. "Poker is sort of like life," says the veteran. Another two guests talk over a meal by the kitchen. As I'm led back up the stairs, Weber tells me about a guest, Pam. For Pam and her son, their housing has been uncertain for a while now, and with increased rates of evictions possibly on the horizon, they won't be alone. Weber says that Pam told her recently that it was at the hostel for the first time in months her son was able to fall asleep for the whole night.
Cream City Hostel reopened April 30, and at time of writing, it still has vacancies. On June 14, they plan on hosting a bike drive-in associated with DreamBikes. It will hopefully be catered, offering curbside tacos. For information on reservations or rates, go to creamcityhostel.com.