Back when I was in a Milwaukee band, I thought we were pretty good at self publicity – hanging posters, doing radio interviews, bugging Dave Luhrssen for an article in the local press.
But I had no idea what a member of Brew City's Creme Soda, a 1970s quartet with folk and psychedelic leanings, did to get the word out about its two self-released records.
The band put out a single called "(I'm" Chewing Gum)" and a much sought-after full-length LP called "Tricky Zingers," which had 12 tunes that featured classic rock chord progressions, noodly guitar bits, breezy almost pop tunes and swirly psychedelic moments, too.
Frontman Billy Tanon was really willing to go out on a limb to spread the word about Creme Soda, which also included drummer Art Hicks, bassist Jim Wilson and guitarist Ronald Juntunen.
Well, not a limb exactly.
First, in 1974, the 24-year-old Tanon, whose real name was Billy Klein, climbed out onto a fifth floor ledge of the Mitchell Building, 207 E. Michigan St., with a megaphone to shout about Creme Soda. He was there for several hours before the cops came.
Then, in May 1976 Billy cooked up a new plan to promote "Tricky Zingers."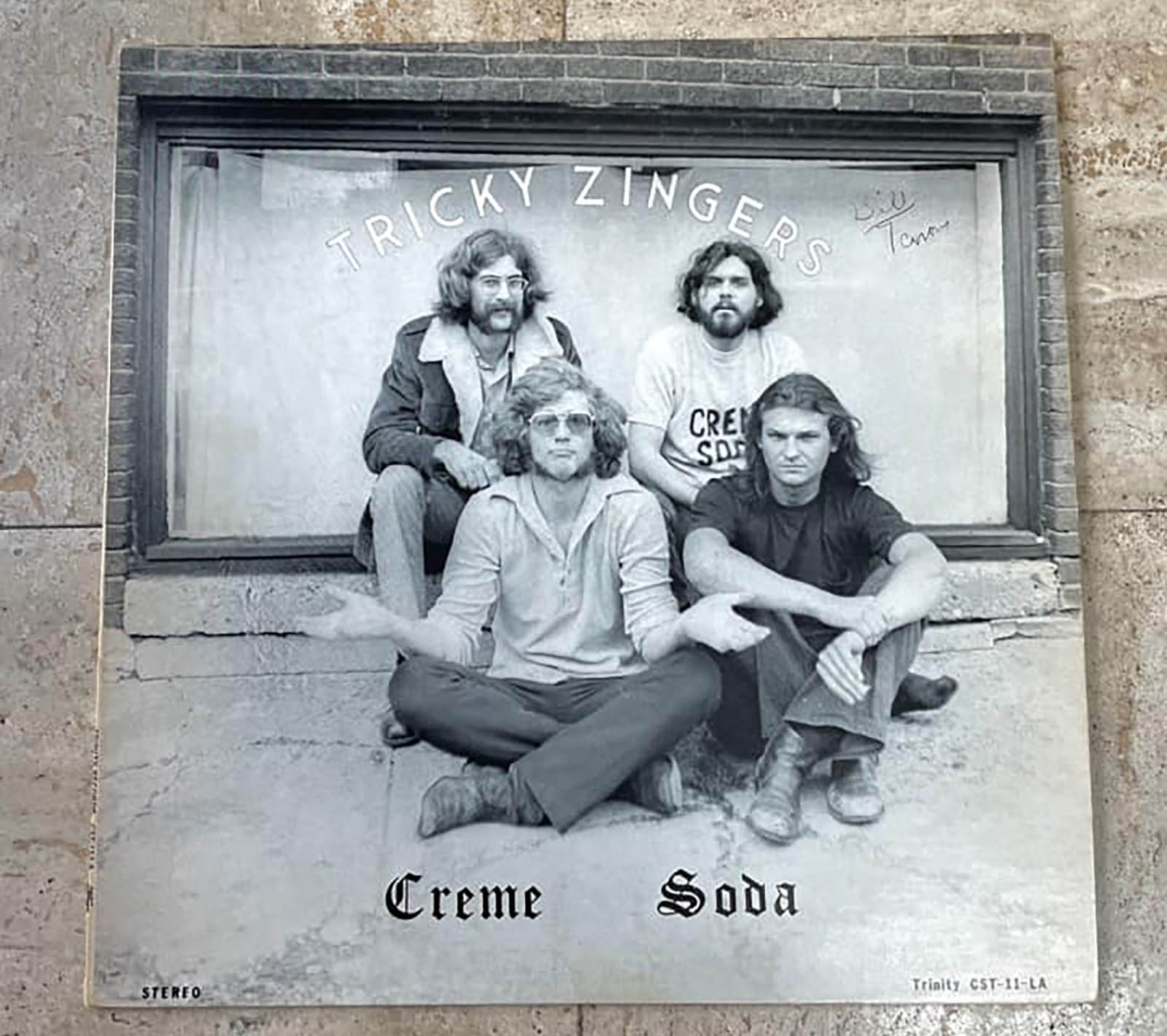 The guitarist and singer and his Glendale roommate Tom Marcellis went to the Hoan Bridge and hooked up a swing with 30-foot chains and attached a bedsheet touting the new record to the structure.
Then Klein lowered himself into the swing using mountain climbing gear, at which point Marcellis split to call local radio stations altering them to the stunt, which Marcellis told the Journal was aimed at, "getting some radio play" for "Tricky Zingers," in hopes of boosting sagging sales in the face of local radio indifference.
According to the newspaper's Stephen Wiest, "the product of Klein's now defunct Creme Soda band and recording studio was released several months ago, (and) all his hopes were hung on it. He wrote letters to newspaper reviewers and dropped off copies of the album at local radio stations, but the amateurish production was never player or mentioned once by the media."
While Klein's musical hopes hung on radio play, his body hung on a swing above Lake Michigan.
As the wind shifted and kicked up, Klein slipped off his dangling perch and began a roughly 70-foot plunge to the inner harbor below.
According to Wiest – himself a musician; a local blues harmonica player nicknamed Chicago Steve who was in the band Bullfrog and even recorded in Jamaica – "after part of his tackle gave way, he spun upside down in the wind for several minutes and finally fell into the 38-degree water below, where he was rescued by a passing cabin cruiser."
Klein's dyed green long underwear, yellow T-shirt emblazoned with "I like Creme Soda," and red, white and blue cape were drenched.
Klein recalled that he'd gotten dizzy after having been spinning in the air, but managed to see the boat below.
"I yelled down to them that I was going to fall, but I knew they didn't quite hear me," he told Wiest. "I figured they'd see me falling and get the idea."
The 26-year-old captain of the Sunrise, Donald Beilfuss, did figure it out and fished Klein out of the water in about 10 minutes.
The Coast Guard nabbed him aboard the Sunrise and ferried him to a waiting police ambulance, which took Klein to St. Luke's Hospital, where despite a back injury he was deemed to be in satisfactory condition.
The district attorney, it was noted, wanted to meet with Klein upon his release from the hospital.
All this for a band that had broken up the summer before ... why?!
"That was pretty much our attitude," drummer Hicks recalls. "I heard about the bridge stunt from a mutual friend who Bill had dispatched to alert the media (Tom Marcellis).
"Bill's approach to the music industry was unconventional to say the least."
We don't know why he did it, of course – Hicks hasn't communicated with Klein since the band's 1975 demise – but Klein told the reporter, "All my survival instincts kept telling me I was crazy, but it was just something I had to do."
Perhaps Klein was an inspiration for WQFM DJ Tim "The Rock and Roll Animal" U'ren, who sat on a ledge of the Wisconsin Tower outside the station's offices for nearly 15 days in September 1982 until The Who agreed to add a Milwaukee date to its upcoming tour.
While the stunt got Klein into the newspapers it apparently did nothing for sales of "Tricky Zingers."
According to record dealer Andy Noble, who owns We Buy Records, and who found a copy of the record and the Journal news report, "This is the first copy I've ever found – so so rare. Kiderian from Chicago (distributed) it. Some stock from their label turned up about 15 years ago but none of these."
Though the album was reissued on vinyl in 2012, it was a bootleg edition. It was created to meet demand for this obscure record that is beloved by some.
Hicks says he's aware of the respect the record has gotten over the years and he still appreciates the music.
"The album price is through the roof," he says. "I have no copies, but I did download the digitally remastered version. I do listen quite often. The songs are included in some of my regular playlists."
"(It's) absolutely great in my opinion," commented Noble. "The serious international psych(edelic) community holds it in very high regard. It's often used as a key example of the 'the best '60s records were made in the '70s' train of thought.
"It's very '60s in a great way."
Born in Brooklyn, N.Y., where he lived until he was 17, Bobby received his BA-Mass Communications from UWM in 1989 and has lived in Walker's Point, Bay View, Enderis Park, South Milwaukee and on the East Side.
He has published three non-fiction books in Italy – including one about an event in Milwaukee history, which was published in the U.S. in autumn 2010. Four more books, all about Milwaukee, have been published by The History Press.
With his most recent band, The Yell Leaders, Bobby released four LPs and had a songs featured in episodes of TV's "Party of Five" and "Dawson's Creek," and films in Japan, South America and the U.S. The Yell Leaders were named the best unsigned band in their region by VH-1 as part of its Rock Across America 1998 Tour. Most recently, the band contributed tracks to a UK vinyl/CD tribute to the Redskins and collaborated on a track with Italian novelist Enrico Remmert.
He's produced three installments of the "OMCD" series of local music compilations for OnMilwaukee.com and in 2007 produced a CD of Italian music and poetry.
In 2005, he was awarded the City of Asti's (Italy) Journalism Prize for his work focusing on that area. He has also won awards from the Milwaukee Press Club.
He can be heard weekly on 88Nine Radio Milwaukee talking about his "Urban Spelunking" series of stories.