DanDan, 360 E Erie St., will be reopening for indoor dining at 50% capacity beginning Tuesday, Oct. 6.
Accompanying the opening, guests will enjoy the addition of a number of items on the dinner menu, as well of the return of Peking Duck service. They will also experience a redesigned dining experience created with safety at the fore.
The decision to reopen was not a top-down edict,notes co-owner and chef Daniel Jacobs; in fact, it was a collaborative effort supported by the entire restaurant staff.
"We decided as a staff to reopen," he says. "And we wouldn't have done it if everyone hadn't agreed that it was a good idea, since we fully recognize that our front of house staff are taking on the greatest risk by dealing with customers."
The decision was also made after careful consideration and the implementation of a variety of measures which prioritize the health and safety of guests.
Health & safety measures
"We're doing everything in our power to make things as safe as possible," notes Jacobs. "It will never be 100%; but we want people to be as safe as possible."
As a result, they've taken myriad precautions including the installation of a UV filtration system called iWave, which uses carbon fiber brushes to produce a refined electrical charge that proactively and safely cleans the air, recycling the air in the restaurant in 15-minute cycles. Air purifiers will also be used around the restaurant to better circulate the air.
Masks will be required at all times for both employees and guests. Guests will be instructed to wear masks whenever they are moving about the restaurant or interacting with staff (masks can be removed while eating or drinking).
Employees will also undergo temperature checks before all shifts, in addition to weekly COVID-19 testing, which ensures that all staff are healthy and able to safely serve restaurant guests.
The restaurant will also be configured differently. Dining tables will be properly distanced and divided by attractive partitions created by Three Sixty, the folks who designed and built the interior for Dandan when it opened in 2016. The partitions will provide each party with their own private area while enhancing the effect of social distancing.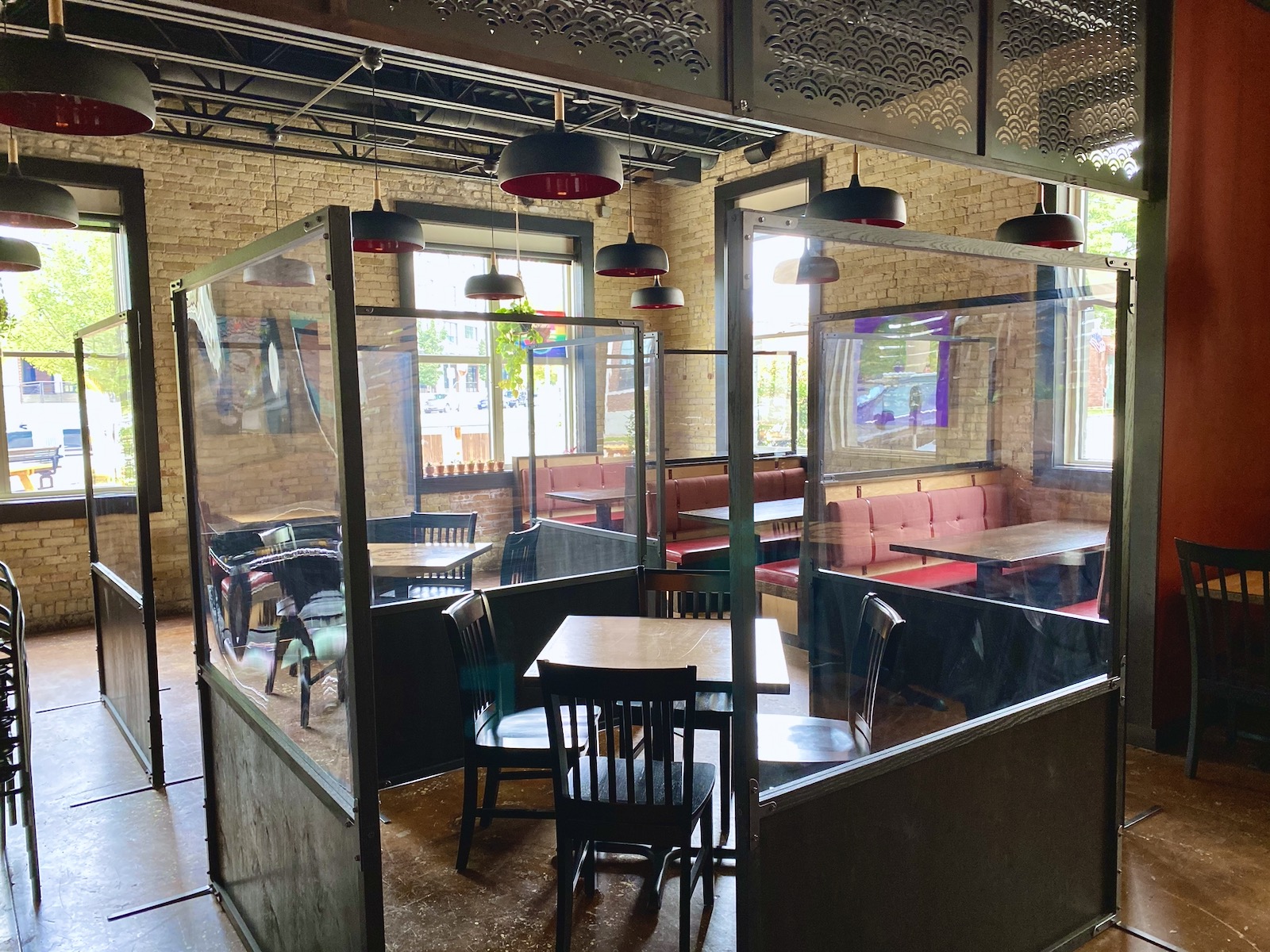 EsterEv, the finer dining restaurant-within-a-restaurant, which re-opened for patio dining in September, will also transition indoors. But dinners will be held in more open, socially distanced quarters, rather than in EsterEv's cozy former quarters.
"We'll lose money this winter no matter what," says Jacobs. "But adding indoor dining helps. For us, the bottom line is the difference between keeping our employees on or laying 60% of them off. So we're working to not only give our guests a sense of normalcy, but also to provide stability for our staff."
Even after opening for in-house dining, Dandan will also continue to offer carry-out. Outdoor dining options will also persist for as long as weather permits.
Dandan will be open Tuesday through Sunday from 4 to 9 p.m.
Lori Fredrich (Lo) is an eater, writer, wonderer, bon vivante, traveler, cook, gardener and girlwonder. Born and raised in the Milwaukee area, she has tried to leave many times, but seems to be drawn to this quirky city that smells of beer and alewives.
Some might say that she is a little obsessed with food. Lo would say she is A LOT obsessed with food. After all, she has been cooking, eating and enjoying food for decades and has no plans to retire anytime soon.
Lo's recipes and writing have been featured in a variety of publications including GO: Airtran Inflight Magazine, Cheese Connoisseur, Cooking Light, Edible Milwaukee, Milwaukee Magazine and the Milwaukee Journal Sentinel, as well as on the blog Go Bold with Butter, the web site Wisconsin Cheese Talk, and in the quarterly online magazine Grate. Pair. Share.