Wandering amid the midcentury (or, as they call it, midventurous modern) gems that populate Ryan and Jess Day's Dandy vintage shop on the West Side, Ryan noted that sometimes an object that isn't especially beautiful on its own can become beautiful in the right setting.
That struck me as an astute observation that might also be applied to Dandy's home at 5020 W. Vliet St., across from Wick Field, a block off Highway 175.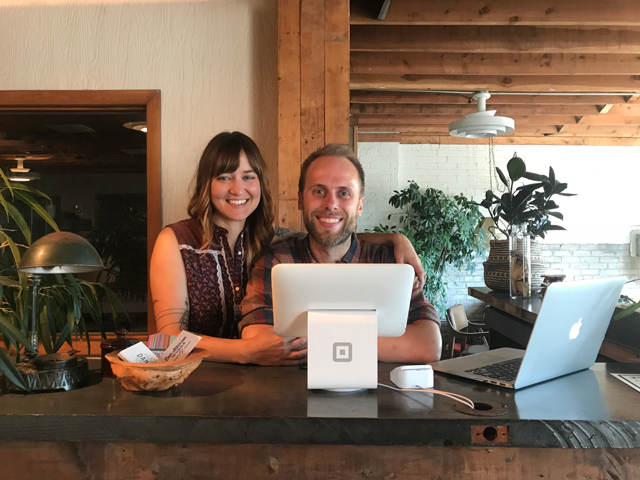 Built in 1921 and home for many years to George Heise's garage, which sold cars – by makers like Terraplane, Hudson and DeVaux – made repairs and even offered gas, the building has been so unlovely in recent times that you might've driven past it for years without even giving it a second glance.
But the Days – who had been collecting cool objects and selling them on their front lawn in Wauwatosa – sure did.
"We had been searching around town, just for fun," Days tells me as we wander among clocks and lamps and glassware and furniture that make Dandy look a bit like a place where "Mad Men" set designers might've maxed out the AMC credit card.
"We went to State Street and there was this townhouse-style brick property. It looked really old. I learned that it used to be for dairy."
They contacted the owner, who wasn't sure he wanted to sell and they were back to square one, it seemed. Ryan had quit his job at an advertising agency and Jess was working at Valentine Coffee, farther west along Vliet, where a customer suggested she check out the former Joyce Heating Co. office on 51st and Vliet.
"So one day I was just super depressed because I had nothing going on," Ryan Day recalls, "and I drove and parked in front of the bleachers there (across the street in the park) and nothing. I'm like, 'is there anything going on here?' There was a light on. I called and Marian Joyce answered."
Day asked if she'd be interested in selling and, as a matter of fact, Joyce said she was planning to list the building for sale in a few days.
"So we met her the next day and we walked through. And immediately, we were just like. 'this is so great'."
Stop in and you'll see why.
The Days tore out the partitions that had hacked the space into offices, likely in the 1950s and/or '60s, and created a really lovely, warm and inviting shop full of goodies, like old LPs and art and vases and on and on.
And they did it entirely by themselves – except for the work that demands licensed tradespeople – and almost entirely with materials that were already in the building.
"It didn't look like this," says Ryan, as he walks me through a maze of additions – one from 1928, another from 1951 – including one space that is rented to cream city brick artist Dan Atkinson for use as a studio, and a giant open area in the back where the Days got married and which they rent as event space.

(PHOTO: Dahli Durley)
"They had cubicles. A drop ceiling was stripped (out) and ever nail from that ceiling was stripped. This is original paneling," he says pointing to a wall, "these are the original lights," he adds pointing at some pretty rad hanging fixtures.
"We chiseled the plaster off of that brick," Day adds. " I like to keep things as they are. And that's the old (Joyce) refrigerator. We got rid of a wall in here. All of the wood that you see in the front, the trim, is all demo from other parts of the property. We didn't buy a single piece of wood."
They've kept the old safes – a giant freestanding one as well as a solid-looking wall-mounted one – they've kept the old heating company wall storage systems.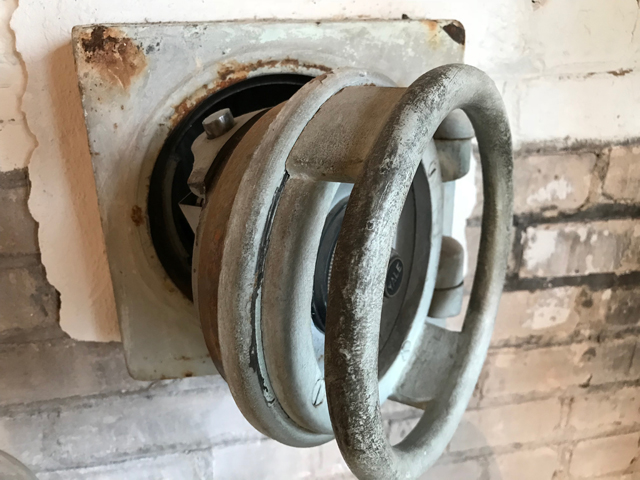 "She (Joyce) left everything with the property."
You can tell the Days appreciate the place's history.
Heise built the place, as I noted, in 1921, and added an attendant's office seven years later. By the early '30s he was selling those short-lived brands, including the DeVaux, which was advertised as a low-price car that could reach speeds of 70-80 miles per hour, available in seven models ranging in price from $595 to $795.
In '39, Heise connected the service station and garage inside and this appears to be when the gas station was added. A few years later, the place was leased as a garage and repair shop to – wait for it – the Clover Lane Dairy Company that was headquartered in the State Street building the Days initially hoped to occupy. The concept of smallwaukee even applies to retail, I guess.
The Krueger Heating Company moved in at the dawn of the 1950s and owner Jack L. Krueger and his sales manager Hiland W. Joyce – both in the early 30s – appear to have led something of a "Mad Men"-style life themselves, having been known to share a few highballs together after a long day at work.
By the start of the next decade, Joyce's name was above the door and it stayed there until Ryan and Jess Day bought the building in autumn 2017. There are still Krueger and Joyce signs hanging inside.
"I still use Joyce's desk in back," says Ryan, as we talk about the history of his building, which looks better now – inside and out – than it's perhaps ever looked before. The exterior has been completely repainted, the parking lot re-tarred and striped.
Inside, as I say, it's populated with an astonishing array of gems that the Days have long collected.
"I'd been collecting things my whole life," Ryan says. "My grandfather just slowly gave me some of the things that they didn't want anymore. But it was of this era and it was like, 'this is great. I love this stuff.' And Jess happened to be doing the same kinds of things throughout her life."
He says they have little trouble uncovering gems.
"A good source is an estate sale or just general thrift," Ryan says. "Some people collect their whole lives and then they're embarrassed about what to ask for the (items)."
As an example, in a former garage space at the back of the building – where the Days will soon move their Airstream trailer and live in it while they add an apartment – there are couches from a funeral home ("Think of all the people who have mourned on this couch," Ryan recounts Jess saying), Victorian-era interior doors, fluted wood columns, fireplace mantles, a trio of vintage lamps like the ones we had in my living room growing up and other objects.
Day says that it all came from one man in Glendale, who charged relatively little and even delivered the stuff.
"You can find things anywhere," says Ryan, who, with his wife, sure seems to have found a goldmine of history on Vliet Street.
Born in Brooklyn, N.Y., where he lived until he was 17, Bobby received his BA-Mass Communications from UWM in 1989 and has lived in Walker's Point, Bay View, Enderis Park, South Milwaukee and on the East Side.
He has published three non-fiction books in Italy – including one about an event in Milwaukee history, which was published in the U.S. in autumn 2010. Four more books, all about Milwaukee, have been published by The History Press.
With his most recent band, The Yell Leaders, Bobby released four LPs and had a songs featured in episodes of TV's "Party of Five" and "Dawson's Creek," and films in Japan, South America and the U.S. The Yell Leaders were named the best unsigned band in their region by VH-1 as part of its Rock Across America 1998 Tour. Most recently, the band contributed tracks to a UK vinyl/CD tribute to the Redskins and collaborated on a track with Italian novelist Enrico Remmert.
He's produced three installments of the "OMCD" series of local music compilations for OnMilwaukee.com and in 2007 produced a CD of Italian music and poetry.
In 2005, he was awarded the City of Asti's (Italy) Journalism Prize for his work focusing on that area. He has also won awards from the Milwaukee Press Club.
He can be heard weekly on 88Nine Radio Milwaukee talking about his "Urban Spelunking" series of stories.