I've been binge-watching HBO's "Vinyl" for a few weeks now, and suddenly, during a scene at an L.A. beach party, the camera panned to a sideburned record executive, smoking a joint and talking about Elvis. Even 25 years since I saw him last, I knew immediately that was my friend from high school, Dave Shalansky – and not just because I found out right before on Facebook. I'd recognize that guy anywhere.
Let me back up: In 1987, my family moved from Mequon to Warwick, R.I. It was the summer after seventh grade, so like any super-cool teenager would do, I joined band.
By the time I got to high school, I met Dave, and even then, he was a larger-than-life figure. Not only was he a very talented drummer, he could pick up any instrument and play it better than the rest of us. He looked like a young John Belushi, and even though he was a year older than me (and way cooler), he had a patient kindness that at the time seemed incongruent with how a guy like him would command a room. I remember one time he showed up at one of our houses on a Friday night and watched "Fast Times at Ridgemont High." That was Dave. Of course he'd go on to be a professional actor.
Thing is, I didn't know about his career – working small parts on big shows – until years later. I only recently found out about his movies, his stand-up and his other gigs through social media, where we reconnected. But when I finally saw him on "Vinyl," I knew it was the time to catch up with the 42-year-old, who now lives in New York City with his wife and baby daughter.
OnMilwaukee: What was it like working on "Vinyl?" You had a credited speaking role but were only onscreen for a few seconds. Still, that's an opportunity not many get. What goes into a job like that?
Dave Shalansky: Well, getting the phone call that I booked a part on a Martin Scorsese/Mick Jagger project made me lose my lunch. It was a remarkable audition. Even when you get the scene ahead of time and know that this scene isn't really that big, you still prepare knowing that you want the casting director to remember you for future projects. And, of course, this show on the resume is recognizable. I mean, despite the size of my scene, I knew, with the big names attached, you want to give it your all! Always actually. Jobs beget jobs in this business and as an actor, one never knows who one is going to meet on the set. Always be prepared and put forth your best effort! Because if you don't get this job, if the casting director likes you, you've won! And the casting director, Meredith Tucker, is amazing. Ever since I moved back from Los Angeles, she has called me in to read a bunch of times. She's extremely talented and great to work with.
Shalansky on the set of "Vinyl."
I remember I had to bring my daughter to the audition. My baby girl was only three months old at the time and I was watching her that day, so I had to bring her with me to the casting office. The casting directors were totally cool about that, not uncommon to see babies at auditions ... So, when it was my time to audition, I had found a vacant room and rolled her and the stroller in there and let her nap but when I came back, she was smiling and laughing and pooped all over the stroller! It was fate!
Working on the show was fantastic! A well-oiled machine. Most of the crew had already known each other from HBO's "Boardwalk Empire," another Scorsese project. There were also hundreds of extras and cast members dressed in '70s period costumes. It was a bit like a Halloween mind trip. And after I got out of the hair and make up trailer, I looked in the mirror and saw this dude from 1970 staring back at me. It was pretty cool.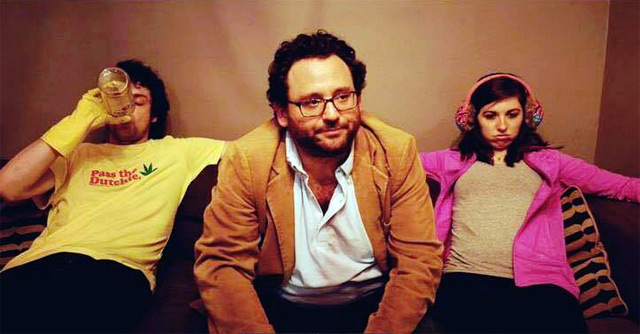 Shalansky (center) with Danielle Beckmann and Shane Salk in the web series, "So, then tell me."
This is hardly your first high-profile but small role. People who see your bio will recognize a lot of major shows like "Curb Your Enthusiasm," "ER," "Bones," "CSI" and more. Is this kind of the life of a full-time working actor?
Yep. Some of my favorite character actors, the guys I loved watching growing up, the guys you know by their face, but not their name, those guys ... were my idols. I guess it became a self-fulfilling prophecy. I mean, their resumes are huge! They're in everything ... I love that. I want to emulate that. Who am I kidding, it would be amazing to be a series regular or star in a film. But the goal is always to pay the rent and have food on the table.
But you've also done film work, including some shorts, and stand-up, too. Your resumé is a long one. As you enter your mid 40s, is this how you envisioned your career?
You know, I try not to think about it. I've been acting for 20 years and have some great work under my belt. The only thing I can control is the work I bring into the casting office. I can't control who producers and directors choose as their man, and I can't control what parts are available; I just know I have to be prepared mentally when my agent or manager calls with that audition.
Part of the actors struggle is finding happiness in between the work. And for guys like me, a successful year means I work maybe a handful of days! And though it would be absolutely amazing to work everyday on a series, one has to find happiness no matter what. Or else you're in trouble. Having a semblance of a normal life in between the job is paramount, I try to be as happy as I can by keeping my mind focused on other things. I teach acting and I'm a family man. I am very lucky because I have other things, outside of just being an actor, that bring me fulfillment. My wife and daughter mainly. I'd say I'm pretty f*cking lucky.
You've said that some of your work ends up on the cutting room floor. Is it serendipity that propels an actor into next phase, or it more about business and management and skills and stuff like that?
I'm not sure. The old adage is that show business is 98 percent business and two percent show. So I guess the key to propelling yourself into the next phase is a combination self promotion and also trust. Trusting your agent and manager and at my level, you take what comes to you. But you always have to have a business sense. I mean, actors are a product. You have to advertise! You have to make your own work and put it out there. And today, with social media, it's so much easier and definitely cheaper to make people aware of your work. I mean, you heard about me being on "Vinyl" from Facebook, no? The old days, I'd spend hundreds of dollars sending photos and updates to casting directors and my network of industry professionals; now, it's a click of a button. Any young actor who isn't taking advantage of social media should start.

Shalansky (left) with Xander Bailey "Fitz and Slade" pilot presentation.
What work are you most proud of?
That is a tough question because I am sensitive about my acting. I always see flaws when I watch myself. A lot of actors do. So, I can't really tell you one or another. But, If I had to answer that question, I'd say a little short film I wrote, produced and act in. "Cliff" was a short film I adapted from a stand up routine I did once. I brought this half baked script to my friend Paul Emerson whom I had met from doing sketch in L.A. He and I worked on it for about a year and a half and I am very proud of it. Even though I notice flaws with the writing and acting, it was my first effort producing a bigger project and I am proud of the accomplishment and collaboration.
What's your dream role?
I don't have one. But I'd love to have a meaty part with a heavy hitter! Like a scene with Daniel Day Lewis or Meryl Streep or De Niro. Something with some emotional meat. I'd love to have a character arc.
Shalanksy with Elliott Gould.
Is it hard to balance a normal life with a baby and the weird schedule of an actor?
Yes, but we have an amazing daycare in our neighborhood. When my wife had to go back to work after her maternity leave, I was daddy day care twice a week and the daycare had her three times a week. Lyla is full time at daycare now, that should answer your question.
Tell me that you still pick up drumsticks every now and then.
Unfortunately, no. I plan to when the baby gets a little older though. I do miss it terribly. I also developed Tinnitus in my left ear from playing for so many years without ear plugs. We were products of the '80s rock scene man. Ear protection was so lame in those days. Bad idea.
The last band I was playing with in L.A. was Nice Guy Eddie. The bass player is Robbie Rist, who played cousin Oliver on "The Brady Bunch," and Chris Jackson, the singer-songwriter and entrepreneur.

Shalansky has been playing drums in bands for 20 years.
What's next for you?
I'm constantly looking to produce more material. You know, we have film studios on our phones and you'd be silly if you didn't create content for yourself one way or another. Get yourself out there man. I just finished shooting a web series called "So, then tell me." Its a fun vehicle and there are some great New York actors in it! We shot several five-minute episodes and we hope to shoot more. I am also guest starring as Brad Zimmer on HBO's DIVORCE. Starring Sarah Jessica Parker, Thomas Haden Church, Molly Shannon and Tracy Letts! Which should air this fall. But other than that, we'll see what else is in store.
Andy is the president, publisher and founder of OnMilwaukee. He returned to Milwaukee in 1996 after living on the East Coast for nine years, where he wrote for The Dallas Morning News Washington Bureau and worked in the White House Office of Communications. He was also Associate Editor of The GW Hatchet, his college newspaper at The George Washington University.
Before launching OnMilwaukee.com in 1998 at age 23, he worked in public relations for two Milwaukee firms, most of the time daydreaming about starting his own publication.
Hobbies include running when he finds the time, fixing the rust on his '75 MGB, mowing the lawn at his cottage in the Northwoods, and making an annual pilgrimage to Phoenix for Brewers Spring Training.