The opinions expressed in this column do not necessarily reflect the opinions of OnMilwaukee.com, its advertisers or editorial staff.
Like a shiny car with all the fancy options after it crashed into a light pole, the Democratic Party establishment limped into Milwaukee Thursday night trying to pretend that all was well in a nationally televised debate from the campus at the University of Wisconsin-Milwaukee.
In case you haven't been paying much attention, the establishment part of the two big parties, Democrats and Republicans, have fallen into a shambles under attack from two outsiders, one a Democratic socialist and the other a billionaire businessman.
The former – Bernie Sanders, who doesn't seem to give a hoot about traditional Democratic politics – took the UWM stage opposing Hillary Clinton, who has been on our television screens and our minds for three decades at the highest levels of government.
The build-up to the debate was kind of like being in the Army: hurry up and wait. If you wanted to park in the lot at the UWM Student Union, you had to be there before 11 a.m. The debate itself was still nine hours away.
The press room at noon was dotted with reporters from MSNBC, FOX, local stations and CNN, with senior political correspondent Brianna Keilar busy typing away with facts she might or might not use during her reports. She was eager to chat. She asked about OnMilwaukee, and while we were chatting, she went to the website to to check it out. She said she liked it. And as for the debate?
"This could really be something tonight," she said. "We may see sparks fly."
Everybody who was anybody called the debate a "critical moment" in the campaign. My guess was that calling it "critical" made what they were doing seem more important than covering a debate that was "just another debate," the sixth so far in the long wind-up to the actual election.
Perhaps the most important thing I learned about this debate was that the chances of actually seeing Clinton or Sanders ranged between slim and none, and slim had already left the building. The debate took place across the street from the press headquarters. The UWM Student Union housed the filing room, the spin room and the lounge, operated by Facebook, a co-sponsor of the debate with PBS.
UWM was taking advantage of the occasion by trotting out Vice Chancellor Tom Luljak to encourage the national media to make sure to mention that the debate was at UWM, not just in Milwaukee. He is a skilled administrator, and his efforts seemed to be successful.
(PHOTO: David Bernacchi)
There were lots of big stars in attendance; most were very nice people, like Steve Kornacki of MSNBC, Mike Emanuel of Fox, Keilar from CNN and Kasie Hunt of NBC. And then there was Mark Halperin, one of the biggest named pundits who works for Bloomberg and MSNBC.
I asked him if I could talk for about five minutes. He said he had a live shot coming up in 20 minutes and said he could chat "sometime after that." When we finally got together, I asked him about the nature of being a pundit, the analysis of things that have happened, and the analysis and prediction of things in the future.
"That's not what I do. My job is to let you people who don't know her know who Hillary Clinton is," he said. I asked him how he analyzed something like a person's character.
"You don't pay my salary," he spat, as he turned and walked away. One might get the impression this is a guy with a serious superstar complex.
Wisconsin's Republicans were represented by Lt. Gov. Rebecca Kleefisch, who said she was "here to represent the RNC (Republican National Committee)." She made the rounds of the local TV stations but seemed to be largely ignored by the networks.
She wore the title of "surrogate" for the RNC. A surrogate in this setting is someone who speaks for someone who doesn't want to speak for themselves. Everybody had surrogates Thursday, including the two candidates.
One of the emotions roiling through the press room – which is a much more important and vital room than the actual debate site – was the persistent rumor about a shakeup in the Clinton campaign staff after her New Hampshire shellacking. There is nothing that can shake up a staff like rumors of a shake up in the staff. It makes people uncertain and cautious, the kind of attitude that can destroy a campaign.
(PHOTO: Jessica McBride)
Debbie Wasserman Schultz, the DNC chair, was like the famous red rubber ball, bouncing from one television camera to another and another, answering the same questions the same way, over and over, with the party line.
"Our candidates are serious people for a serious time in our history," she said. "Unlike Trump and the other clowns. This is for adults, and we have adults. We want to continue to build on what we have built the last eight years."
That, of course, raised the question of whether Sanders was running against the last eight years of President Barack Obama. Some pundits have suggested that the Vermont senator has distanced himself from the Democratic establishment of Obama.
"I'm not going to get into discussing or analyzing what our candidates are doing," she said.
Well then, are you surprised that Clinton has been getting beaten so badly?
"Same answer," she said.
Well then how about the rumors of a shakeup in the Clinton campaign.
"Same answer," she said again, heading off to a bank of seven cameras, each waiting for their own special interview. The question becomes, of course, just what she is willing to discuss if not the positions and campaigns of her two candidates for president.
The most important people at the debate Thursday night, as they are at every campaign appearance, are the media members, talent, crew and producers who get the word out to the world about what the candidates are saying and doing.
The 250 or so members of the traveling party become kind of like a family. They share stories, insecurities, travel advice, horror stories and inside jokes about the candidates and their campaign staffs. And it's a loud bunch, especially the crew members.
"Hey, am I going to Minnesota tomorrow?" one shouted to nobody in particular.
"Hell no," came a shout back. "I think you are going to Columbia. Or maybe Charleston."
Kristen Welker, an NBC correspondent covering the Clinton campaign, was one of those who thought the debate was very important to the former Secretary of State.
"The rumors of a staff shakeup may be overstated, but the rumor itself has an impact on her staff," Welker said. "It's hard to run a campaign looking over your shoulder.
"The big thing they are worried about is how can she define herself better for the voters. She needs to simplify her message."
The quiet and gentle tension as the debate approached was interrupted by about 20 protesters who got into the room with signs proclaiming "Black Lives Matter," "Immigrant Justice" and "Fight for $15," arguing for an increase in the minimum wage.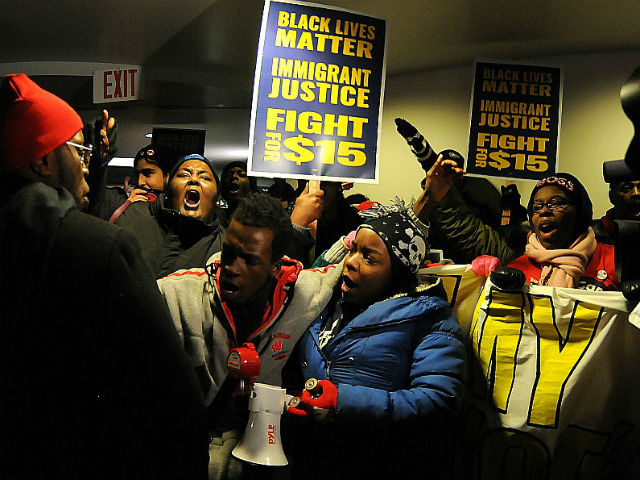 (PHOTO: David Bernacchi)
The media horde, obviously hungering for something to do beside talk to each other and wait around, rushed to the scene. There were over 380 media credentials issued, and the size of the media crowd watching the protest was overwhelming. Finally, the UWM campus police escorted the demonstrators out, and everybody went back to waiting for the gavel to fall and start the actual debate.
After closed circuit telecasts of ROTC students from Hamilton High School, the national anthem, a speech by Wasserman Schultz, some songs by a small choral group, a speech by Vice Chancellor Joan Prince of UWM and another speech by Sharon Percy Rockefeller, the president of PBS, things actually got started.
It was a striking moment when the two candidates walked out on the stage. The entire press room – about 300 strong – stopped talking, stopped typing, stopped eating and started to pay attention.
The candidates came out arguing about health care, with Sanders promising that everyone would be guaranteed health care and Clinton using Obamacare as the kind of reform that must be continued. It was almost a striking example of Clinton hitching her campaign to the Obama presidency and Sanders running away from the way things are now.
The thing about this debate was how it was so unlike the Republican debates that have been held. Nobody called anybody names, nobody got particularly personal and there was a palpable sense that these two wanted to discuss concrete policies and ideas.
When it came to an end, the spin room filled with some reporters and some surrogates came in to try and convince everyone that their candidate won the event. Then everybody packed their bags, put their equipment away and headed for either home or the next stop on this parade to the presidency.
With a history in Milwaukee stretching back decades, Dave tries to bring a unique perspective to his writing, whether it's sports, politics, theater or any other issue.
He's seen Milwaukee grow, suffer pangs of growth, strive for success and has been involved in many efforts to both shape and re-shape the city. He's a happy man, now that he's quit playing golf, and enjoys music, his children and grandchildren and the myriad of sports in this state. He loves great food and hates bullies and people who think they are smarter than everyone else.
This whole Internet thing continues to baffle him, but he's willing to play the game as long as OnMilwaukee.com keeps lending him a helping hand. He is constantly amazed that just a few dedicated people can provide so much news and information to a hungry public.
Despite some opinions to the contrary, Dave likes most stuff. But he is a skeptic who constantly wonders about the world around him. So many questions, so few answers.