All eyes are on the top-seed Milwaukee Bucks as they hope to make it back it back to the Eastern Conference Finals and beyond during the NBA Playoffs.
Normally that would mean that Fiserv Forum would be the hottest spot in the city, but due to the ongoing pandemic, the games have all been relocated inside the bubble in Orlando. But even though the Fiserv Forum floor is oddly quiet, you can still head down to Deer District to enjoy a game close to the home court and feel a sense of normalcy and fandom while also being safe.
Here's a guide to all the shiny, social distanced spots in Deer District where you can still cheer the deer during this most unconventional playoff run. (And for more, here's Lori's guide to drinks, eats and treats stretching beyond the block.)
Good City Brewing
Coming from the East Side to the entertainment block, Good City Brewing was the first to plant its flag in Deer District and the first to open to the public. Even with all the additions around it, the local brewery still has a fresh, new vibe – and, most important of all, all those tasty craft beers that put the "good" in Good City Brewing. Plus, if you need some supper to wash down the suds, the new Downtown spot offers a menu of stone hearth fired personal pizzas or some classic dishes from its East Side taproom. Best of all, during these pandemic times, the Downtown locale features ample outdoor seating both out front and on its rooftop patio space.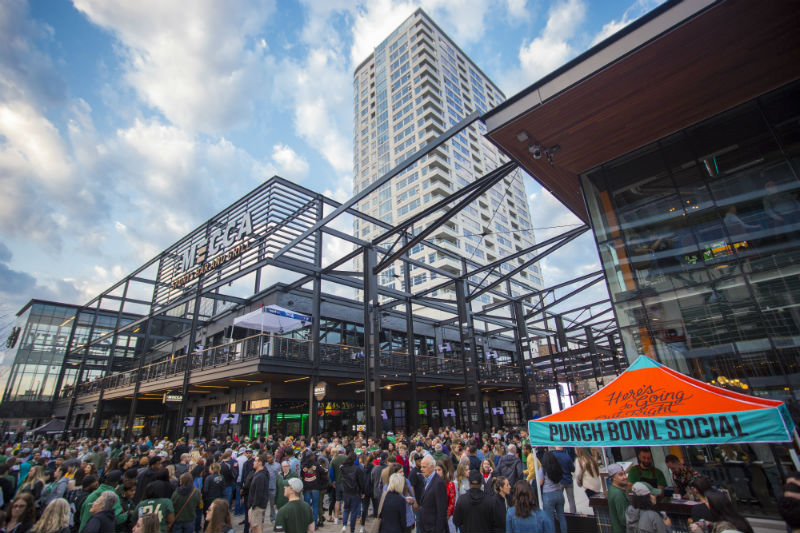 No one's getting into Fiserv Forum for the big Bucks games this season – but don't spend the game sadly pawing at the windows of the arena for pity. Instead head across the plaza to the next best thing to a live arena-like sports experience: The MECCA Sports Bar & Grill.
The menu sports a hunger-killing lineup of unique bar food takes, including garlicky and herbaceous chicken wings, delicious juicy signature cheeseburgers, crispy shrimp and glorious piles of nachos – plus a bullpen of thirst-quenching brews and cocktails to help wash down your grub and another Bucks win. But here's what you're truly coming to feast on when you come the The MECCA: sports, especially when they come served on a TV as unfathomably mammoth as the bar's centerpiece screen that's impossible to miss – even when you're sitting safely on the bar's two floors of patio space. And even if you can't see all of the giant screen, the patios are checkered with TV screens all showing the hottest games, so you're never far from the action – even when the action's in Orlando.
(PHOTO: Lori Fredrich)
The bad news: Drink Wisconsinbly Pub closed its Walker's Point location. The good news: They did so in order to open an even bigger and better new location in Deer District, complete with all of the Sconnie pride and decor you would expect from the iconic state-beloved brand – and, of course, all of the tasty craft brews, Northwoods-approved cocktails, salty and cheesy bar snacks and old fashioneds one would desire, even from a bubbler if you'd like. (And you would!) It's basically the Up North experience in the big city – no long car ride necessary. And there's even some bonus outdoor patio seating at Drink Wisconsinbly Pub out front, so you can Drink Wisconsinbly and responsibly during these strange times.
The "Deer Garden"

Live blocks, places for fans to gather and cheer as a joyously loud unit outside the main event, are all the craze in sports and new sports venues. And now Milwaukee's got one of its own with its beer garden – or, as it should clearly be called, The "Deer Garden."
Located in an alley across from the arena, beautifully painted in Bucks green and Milwaukee greetings, The Deer Garden features plentiful seating, a giant screen and open space for fans to gather and cheer on the Bucks (or the Brewers or the Packers) with multiple spots to buy tasty drinks. And sure, this being Wisconsin, the weather rarely cooperates with fun outdoors activities ... but that's why The Deer Garden comes with a roof to cover most of the main viewing area, keeping things airy and comfortable while also safe from the elements. Rain or shine, The Deer Garden should bloom with (masked, social distanced) Brew City fans.
An anecdote: While walking back to my car from Deer District last postseason during a playoff game, I could hear Bucks fans in the Deer Garden roaring and cheering in excitement all the way from the Milwaukee Rep. That's the kind of electricity this place conducts.
Cream City Cluckery
Hungry after watching all of that winning and on-court domination? Wing it over to Cream City Cluckery, Deer District's pop-up restaurants cooking up a feast of fowl – chicken tenders, to be exact. And who doesn't love chicken tenders – especially when they're this tasty, flavorful and juicy, complete with a crispy outer coating and several dipping sauces to bring even more flavor to your pre-game or postgame celebration.
The Cluckery is open for delivery and pickup orders Tuesday through Thursday from 11 a.m. until 8 p.m. as well as Friday and Saturday from 11 a.m. until 9 p.m. Pickup orders should be made either online at Cream City Cluckery's website or over the phone at (414) 422-6992, then snagged at the resaturant's location at 400 W. Highland Ave. in Deer District – just look for the flags. You can even order them from your table at Drink Wisconsinbly Pub too!
Insomnia Cookies
What's sweeter than a Giannis fast break dunk or a Khris Middleton clutch three? Nothing, really – but Insomnia Cookies get darn close. Located at 1133 N. Old World 3rd St., Insomnia most famously offers cookies delivered to your doorstep, ranging from the Lower East Side to the Third Ward and more, helping cure your cookie cravings at almost all hours. But if you happen to be in Deer District celebrating a Bucks win, you can also grab some cookies curbside or to-go. Because in case there wasn't enough to cheer about, you can always add cookies to the equation.
As much as it is a gigantic cliché to say that one has always had a passion for film, Matt Mueller has always had a passion for film. Whether it was bringing in the latest movie reviews for his first grade show-and-tell or writing film reviews for the St. Norbert College Times as a high school student, Matt is way too obsessed with movies for his own good.
When he's not writing about the latest blockbuster or talking much too glowingly about "Piranha 3D," Matt can probably be found watching literally any sport (minus cricket) or working at - get this - a local movie theater. Or watching a movie. Yeah, he's probably watching a movie.