When bands have been around for two, three, four decades and continue to tour, one of a couple of scenarios will occur. The concert will seem like a stretch, a moneymaking scheme and leave compassionate audience members feeling sad and sorry for the clearly-past-its-freshness-date band.
Or, as in the case with tonight's Def Leppard and Journey concert at the American Family Insurance Amphitheater on the Summerfest grounds, it'll seem like time stood still, with both co-headlining acts radiating talent, vivaciousness and a super-fun spirit during the three-plus-hour show.
The concert started at exactly 7:30 p.m. (nice!) and, although Journey was billed as the opener, Def Leppard surprised fans by taking the stage first. The bands are switching places in the opening spot during their tour this summer. Tonight's concert was no. 18 for the two groups.
They opened with top tracks from 1987's "Hysteria" – "Rocket" and "Animal" – then continued with four more top-10 songs: "Foolin'," "When Love and Hate Collide," "Let's Get Rocked" and "Armageddon It."
Lead singer Joe Elliott, at 58, had a slightly strained voice at times, particularly with "Bringing on the Heartbreak," but overall continued to serve as a solid frontman. At the very beginning, he promised the show was "gonna be a good one" and indeed, it was.
They went on to deliver hit after hit, including "Two Steps Behind," "Love Bites," "Hysteria," "Pour Some Sugar on Me," "Rock of Ages" and "Photograph."
Elliott, clad in the band's signature Union Jack attire, acknowledged the Fourth of July by wishing the audience a happy one. Journey would bring the patriotism to the stage later.
The high energy of the show made the evening, but the footage of old photos and videos of the band throughout the years that screened during "Hysteria" was particularly meaningful. The footage conveyed a younger, but no less enthusiastic band, and gracefully with a rockers' edge acknowledged the inevitable passing of time.
Equally as heartfelt was drummer Rick Allen's drum solo. Allen absolutely owned his custom-made drum kit with just one arm and two very fast bare feet. More than 30 years ago, his left arm was amputated after an accident, and although he thought his career was over, bandmates encouraged him to continue. The amount of sound he produces and his gratitude to fans is forever an inspiration.
After a lengthy break – a complete tear down of Def Leppard that made room for Journey – the second half of the show kick started with Arnel Pineda doing what is quite possibly the most impressive tribute to another artist ever. A native of the Philippines, Pineda was discovered through his YouTube videos and was asked to join the band in 2007, long after Perry had left.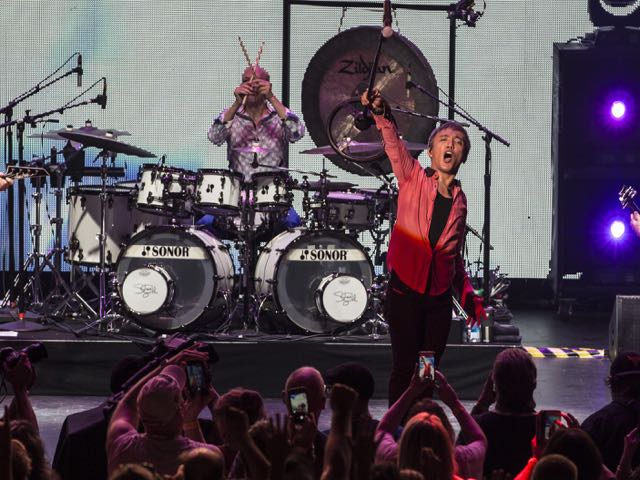 Most of the time, Pineda's voice is a so similar to Perry's it's eerie – particularly songs like "Separate Ways (Worlds Apart)," "Open Arms" and "Faithfully."
Other high points included guitarist Neal Schon's guitar solo version of "The Star Spangled Banner" with active-duty soldiers on stage and Pineda's commitment to the audience. He constantly reached out to front-row fans and even went into the crowd with the assistance of security. He nailed the band's last song before the encore, "Don't Stop Believing" – particularly impactful considering his history and rise to fame in his dream job.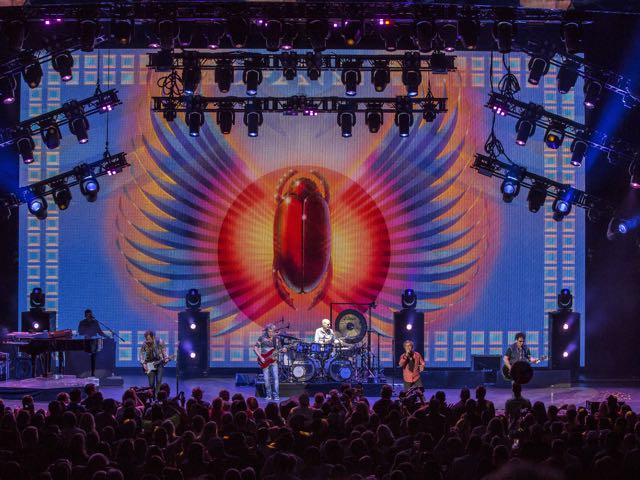 Both bands acknowledged the heat – which was only second in fierceness to the rain that pummeled fans on the bleachers and grass seats. Elliott even referred to himself as "sweating like a whore in church" and Pineda had numerous shirt changes.
At the end of Def Leppard's show – and it really was two back-to-back concerts, not two sets – Elliott said "until next time and there will be a next time." As long as both bands continue to perform at the level they did tonight, that next time can't come any sooner.
Set lists:
Def Leppard
"Rocket"
"Animal"
"Foolin'"
"When Love and Hate Collide"
"Let's Get Rocked"
"Armageddon It"
"Rock On" (Dave Essex cover)
"Two Steps Behind"
"Man Enough"
"Love Bites"
"Bringin' on the Heartbreak"
"Switch 625" (with Rick Allen drum solo)
"Hysteria"
"Pour Some Sugar on Me"
Encore
"Rock of Ages"
"Photograph"
Journey
"Separate Ways (Worlds Apart)"
"Only the Young"
"Be Good to Yourself"
"Star-Spangled Banner"
"Stone in Love"
"Wildest Dream"
"Lights"
"Lovin', Touchin', Squeezin'"
"Piano Solo"
"Open Arms"
"Escape"
"La Do Da"
"Drum Solo"
"Interlude"
"Wheel in the Sky"
"Faithfully"
"Don't Stop Believin'"
Encore
"Any Way You Want It"

Molly Snyder started writing and publishing her work at the age 10, when her community newspaper printed her poem, "The Unicorn." Since then, she's expanded beyond the subject of mythical creatures and written in many different mediums but, nearest and dearest to her heart, thousands of articles for OnMilwaukee.

Molly is a regular contributor to FOX6 News and numerous radio stations as well as the co-host of "Dandelions: A Podcast For Women." She's received five Milwaukee Press Club Awards, served as the Pfister Narrator and is the Wisconsin State Fair's Celebrity Cream Puff Eating Champion of 2019.