DES MOINES – Don't take this the wrong way, but the reason I wanted to visit the Des Moines Art Center, 4700 Grand Ave., in Des Moines, Iowa, had nothing to do with the museum's art collection, and everything to do with the institution's collection of architecture.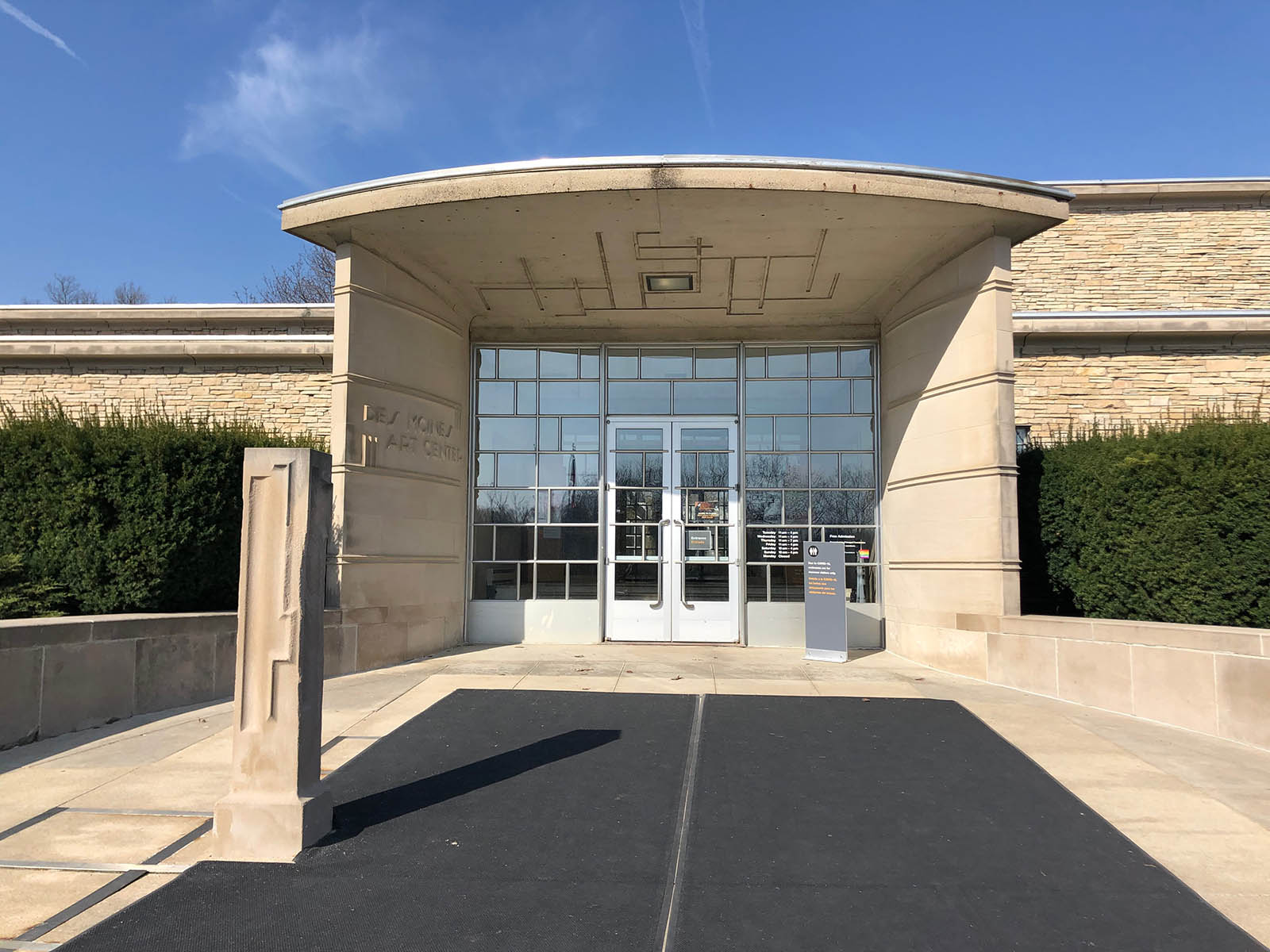 That's not to say the collection isn't worth checking out. After all, the museum – founded in 1948 – has works by Monet, O'Keeffe, Matisse, Rothko, Hopper, Gauguin, Oldenburg, Rodin, Warhol, Lichtenstein and a host of others.
A few of them are works you might know, like Francis Bacon's 1953 "Portrait of Pope Innocent" and Edward Hopper's 1927 vision of loneliness, "Automat," featured on a postage stamp and the cover of TIME magazine.
I should also note that the museum also operates the great Pappajohn Sculpture Park in Western Gateway Park in downtown Des Moines that is popular with both residents and visitors for its interesting variety of sculptures in a park-like setting with the city skyline as a backdrop.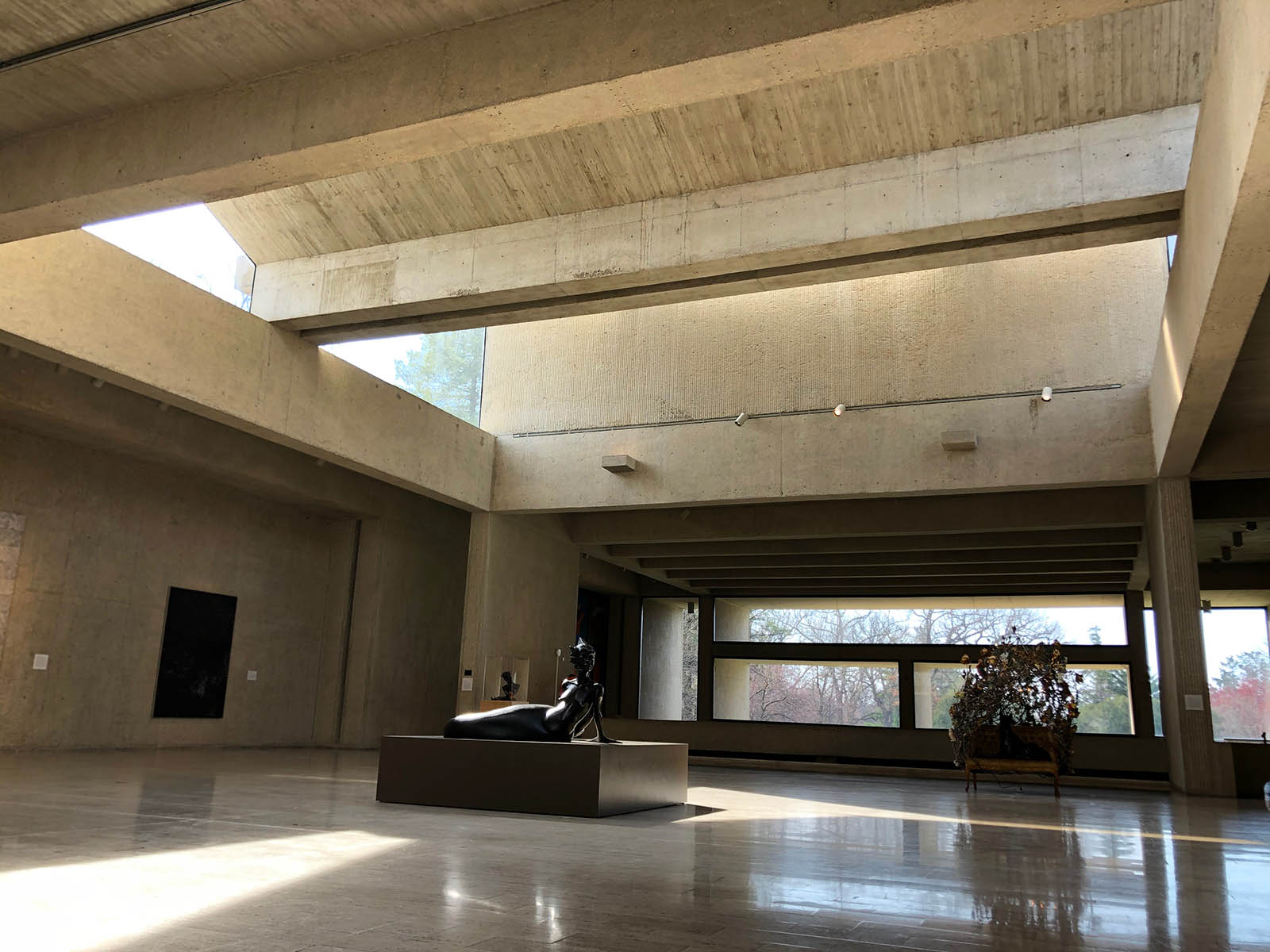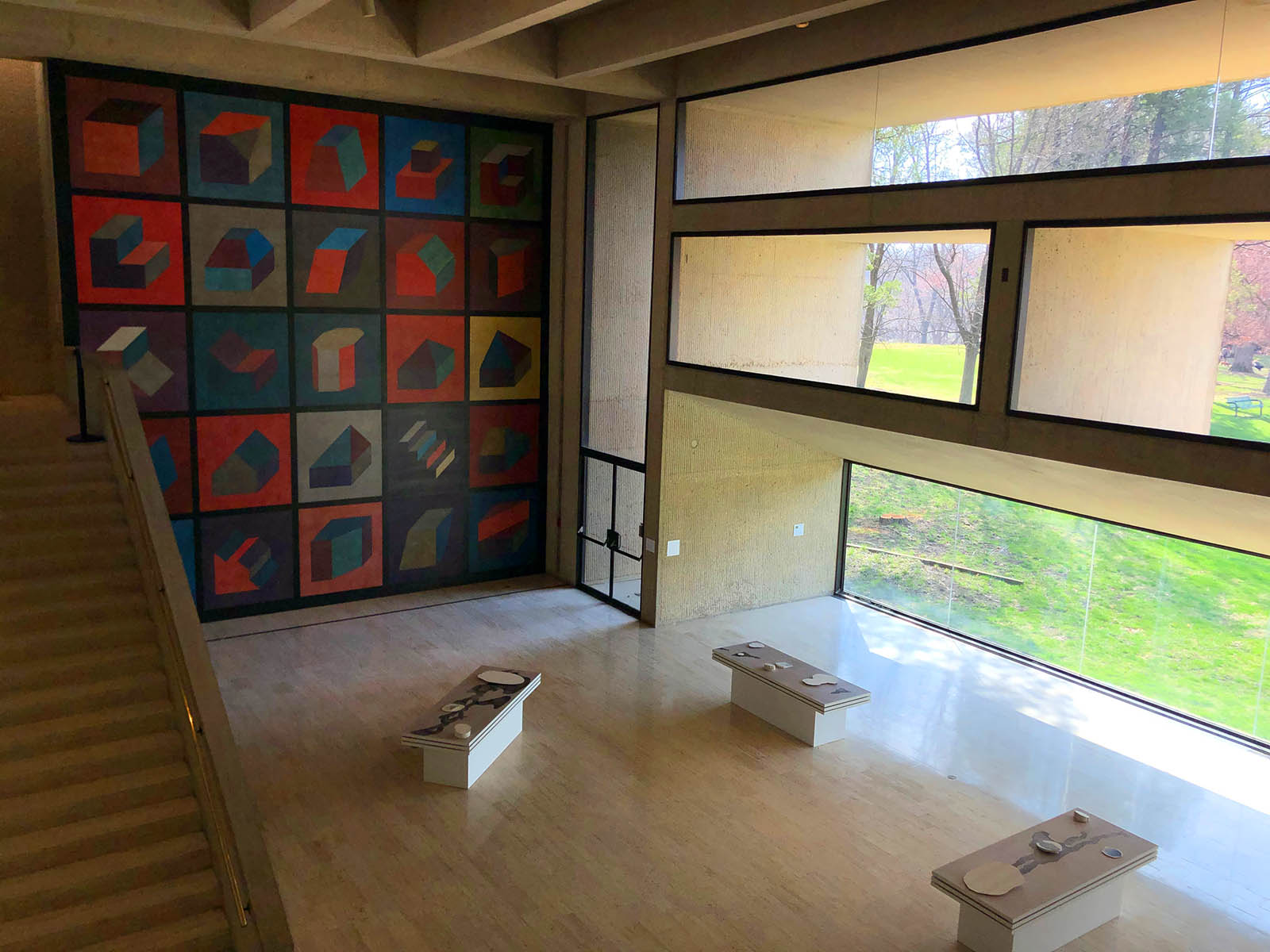 But the art center itself, situated in a park in a leafy west side neighborhood, is a gem consisting of a trio of buildings designed by world-class and world-renowned architects.
The Art Center grew out of the old Des Moines Association of Fine Arts, which opened in 1916 in the Beaux Arts-style Main Library on the Des Moines River downtown.
When lawyer and insurance and real estate magnate James D. Edmundson died in 1933, a trust was established with more than a half-million dollars and that money was allowed to grow over the course of a decade to mitigate the challenges of the Depression.
By 1943, there was enough money to fund a new institution, which was created in the five-acre Greenwood Park, where a 1940 ordinance allowed for the museum's construction.
The original building is a low-slung, horizontal building designed in an Art Deco-influenced Mid-Century style with limestone cladding and aluminum window frames that conjures countless 1940s and '50s school buildings and the like.
Designed by Eliel Saarinen (whose son Eero Saarinen designed St. Louis' Gateway Arch and the Milwaukee War Memorial Center, among others), the building seems almost a natural outcropping in the Greenwood Park.
"Some of the most influential architectural proposals in American history have been for buildings that were never realized," writes Tim Hickman on the center's website. "One such proposal is Eliel Saarinen's 1939 winning competition entry for the Smithsonian Gallery of Art—never constructed due to Congressional failure to fund the project.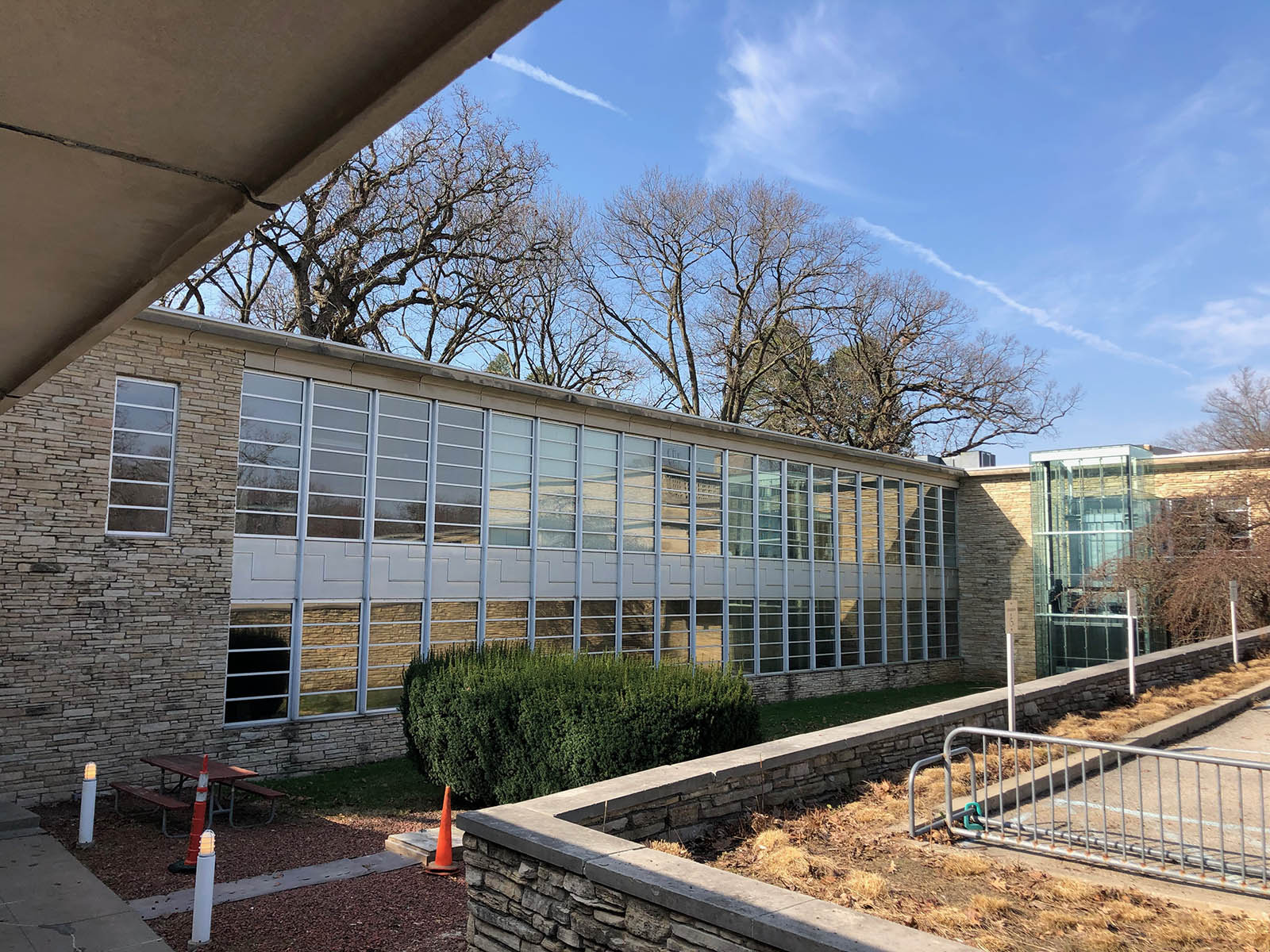 "Drawings of his proposal were shown in Des Moines in that same year, and this exhibition led directly to his Art Center commission. The Des Moines Art Center is the clear offspring of Saarinen's groundbreaking Smithsonian proposal in that both emphasize a harmonious relationship to their site."
Inspired by Lannon stone pylons that line the walkway in the park – which like the museum is on the National Register of Historic Places – Saarinen used Wisconsin limestone in his U-shaped building with a courtyard and reflecting pool.
It's a subtle structure that you might miss, but if you stop to look, you'll find it bright and organic and refreshing.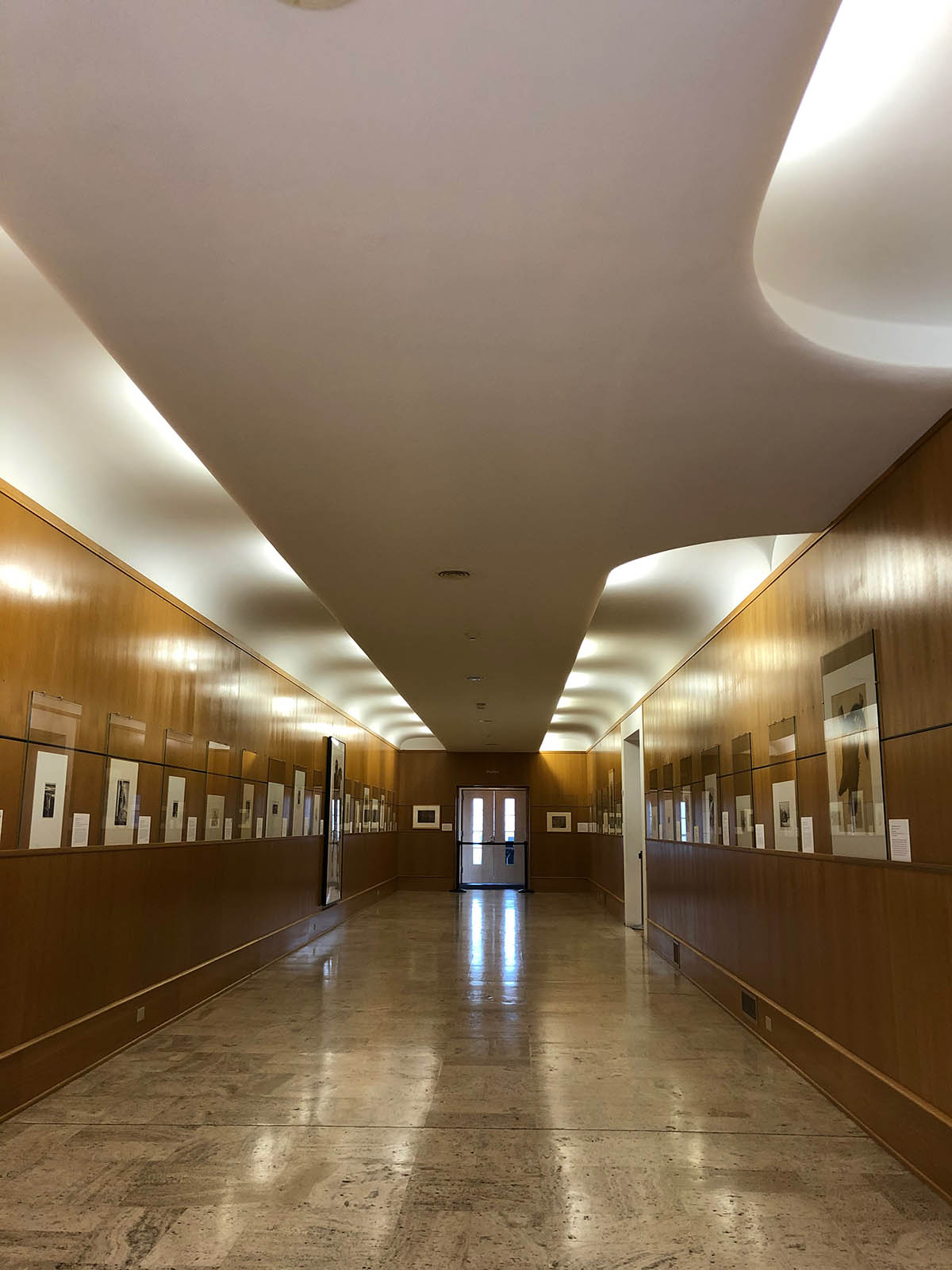 Inside, wood finishes create warmth and just inside, to the left of the entrance is a print gallery (pictured above) housed in a stunning space with wood paneled walls and an evocative ceiling.
Work began on the building in 1945 and was completed in 1948. Three years later, landscape architect Thomas Church created a landscape plan for the grounds, which feature a variety of elevations and paths.
Just south of the museum in the park is a lovely rose garden with Andy Goldsworthy sculptures nearby.
Twenty years after work began on Saarinen's building I.M. Pei was hired to design a sculpture and auditorium wing that is itself quite sculptural (Pei has shrugged off rumors that he drew his south-facing windows to spell out his name).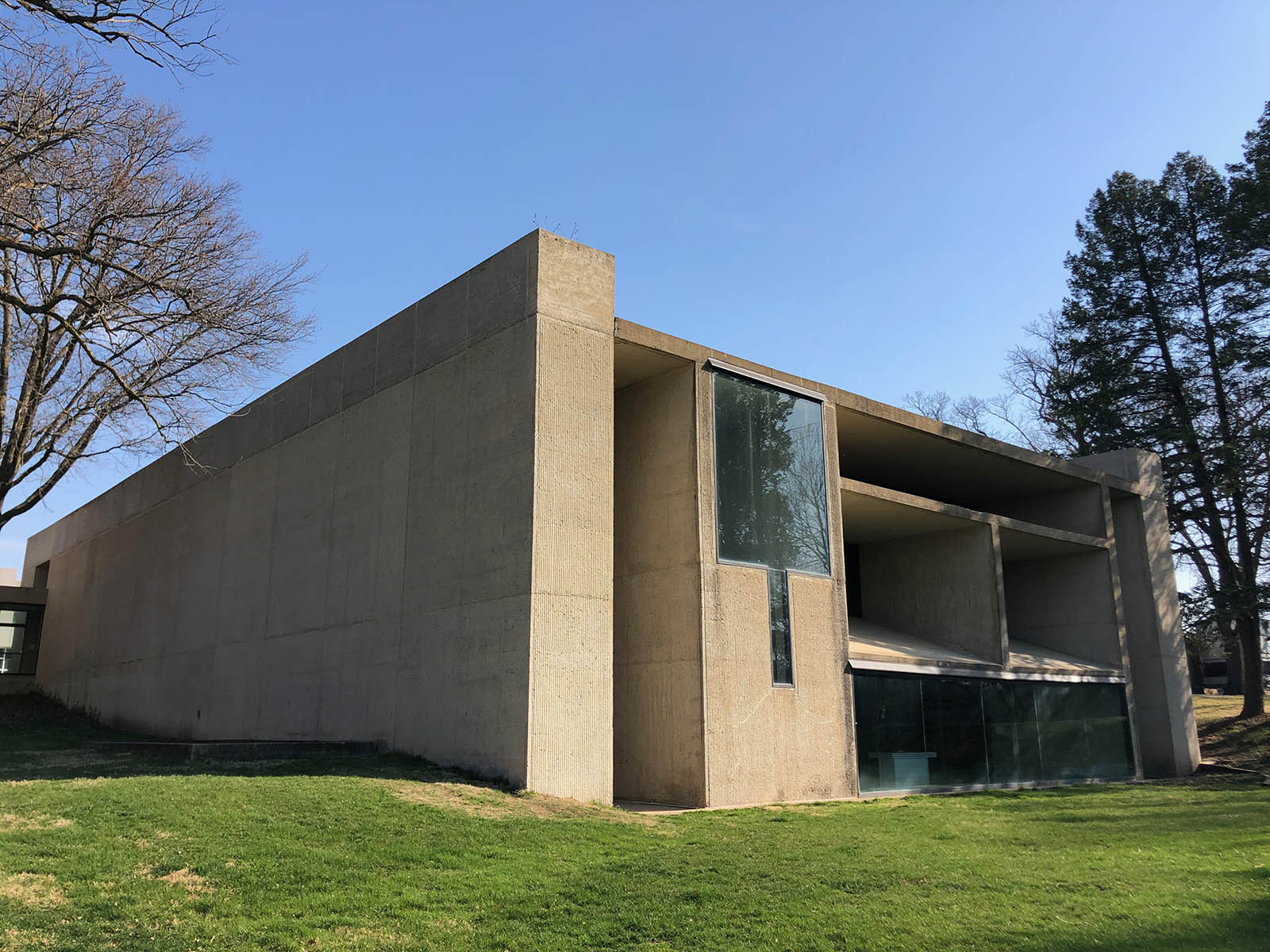 Pei's concrete structure seems to almost cascade out of the Saarinen building down a slope that runs down into the park and unless you venture into the park you won't see it from outside.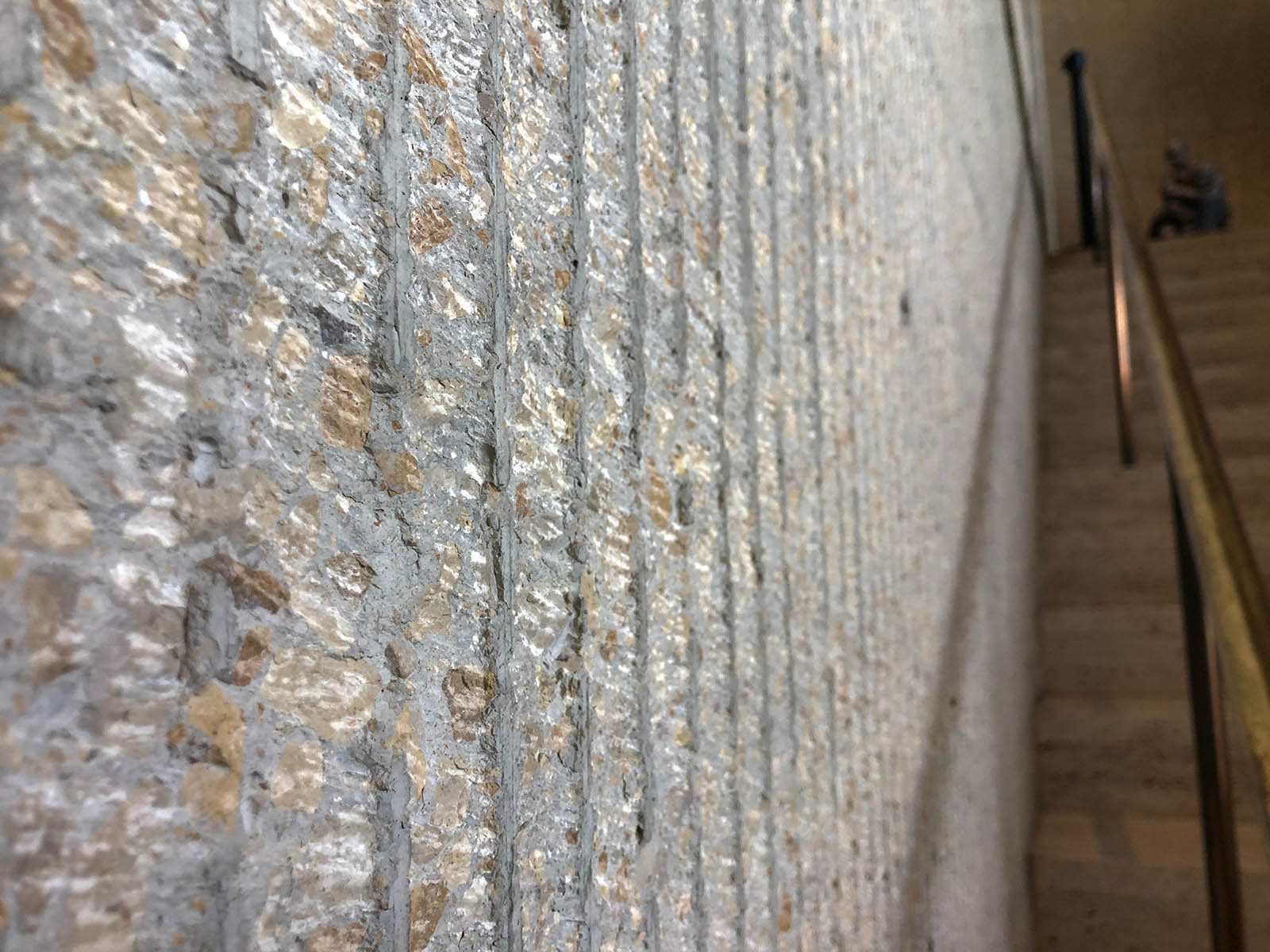 A brutalist form, the building has a stunning texture on its interior walls (pictured above), with vertical mortar lines running staccato across a limestone aggregate (each section between the mortar is subtly concave) that seems to reference Saarinen's Lannon stone.
It is inside that the Pei wing really shines. Some spaces feel momentarily dark and foreboding but then suddenly offer glimpses to the green just outside the windows.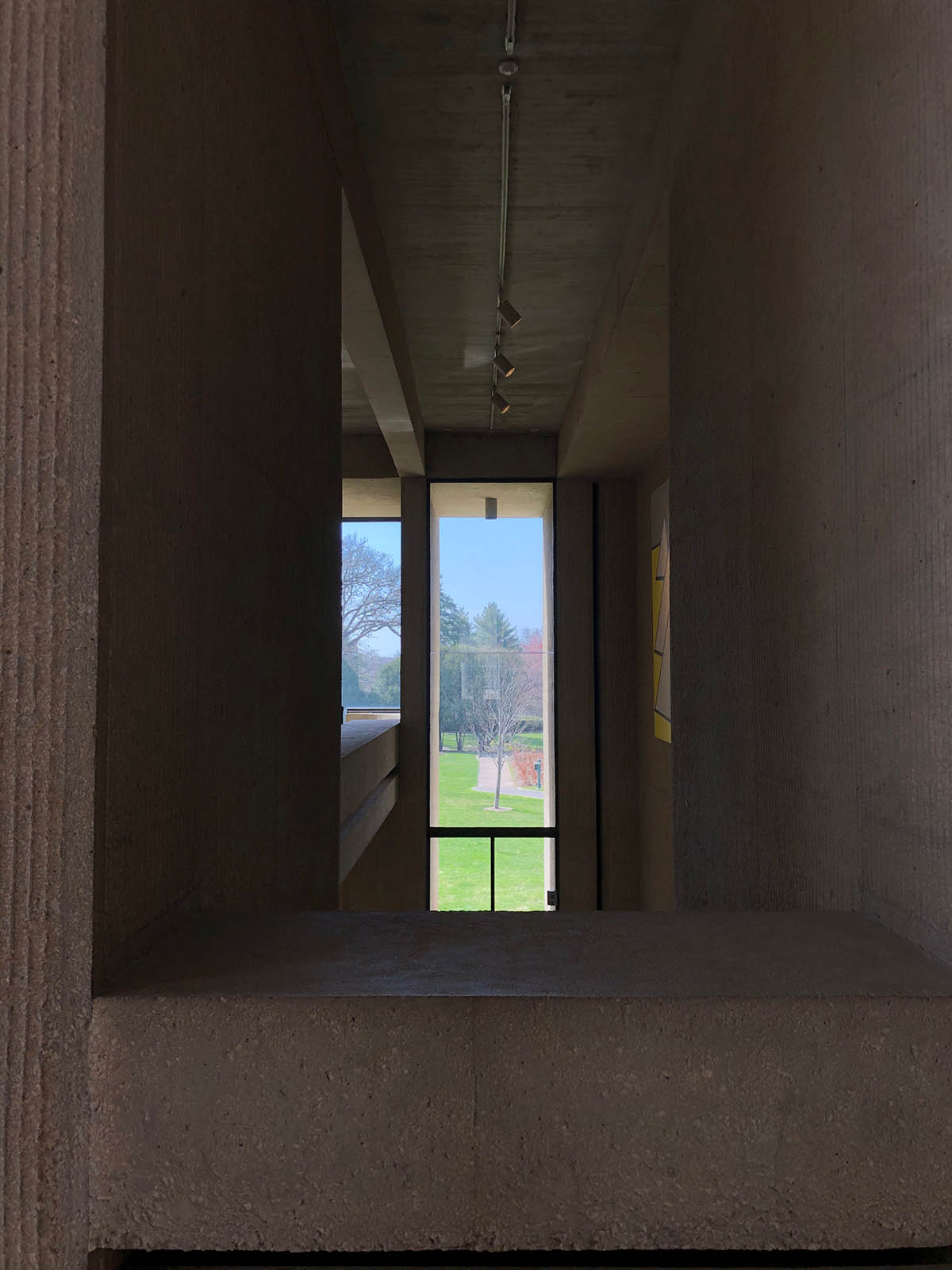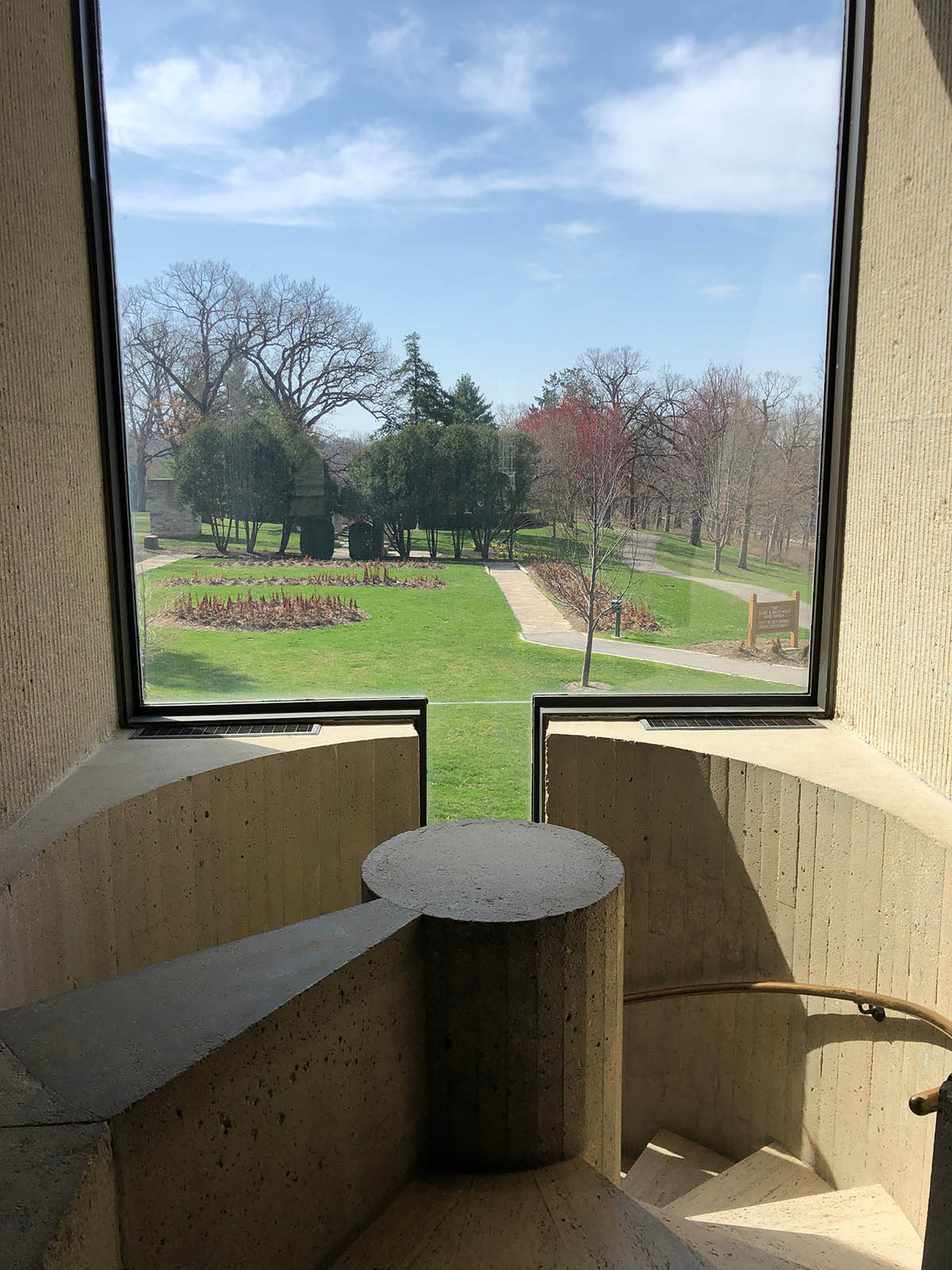 And the soaring atrium space is the perfect place for large-scale works by the likes of Sol LeWitt.
A butterfly-style roof is flapped partially open, allowing sunlight to stream in from above.In 1982, more exhibition space (as well as support areas) was needed and the building committee's chairman David Kruidenier visited Pei in New York to ask if he'd design a new wing.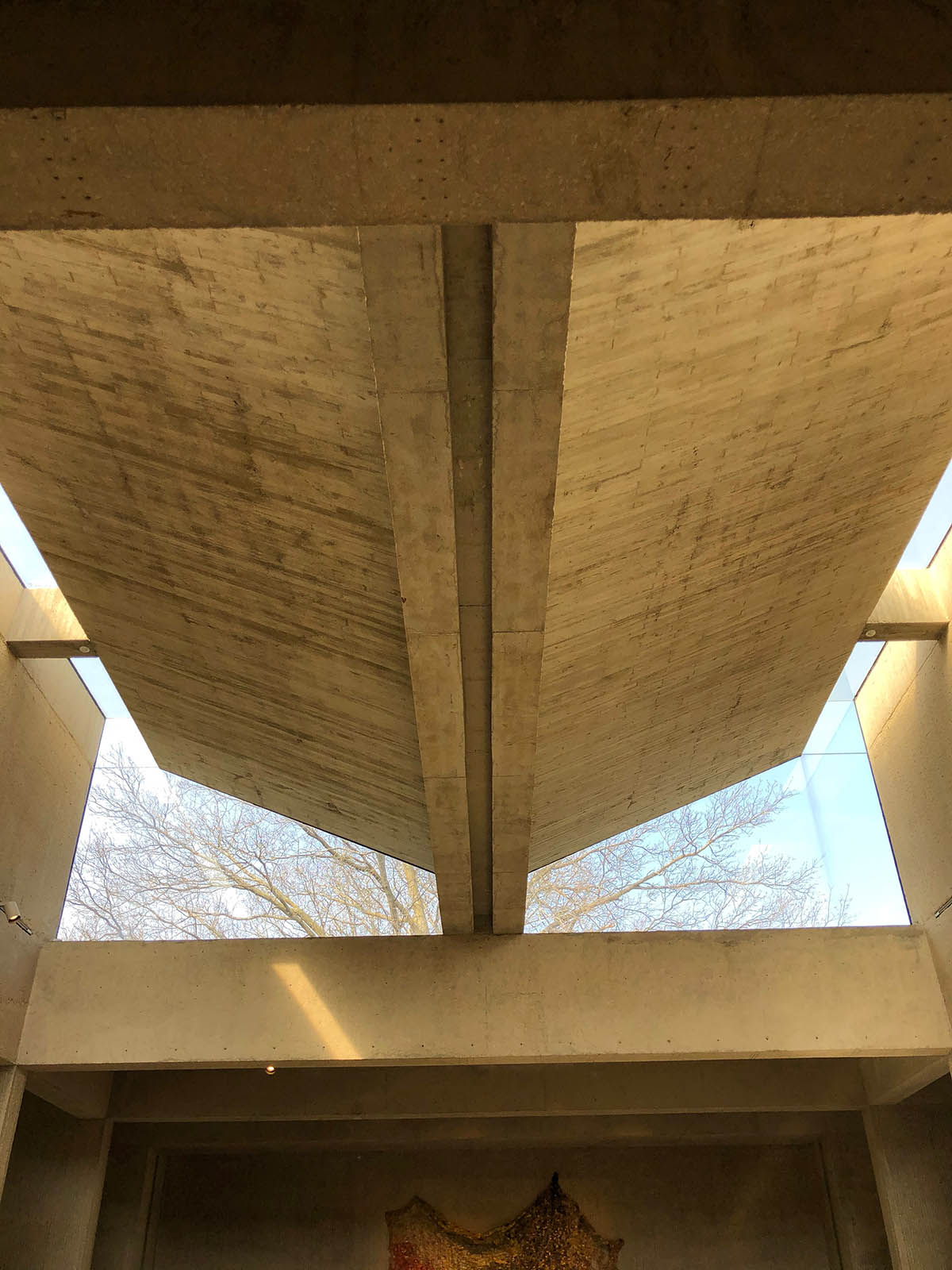 "I. M. Pei declined to do the second addition," says Des Moines Art Center Director of External Affairs Jordan Powers, "telling Kruidenier that the institution needed a third designer for the new addition lest the I. M. Pei portions of the building overwhelm the work of Eliel Saarinen."
Instead, the committee invited five world-class architects, including Richard Meier and Michael Graves, to submit designs for a competition.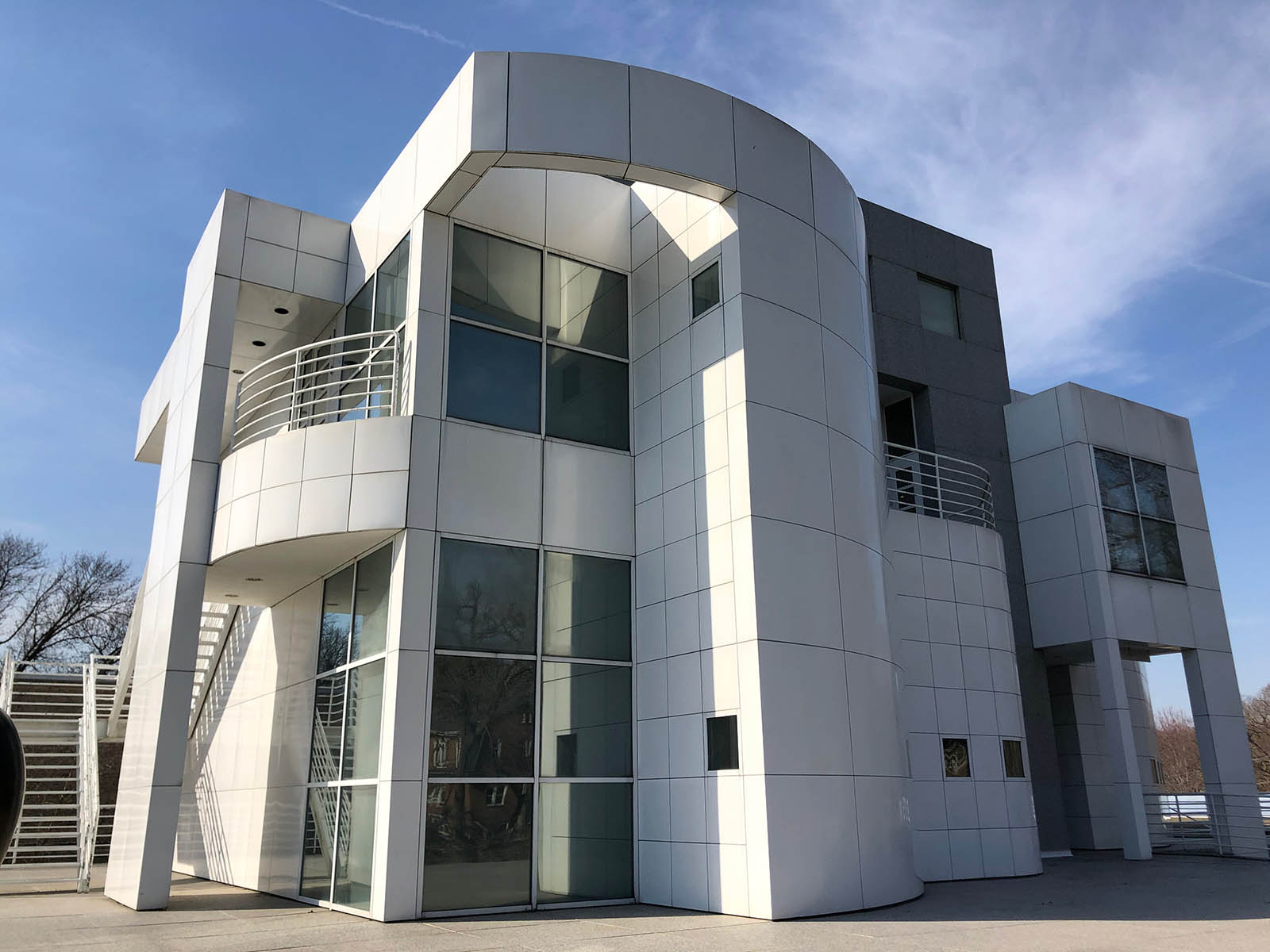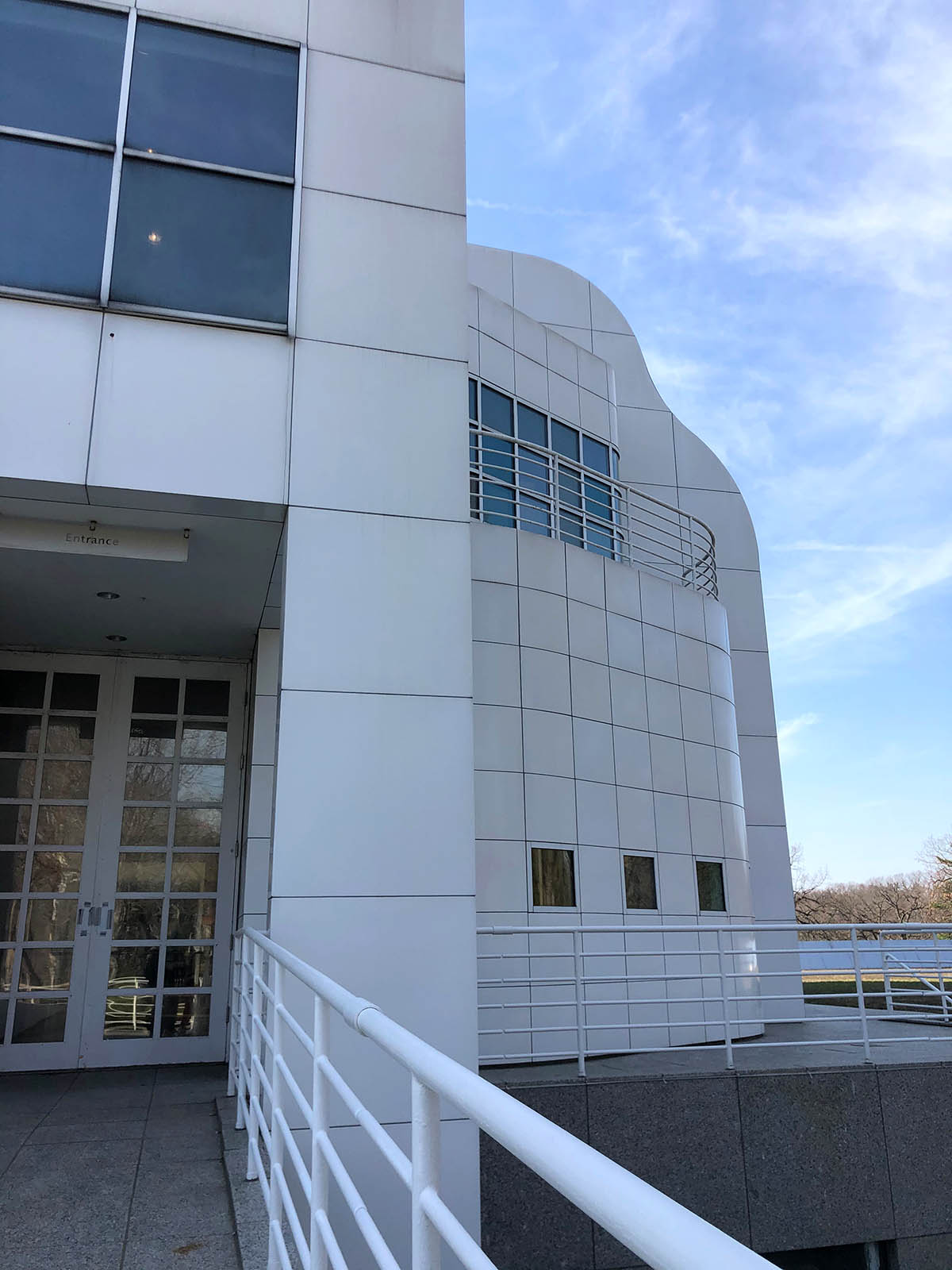 Meier's addition was selected and it was completed in 1985.
"Richard Meier's winning approach appropriately stood in contrast to both the horizontality of Saarinen and the humility of Pei," Hickman writes. "Meier's building is an extroverted sculptural form against the backdrop of both the existing building and the natural site.
"The porcelain-coated metal panels defy the elements, and the sensuous massing contradicts the long-held belief that museum and gallery design should be subservient to the art housed within."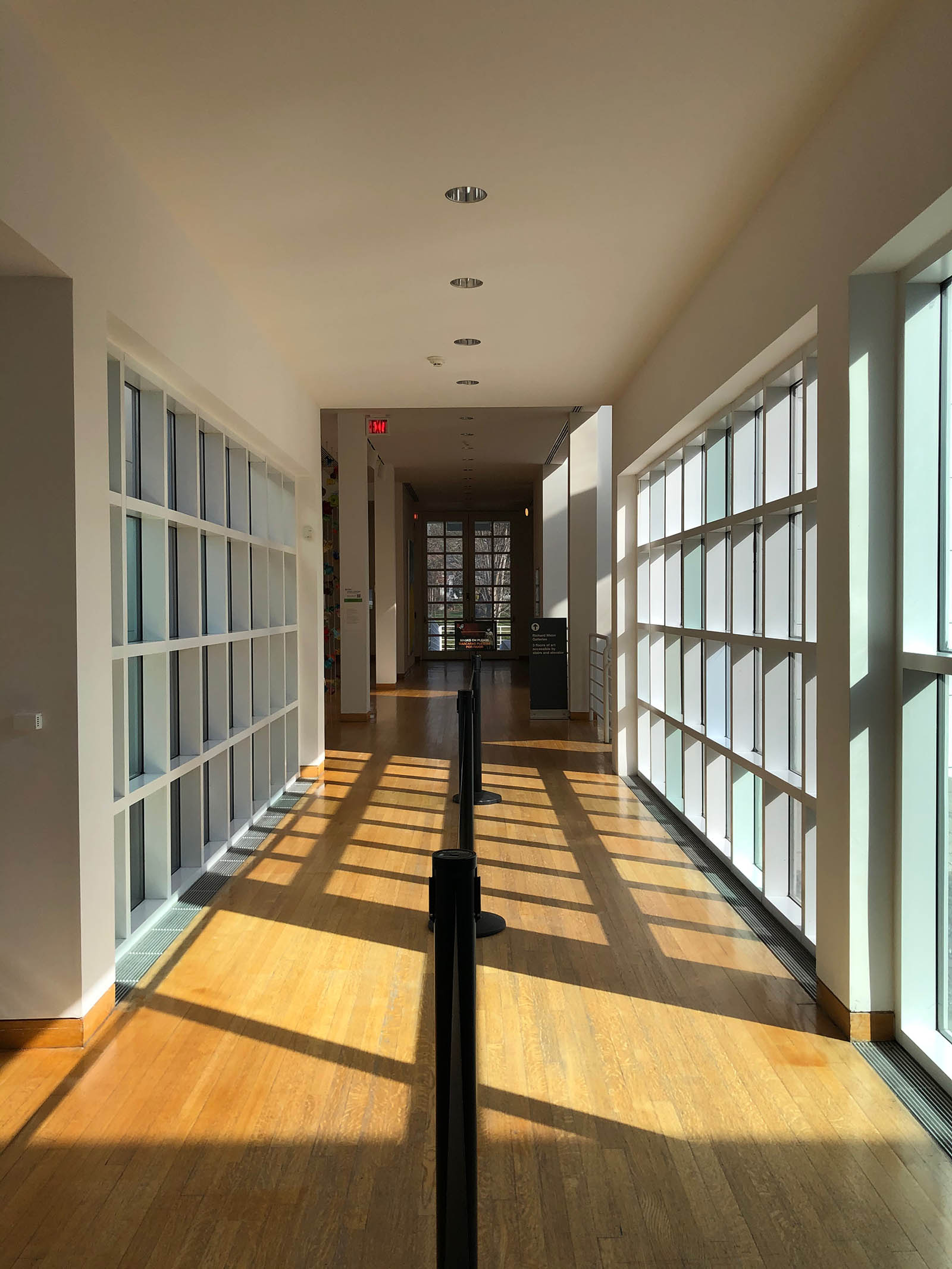 If Pei's is the quiet, subtle wing that you won't find unless you go looking, Meier's bright white multistory structure out front demands your attention. And if Pei tinkered with chiaroscuro spaces, Meier opted instead to flood his building's galleries and main circular atrium with natural light.
Standing outside, gazing at its Postmodern white paneled facade, even a child can – and did! – note the commonalities with Le Corbusier's landmark Villa Savoye.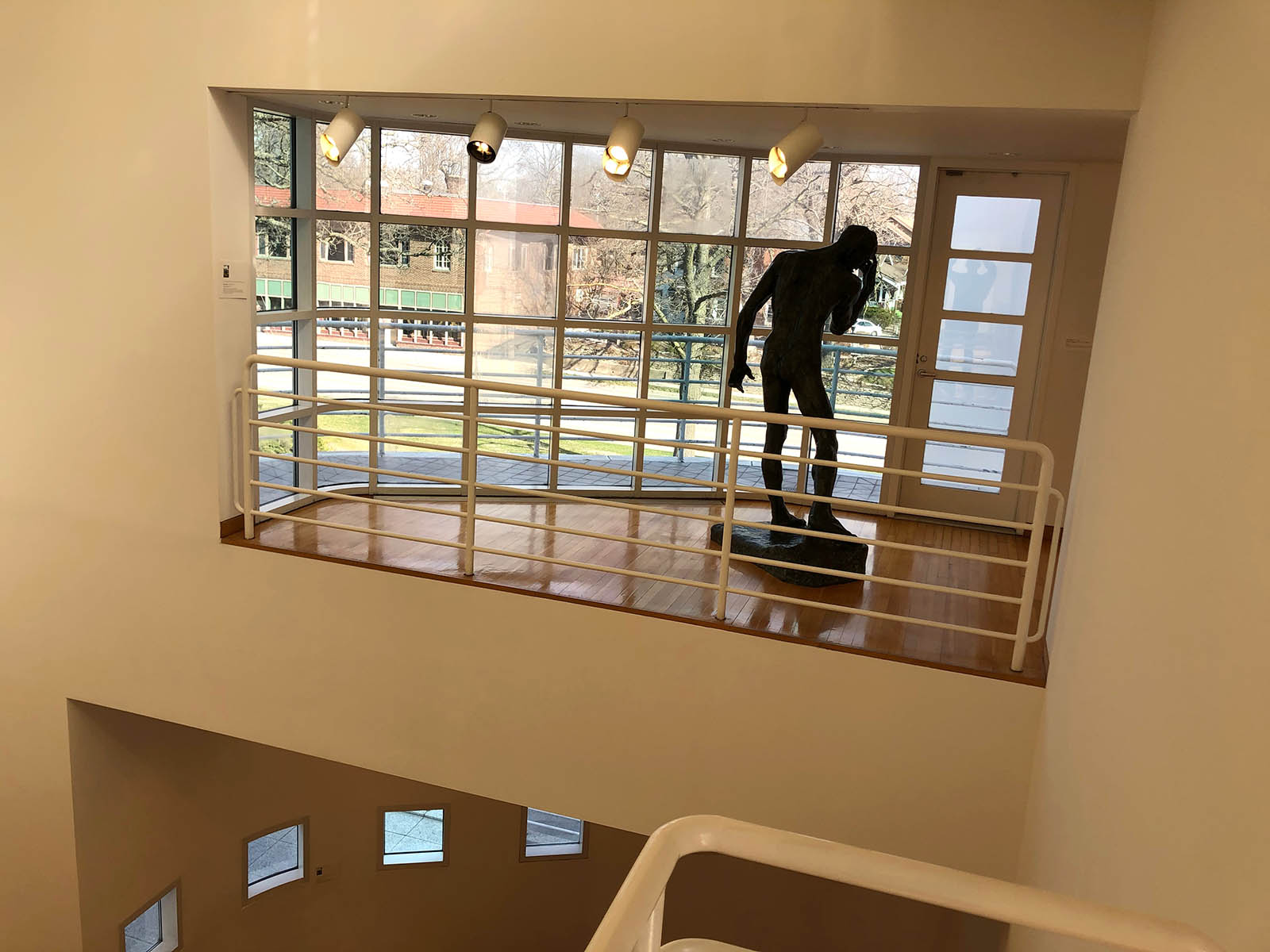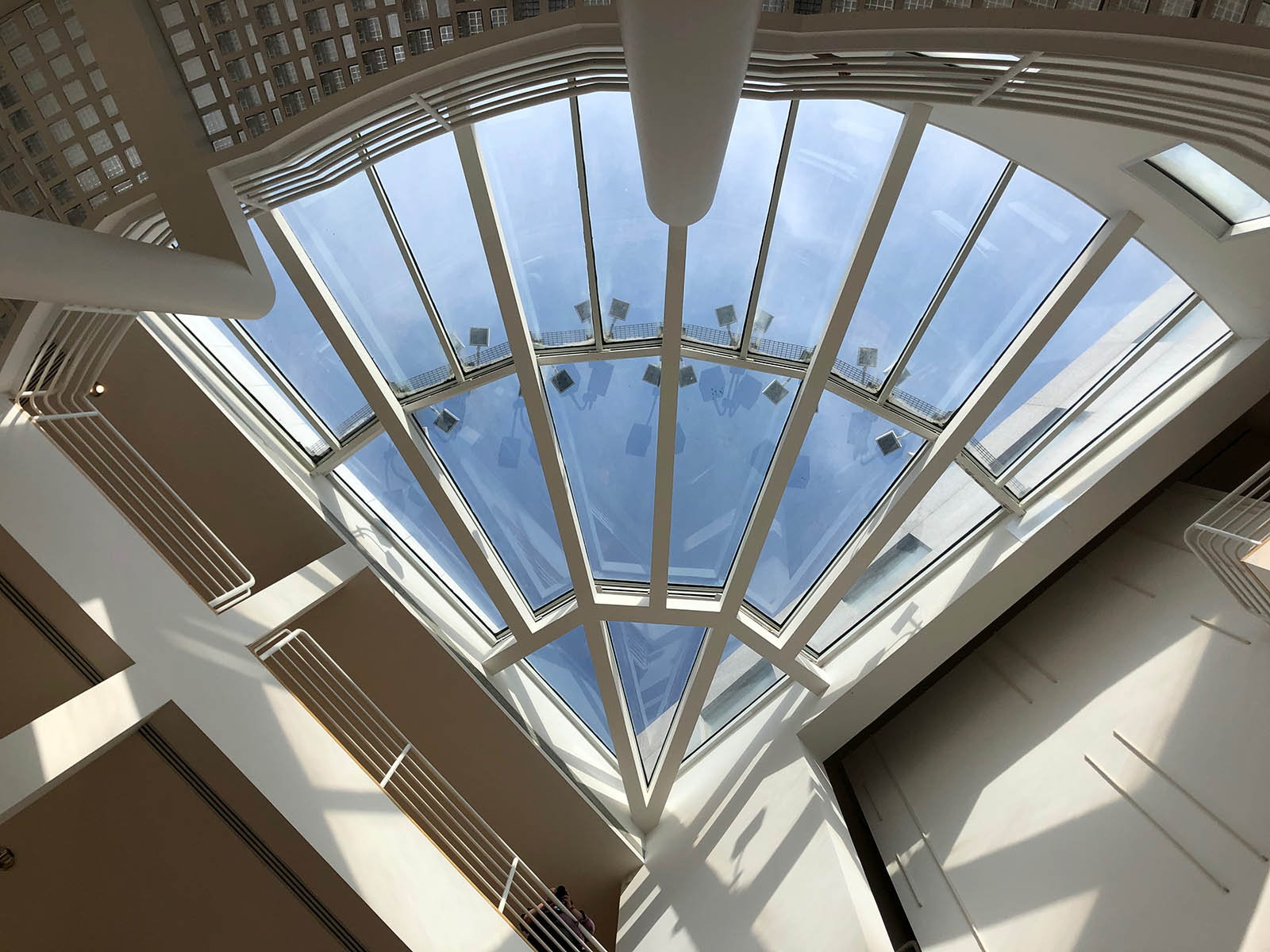 Though it was already completed at the time the complex was nominated for inclusion on the National Register of Historic Place, the Meier wing was not considered a contributing factor. Surely that would no longer be true today.

This part of the building is situated at the foot of the historic Polk Boulevard – from which it cannot be missed – and is also the only part of the Art Center that can be seen from further along Grand Avenue. It is the vocal statement, the welcome wagon for an institution that had once sought to almost quietly – too quietly? – melt into its verdant surroundings.
While its bright white exterior has therefore become almost iconic, the interior, with its 28,000 square feet of gallery, restaurant, meeting and service space, has changed the feel of the museum.
Saarinen's low galleries were intimate and Pei's soaring ceiling heights the exact opposite, but with a brooding feel.
The wood-floored, white-walled galleries in the Meier wing – especially that skylit three-story atrium – are a celebration of light.
The configuration of the galleries allows for rooms of various sizes and there are little balconies and nooks that create aha moments of pleasant surprise.
The lower-level galleries are on two levels, creating visual interest, and the atrium is a perfect setting for large-scale installations, like the one by Olivia Valentine when we visited.
All of this, as you can imagine, is why my eye was drawn away from the many fine works on the walls to the very walls themselves. And the windows, and the floors and the ceilings.
What's most exciting about the buildings, however, is that despite their apparent differences, they work together well, like a trio of buddies of different but complementary personalities.
In a 1987 article, the German magazine Baumesiter said it best: "All three architects come together here with their specific material: natural stone, concrete, and white enamel and granite plates. The resulting ensemble is highly subtle, complementary and respectful of each other."
Born in Brooklyn, N.Y., where he lived until he was 17, Bobby received his BA-Mass Communications from UWM in 1989 and has lived in Walker's Point, Bay View, Enderis Park, South Milwaukee and on the East Side.
He has published three non-fiction books in Italy – including one about an event in Milwaukee history, which was published in the U.S. in autumn 2010. Four more books, all about Milwaukee, have been published by The History Press.
With his most recent band, The Yell Leaders, Bobby released four LPs and had a songs featured in episodes of TV's "Party of Five" and "Dawson's Creek," and films in Japan, South America and the U.S. The Yell Leaders were named the best unsigned band in their region by VH-1 as part of its Rock Across America 1998 Tour. Most recently, the band contributed tracks to a UK vinyl/CD tribute to the Redskins and collaborated on a track with Italian novelist Enrico Remmert.
He's produced three installments of the "OMCD" series of local music compilations for OnMilwaukee.com and in 2007 produced a CD of Italian music and poetry.
In 2005, he was awarded the City of Asti's (Italy) Journalism Prize for his work focusing on that area. He has also won awards from the Milwaukee Press Club.
He can be heard weekly on 88Nine Radio Milwaukee talking about his "Urban Spelunking" series of stories.