For many Milwaukeeans, listening to Dewey Gill's Big Band Program on Sunday mornings on WMSE is as ritualistic as sleeping in, drinking coffee and eyeballing (or eye-rolling) the news.
Since 1981, Gill has been on the air almost every week from 9 a.m. to noon, spinning stacks of shellac 78s and entertaining listeners with his distinctive voice and vast knowledge of the era which ran from the early 20th Century through the '50s.
On Sunday, Dec. 9, Gill will once again serve up the songs for the fifth annual Big Band Grandstand at the Historic Turner Hall. The event – which runs from 4 to 8 p.m. – features the 18-member Chicago Jazz Orchestra paying tribute to big band with selections from Glenn Miller, Count Basie, Stan Kenton, Tommy Dorsey, Woody Herman and more. Dressing from the period and dancing are encouraged, but not required.
For more information and for tickets go here.
"Turner Hall is the perfect atmosphere for the grandstand. That's what it was designed for," says Gill. "Last year when we had the Tommy Dorsey Band they were absolutely taken aback. They were used to playing to people sitting down at tables, but we had a full dance floor and they got to see what it looked like from the stage in the '40s."
Gill's enthusiasm for big band music started as a kid growing up in Wauwatosa and then New Berlin. His dad, who was a DJ in the 1950s at five stations in southeastern Wisconsin including Milwaukee's WCAN and WEMP, had a jukebox that played 45s in the family's basement.
"I grew up listening to all of the rock stuff from the '50s and '60s, too, but I always had an open mind for all types of music and I always really appreciated big band," says Gill, who identifies Jack Teagarden and Benny Goodman as two of his all-time favorites.
VIDEO: Gill is "not a ham."
Gill enjoys the big band sound, but also its historical significance.
"It was the rock 'n' roll of their era. It had rhythm – it made people want to get out and dance – and it was the big breakaway from classical, chamber music – and ethnic music – that dominated the scene in the later 1800s," says Gill. "It became a huge fad. It's what all the kids were listening to and in many cases, their parents hated it. My grandfather included. He was a classically trained pianist and he couldn't stand my dad playing the boogie-woogie interpretations."
When he's not on the airwaves, Gill – who lives in West Allis today – runs a painting business called Dewey Gill's Professional Finishes. He also collects antiques and vintage cars and enjoys reading about history.
"I've immersed myself in different eras of time from American history – mostly from the Depression-era on," he says.
Gill says he looks forward to the Big Band Grandstand every year, but it also takes him a bit of mental preparation considering he is more comfortable addressing his audience from the relative solitude of the radio station booth than right in front of them up on a stage.
"I don't quite know what to do with the attention. I'm not used to it, but I love meeting the listeners," says Gill. "There's a down-home, unpretentious quality to most of the people who live in Milwaukee and that hasn't changed since I was a little kid. They call them 'Midwestern values' and I think they are very important."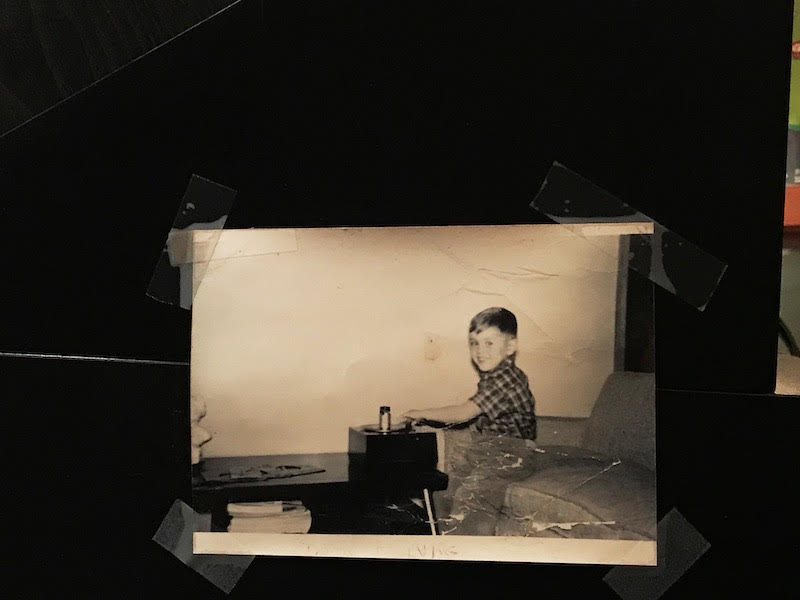 A picture of Gill as a youth taped up in the studio.

Molly Snyder started writing and publishing her work at the age 10, when her community newspaper printed her poem, "The Unicorn." Since then, she's expanded beyond the subject of mythical creatures and written in many different mediums but, nearest and dearest to her heart, thousands of articles for OnMilwaukee.

Molly is a regular contributor to FOX6 News and numerous radio stations as well as the co-host of "Dandelions: A Podcast For Women." She's received five Milwaukee Press Club Awards, served as the Pfister Narrator and is the Wisconsin State Fair's Celebrity Cream Puff Eating Champion of 2019.