Belly up to these bar stories, brought to you by Miller Brewing Co., that explore well-loved but lesser-known taps and taverns from all corners of the city and beyond.
We stopped by Dick & Gloria's Cocktails & Dreams on a Thursday morning around 11 a.m., and five or six regulars were perched at the horseshoe-shaped bar watching "The Price Is Right." Most of them had Mount Royal and seltzer mixers in front of them.
"It's our most popular drink," says bartender, Dawn. "I'm not even sure why."
Lonna Schimmelefennig, a customer who frequents the tavern two or three times a week, provided an explanation for the coveted concoction.
"It has lower alcohol and calories so it doesn't sneak up on you as quickly," she says, taking a sip. "The people here – they are so nice and we like to have fun."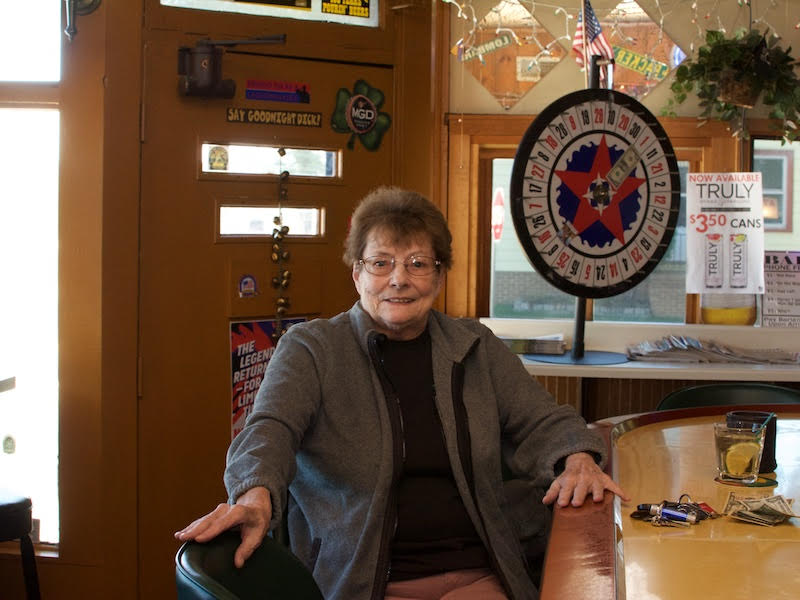 When asked how long she's frequented Dick & Gloria's, Dick Kinnee – the co-owner of the corner tap – pipes up from the other side of the bar. "She was waiting for a bus and they just built the bar around her," he says.
Dick and Gloria – who met in the 1980s while working at the now-defunct Graf's Soda – opened the bar in 1992. Dick, however, spent most of his life working in bars starting with his father's, a watering hole on 24th and State named Archie's.
"I tapped my first beer when I was 15," he says.
Before opening his bar, Dick says he tended in "half the bars in this town," including McGuire's, Sarge's Corner, Carla's and many more.
"I can't even remember them all," he says.
At one time, Dick tended regularly at Cocktails & Dreams, but these days spends his time on the other side of the bar. A friend and customer drives him every day to his tavern where he spends a few hours watching sports and talking to friends.
"That's my oldest friend right over there," he says, pointing at a man across the bar. "And that's my Uber driver, Wayne."
Dick and Gloria's daughter, Shelly, has run the bar for the past two years. During our visit, she was quick to show us a newspaper clipping from 2014 when her brother, Rick Popp, found a wounded peregrine falcon – an endangered species – in the tavern's backyard. The falcon, who was refereed to in the media as "Madame X," had been shot nine times and suffered a broken collar bone, but was saved by the Wisconsin Humane Society and returned to the wild later that year.
"Rick wrapped her up in his coat and brought her to the Humane Society," says Shelly. "There is still a $10,000 reward for anyone who has information about the shooter."
Fundraisers and benefits are common at Cocktails & Dreams, and usually organized by Gloria. Every year she collects clothing and hygiene items for the VA during the winter holidays and twice a year she hosts a "Red Solo Cup Party" that raises money for the Indian Council of the Elderly.
"We play the 'Red Solo Cup' song over and over again during that," says Shelly.
"We do what we can," says Gloria.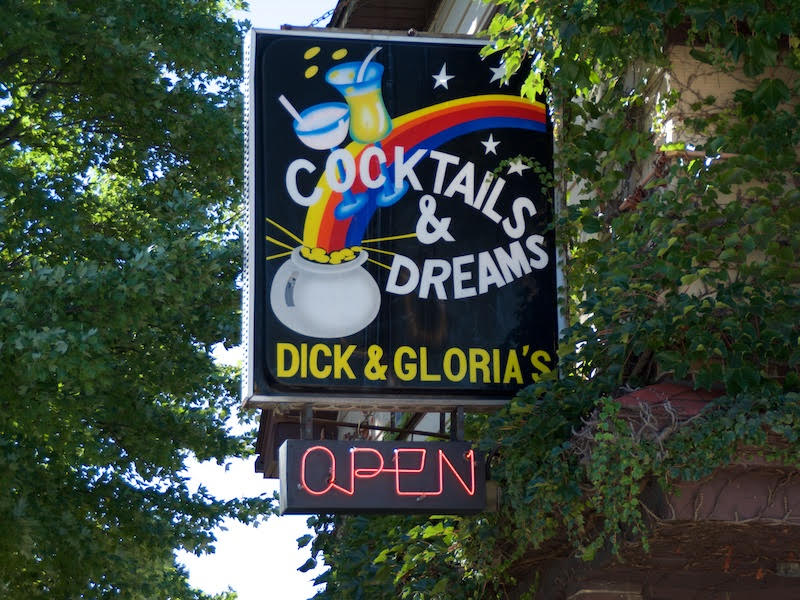 Cocktails & Dreams has a small grill and serves pizzas, hamburgers, chicken wings, fries, mozzarella sticks and packaged snacks. There's also a spread of free food during Packers games and other sporting events.
"Last Sunday we had Italian beef sandwiches," says Gloria.
Although there is a pool table in the bar, Dick says it's rarely used anymore. "We had a league for 24 years, but all the players got old and retired. Twenty-four years is a good run, though."
The customers at Cocktails & Dreams range in age from about 30 to 90, with the majority in their sixties, seventies and eighties.
"Our customers are very important to us," says Gloria. "If someone doesn't show up for a couple days we give them a call to make sure they're alright."
Dick and Gloria's Cocktails & Dreams opens daily around 10 or 11 a.m. and closes during the week around 9 or 10 p.m. and later on weekends.
Molly Snyder grew up on Milwaukee's East Side and today, she lives in the Walker's Point neighborhood with her partner and two sons.
As a full time senior writer, editorial manager and self-described experience junkie, Molly has written thousands of articles about Milwaukee (and a few about New Orleans, Detroit, Indianapolis, Boston and various vacation spots in Wisconsin) that range in subject from where to get the best cup of coffee to an in-depth profile on the survivors of the iconic Norman apartment building that burned down in the '90s.
She also once got a colonic just to report on it, but that's enough on that.
Always told she had a "radio voice," Molly found herself as a regular contributor on FM102, 97WMYX and 1130WISN with her childhood radio favorite, Gene Mueller.
Molly's poetry, essays and articles appeared in many publications including USA Today, The Writer, The Sun Magazine and more. She has a collection of poetry, "Topless," and is slowly writing a memoir.
In 2009, Molly won a Milwaukee Press Club Award. She served as the Narrator / writer-in-residence at the Pfister Hotel from 2013-2014. She is also a story slam-winning storyteller who has performed with The Moth, Ex Fabula and Risk!
When she's not writing, interviewing or mom-ing, Molly teaches tarot card classes, gardens, sits in bars drinking Miller products and dreams of being in a punk band again.