As we close out 2020, we wanted to share some of our favorite stories from the last decade. We hope you enjoy reading these stories as much as we enjoyed telling them. Click here to see the rest of our picks of must-reads and happy new year, Milwaukee!
Give Paris Hilton this: After years of being accused of being famous for doing nothing, the hotel heiress, reality star and tabloid fixture is now indeed doing something, forging a career as a EDM DJ – one of the self-proclaimed highest paid ones at that.
Unfortunately, much like the "Transformers" movies, DJ Paris Hilton's Summerfest set was one of those situations where the amount of the money involved was inversely proportionate to the amount of talent and skill on display. Also much like the "Transformers" movies, it was loud, clunky, sporadically dull despite all of the noise, unnecessarily lengthy and, by the end, left me in a little bit of pain.
So yes, consider my expectations exceeded.
After all, what was I really expecting going into Sunday night's set at the Harley-Davidson Roadhouse? Back when DJ Paris Hilton was announced as a ground stage headliner, I first assumed that it was just some sort of ironic moniker for an EDM artist I was far too old and unhip to know. Then the truth quickly revealed itself: DJ Paris Hilton was, in fact, ACTUALLY Paris Hilton, who was ACTUALLY coming to Milwaukee and ACTUALLY going to perform something resembling music on stage. Was this some sort of "Exit Through the Gift Shop"-esque art prank? Or would the polarizing heiress end up being Deadmau5? Deadmau5 does wear that mask after all. Hmm … (update: yeah, pretty confident she's not Deadmau5). Obviously I would have to go and find out.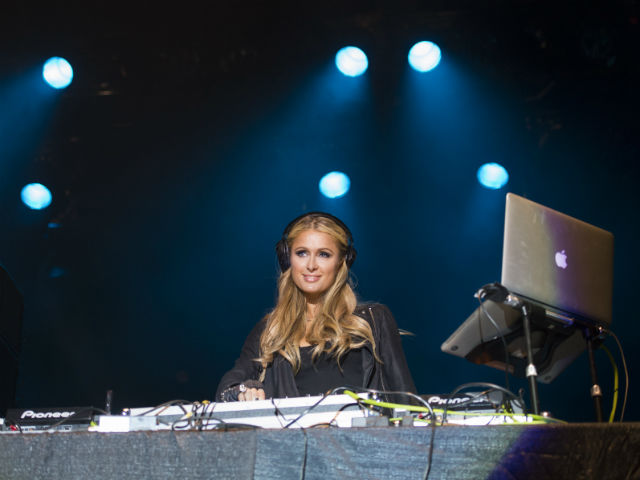 Apparently I was not alone. Arriving just before 7 p.m., the stage was already well packed with young fans. At 24, I felt like one of the oldest people in attendance. I was one of maybe five people in the crowd wearing my baseball cap with the brim facing forward, and I'd place a decent bet that over 75 percent of those there had seen the "Entourage" movie – or, considering their ages, at least asked their parents for a ride and to sign them in.
While the scent of pot was strong in the air, surprisingly the smell of irony was not. All of the people I chatted with and saw were either there for an earlier act or genuinely excited or at least enthused for the performer I now insist on calling DJ P Hilty. And why wouldn't they be, really? Judging by the ages in the crowd, most of the fans there were likely barely 10 when Hilton was at her fame peak thanks to "The Simple Life" and her sex tape in the mid-2000s. To people a generation younger than I, Hilton is probably just another famous person in a post-reality TV world filled with Internet-made insta-celebs. Nowadays, her brand of celebrity is expected, not the exception. Maybe it was always that way.
Anyways, that's way too much thought put in for DJ P Hilty.
Hilton actually served as the main act for 97.3NOW's Summer Bash, also featuring Tove Lo-in-training Ryn Weaver, the reincarnated hoodie of Jason Mraz formally known as Andy Grammer and Milwaukee's own Kid Cut Up providing some dance-worthy beats in between acts while his hype man shuriken-ed CDs into the crowd. In theory, the lineup may have made sense – two Top 40 musicians to go with Hilton. In practice, however, the three acts seemed weirdly and utterly disparate from one another. It played like somebody just took three darts and launched them blindly at a board of random up-and-coming pop stars, one landing on Weaver, one landing on Grammer and the final one bouncing off the board and hitting a Hilton-clad tabloid cover laying on a nearby desk.
The "OctaHate" hitmaker Weaver got the worst of it, performing ably all the while most of the crowd's disinterest was as palpable as the weed fumes coming from nearby. Her brand of alt-pop just didn't mesh particularly well with the EDM-hungry crowd, who sat for most of the set.
Grammer had much better luck with his acoustic set – plus bonus keytar action! – strumming out a supply of crowd-friendly recent Top 40 covers ("Thrift Shop," "Trumpets"), tossing in some beatboxing and ending on his ode to almost-but-not-quite-cheating "Honey I'm Good." The crowd response was strong; when various radio hosts came out to hype the crowd, his name seemed to easily get the biggest cheer. In other crowd related updates, not one but two condom balloons bounded over my section. This is important.
After one final session with Kid Cut Up, however, the main event was finally up, and for one of the highest paid DJ acts in the business, the stage was shockingly sparse – just an unadorned stage with Hilton's EDM equipment on a plain table, surrounded by speakers. The only decorations were the Harley bikes always in place and a montage of video tributes to Paris Hilton and shiny glorified screen-savers that played on the stage's lone side screen.
She stepped out onto the stage, said hello to Milwaukee (OK, she got the right city; hurdle one passed!) plus some basic pleasantries and then it was off behind her laptop and soundboard to fist-pump and fiddle with some switches.
Here's the thing with reviewing EDM: For me, it's a bit like reviewing fireworks. As long as things go boom and colors go pop and fizz, the main crowd will likely leave happy – especially considering both are usually taken in with more than a few beverages under one's belt. And by that standard, the young crowd seemed pleased. Basses were dropped. Hits were played. Basses were brought back. If you were hoping for a dumpster fire, this wasn't quite that.
That being said, it wasn't good either.
Much of the set sounded like the kind of in-house DJ work you can hear on the Top 40 radio stations late on weekend nights. The peak of invention or creativity came when Hilton played Benny Benassi's "Satisfaction" with The Rolling Stones' "(I Can't Get No) Satisfaction." Otherwise, it was all very familiar beats – so familiar, they were often exactly the original songs with seemingly nothing altered or changed at all despite Hilton's twisting and turning of what seemed like about two main knobs on her soundboard. Often the only change seemed to be when she would awkwardly turn down the songs – but not all the way – to hear the crowd sing, which they usually weren't.
And while we're on the topic of awkward pauses, there was also a startling amount of sonic dead space in between many songs – little lulls where the music just felt like loud background noise, not particularly good for dancing or merely going crazy. That's not even including the moment late in the set when Hilton's equipment committed seppuku right in the middle of a song and died on stage. While techies scrambled to fix the problem, Hilton came out from behind her EDM desk and chatted pleasantly if impersonally with the crowd. "I went a little too crazy with the sound," was the reasoning she offered, a line delivered convincingly on par with her performance in "House of Wax."
As for Hilton's on-stage performance, once you saw 15 minutes of it, you'd seen it all. For almost the entire night, she power-stanced in her knee-high high heel boots behind her station, making vacantly content smiles (it'd be a stretch to call it concentration … but it was close?), giving little waves to the crowd and gently fist-pumping. She routinely popped on a pair of sunglasses inscribed with "Sexy B*tch" and pulled out a cell phone emblazoned with "Queen of F*cking Everything" to take videos and pictures of the crowd (or to take selfies; I'd believe either one). Her most popular dance moves, however, were fixing her hair, fixing her tank top and quickly ducking behind her table for ... something.
Combine the vacant performance with the competent music, and well before midway through the one hour and 45 minute set, I, along with many others in the crowd, were finding ourselves quite easily distracted. I'd dance for a bit, but then quickly stop and find my mind going other places. "Oh look; an oversized Paris Hilton branded balloon is floating over here! Is that a fight breaking out there? Is she ever going to actually eat that cherry she keeps tempting herself to eat in that video? Wow, that face-painted bro really wants to get into a fight at a Paris Hilton concert. Does anybody else's knees hurt? Mine hurt. God, I'm old." And so on.
The most common thought, however, was that I was participating in what really basically felt like an ego trip. The opening video montage used the word "pioneer" to describe Hilton; a later oft-repeated tribute would claim her as a film and television star – unironically using clips from her Carl's Jr. car washing commercial as evidence. Photos and glamour shots of Paris showered from the video screen throughout the night, with the usual feed of live footage only up there about half the time.
As for Paris herself, her presence on stage was amicable, but each move felt distinctly like a pose. Scratch that: The whole night felt like a pose – no more so during the lone time she willingly stepped out from her post … just to strut, pose and preen around the stage for the crowd. All while her new single, "High Off My Love," blared in the background (what, no "Stars Are Blind"? A tragedy).
More than anything, the key take was that, above all else, this night was about Paris Hilton. For many in the crowd, that and a few strong, danceable beats – even if they were often the result of its original source and not the DJ in charge – would be enough for a fun, good night. And it was kind of fun for a good while. But by the end, I was walking back to my car with knees that felt like those of a 70-year-old that got filled with concrete, then hit with an aluminum bat. Admittedly, that's more of a complaint directed at my sad, frail human body than Paris Hilton. But there are acts worth having crippled old man knees for. And DJ P Hilty ended up not being one of them.
As much as it is a gigantic cliché to say that one has always had a passion for film, Matt Mueller has always had a passion for film. Whether it was bringing in the latest movie reviews for his first grade show-and-tell or writing film reviews for the St. Norbert College Times as a high school student, Matt is way too obsessed with movies for his own good.
When he's not writing about the latest blockbuster or talking much too glowingly about "Piranha 3D," Matt can probably be found watching literally any sport (minus cricket) or working at - get this - a local movie theater. Or watching a movie. Yeah, he's probably watching a movie.