Doc's Commerce Smokehouse said it'd open in March. And it has. The new downtown spot fired up its smokers and opened quietly this past weekend in the SpringHill Suites building at 744 N. 4th St.
The restaurant, which sports original terrazzo floors, barnboard and metal accents, as well as a big American flag-enhanced garage door (leading to overflow seating in the private events space) is spacious and stocked with high tops, low tops and a community table that seats 10.
One of the walls even sports framed prints from co-owner Brent Brashier's own personal vinyl collection.
Due to a delay in obtaining a liquor license, the bar at Doc's won't open to the public until later next week. However, there's plenty of barbecue, sweet tea and Sprecher root beer to go around. And you can get your fix beginning at 11 a.m. daily.
Casual Southern eats
Doc's, which specializes in Southern-style barbecue, is focused on hickory-smoked meats, including brisket, chicken, sausage, ribs and turkey. At the helm of the kitchen is Chef Brian Atkinson, who most recently held down the fort at Milwaukee Chophouse.
Platters, such as the rib and brisket platter shown above, include your choice of meats and two sides, along with house pickles and white bread. Pricing is $12-24, depending on what you choose. You can also get a slab of ribs and two pints of sides for $33, or a Doc's Sampler featuring ribs, brisket, pulled pork, turkey, wings and sausage for $45.
Meats come dry-rubbed and smoked, but you have your choice of regional sauces, including a spicy Texas-style sauce, a tangy tomato-based Memphis style sauce, Eastern Carolina pepper sauce, Doc's signature sauce that is sweetened with molasses and brown sugar, and a poultry-friendly Alabama-style white sauce made with mayonnaise and vinegar.
Other options include smoked wings (12 for $14), smoked onion dip ($6) and fried housemade pickles served up with BBQ ranch sauce ($6). There's also a pimento cheese platter with classic Saltine crackers and sliced Usinger's sausage ($8). It's even available as a vegetarian plate, featuring house-made smoked Doc's Shami.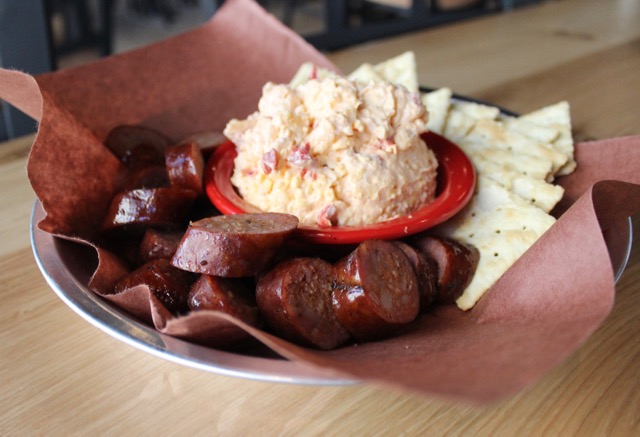 You can also get a Doc's favorite, the Redneck Fries, topped with cheddar cheese sauce, your choice of brisket or pork, sliced jalapenos and Doc's Original Sauce ($11).
The menu also features sandwiches with house meats ($9-12), salads ($9) and Southern style desserts, including peanut butter pie and lemon icebox pie for $4 each.
Doc's is open daily beginning at 11 a.m.
Lori Fredrich (Lo) is an eater, writer, wonderer, bon vivante, traveler, cook, gardener and girlwonder. Born and raised in the Milwaukee area, she has tried to leave many times, but seems to be drawn to this quirky city that smells of beer and alewives.
Some might say that she is a little obsessed with food. Lo would say she is A LOT obsessed with food. After all, she has been cooking, eating and enjoying food for decades and has no plans to retire anytime soon.
Lo's recipes and writing have been featured in a variety of publications including GO: Airtran Inflight Magazine, Cheese Connoisseur, Cooking Light, Edible Milwaukee, Milwaukee Magazine and the Milwaukee Journal Sentinel, as well as on the blog Go Bold with Butter, the web site Wisconsin Cheese Talk, and in the quarterly online magazine Grate. Pair. Share.