Doors Open Milwaukee introduces Milwaukeeans and visitors to all sorts of new experiences unique to the Cream City. Each year, as many as 150 free sites and over 30 in-depth tours open up for folks from near and far to see, often for the first time.
In addition to Doors Open Milwaukee, Historic Milwaukee, Inc, provides walking tours and educational programs including Spaces & Traces.
When all of these sites are presented to you in the Doors Open event guide or website, you'll likely find several places that pique your interest and prompt you to ask a couple of those recurring questions in life: "Where are we going? And how do we get there?"
My role as cartographer, or map maker, for Doors Open is to help provide an easy-to-read map that guides you to any and all of the sites and tours that will be open on Sept. 19-20. Beyond the scope of providing directions to sites with the maps, I get to observe how Doors Open Milwaukee becomes a more inclusive way to get to know the City of Milwaukee and its nearby suburbs.
My role is one of many volunteer slots that are absolutely necessary in making the event a success each year. Several hundred people take on a variety of duties from recording the number of visitors at each site to helping Amy Grau as program manager of Doors Open Milwaukee generate creative marketing ideas to spread word of the event to the masses. Without all of these fabulous folks giving their time before and during the event, Doors Open Milwaukee simply couldn't exist.
What possibly makes my situation unique through three-plus years of volunteering is that I follow the event as an out-of-towner. Growing up in Northern Wisconsin, I have played a part in Doors Open while living in the St. Louis (where I did not root for the Cardinals!) and Madison metro areas. Living in these other cities while also trying to keep a pulse on Milwaukee's culture gives me a different vantage point to pick out what Milwaukee offers, especially through Doors Open, that is fresh and new compared to its fellow Midwestern cities.
Finding what is noteworthy inside the ordinary
On top of my love of mapping, I'm also interested in architecture (who knew, a Doors Open volunteer who likes buildings?!). As a hobby, I write articles and photograph churches for my blog Roamin' Catholic Churches (pun unapologetically intended). As I started to travel more often before and when I first moved to St. Louis, I couldn't help but take note of the artistic oases that many historic church buildings represent in local neighborhoods. Churches and other institutions in seemingly ordinary neighborhoods are critical hubs for the lives of generations of people who have lived there. Theaters, taverns and other places that make up the vernacular landscape help give neighborhoods the identities that make them noteworthy places to live in or experience. Understanding the history and function at the hyper-local scale of the average city neighborhood is essential to understanding the larger city as a whole.
Since Doors Open began in 2011, it has always been well-geared towards engaging people young and old with what makes the city tick. What it has acquired more slowly over time in my eyes, however, is a greater recognition of its more residential neighborhoods, the colorful patches of Milwaukee's urban quilt. I see this in the way that Doors Open has sprouted from a seed with just over one hundred sites largely centered around Downtown in its first years, to an event drawing 20,000-plus visitors to nearly 200 sites and tours over the third weekend in September.
While Downtown provides the most historic and concentrated collection of sites in Doors Open, there is a unique sense of endearment that comes with each residential neighborhood, or patch in Milwaukee's urban fabric.
In her February post for this blog, Amy mentioned several neighborhoods as possible new contributors to the event. The communities new to Doors Open that participate this year will join several other neighborhoods who have successfully made their mark for Doors Open visitors in the last couple years. Some of these more residential areas have already begun to offer participation for this year's event, so I'll share parts of their stories.
Revitalizing cultural icons on the South Side
Milwaukee's South Side, long known for its historic Polish and now thriving Hispanic population, first became engaged with Doors Open Milwaukee in 2012 when the Basilica of St. Josaphat opened up for free site visits. With each year since, more and more landmarks on the South Side have joined in on the event. In 2014, special effort was made to engage the Historic Mitchell Street Corridor with the event, resulting in several brand new site visits and drawing nearly 2,000 new visitors to the corridor.
Some of these sites are majestic old buildings that are themselves lynchpins to the South Side's history. St. Stanislaus Catholic Church, built in 1873, is one of the first churches in the area. Just a few blocks down Mitchell Street, the Modjeska Theater came into popular use in the early 20th century as the local Polonia was reaching the peak of its influence.
While history alone makes these places a worthy draw for Doors Open visitors, the changes that each place has endured and the improvements they seek to make will continue to make them contributors to the neighborhood. The church has embraced the Latin Mass, commonplace before the Catholic Church's Vatican II meetings of the 1960s, bringing a fresh group of parishioners and inspiring a restoration of the building to better match its original 19th Century appearance. The Modjeska too, is undergoing renovations to remake the venue as an ongoing landmark for the South Side and beyond.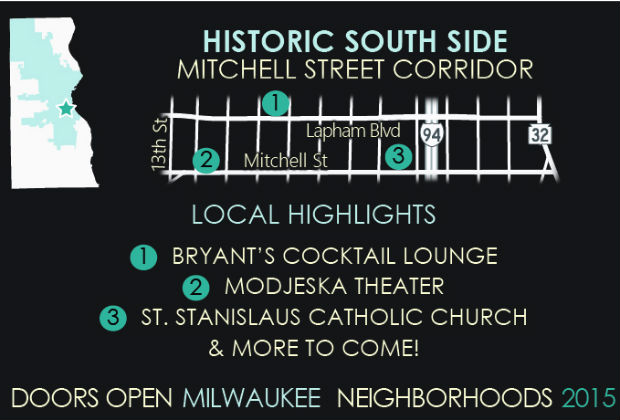 Of course, as you move farther from Mitchell Street, other neighborhood icons have made their mark with Doors Open Milwaukee. Bryant's Cocktail Lounge has been a popular contributor to the event since 2012, and for the second year in a row, MPTV/PBS's "Wisconsin Foodie" host Kyle Cherek will be guiding an In-Depth Tour (see last month's article for more details). Within a healthy walk from Bryant's and Mitchell Street are younger but also important sites in the neighborhood that will be open for the event: the Survive Alive House and Milwaukee Southside Health Center.
Arts and family history flow through Harambee and Riverwest
Riverwest and Harambee are more neighborhoods forging their place in Doors Open Milwaukee this year. Well-established as one of Milwaukee's most eclectic residential neighborhoods, it's actually a series of businesses and community organizations that are highlighting the growing event site list.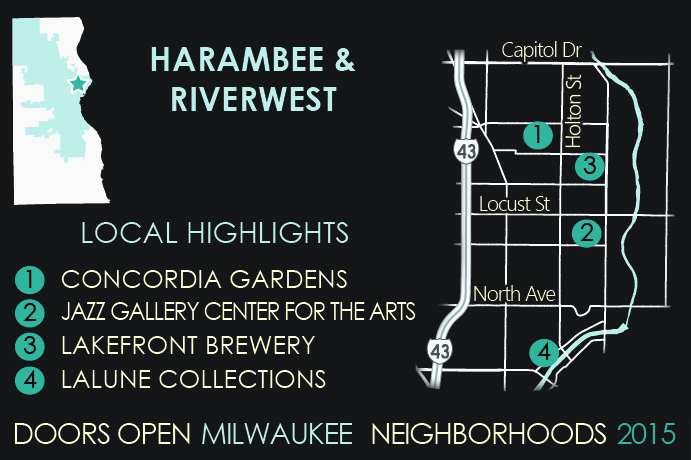 One of the new sites leading the way for the neighborhood is the Jazz Gallery Center for the Arts. The Gallery is the major gathering point for the Riverwest Arts Association, who have been active in the neighborhood since the 1970s. Nearby, LaLune Collections furniture factory and Concordia Gardens will also be open for Doors Open. Of course, as you finish exploring Riverwest and Harambee by touring and imbibing in the sudsy treasures of Lakefront Brewery, only a few blocks away on Commerce Street.
Reflecting back on my thoughts of finding the "noteworthy inside the ordinary," I feel compelled to reflect on a couple more sites that would be worthy additions to Doors Open. In the 1950s, my Polish great-grandparents moved to Clarke Street in Riverwest from their home in Stevens Point for better work opportunities. While I have not uncovered many details of their stay in Milwaukee yet, I can't help but imagine that they frequently walked across the street to the Falcon Bowl or down the block to St. Casimir's Catholic Church. Falcon Bowl, one of the city's oldest institutions for bowling, has also spent much of the last century serving as an ethnic fraternizing home for Milwaukee's North Side Polish patch. St. Casimir's, with its Gothic architecture and impressive statuary, is noteworthy in its own right.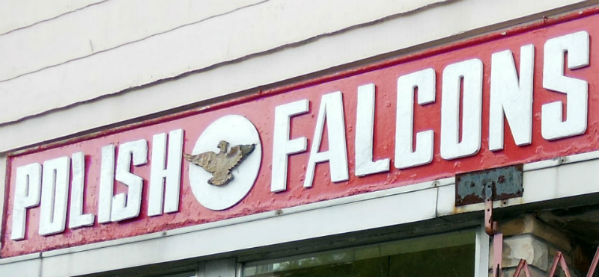 Harambee, Riverwest and the Historic South Side are only a handful of many neighborhoods around Milwaukee that are opening up to visitors for Doors Open this September. These and other neighborhood areas not only attract attention through Doors Open Milwaukee, but will also be revisited for their history and evolution in a book describing the stories of these places. Historic Milwaukee, Inc., the host of Doors Open Milwaukee, will publish a 300-plus page volume on Milwaukee's neighborhoods penned by John Gurda. While a publishing date has not been released yet, it should be out in time for Doors Open 2015.
Mapmaker, oh mapmaker, how do you make those maps?
When Amy asked me to write this guest post, she asked me to write about the process of making the map that is printed each year in the event guide. To this point, I've deftly ignored that request. Making the event maps is a relatively straight-forward process, but like Doors Open itself, partnerships with a variety of folks are essential to make a map that is useful and maybe a little bit pretty.
While I have the honor of assembling mapping or GIS (Geographic Information Systems) data into maps, I rely on a slew of folks to help bring the maps to life. To start the process, I request copies of the newest GIS data sets from the Milwaukee County Land Information Office who is tasked with updating these data for governmental and citizen use. Amy and several other helpers keep me up-to-date with an ever-changing list of sites and tours that I need to apply to the maps as well.
Once I have the map nearly complete, I share it with folks to give me an honest critique of the maps. Usually these comments finish arriving to me in the wee hours of the morning the day the maps go to press.
Finally, after a busy few hours of map edits, the annual Doors Open Milwaukee maps are printed and shared with all sorts of Milwaukee Journal-Sentinel readers and Doors Open visitors. On a personal note: Since most of the maps that I make are used for planning purposes inside the office at my regular job, it's always exciting to see the Doors Open maps reach so many people!
Before I end this post, I have one more map for you to think over. The map below displays each neighborhood with confirmed sites for Doors Open Milwaukee so far. As of April 28, there are 120 sites signed up, with a few dozen more hopefully to come.
For May's article, Amy will be back in the writer's chair, where she will bring you up-to-speed with some of the public tours playing part in Doors Open Milwaukee this year. Interested in climbing the bell tower at City Hall, or seeing what happens behind the set at WISN-TV? Stay tuned for these fun Doors Open events in next month's article!