In mid-June we announced that a brand new Beer Patio was coming to the southern side of the Milwaukee Public Market, thanks to a collaboration between the Public Market and Shorewood's Draft & Vessel.
For the past two weeks, Draft & Vessel owner Nathaniel Davauer and local artists Nicholas Hardrath and Brandon Minga have been hard at work preparing the new temporary patio space. And the market announced today that the new outdoor space will officially open to the public on Friday, June 28 at noon.
The patio will feature a 1941 beer-slinging Ford pick-up truck geared up with eight draft lines which will showcase a selection of brews from Milwaukee area self-distributed craft breweries.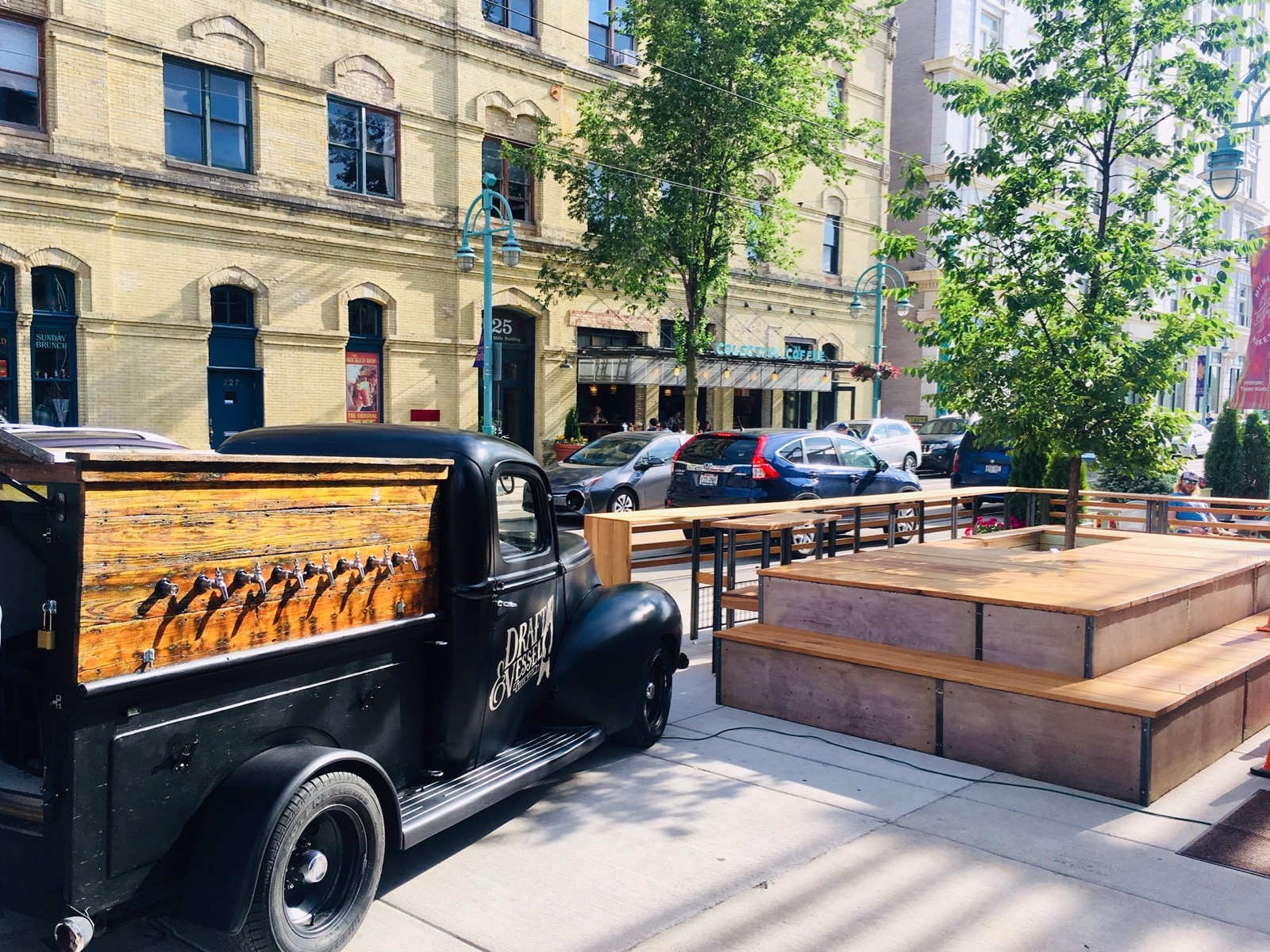 On draft
The inaugural tap list will include selections from Gathering Place, Vennture Brew Co., Enlightened Brewing Co. and Explorium Brewpub along with a craft cocktail from Twisted Path Distillery, Rishi Tea, Nessalla Kombuch and Potosi Root Beer. The truck will also rotate in cold brew coffee from Anodyne Coffee Roasters.
The custom designed gathering area was designed to complement the look and feel of the market, and it will be open for seating to customers of the public market throughout the week during regular market operating hours.
Beginning June 28, the Draft Patio's hours of operation will be Thursday and Friday from noon to 8 p.m., Saturday from 10 a.m. to 8 p.m. and Sunday from 10 a.m. to 6 p.m. Hours are contingent upon weather conditions.
Lori Fredrich (Lo) is an eater, writer, wonderer, bon vivante, traveler, cook, gardener and girlwonder. Born and raised in the Milwaukee area, she has tried to leave many times, but seems to be drawn to this quirky city that smells of beer and alewives.
Some might say that she is a little obsessed with food. Lo would say she is A LOT obsessed with food. After all, she has been cooking, eating and enjoying food for decades and has no plans to retire anytime soon.
Lo's recipes and writing have been featured in a variety of publications including GO: Airtran Inflight Magazine, Cheese Connoisseur, Cooking Light, Edible Milwaukee, Milwaukee Magazine and the Milwaukee Journal Sentinel, as well as on the blog Go Bold with Butter, the web site Wisconsin Cheese Talk, and in the quarterly online magazine Grate. Pair. Share.