Editor's note: The original collaboration between Duck Duck Goat and DanDan scheduled for Aug. 29 was postponed and will now take place Sept. 12.
A taste of Chef Stephanie Izard's Duck Duck Goat is coming to Milwaukee, thanks to a one-day-only meal kit collaboration with the folks at DanDan, 360 E. Erie St.

Chef Izard and Chefs Daniel Jacobs and Dan Van Rite of DanDan have hosted a variety of collaborative dinners over the years. This time – in the spirit of mutual support – the chefs have once again joined forces for this one-of-a-kind carry-out experience.

The collaborative meal kit for two, which features some of Izard's favorite dishes from Duck Duck Goat as well as a DanDan signature, is currently available for pre-order, with pick-up taking place on Saturday, Sept. 12 between 1 and 3 p.m. at DanDan.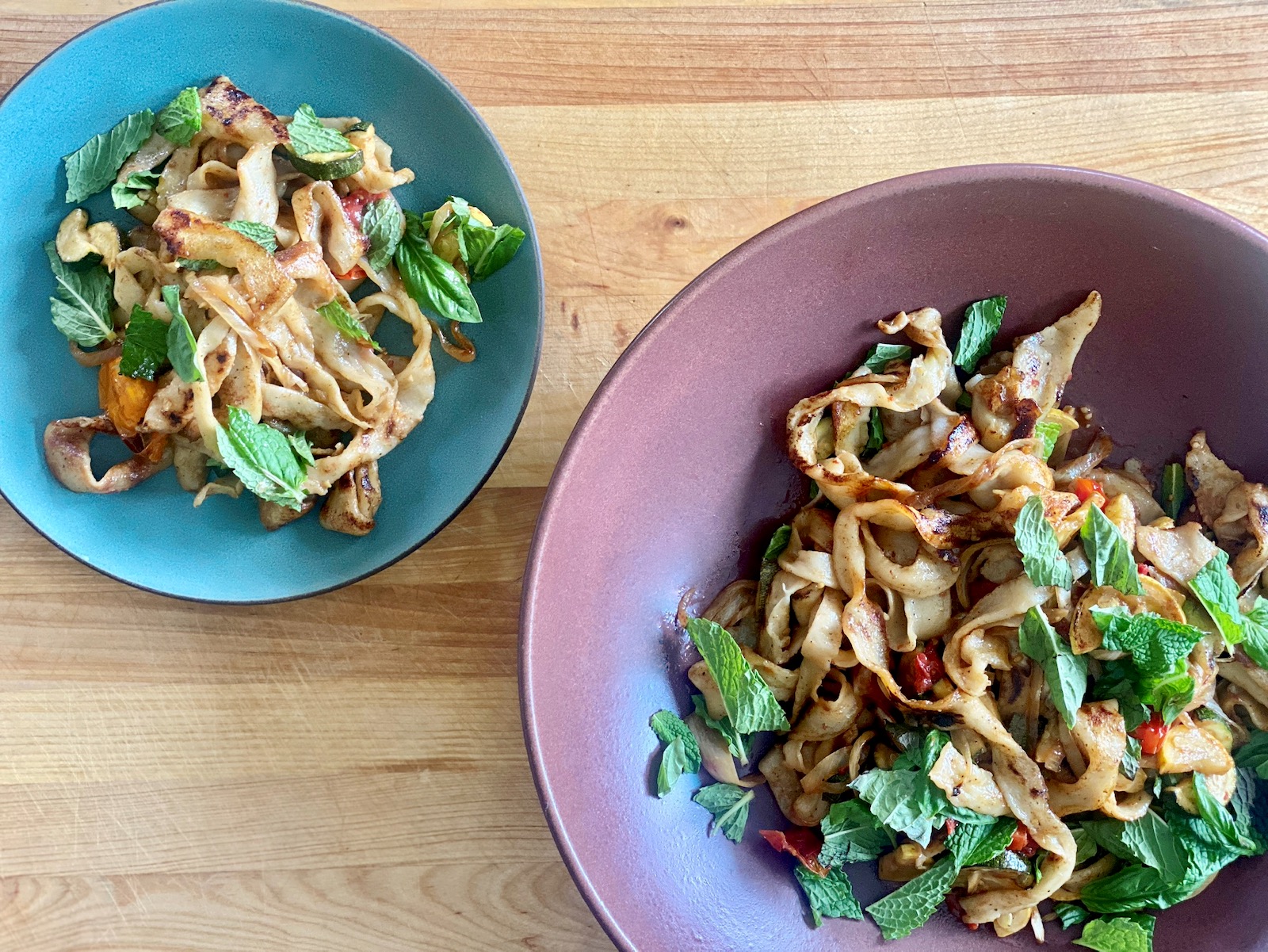 The menu includes:
Duck Duck Goat's Merchant Seafood shrimp and farm veggie slap noodles (pictured above)
Beef and bone marrow potstickers (main photo)
DanDan tomato and kohlrabi salad with silken tofu, charred scallion and mustard greens
Duck Duck Goat's mango coconut cloud dessert and almond cookies
Each kit is $75 and includes dinner for two complete with detailed cooking instructions and access to live cooking videos.
Get yours
Pre-orders can be placed online via Tock (with pick-up on Saturday). On Sept. 12, guests can pick-up their meals at their chosen time at DanDan. Pick-up is contact-free; guests should call the restaurant at (414) 488-8036 when they arrive and someone will bring the kit out to them.
Lori Fredrich (Lo) is an eater, writer, wonderer, bon vivante, traveler, cook, gardener and girlwonder. Born and raised in the Milwaukee area, she has tried to leave many times, but seems to be drawn to this quirky city that smells of beer and alewives.
Some might say that she is a little obsessed with food. Lo would say she is A LOT obsessed with food. After all, she has been cooking, eating and enjoying food for decades and has no plans to retire anytime soon.
Lo's recipes and writing have been featured in a variety of publications including GO: Airtran Inflight Magazine, Cheese Connoisseur, Cooking Light, Edible Milwaukee, Milwaukee Magazine and the Milwaukee Journal Sentinel, as well as on the blog Go Bold with Butter, the web site Wisconsin Cheese Talk, and in the quarterly online magazine Grate. Pair. Share.