(NOTE: Under the "Essential Businesses and Operations" section of the
Safer at Home Order, residential real estate is considered an essential business so homes are still being bought and sold throughout the greater Milwaukee area. While continuing to conduct business, local Realtors are implementing precautionary best practices to reduce or eliminate contact with others and help prevent further spread of the coronavirus.)
Back when I was beginning to consider buying my first home, more than one home-owning friend suggested that I consider buying a duplex, and they explained some of the benefits.
But having lived in multi-family houses or apartment buildings for nearly my entire life, I was ready to give living on my own a try for once.
While I opted for a single-family home after a lifetime of living in multi-family homes, there are definitely a number of upsides to owning a two-family, and I recently talked to the owner (but not occupant) of a duplex, as well as a Realtor who has also owned a two-family home (and lived in it for five years) to hear what they had to say.
Here are, according to them, five reasons to consider buying a duplex.
Options
A duplex has a lot of space, and there are a variety of ways to utilize it.
In my case, in two duplexes over the years, we lived with grandparents in an extended family setting.
In a friend's case in Washington Heights, as the children grew, more space was needed. So, when the tenants moved out of the second unit, my friend's family expanded to take over the whole house.
An area school principal, Jen Vega, who lives in a single-family home and owns a duplex a block away, says she likes knowing the duplex is there for her.
"I always say that if it hits the fan, we can always move into the duplex and have most of our mortgage covered by the rental of the other unit," says Vega.
Like me, Keller Williams Realtor Dawn Shipley bought her duplex to accommodate an extended family.
"For us, our initial duplex purchase was perfect because we were buying with a family member who would live in one side, while we occupied the other," Shipley says. "A lot of buyers see duplexes as a great way to have family members close by, without sharing all spaces.
"Whether purchasing together and splitting costs down the middle, or having one party purchase and the other pay rent, this can be a really efficient way to have two families in one space while maintaining privacy. We purchased on the southwest side of Milwaukee and found that several of the side by side duplexes on our block were occupied by families."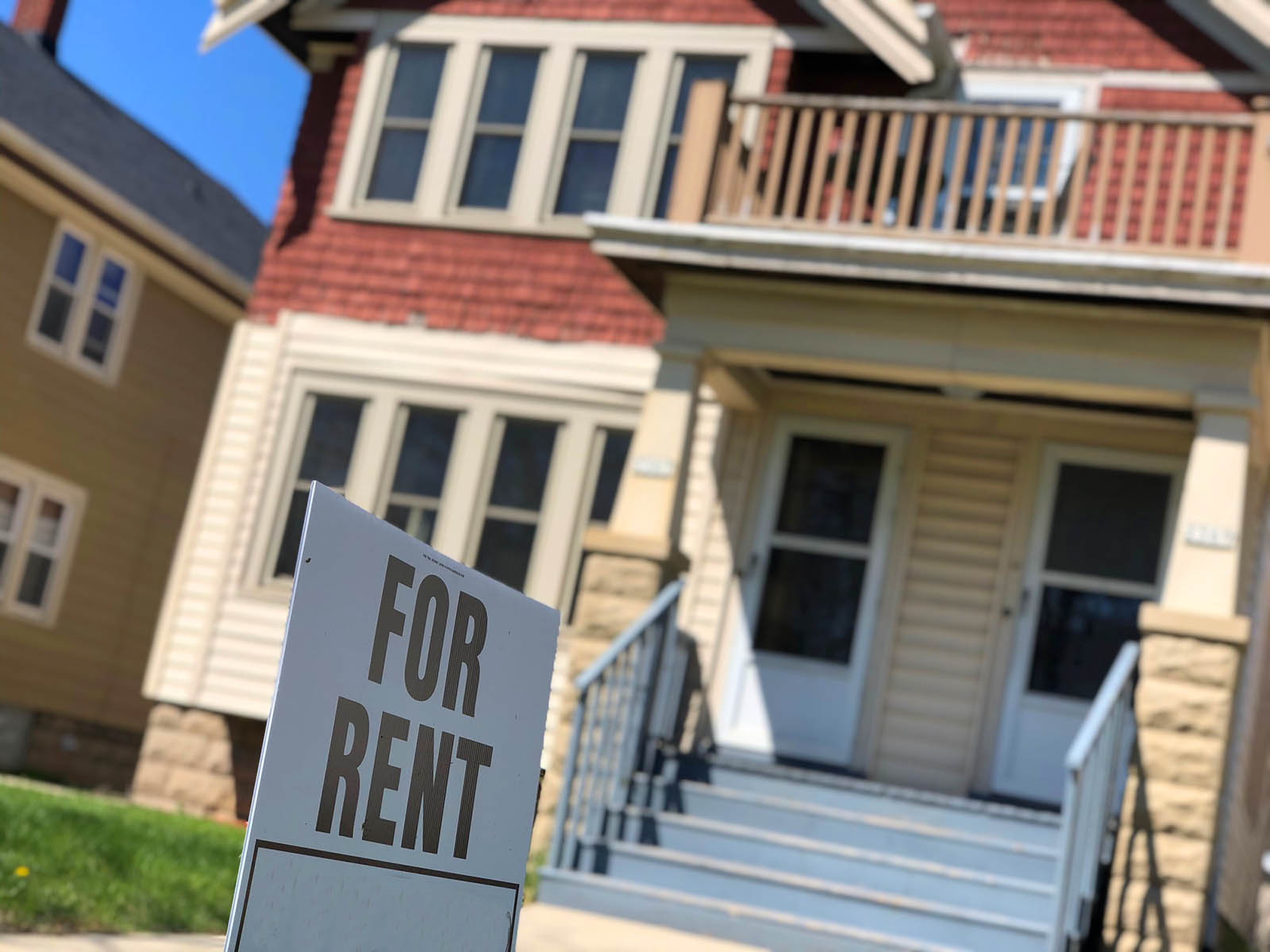 Duplexes can supply additional income that can be used to pay down the mortgage
or for other expenses. (PHOTO: Bobby Tanzilo)
Extra income
If you rent out the second unit of your duplex, you'll have income a single-family homeowner can't access. What you do with it is up to you.
You can use the money to pay your mortgage, to buy another property – hey, maybe you can finally afford that lake house! – or travel the world.
Having tenant income that can cover or defray a monthly mortgage payment offers a great opportunity for first-time buyers to get into the market.
"I don't count on the income right now," says Vega. "I pay down extra (mortgage) principal each month because we want the extra income for retirement, so I have to pay it off quickly."
Just remember to bank some of that income because having a tenant makes you a landlord, so you will have expenses that you can't choose to ignore like you might if you were in a one-family.
However, Vega points out, even this downside has an upside.
"You can write off any repairs, expenses, even for your own time," she says.
Equity
As is the case with any property you own, as you pay down the mortgage, you get more equity and your investment becomes more valuable. And while the real estate market fluctuates, it's generally regarded as one of the safest investments you can have.
"At this point, we are excited to hold our duplex for the long term. It not only provides monthly income, but also is appreciating in value each year," says Shipley. "Over the long term, our tenants are covering the rent and paying down our mortgage. Eventually the duplex will be paid off, and each month two tenants are paying rent. If we choose to sell it, we can do so at the current market value.
"Each year, we are making improvements to our investment property and someday its sale will be a nice addition to our retirement income. In the meantime, we maintain it as if we were still living there."
Learn how to be a good landlord
After purchasing her duplex, Vega purchased a nearby four-family building and is considering buying another. This helps build her income and equity and boosts her investment in – and connection to – the neighborhood in which she lives.
Shipley adds that it also means maintenance.
"A great piece of advice from the landlord training program was to keep your rental properties as you'd want them if you were living there," she says. "It's important for new landlords to do their homework, and the free Landlord Training Program through the City of Milwaukee is really helpful in educating people about how to screen potential tenants, fair housing laws and general resources.
"Attending that class, and reading 'The Millionaire Real Estate Investor' are two things that I recommend to clients who are considering purchasing duplexes, whether or not they plan to owner occupy."
Make no mistake. Being a landlord isn't simply about cashing checks. There is a lot of responsibility, expense and sometimes, let's face it, hassle.
"It means that you sometimes need to drop everything and respond or get someone in there," says Vega, who manages her property on her own.
But both Vega and Shipley note that hiring a management company is an option.
"For someone who wants to own a duplex, but doesn't want landlord responsibilities, hiring a property manager can be a great way to protect your investment property from afar," says Shipley.
"The property manager can screen tenants and handle leasing, and then once a tenant is in the property, they can take care of all maintenance and collecting rent. It's important to get recommendations for a great property manager from a trusted source."
Tax benefits
As Vega noted above, duplex owners can deduct their expenses each year, but there are also tax benefits to the act of buying a home as well as the deduction of mortgage and (some) home-equity loan interest.
In the end, every buyer must decide what's right for them, but as Suzanne Powers, owner/Realtor of Powers Realty says, "Real estate is one of the best investments you can make.
"Rental properties as part of your overall investment strategy is a great way to have diversification."
Born in Brooklyn, N.Y., where he lived until he was 17, Bobby received his BA-Mass Communications from UWM in 1989 and has lived in Walker's Point, Bay View, Enderis Park, South Milwaukee and on the East Side.
He has published three non-fiction books in Italy – including one about an event in Milwaukee history, which was published in the U.S. in autumn 2010. Four more books, all about Milwaukee, have been published by The History Press.
With his most recent band, The Yell Leaders, Bobby released four LPs and had a songs featured in episodes of TV's "Party of Five" and "Dawson's Creek," and films in Japan, South America and the U.S. The Yell Leaders were named the best unsigned band in their region by VH-1 as part of its Rock Across America 1998 Tour. Most recently, the band contributed tracks to a UK vinyl/CD tribute to the Redskins and collaborated on a track with Italian novelist Enrico Remmert.
He's produced three installments of the "OMCD" series of local music compilations for OnMilwaukee.com and in 2007 produced a CD of Italian music and poetry.
In 2005, he was awarded the City of Asti's (Italy) Journalism Prize for his work focusing on that area. He has also won awards from the Milwaukee Press Club.
He can be heard weekly on 88Nine Radio Milwaukee talking about his "Urban Spelunking" series of stories.