Milwaukee has been waiting. And finally, the news has arrived. Easy Tyger, the East Side small plates restaurant we profiled in August, has announced that it will open its doors to public on for dinner service, beginning Jan. 2 and 3.
Of course, if you're itching for a preview, you can stop by on New Year's Eve from 5 p.m. to 1 a.m. (11 p.m. for food) to sample from a limited menu, which will include a choice of five small plates and one dessert, along with bar service.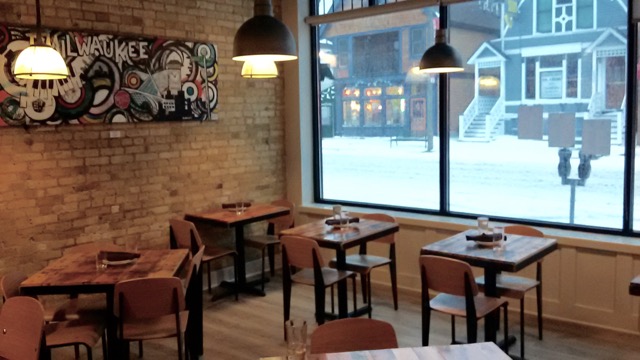 Since August, former Bacchus chef Evan Greenhalgh in collaboration with Sous Chef Vinny Cornilis, formerly of Blue Jacket, have been working hard to clarify the concept behind the restaurant's international small plates menu.
"We've really zeroed in on the idea of street food," says Greenhalgh. "It's a concept everyone understands, especially if they've traveled. Dishes won't be served in paper boats or on a stick, but we definitely want to keep things fun. We'll be plating things with an eye for the more modern, more composed but still capture the places from which the dishes originate."
Greenhalgh has done his share of traveling. He completed a brief stint working at a four-star restaurant at Las Mañanitas Cuernavaca in Mexico City, and he recently returned from a trip to England and France where he says he ate as much as he possibly could.
"The thing I really like about street food dishes is that they're so tried and true," he says. "They are dishes that have a history to them, a story behind them. And that's why we'll be training waitstaff to communicate the story behind each dish."
The menu
A rotating menu of small plates, priced $9-16, will include items like the Vietnamese Banh Mi, Japanese ramen, Peruvian scallop ceviche, Chinese steam buns filled with char siu brisket, bibimbop (pictured below) and Mexican style lamb tacos el pastor.
"The pastor has a great story," notes Greenhalgh. "Immigrants from Lebanon actually brought the spit roasted meat to Mexico, and it became part of the Mexican culture. Even today, if you walk down the streets in Mexico City, there are these little stands with shawarma style meats, and they slice it right off for you right onto a tortilla. It's really great."
Meanwhile, African-style chicken wings will be tossed in a piri piri glaze, a sauce which originated when the Portuguese traveled to Africa.
"The word 'piri piri' is Swahili for pepper," he says. "So, again, it's a dish that tells the story of the melding of cultures – things from the Old World that are brought into a new culture and enmeshed into the cuisine. So, it's kind of like this Africa and Portuguese party in your mouth."
There will also be langos, a Hungarian potato dough flatbread that's fried and served similarly to a Navajo taco. Suppli (pronounced soop-lee), a Roman version of arancini (risotto balls), will be finished with a blend of Italian cheeses and served with a classic Pomodoro sauce.
"And one thing we're holding over from the last menu are the pig ear nachos," says Greenhalgh. "They'll be crisp on the outside with a bit of tender unctuousness on the inside."
Beverages
General manager Todd Hasselbacker, former wine rep and Bartolotta's alum, says he'll be tying front of the house operations into the street food theme.
"Our beverage service will also be international," he says. "I want people to be able to have pairings for each dish that come from the same area. So, if they're eating food from Provence, we'll have a rose to match."
Cocktails, which will stick to the classic side of things, will be value driven ($5-10 each) and built to pair with individual dishes. Meanwhile, an international wine list will focus on single varietals with a healthy selection of half bottles so that diners can create pairings for each plate if they desire. Beer will include eight taps serving up four domestic brews and four imports, along with a bottle list of 40 to 50 options.
Easy Tyger will be open for lunch, dinner and brunch with happy hour specials from 3 to 6 p.m daily, as well as during the final hour of every shift to accommodate service professionals.
Easy Tyger will begin with dinner service only on Saturday and Sunday, Jan 2 and 3rd, with regular hours beginning on Monday, Jan. 4.
Moving forward, hours will be Monday, Wednesday and Thursday from 11 a.m. to 11 p.m., Friday and Saturday from 11 a.m. to midnight, and Sunday from 5 to 9 p.m. with brunch service taking place from 10 a.m. to 3 p.m. The restaurant will be closed on Tuesdays.
Lori Fredrich (Lo) is an eater, writer, wonderer, bon vivante, traveler, cook, gardener and girlwonder. Born and raised in the Milwaukee area, she has tried to leave many times, but seems to be drawn to this quirky city that smells of beer and alewives.
Some might say that she is a little obsessed with food. Lo would say she is A LOT obsessed with food. After all, she has been cooking, eating and enjoying food for decades and has no plans to retire anytime soon.
Lo's recipes and writing have been featured in a variety of publications including GO: Airtran Inflight Magazine, Cheese Connoisseur, Cooking Light, Edible Milwaukee, Milwaukee Magazine and the Milwaukee Journal Sentinel, as well as on the blog Go Bold with Butter, the web site Wisconsin Cheese Talk, and in the quarterly online magazine Grate. Pair. Share.