Life changes when you have kids. In an instant, your whole world is taken over by baby products, baby-proofing and baby food. Leisurely dinners out get replaced with chaotic meals at home.
But before you know it, your kids move on past the toddler stage and taking them out to eat isn't as big of a production as it once was. And contrary to popular belief, you don't have to lower your dining standards to make dining out with kids work. Milwaukee is full of restaurants that work great for family dining without sacrificing taste and ambiance. Here are a few of my favorite spots to eat with my kids.
1. San Giorgio Pizzeria Napoletana
This is our go-to spot for when we want pizza that all of us are excited about in a setting more quaint than your standard pizzeria. San Giorgio is the only VPN certified pizza in Milwaukee – and after one taste, you'll notice the difference. My kids love it because you can grab a seat in front of their wood burning pizza oven and watch them prepare the pizzas. Dinner AND a show!
Their Neapolitan style pizzas are all good, and they offer a variety of other non-pizza menu items as well. But the real showstopper is something they called The Stella. It's a star-shaped pizza, with each point filled with ricotta cheese. They offer a different one each day, and they're all amazing. My kids ask for a plain Stella without all the toppings, and it's their absolute favorite.
And did I mention they have a full bar and a great wine menu? Now I've got your attention.
2. Glass and Griddle
A few weeks ago, we were out to dinner here with a few other families, and our kids started to get a bit stir crazy. (OK, maybe more than a bit.) Before we could even bust out the Crayola, the staff at Glass and Griddle brought over a giant Jenga set for our kids to play with. It almost brought a tear to my eye. But seriously, it's not often you find a restaurant that treats children so well. They even offer a great kid's menu that none of our rascals complained about.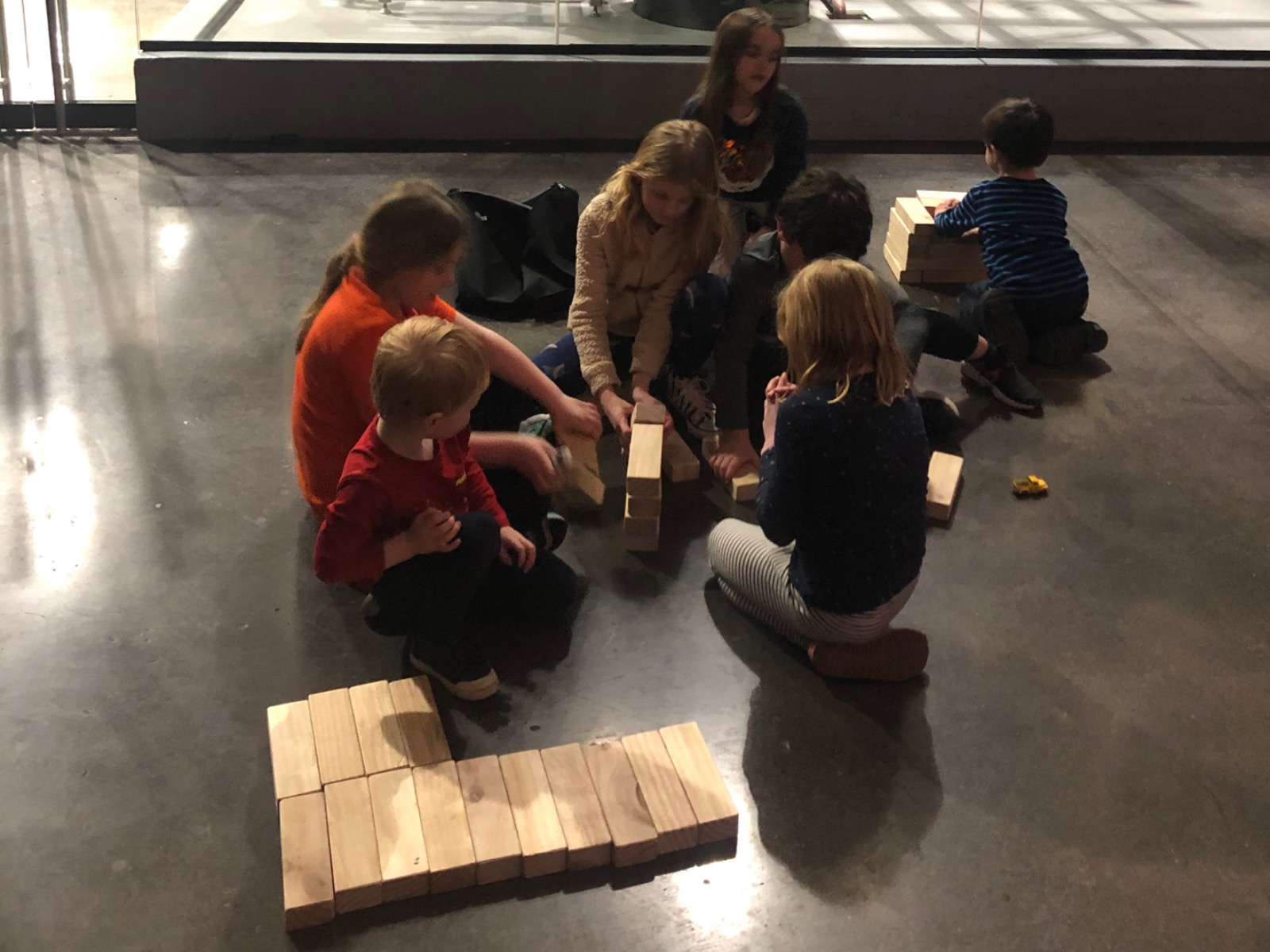 It didn't hurt that we started our meal with delicious kid-friendly and parent-approved appetizers like the soft pretzel, cheese curds and the not-to-be-missed Potatchos. They recently rolled out a new menu, and it's all fantastic. The Funky Chicken fried chicken sandwich is my favorite in the city. And let's not forget that it's connected to a brewery, so the beer is good. Their long tables make it the perfect spot for dining with a large group. The kids will be entertained and happy – which means that you will be, too.
3. Birch + Butcher
I love being a parent, but oh man, do I miss leisurely weekend brunches. Wake up calls at 6 a.m. by energetic toddlers are rough. The upside is that, by 9 a.m., your kids are ready for breakfast number two, and you'll be first in line for brunch at Birch + Butcher.
The weekend brunch is super tasty, offering things like rosemary biscuits, sausage and charcuterie gravy for parents but also traditional brunch fare like scrambled eggs and toast for the kiddos. Even when dining without kids, each table is given a cup full of colored pencils and coloring sheets, so your kiddos will be busy. But if that's not enough to keep their attention, immediately order a housemade cinnamon roll or a hand pie made by the bakers at Hatched.
It may not feel like the childless brunch of yesteryear, but it's pretty darn close. And feel free to act smug on your way out as you walk by the hungover youngsters waiting for a table. You snooze, you lose.
4. Bacchus
Bacchus offers a Sunday brunch only twice a year: on Easter and on Mother's Day. Last year, we celebrated Mother's Day there, and I am already excited to return in May.
I was hesitant to bring my "energetic" kids to such a nice restaurant, but my worries were immediately put to rest upon arrival. I was greeted with a mimosa, and my kids were greeted with croissants to snack on and coloring pages to keep them busy. These brunches offer a three course pre-fixe for adults and a special kid's menu. With the arrival of each of our courses, they also brought out something for the kids to nosh on. While I ate smoked salmon with toast points, my kids nibbled on a fresh fruit bowl.
This brunch is a splurge – but totally worth it. I felt like we had a gourmet meal, and my kids got to practice their manners in a nice restaurant. We got all dressed up, and it's one of my favorite family memories. Bacchus recently reopened after a two-month closure for renovations, and I have no doubt it will be better than ever.
These are just a few spots to take your kids in Milwaukee; there are so many more to explore and try. If you're new to this whole eating out with kids thing, just remember a few golden rules. Eat early to avoid hangry kiddos and the dinner rush. Everyone will be kinder to your crew if it's 5 p.m. and not 7 p.m. And try to pay your bill well before you're even done eating. That way, if you have to jump ship, you can evacuate before you're added to the "do not serve" list.
Buon appetito!
Jennifer Curnes is a Chicago native who fell so hard for Milwaukee that she got up and moved here in 2018. After spending years working in the construction industry she switched to the lingerie industry and because a brablem solver. She stayed at home once her kids were born and uses her years of improv training to keep her kids on their toes. You can read about her shenanigans on her blog and on websites like Bump Club and Beyond. When she's not counting down the minutes before bedtime you can find her eating around Milwaukee and posting about it on Instagram at NoshMKE.