Building names can come and go at public schools as neighborhoods change, as district needs change, as programs change. There is no shortage of examples of this phenomenon in Milwaukee, where some buildings have had seemingly endless name changes, while some others have held steady for more than a century.
The currently vacant schoolhouse at 5372 N. 37th St. – listed for sale by the City of Milwaukee Department of City Development – is one that falls somewhere in the middle, having had three names during its life span.
The building, likely best known for its former, longtime use as Thomas A. Edison Middle School, was designed by architects Van Ryn & DeGelleke – who drew many school buildings in the area – and erected in 1924 as a new home for North Milwaukee High School (not to be confused with Milwaukee's North Division High School).
The building in 1929 (above, in a Journal photo) and today (below).
Interestingly, by the time North Milwaukee was bidding out the architecture and construction work in 1922, there was already serious discussion of annexing the municipality to the City of Milwaukee.
That year, a newspaper reported, Milwaukee Mayor Daniel Hoan asked the Common Council to adopt a resolution urging the School Board to create a plan to accommodate North Milwaukee High School students at MPS high schools, "in view of the action of North Milwaukee in favor of annexation to the city."
A 1968 aerial view of Edison (top) and 36th Street School.
(PHOTO: Milwaukee Public Schools)
Despite this seemingly assured future, North Milwaukee moved forward and by early November 1923 had accepted the Van Ryn & DeGelleke plans for a two-story, fireproof brick building with 13 classrooms, a gymnasium, laboratories and assembly hall to be erected at a cost of $120,000. Work began soon after.
The new school would be located at Custer Avenue, between 36th and 37th Streets, adjacent to North Milwaukee's South Elementary School.
The building opened in fall 1924, having been built by Steve Szaplewski & Sons, Inc., which also built County Emergency Hospital, at 24th and Wisconsin, and the old Cudahy High School, as well as numerous other schools, churches, stores and apartments throughout the city.
Interestingly, the school was among the first built using a new invention by a South Side Milwaukee contractor.
According to a 1926 article in the Milwaukee Sentinel, Daniel B. Danielson, "invented and patented a flexible concrete form adapted for use in cramped quarters. The invention is characterized by its simplicity. Its main feature is the use of angle irons, which, fitting into slotted flat steel lugs bolted to 4x4 uprights which bear the sheeting, or retaining walls, of the form, eliminate the use of cumberson bracing. The new invention is also adaptable for scaffolding.
"'It was my idea to construct a flexible form with almost no outlay of money,'" Danielson said, "'one which the contractor could make by utilizing material and equipment laying about in his own yard.'"
The new system was also used in the construction of a new Prairie Street Natatorium and other structures.
Perhaps unsurprisingly, there was drama surrounding the schoolhouse and the annexation of North Milwaukee.
By early 1928, there were rumors floating around that said the high school would be converted to an elementary or junior high school after the communities merged. MPS Superintendent Milton Potter quelled that talk by assuring the School Board that the building would remain a high school until a new, larger building was built.
North Milwaukee likely hoped to put a stop to the discussion altogether when, by that summer, it had unveiled plans for a 15-classroom addition to the building and the addition of four rooms to the South Side Grade School next door that summer at a cost of $300,000.
"The effect of consolidation was discussed, some taking the view that extensive improvements were unwise because if North Milwaukee remained separate its tax rate would be considerably increased," reported the Milwaukee Journal in August.
"Others took the view that as the city is to be consolidated and its debts assumed by Milwaukee liberal provision should be made for school buildings in advance of consolidation. W.W. Theisen, assistant superintendent of the Milwaukee schools was invited to advise the district. He declined to make any specific recommendation but said that the program of the Milwaukee school department could be adjusted to fit whatever North Milwaukee did."
Work went ahead as planned, and by August 1929, the Journal reported that the addition to the high school would be partially ready by the first day of school.
"Several rooms will be ready and others will be completed and occupied as soon as possible," the paper noted, adding that the cost of this part of the project ran to $225,000.
By that October, the annexation of North Milwaukee was complete and the former suburb's high school and two elementary schools were folded into Milwaukee Public Schools, which employed the same principals and teachers.
The high school was renamed Custer High School, after its street – not as myth has it in honor of early North Milwaukee settler Harvey Custer (whose name was actually Harvey Carter) – and it grew rapidly in the following years, with an enrollment of 651 in 1930 that swelled to 957 just two years later.
The drama surrounding the expansion did not disappear with annexation. Rather, it, too ballooned in 1932.
Neighborhood residents spoke out against a plan to build a new elementary school nearby at 35th and Courtland, because, the Journal reported, "half a block to the east is a nauseating (Lincoln) creek with the main line railroad tracks of the Milwaukee Road adjacent to the creek. Half a block south is the former North Milwaukee dump pile, still a heap of refuse and debris. Hoboes make a hang out of this dump and parents warn their children to stay away from the rubbish pile."
In addition, back in 1928, MPS had asked the North Milwaukee school board not to proceed with its planned addition to the South Side Elementary School – which became 36th Street School upon annexation.
"For the reason that the school was not in the proper location in view of the consolidation with Milwaukee," wrote the paper. "The addition was built nevertheless and now the city has a partly new building which it must pay for and which people in that vicinity are asking to be abandoned with another school built to take its place."
That new building was erected and became 35th Street School. It is now home to Assata High School. However, 36th Street School also remained opened until about 1980. It was razed soon after to expand the playground at Edison next door.
Meanwhile, growth continued at Custer High School, leading to the construction of a new building at 5075 N. Sherman Blvd. in 1955.
When that modern building – now home to Barack School of Technical and Career Education – was complete, its predecessor did, in fact, become a junior high school and was renamed for a famous inventor (as was common for MPS junior high schools at the time).
In 1956, a large addition was tacked onto the north side, along Custer Avenue.
The Edison program closed in 2007 and the building has been vacant since then. It was declared surplus by MPS and listed for sale to potential school operators first, as state law dictates.
Now, that period has expired and the building is for sale to a developer willing to adapt the building to a new use or tear it down and build a new development. The buyer must be willing to build something that will go onto the property tax rolls.
At the moment, MPS' Facilities and Maintenance staff keeps the building going and the Milwaukee Police Department uses it for training purposes, which explains all the spent practice shells that can be found on the floors, and the wax splotches created by the projectiles that dot some of the walls.
The exterior of the original building is in attractive buff brick and with its original windows, the school maintains its classic 1920s look, with some restrained collegiate Gothic elements, like quoin window surrounds and door archways.
There's an interesting opaque glass and concrete mosaic above the 37th Street entrance to the 1956 addition, too.
Inside, there are seemingly endless former classrooms and labs, a cafeteria, a gym with bleachers, locker rooms and, of course, an auditorium.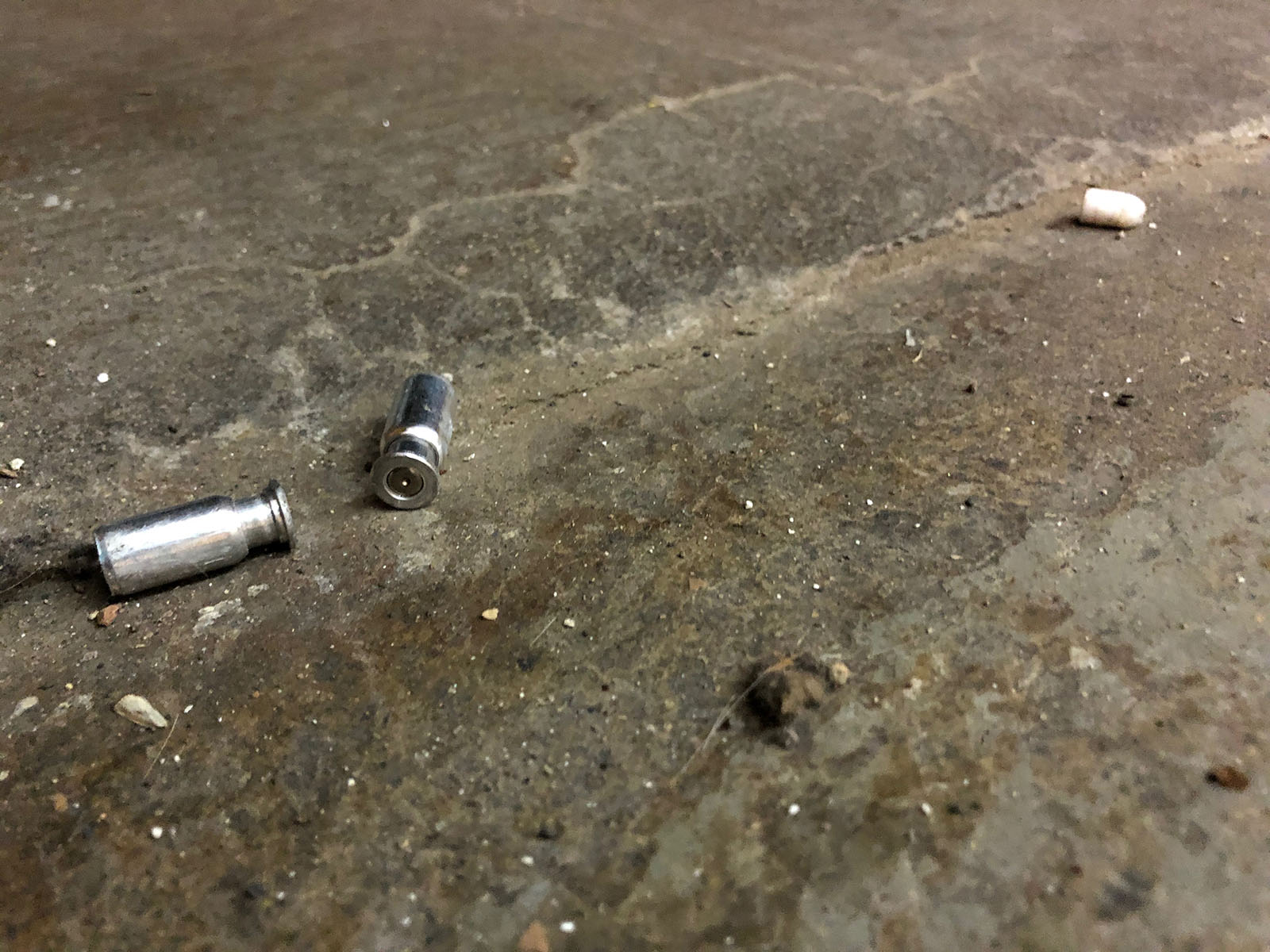 In the hallways, entire stretches of lockers have been removed and sent for re-use to other schools, which – along with tables overturned by MPD during its training – gives the school a raggedy feel, though it appears to be mostly in pretty good shape, save for a couple buckled hardwood floors and the like.
Many of the rooms have that eerie vibe you get in closed schools; it's almost as if everyone went home on Friday expecting to come back on Monday but never did.
The auditorium is particularly lovely, with exposed beam ceilings, original chandeliers and vintage seat. Behind the decorative proscenium there are dressing rooms/costume storage areas and a spiral staircase that winds its way up to the rigging booms up in the rafters.
The most intriguing space is in the basement, through the boiler room. Here, there's a door hanging partially off its hinges, rusted where paint has peeled. This once led to a tunnel that connected the North Milwaukee High School to its neighboring North Milwaukee South Side Grade School.
The tunnel was filled in when the elementary school was demolished, leaving only this door as a reminder of the connection between the two buildings.
Born in Brooklyn, N.Y., where he lived until he was 17, Bobby received his BA-Mass Communications from UWM in 1989 and has lived in Walker's Point, Bay View, Enderis Park, South Milwaukee and on the East Side.
He has published three non-fiction books in Italy – including one about an event in Milwaukee history, which was published in the U.S. in autumn 2010. Four more books, all about Milwaukee, have been published by The History Press.
With his most recent band, The Yell Leaders, Bobby released four LPs and had a songs featured in episodes of TV's "Party of Five" and "Dawson's Creek," and films in Japan, South America and the U.S. The Yell Leaders were named the best unsigned band in their region by VH-1 as part of its Rock Across America 1998 Tour. Most recently, the band contributed tracks to a UK vinyl/CD tribute to the Redskins and collaborated on a track with Italian novelist Enrico Remmert.
He's produced three installments of the "OMCD" series of local music compilations for OnMilwaukee.com and in 2007 produced a CD of Italian music and poetry.
In 2005, he was awarded the City of Asti's (Italy) Journalism Prize for his work focusing on that area. He has also won awards from the Milwaukee Press Club.
He can be heard weekly on 88Nine Radio Milwaukee talking about his "Urban Spelunking" series of stories.