Get more stories about how we're #InThisTogetherMKE.

Pabst Theater Group now offers "Elopement Packages," a new option for couples who've altered, canceled or postponed their wedding plans because of the pandemic.
Elopement Packages are available for Turner Hall Ballroom, the Pabst Theater and the Riverside Theater and allow brides and grooms to say their "I dos" in a cool, elegant and safe setting.
The packages accommodate a maximum of 10 people, including the couple, at the venue of their choice for three hours. Couples can get ready in venue dressing rooms, get married at their choice of location within the venue, and take pictures.
They also have the option for add-ons, including live streaming service from EPIC Creative, a cash or host bar and photography by Brianna Griepentrog of Alternative Bride Photography.
For more information, couples are encouraged to visit pabsttheater.org/elope to fill out an inquiry form. Elopement Package offerings are subject to change, based on CDC guidelines for group gatherings.
"Couples who've had to change their wedding plans due to COVID-19 are invited to get hitched with us, without sacrificing the elegance they've intended for their special day," reads The Pabst Group's announcement. "This is also a great opportunity for couples who prefer to keep it small and intimate, but still want a beautiful back drop."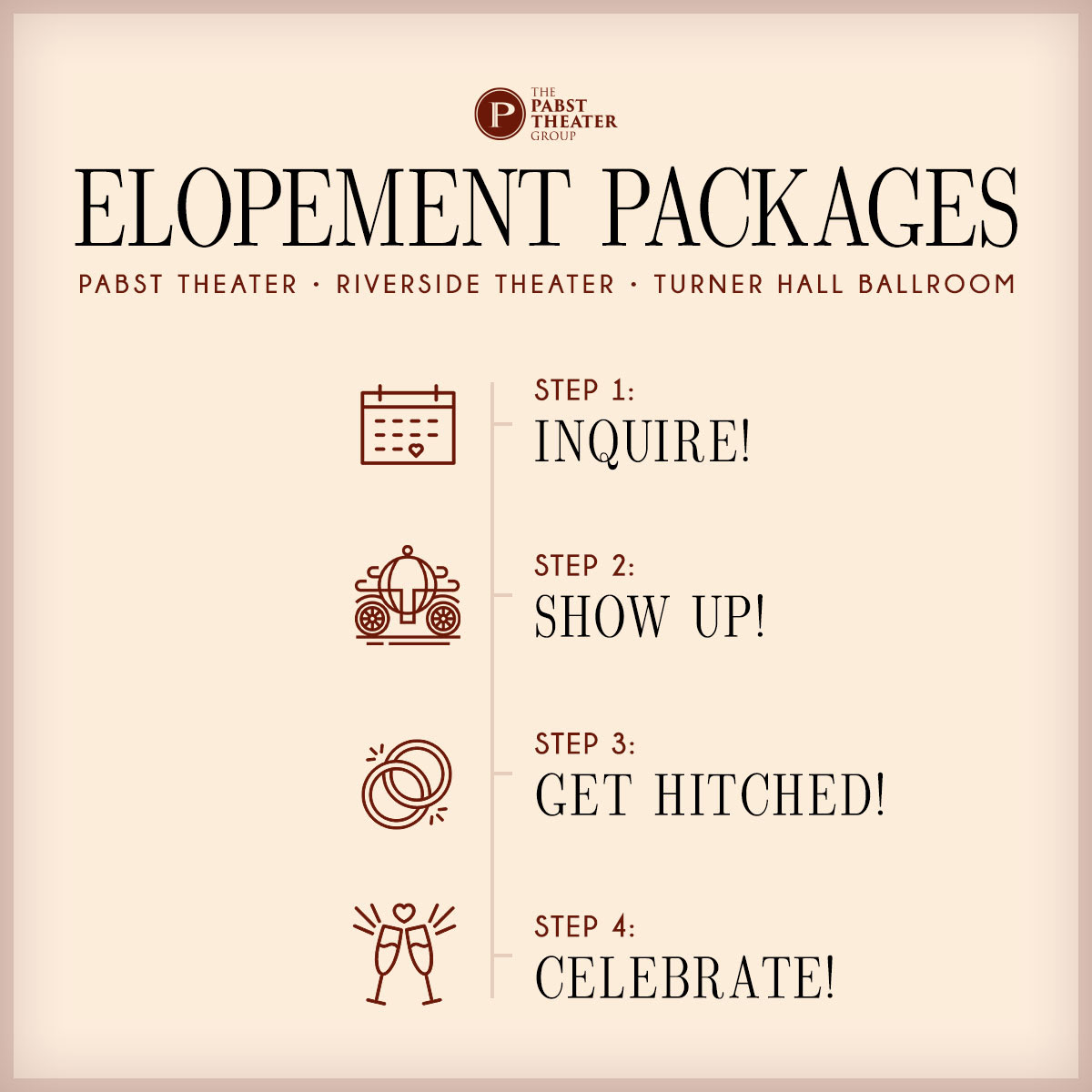 Molly Snyder grew up on Milwaukee's East Side and today, she lives in the Walker's Point neighborhood with her partner and two sons.
As a full time senior writer, editorial manager and self-described experience junkie, Molly has written thousands of articles about Milwaukee (and a few about New Orleans, Detroit, Indianapolis, Boston and various vacation spots in Wisconsin) that range in subject from where to get the best cup of coffee to an in-depth profile on the survivors of the iconic Norman apartment building that burned down in the '90s.
She also once got a colonic just to report on it, but that's enough on that.
Always told she had a "radio voice," Molly found herself as a regular contributor on FM102, 97WMYX and 1130WISN with her childhood radio favorite, Gene Mueller.
Molly's poetry, essays and articles appeared in many publications including USA Today, The Writer, The Sun Magazine and more. She has a collection of poetry, "Topless," and is slowly writing a memoir.
In 2009, Molly won a Milwaukee Press Club Award. She served as the Narrator / writer-in-residence at the Pfister Hotel from 2013-2014. She is also a story slam-winning storyteller who has performed with The Moth, Ex Fabula and Risk!
When she's not writing, interviewing or mom-ing, Molly teaches tarot card classes, gardens, sits in bars drinking Miller products and dreams of being in a punk band again.