Indeed, all of Hollywood's rowdy friends were here for Monday night – not because of football, but because of an award show.
The Emmys took the stage on Monday night to commend the best of the past year of television, from "The White Lotus" to "Succession" to ... more "White Lotus." Yes, as you might've predicted from the previous sentence, HBO's smash dark comedy was the night's biggest winner, scoring a night-leading five awards. But we all know the trophies themselves are only part of the story. Who REALLY won the night? And who REALLY lost? And who REALLY had no idea the Emmys were happening until the last minute yesterday?
Indeed, let's run down the real winners and losers from Hollywood's first big awards show of the 2022 season.
Winner: A diversity of winners
Every awards show is history being made – but Monday night's ceremony hit some particularly historic (not to mention overdue) moments.
For instance, Zendaya of "Euphoria" fame not only became the first Black woman to win Best Lead Actress in a Drama twice but also the youngest performer to win two acting Emmys. Elsewhere, Sheryl Lee Ralph of ABC"s breakthrough school sitcom "Abbott Elementary" became the first Black woman to score a trophy for Best Supporting Actress in a Comedy since Jackée Harry in 1987 ... who was the first Black woman ever to win the honor. The number is now, somehow, only at two. And that wasn't all of the groundbreaking going on, as Netflix's "Squid Game" became the first non-English show to win a major award at the Emmys – two in total, one for Outstanding Director of a Drama and one for Lee Jung-jae for Outstanding Lead Actor in a Drama. (The violent dystopian drama also scored four technical awards, bringing its impressive total to six overall.)
So even though the night announced some fairly familiar winners – like current awards season regulars "Succession" and "Ted Lasso" – there were also some new names, faces and historic triumphs mixed in too.
Loser: A diversity of shows
We live in a remarkable time for television, with so much quality content spread across so many outlets. It's truly an embarrassment of riches ... which is why the number of winning and nominated series in major categories is just a flat-out embarrassment.
"The White Lotus" may be a very good series – but does it need to win EVERY award? Do the same names and shows need to win EVERY year, or can we spread the wealth? I mean, look at this: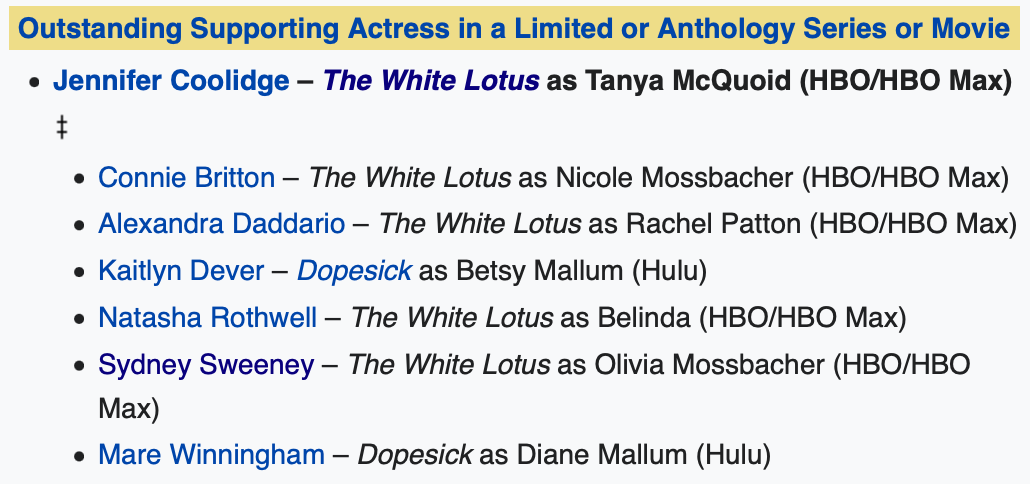 I'm sure all of these performers were worthy – but were there really only two shows meriting nominations in this category?! And that's by no means the only place where Emmy voters stopped trying. Best Supporting Actor in a Limited Series, for instance, went above and beyond by finding a whole THREE shows – "White Lotus," "Dopesick" and "Pam & Tommy" – worth commending across seven nominations. Such range! It feels less like these shows are just THAT exemplary and more so that the Emmy voters were just THAT one-track minded and unadventurous in their viewing habits.
I get it: There's so much stuff out there that it can be hard to make time for it all. But when your duty is to recap and reward the best of the year, welp, that's the job. Stop letting boring groupthink ruin award shows and start watching some more damn TV.
Winner: HBO Max
Wow, look at that: a positive headline for HBO Max! After weeks of the industry pummeling the newly created Warner Bros Discovery union – thanks to an unceremoniously shelved "Batgirl" movie, disappearing HBO Max content, significant layoffs and, uh, clunky communication – the studio got a rare win on Monday night. Twelve of them, to be exact, and 26 Emmy trophies overall, including big headline victories for "Succession," "The White Lotus," "Hacks" for Jean Smart and "Euphoria" for Zendaya. If this indeed is the end of the HBO/HBO Max prestige powerhouse we all know and love, replaced by "Flip or Flopping the White Lotus Hotel" and "Fixer Upper: House of Targaryen," at least Monday night gave it one solid final bow.
Loser: Netflix
No one's loved those bad HBO Max headlines more than Netflix, who happily watched their own subscriber struggles and backtracking decisions disappear from industry headlines. But Monday night brought back all those concerns for Netflix, with the streamer only winning three awards on the night – two for "Squid Game" and one for "Ozark" – finishing in third on the night behind HBO Max's 12 wins and Apple TV+'s four. Even if you add in the technical Emmys, Netflix still finished behind its prestige rival, 26 trophies to 23.
To make matters worse, the Big Red Streaming Monolith felt like a big red target on Monday, with Kenan's opening monologue in particular taking some cutting jabs at the service's recent woes. Sure seemed like, for at least one night, the company's signature red color no longer represented a red-hot Hollywood player and instead resembled blood in the water.
Winner: "The White Lotus"
A whole year after its debut, it seems TV fans are still staying at "The White Lotus" as the darkly comic HBO Max hit scored ... pretty much every award it wanted. Nominated across five major Limited Series/Anthology categories on the night, "The White Lotus" won all five including Best Limited Series/Anthology, both supporting performer awards, Best Writing and Best Directing. The only reason it didn't win in the lead categories? It wasn't nominated, probably because its cast was too much of a group effort to pick a leading performance. And it's not like it took advantage of a down year, as it was up against the high-profile likes of "Dopesick," "Inventing Anna," "The Dropout" and "Impeachment: American Crime Story." Bodes pretty well for the show's new season coming next month ...
Loser: "Better Call Saul"
The "Breaking Bad" spinoff may have lots of fans, but apparently none of them vote for Emmys because, for yet another year, the freshly departed AMC hit got blanked despite several nominations – seven this year total, making the show 0-for-46 with the awards show across its critically-beloved run. The bright side? While the show may be finished, its Emmy hopes aren't as its final six episodes are eligible for next year's show. Thanks, weird TV awards schedule shenanigans!
Winner: "Ted Lasso" fatigue
Everyone's favorite underdog soccer coach is starting to look more and more like the New York Yankees of television. And you know what that means: It's backlash season.
The Apple TV+ hit claimed four more major awards last night – including, for the second straight year, Outstanding Comedy Series over the similarly acclaimed and arguably even buzzier likes of "Barry," "Abbott Elementary," "Only Murders in the Building" and "What We Do in the Shadows." Awards shows like the Emmys have a habit of falling in love with certain choices and never letting go (see also "Modern Family") in the process helping to brew fatigue and even resentment toward these solid but "predictable" choices. So what was once charmingly fresh two years and a handful of awards shows ago now feels routine and obvious – and when you win this many trophies, people start asking the question: Well, is it really THAT good? Is it really SO good it deserves to be a monolith?
I'm just not sure a show fueled by pleasantness and modest charms can handle that increasing level of pressure. After all, "Ted Lasso" already faced a little blowback during its second run, with newcomers wondering what the hubbub was all about and even some original fans starting to sour on the show's nicecore attitude. Add in another batch of awards over intensifying competition, and I'm just saying: Through no fault off its own, season three better bring some Manchester City-level goods.
Loser: Jimmy Kimmel
You'd think, after standing in the middle of the 2017 Oscars storm, Jimmy Kimmel would avoid any and all potentially awkward awards show bits taking away from a winner's big moment. And yet there he was uncomfortably flopped lifelessly "dead" on the stage as "Abbott Elementary" breakout Quinta Brunson attempted to accept her award for Best Writing - Comedy Series over him.
Quinta Brunson deserved better than giving her acceptance over Jimmy Kimmel's "dead" body. #Emmys #AbbottElementary pic.twitter.com/ofP5mkXpvy — Garin Pirnia (@gpirnia) September 13, 2022
A seemingly unbothered Brunson handled the clumsy moment with aplomb – but surely she's a little upset that her major accomplishsment was even slightly overshadowed by awards show goofery. (And if she wasn't, the internet certainly was for her!) And surely Kimmel's planning on RSVP-ing no to all awards shows in the future considering, whether his fault or fate's, they just don't seem to go his way.
Winner: Lizzo
lizzo is halfway to an egot ❤️❤️❤️ #emmys #emmy2022 pic.twitter.com/4erwFrjejQ — َ (@ungodlywests) September 13, 2022
The pop icon already won the night by simply pulling off the upset in the Outstanding Competition Program category, her "Watch Out for the Big Grrrls" dance contest knocking "RuPaul's Drag Race" off its throne for the first time since 2018's ceremony and serving as Prime Video's lone major winner of the evening. But then the "About Damn Time" singer hit the stage and delivered heartfelt statements about representation and big, unreserved, authentic emotion, literally shouting out her dancers in the crowd and hilariously howling for them to join her on stage. It's exactly the kind of spontaneous, effusive and unvarnishedly joy awards shows want and need – and exactly the kind of moment that gets viewers to check out the winner's work, which is precisely what happened in my household. (Verdict, one episode in: Fun show!)
Loser: Whoever played off Jennifer Coolidge
So, that thing I was saying about awards shows wanting and needing more spontaneous, effusive, unvarnished joy? Jennifer Coolidge's win for her supporting work on "The White Lotus" should've been more of exactly that, with a broadly recognizable veteran – who also happens to be a hoot in front of a microphone – finally getting her overdue respect from the industry and reacting in endearingly silly and sincere fashion.
Here's Jennifer Coolidge's hilarious #Emmys acceptance speech. https://t.co/h3GrtHDmKy pic.twitter.com/BgDn0Ct0my — Variety (@Variety) September 13, 2022
Sure, Coolidge played it off brilliantly like the hilarious professional she is, complete with a little dance number. But to whoever OK'ed this decision: Get bent and snapped.
Winner: '90s nostalgia
Kenan Thompson's hosting work on Monday night was ... fine. No one was crying out for most hosting duties the way they were for Tina Fey and Amy Poehler, but no one instantly regretted the decision like he was James Franco and Anne Hathaway. When you remember these Emmys ... well, you won't. But if you do, you certainly won't remember Kenan hosted. You will, however, remember this unexpected bit-saving moment near the middle of the night – at least if you're a '90s kid raised on Nickelodeon and "All That."
Welcome to Good Burger, home of the Good Burger!

Kenan and Kel just reunited at the #Emmys! 🍔 https://t.co/h3GrtHDUA6 pic.twitter.com/Uvy9UEcgJU — Variety (@Variety) September 13, 2022
The only thing this "Kenan & Kel" reunion is missing is a two-liter bottle of orange soda.
Loser: Bo Burnham's mask
Jerrod Carmichael, who won an Emmy last night for his acclaimed HBO Max stand-up special "Rothaniel," definitely thought all eyes were going to be on him with his "shirtless with a white fur coat" look. And yet ...
Are we gonna talk about how Bo Burnham is at the Emmys in a ski mask and goggles? #Emmys2022 pic.twitter.com/9Ep4zdnRuU — Daniel Howat (@howatdk) September 13, 2022
Anyways, I'm thinking the "Daft Punk robbing a bank" look isn't going to catch on at future awards shows.
Winner: Bill Hader's mask
Bill Hader alert pic.twitter.com/aCu3rT3zQJ — I Love Aaron Judge (@NicoleRedness) September 13, 2022
I applaud the night's other notable masked man. I mean, when you're sitting next to 76-year-old living legend Henry Winkler indoors for an entire night, you take the requisite precautions. We, as a nation, need at least 40-50 more years of posts like these:
I got close pic.twitter.com/btBymFMKQA — Henry Winkler (@hwinkler4real) September 13, 2022
Loser: The speech crawl
When a victory speech "thank you" crawl was introduced by the Oscars in 2016, everybody cringed and groaned – in no small part because it's the Oscars and anytime they try to change anything, our immediate reaction is to throw tomatoes and other, less squishy and more damaging vegetables. Cut to five years and multiple viewership decines later, suddenly the idea of moving the parade of requisite producers, executives and representatives doesn't sound so bad. The only problem: The winners themselves didn't seem to get the memo, still spending large portions of their victory speeches on listing people off and rendering the crawl kind of redundant. It took six years or so for everyone to realize this idea actually has potential to make more human and less rehearsed speeches; maybe it'll take another six years for winners to make that potential a reality.
Winner: The Emmys
Listen, the bar for awards shows is now "no one got slapped on stage" – so congrats to the Emmys for clearing that. Some elements worked, like the wrap-around screen staging; others didn't, like the aforementioned speech crawls, the clumsy crowd arrangements and the meh comedy bits. But at no point did a global superstar slap a famous comedian and erase everyone's memories of the night's winners like one of those "Men in Black" neuralyzers, and for that alone, the Emmys were a win.
Loser: Awards shows
It's a grim irony that, during a time when there's so much television content out there, when bigger and bigger names are shifting to the small screen, and when people are watching more and more TV, nobody cares about the awards show dedicated to it all.
You didn't have to wait for the numbers to know the ratings would be bad for the Emmys. (But if you did: Yep, they were bad alright.) You knew the show was going to be merely a blip because there was no buzz for the night – which, for the first time in four years, was on a Monday as opposed to a primetime Sunday slot. Maybe it's because awards shows have gotten predictable, generally naming the same programs the winners year after year. Maybe it's because this year's show lacked a big-name host. I like Kenan Thompson a lot, but he's not a signature draw – just ask his now-canceled NBC sitcom "Kenan." Maybe it's just how we watch today, either DVRing or streaming or watching the highlights later rather than live appointment viewing.
Or maybe it's just awards shows don't work the same anymore. The days of awards shows being THE place to see your favorite celebs interacting are long gone, and the monoculture that might've once watched the same shows and would want to cheer on similar programs has scattered into separate bubbles and viewing ecosystems, even to different platforms – like YouTube and TikTok – altogether. Awards shows are no longer monolithic events; they are now niche, in part because everything is now niche.
That's not necessarily a bad thing – when something realizes it doesn't have to be everything for everyone, it can offer a sense of freedom to be the best version of itself. (For instance, as the fourth of the major four sports, hockey gets to quietly experiment with being the best product for hockey fans while baseball constantly has heart palpitations trying to become the whole country's pastime again, pleasing neither newcomers or old fans.) But right now, as the Emmy ratings stay in the tank and fellow awards shows like the SAG and Independent Spirits still look for broadcast homes, it sure feels bad.
Sigh ... let me quick watch that "Good Burger" reunion clip again as a pick-me-up.
Welcome to Good Burger, home of the Good Burger!

Kenan and Kel just reunited at the #Emmys! 🍔 https://t.co/h3GrtHDUA6 pic.twitter.com/Uvy9UEcgJU — Variety (@Variety) September 13, 2022
As much as it is a gigantic cliché to say that one has always had a passion for film, Matt Mueller has always had a passion for film. Whether it was bringing in the latest movie reviews for his first grade show-and-tell or writing film reviews for the St. Norbert College Times as a high school student, Matt is way too obsessed with movies for his own good.
When he's not writing about the latest blockbuster or talking much too glowingly about "Piranha 3D," Matt can probably be found watching literally any sport (minus cricket) or working at - get this - a local movie theater. Or watching a movie. Yeah, he's probably watching a movie.