Back in June, I wrote about the 5 summer kids trips I couldn't wait to take.
Well, summer got busy, and despite my best intentions, I only made it to one of my top five suggestions.
But that's not to say I was a deadbeat dad this season. My almost-6-year-old and I had lots of fun this summer, and in fact, we found a few other places to visit as the calendar inched closer to the return of school. All three were just within an hour from home.
1. The Hi-Way 18 Outdoor Theatre
As much as I love going to one of the area's two drive-in theaters, it can be a tricky project with young children. Last summer, we visited the much dumpier one in Kenosha – the Keno – and our kid fell asleep 20 minutes into the first movie, then woke up and whined until we left.
This summer, though, we did it right. First, we went to the Hi-Way 18 drive in Jefferson. It's a long drive, but an easy one. We also waited until later in summer when dusk wasn't so late, so we could get in an entire movie before our daughter passed out in her car seat. If you get there early enough, there's a playground by the screen that's teeming with kids.
On a weekend, this place gets very busy, so we parked way in the back. But in some ways, that made it more fun, since we could giggle and chat more through the movie. The facility here is a lot nicer, too, and even though we didn't make it to the second movie, this summer, we got in enough family time to make the trip well worth it.
2. Country Springs Hotel and Water Park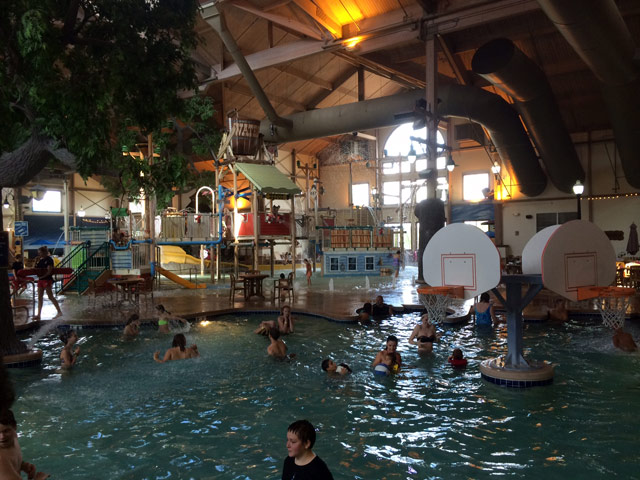 Obviously, kids love water parks, and I'm a fan, too. While the Wisconsin Dells may hold the record for quantity and quality over, well, everywhere else in America, that's a long and expensive trip.
Much closer to home is the County Springs Hotel and Water Park in Pewaukee. We actually visited last summer, but now that my daughter is a little older, she even had more fun (read: tears when we left). I tried this one-nighter as my own as a daddy-daughter activity, and I can report back that for me, anyway, this was a little too hard for a solo-parenting adventure.
Still, what a memory Country Springs will make. As I've written, this small water park has a lot going for it, beyond just its accessibility. It's not actually small at all at 45,000 square feet, but compared to the Dells, you can easily watch your child – and participate – at all times.
Nothing was too scary this time for my child, and while I could've used more time in the hot tub, the smiles and screams more than made up for the grunts and groans after being pulled, splashed and accidentally smacked in the face all the way down the lazy river. Going midweek was perfect, though. We encountered almost no lines at the water slides, and the park didn't have the super crowded feel of the Dells' resorts.
Once dry, I also like the hotel part of Country Springs. The rooms are huge, albeit dated, and mine featured an awesome bathroom with a whirlpool. And what child doesn't love staying in a hotel, even if it's only 30 minutes from home?
Like last time, we ate inexpensive but surprisingly excellent bar food at Copper's (my turkey burger with cranberry glaze and wasabi sauce was delicious) but the service was incredibly slow (probably because the whole restaurant only had two servers). And it was speedy when we came back to grab some chocolate ice cream – with two spoons – to eat back in the room.
Keep in mind that a parent needs to go into any water park with a zen attitude. As hectic as an experience like this can be, Country Springs makes it pretty easy. I promised my daughter we'd return soon ... but next time with Mom, too.
3. Old World Wisconsin
Finally, I visited something from my original list! I can't believe I'd never been to Old World Wisconsin as a kid growing up in Milwaukee. But now that I've seen it, I know what I was missing.
This incredible living-history museum of different ethnic villages from the 1870s really brings the experience alive. When we went, Civil War re-enactors (only off by a handful of years) were also encamped at the "Crossroads Village" at this Eagle landmark, and I actually learned quite a bit talking to the "interpreters," as they are called.
Going at the end of August mean that the weather was hot and sticky, but somehow, I appreciated the experience even more. Sweating out with people dressed in heavy wool period costumes reminded me how tough life was back then. And that doesn't even take into account those huge old-timey bicycles that we saw and tried out.
Granted, our daughter was more interested in learning about the colorful dresses and the games at the old schoolhouse/city hall, but I'm excited that she could see a "real life" version of the Laura Ingalls Wilder books my wife is reading to her. She's a little young to really grasp the details, but at least her eyes are open.
At $42 for a family of three, this isn't a cheap museum, but it's worth it. And our daughter got to feed a pig. We will certainly be back for more.
Andy is the president, publisher and founder of OnMilwaukee. He returned to Milwaukee in 1996 after living on the East Coast for nine years, where he wrote for The Dallas Morning News Washington Bureau and worked in the White House Office of Communications. He was also Associate Editor of The GW Hatchet, his college newspaper at The George Washington University.
Before launching OnMilwaukee.com in 1998 at age 23, he worked in public relations for two Milwaukee firms, most of the time daydreaming about starting his own publication.
Hobbies include running when he finds the time, fixing the rust on his '75 MGB, mowing the lawn at his cottage in the Northwoods, and making an annual pilgrimage to Phoenix for Brewers Spring Training.