For the past six months, Tommy Vandervort and James Larson have been hiking steadily down the road to enlightenment, working hard to bring their dream of opening the Enlightened Brewing taproom to fruition. And it looks like the light is finally visible at the end of the tunnel, with the Enlightened taproom expected to open by mid-July.
It's been almost two years since the brewing team set up shop in the Lincoln Warehouse at 2018 S. 1st St. #207; and thanks to consumer demand, it quickly outgrew its 500 square feet.
"By the end of last summer we realized that we needed to grow," notes Vandervort. "We knew we needed more space, and if we were going to add more equipment, we decided we really ought to have a taproom. We knew we wanted to stay in Bay View, since that's our jam. It's where we live, where we drink."
The two searched for spaces in Bay View – including other warehouses and commercial spaces – but eventually circled back to their current location.
"We just didn't find anything that jumped out at us," he says. "But then we looked at space at the southern end of the Lincoln Warehouse, and we knew it would work."
The new space
The remodel, which was headed up by American Design, combines three former warehouse spaces into one larger 1,700-square foot space. The new digs, along with new equipment will allow Enlightened to triple their (admittedly still nano-sized) production to accommodate up to 400 barrels a year.
"We're essentially going from a half-barrel brewing system – something we call "home brewing on steroids" – to a three and a half barrel system."
Equipment is due for delivery at the end of July, so the new brewhouse won't be operational until August. However, the taproom, which is located in the western portion of the space, is slated to open by mid-July. And the space is beginning to take shape.
During construction, three garage doors were converted into windows in the brewery space.
A new garage door and entry door were also installed on the western side of the space, providing the entrance and open air potential for the taproom.
The taproom itself is expected to house eight tap lines from which the brewers will offer a selection of their offerings.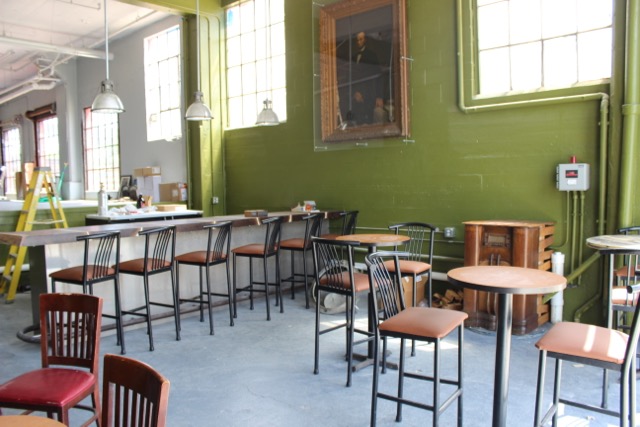 There will be seating for twenty at a mix of high and low top tables, as well as six seats at a remarkably handsome bar.
The bar, which was custom built by local woodcrafter Matt Connell, showcases beautifully grained black walnut set atop a steel base.
"Originally, we thought we'd get a used bar," notes Vandervort, "But, then Matt [Connell] told us this story about how he had these black walnut trees on his parents' property that needed to be cut down. And we asked him if it was possible to have him build a bar for us.
"We wanted it to have character, something that plays with the natural light," he says. "We told him that, and then from there we trusted him to do his thing. We actually didn't even get to see it until he installed it."
Vandervort says they may also pursue outside seating at some point in the future, once the brewery and taproom are fully established.
Upcoming events
While you're waiting for the Enlightened Brewing Company Taproom to open, you can catch the team at the following upcoming events:
Friday, July 8 at 6 p.m.: Tap takeover at Draft & Vessel. Enlightened will have five beers on tap for the takeover, as well as a selection of their beers on tap all month long.
July 13 at 5 p.m.: Tap takeover at Drink Wisconsinbly, featuring three beers on tap. For $30, you can score a T-shirt, pint glass and a pour of one of the beers.
Lori Fredrich (Lo) is an eater, writer, wonderer, bon vivante, traveler, cook, gardener and girlwonder. Born and raised in the Milwaukee area, she has tried to leave many times, but seems to be drawn to this quirky city that smells of beer and alewives.
Some might say that she is a little obsessed with food. Lo would say she is A LOT obsessed with food. After all, she has been cooking, eating and enjoying food for decades and has no plans to retire anytime soon.
Lo's recipes and writing have been featured in a variety of publications including GO: Airtran Inflight Magazine, Cheese Connoisseur, Cooking Light, Edible Milwaukee, Milwaukee Magazine and the Milwaukee Journal Sentinel, as well as on the blog Go Bold with Butter, the web site Wisconsin Cheese Talk, and in the quarterly online magazine Grate. Pair. Share.