Festival City is hopping this summer! OnMilwaukee's Festival Guide is brought to you by Potawatomi Hotel & Casino. Escape the heat and step inside!
Whenever I think of foundational country artists I grew up listening to, I think of multi-award winner and ten-time Grammy nominee Eric Church. I have fond memories of listening to his hits on the radio and singing along to them – and now I, and thousands of others, can add the fond memory of seeing Church powerfully headline the start of the Big Gig's 55th anniversary at American Family Amphitheater to that list.
Setting the mood with her comfortable country chic outfit, singer-songwriter Elle King opened for Eric Church. Rocking a tan-fitted country hat, orange sunglasses, a white t-shirt and iridescent rose-gold pants with sandals, King engaged the audience with her dance moves and country croons – including performed an all-time favorite, her number-one hit single, "Ex's & Oh's," a true crowd pleaser. By the time she reached her final song, "Drunk (And I Don't Wanna Go Home)," the crowd was roaring for more.
After King left the stage, a black curtain with a red screaming eagle came down – fans knew this was only the beginning. A sea of cowboy hats and boots filled the American Family Amphitheater, excitedly awaiting Eric Church.
As soon as the Amphitheater went dark and the lights turned red shining onto the stage, exciting the crowd, two stage crew members appeared holding a rolled-up Wisconsin state flag. Immediately, the first line of business was to raise the flag before Eric made his heart-pounding entrance.
Once the flag was flying high in the Amp sky, sonic booms filled the space. Red lights shined onto the crowd, and bright lights immerged from two tall wooden doors in the middle of the stage. With two stage crew members on both sides, the doors pulled open, and the silhouette of Eric Church appeared. The crowd roared as the country star walked across the stage to his microphone and opened with "Chattanooga Lucy."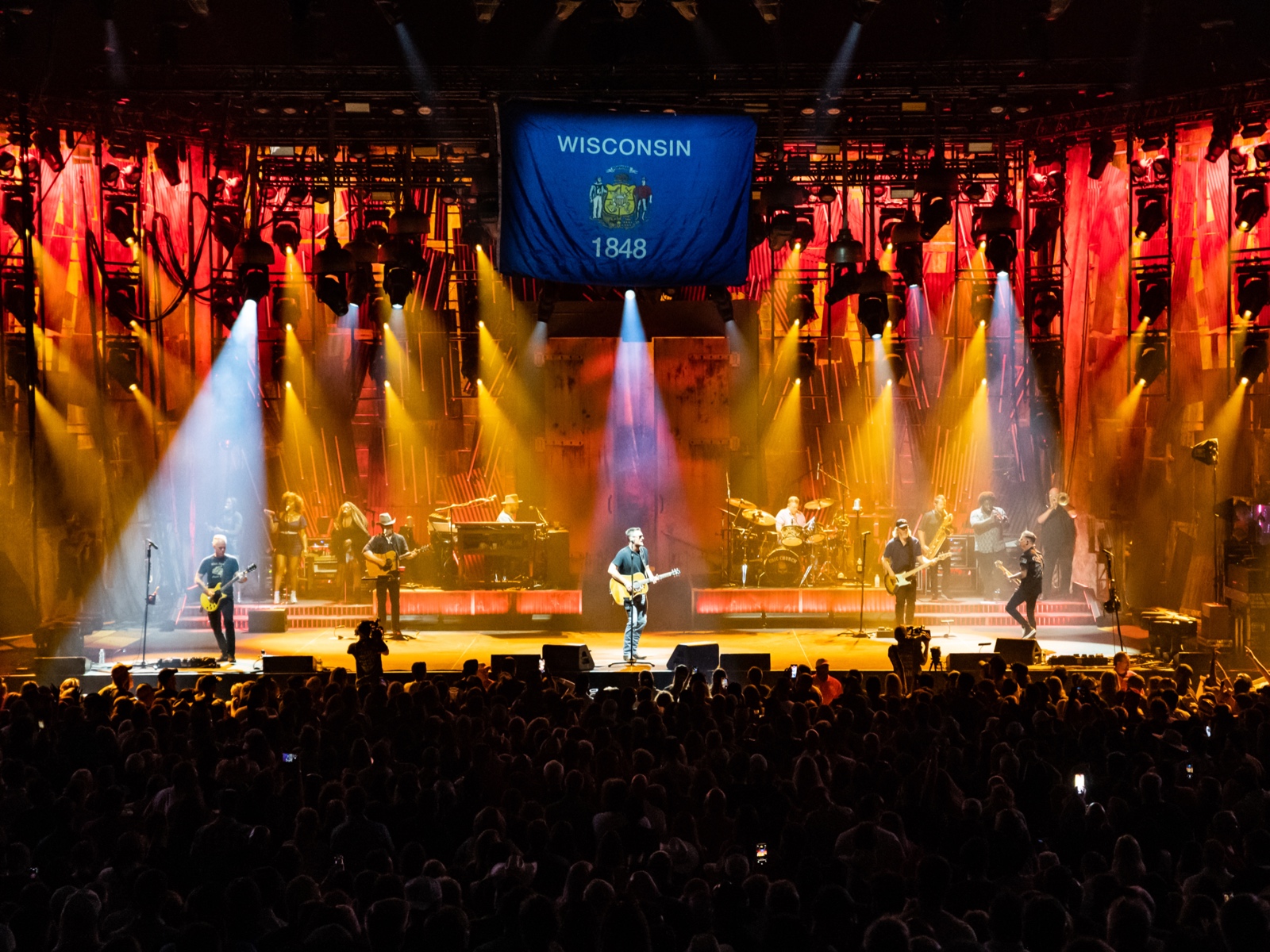 His band, backup vocalists and trio of trombone, saxophone and trumpet players filled the stage as they fired up the crowd during the opening song. The show overall was far from plain and simple. His stage theme featured metal plates hanging around the stage and a themed light show followed each song, giving Church a flashy appearance despite his laid-back country outfit: black t-shirt, blue jeans and cowboy boots with the signature black sunglasses. To add to his rave-like light show, Summerfest's Big Bang fireworks went off at the same time his show kicked off. The audience was in awe witnessing Eric Church right before their eyes while the fireworks erupted on the far side of the Amp.
After Church played through "Bad Mother Trucker," he paused for a moment to talk to the crowd. Church explained how he arrived at Summerfest the day before and slept in the parking lot, walking around the park at 1 a.m. that morning to imagine what the show was going to be like. To his surprise, he was just as stoked to be there as the crowd was and thanked everyone for supporting him before leaning into the song "Heart on Fire."
Church fed into the energy of the crowd and passionately played his heart and soul out, his deep facial expressions showing that he was giving his best after each song. Fans got the best of the best from Church's "Outsiders Revival" tour – plus he threw in a couple of Milwaukee references like "need a whiskey and a coke and the old Pabst Theater" during the song "Mistress Named Music." Church also jazzed up the crowd with a soulful performance of "Knives of New Orleans" with a trumpet solo, tastefully adding Southern flare to our Midwestern music festival.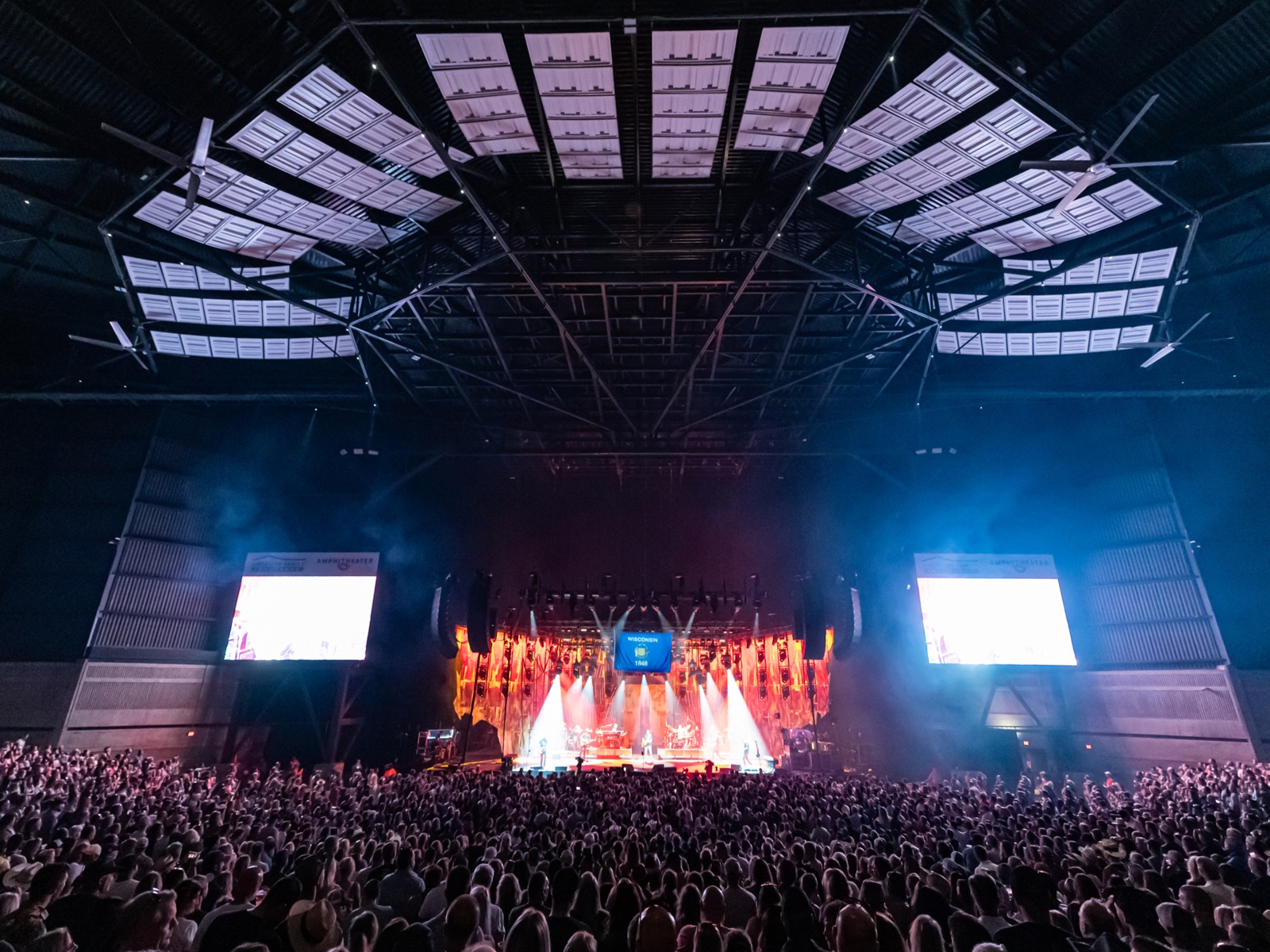 Later on, Church took an additional moment to speak to fans, mentioning he's recovering from his first illness in a year, then raising a glass of his own JYPSI Whiskey and taking a sip before he began "Desperate Man."
As the night went on, Church kept his audience guessing at times by teasing them and playing a few notes to keep the crowd rumbling before leading into "Smoke a Little Smoke." This smokeshow performance came at the crowd, with more raging lights and dramatic moves from Church as he rocked the stage. He then calmed the audience down with "These Boots," leaving the crowd waving their boots in the air and some giving them to Church to sign. Before ending the night, Church performed his favorite hit – "Pledge Allegiance to the Hag" – from his 2006 album, "Sinners Like Me." An American flag was draped behind him as he sang the song to finish off the evening. It was a seemingly great last song to close out his concert, as fans called for one more after Church took off his glasses, raised his glass, bowed and walked off stage.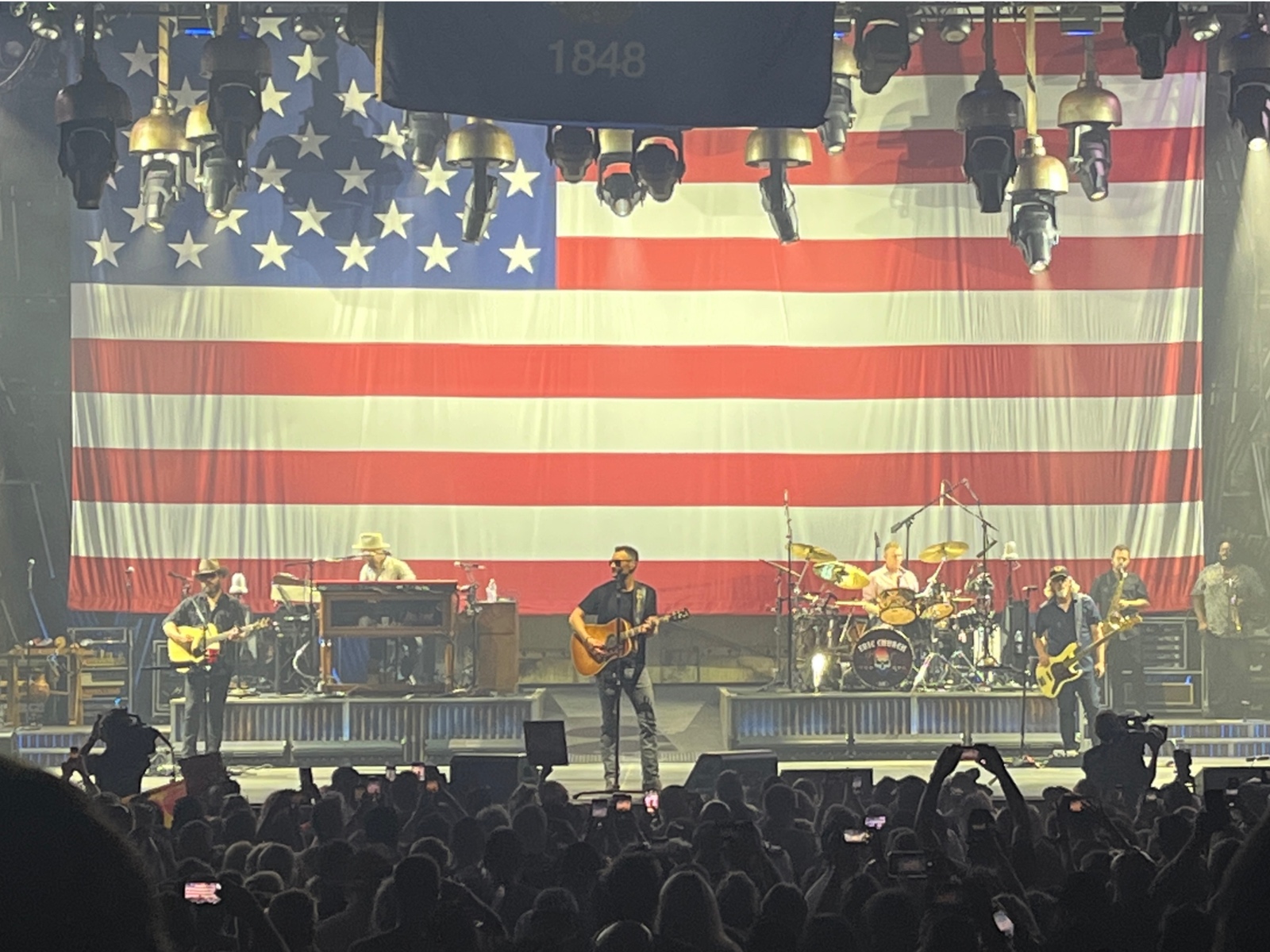 However, Church made his way back to the stage for a few moments to play his hit "Springsteen" from his 2011 album, "Chief." This beautifully written song was the perfect way to lead into some more encores as Church didn't hold back from giving the last ultimate performance of the night. The encore ran longer than expected, as he sang "Holdin' My Own" and then "Old Friends, Old Whiskey, Old Songs" – which I, like many other fans, thought was the end. But then Church swept in and performed "Everybody Sucks But Us" as his final encore song to ensure the audience had the perfect night.
Setlist
"Chattanooga Lucy"
"Bad Mother Trucker"
"Heart on Fire"
"Hangin' Around"
"Drink in My Hand"
"Hell of a View"
"Country Music Jesus"
"Mr. Misunderstood"
"Mistress Named Music"
"Creepin'"
"Where I Wanna Be"
"Knives of New Orleans"
"Round Here Buzz"
"Desperate Man"
"Heart Like a Wheel"
"Homeboy"
"Smoke a Little Smoke"
"These Boots"
"Sailin' Shoes"
"Cold One"
"Pledge Allegiance to the Hag"
Encore
"Springsteen"
"Holdin' My Own"
"Old Friends, Old Whiskey, Old Songs"
"Everybody Sucks But Us"
Courtney Bondar is an adventurous Multimedia Journalist at OnMilwaukee, covering all things Milwaukee. Born and raised in Greendale, WI, Courtney has a deep-rooted connection to her hometown and a strong desire to explore and showcase the vibrant city of Milwaukee.
You can often find Courtney all over Milwaukee, attending exciting events - documenting her experiences on her Instagram stories. Her genuine enthusiasm for her work shines through in her posts - as she strives to capture the beauty of the city and shares it with her followers.
Courtney's passion for writing is evident in her engaging and heartfelt articles. While she covers a wide range of topics, she particularly enjoys delving into the intricacies of dating culture and the art of mixology. Her insightful and thought-provoking pieces offer a unique perspective on these subjects, captivating readers with her authenticity and wit.
After dedicating herself as an intern at OnMilwaukee, Courtney's hard work and dedication paid off when she earned her well-deserved diploma. Now, as OnMilwaukee's first full-time multimedia journalist, she is fully committed to continuing her journey - bringing her distinctive voice and storytelling skills to the forefront.