As I enter the former warehouse at 2461 W. Center St., I stop for a moment and take a quick look around. I envision the mid-December day in 1927 when Martin Grueschow walked into his completed Eschweiler & Eschweiler-designed warehouse for the first time.
Just a two-minute walk from his home on North 20th Street, the veteran upholsterer and German immigrant must have paused, as I did, to marvel at the success that allowed him to tap one of the city's most respected architects to design him a five-story building that was palatial enough to be mistaken by passersby for a movie palace, like Peacock & Frank's Venetian, which opened further along Center Street just a few months earlier.
Born in Germany in 1864, Martin John Grueschow arrived in the U.S. just shy of his third birthday. He married Minnie Naab – two years his junior and the child of German immigrants – around 1887. A son, Arthur, soon arrived, followed by Benjamin around 1890, Rubin in 1895 and Martin Jr. two years later. At least two more children appear to have died before reaching their first birthdays.
Grueschow's sons and an unidentified woman in the office.
(PHOTO: Courtesy of the Grueschow family)
At least as early as 1894, Grueschow had his own upholstery business at an address that was also his home, a couple doors south of Center Street on 20th. By 1910, his sons had joined him in the business that was run either out of the family home or a shop adjacent to it (the building no longer survives).
Business by that time was brisk enough to allow the Grueschows to hire a live-in servant, 22-year-old Mary Hoelz. And it must have continued to grow, especially as the Grueschows began to move furniture, because by early 1927, Grueschow had hired Alexander Eschweiler – and his sons Alex Jr., Theodore and Carl, who had joined him in his Mason Street office four years earlier – to draw, in March, a five-story headquarters that would cost an estimated $70,000 to build.
In addition to a steel and concrete frame that looked like it was meant for a building eight stories taller, with a loading dock at the back and a cable-controlled freight elevator (pictured above), Grueschow allowed – perhaps even encouraged – the Eschweilers to make this workaday industrial building pretty.
The main entrance is arched with a carved stone pattern, above which there is a terra cotta belt course that runs the length of the 60-foot facade. Above that are sleek vertical strips of windows running up to the roof, where they are capped by stone finials (now disappeared). In each bay of the red brick facade, at the fifth floor, was a decorative terra cotta panel.
Among Eschweiler's drawings for the project – which are housed at Milwaukee Public Library's excellent Wisconsin Architecture Archive – is an alternate plan (pictured below, courtesy, as is the case with all the plans photos, of Milwaukee Public Library) that shows a three-story version of the facade, which suggests a smaller building must have been discussed, too.
Inside, there was a long marble topped counter faced in the kinds of earth-tone tile work that Eschweiler used in other settings (including the lovely Emmanuel Philipp School for MPS), as well as wrought iron staircase railings, terrazzo floors, stucco cornices, plaster ornaments, terra cotta panels and the original drawings even note the placement of a "bubbler."
Grueschow also had heavy duty storage lockers with metal doors installed throughout the second and third floors, because his business was now not only furniture but also storage and moving.
The company remained in the building until the early 1960s, it seems, when the space began to house other tenants, like Allied Electronics Corp., North Star Van & Storage, Dick Bartz's A City Van & Storage, United Van Lines, AFL Motors and, in the 1980s and '90s, Fine Line Products, a gift and clothing wholesaler that later moved to Grafton and closed a few years ago.
One would hope that Grueschow would be pleased to know that nearly a century after he built his warehouse, there is a plan to make the building invaluable to the surrounding Amani neighborhood, which is located in Wisconsin's most impoverished zip code, 53206.
Sister MacCanon Brown of the Sisters for Christian Community – who founded and later split with Repairers of the Breach – hopes to purchase the building and open it in stages as a homeless sanctuary.
Brown's current sanctuary is located at Hephatha Lutheran Church, 1720 W. Locust St., and offers free meals on Fridays, recreational activities, a 12-step AA program, clothing drives, workforce assistance and assistance from staffers of 15 local social service agencies.
"When I was given the tour in the fall of 2014, and I could see it. I mean, I could just see it, but I've always surrounded myself by very pragmatic people. I immediately called an architect. I hadn't talked to him 15 years. I said, 'Craig (Coursin), I want you to give me an opinion of a building' and he said, 'Well, where are you? I'll be right over.'
"He came and he fell in love with the building. Without my even twisting the arm, he said, 'I'm your architect of record.' He said that he fell in love with the building. We didn't even know it was an Eschweiler building."
Brown plans to bring the work she's already doing with her sanctuary to this new space and expand it to fit the huge footprint of the 35,000-square foot building.
The main floor would house an intake area, showers, food storage, an emergency warming shelter for cold days and, most important, "a living room, a non-violent space for people to gather. Also, to be served a meal out of a kitchen that would be over there," she says pointing toward the loading dock.
Upstairs, floors would house health clinic spaces and areas for other social service agencies, an indoor urban agriculture floor with tabletop gardens and aquaponics, employment services, a makerspace to assist with job training and more. Brown envisions the third floor roof in the back (the top two floors are smaller than the ones below) becoming a usable outdoor space.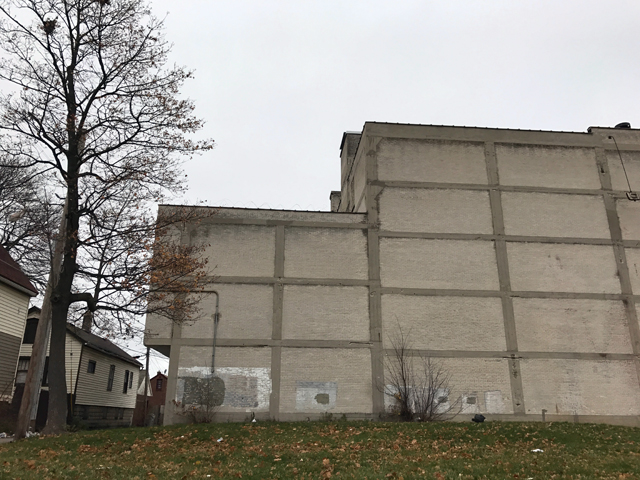 The top floor would offer meeting rooms.
"Because in the history of the work, we've always brought people from disparate lifestyles together and been in unity and solidarity, we would have the top floor be meeting rooms, a conference room, auditorium for the podium, and so forth, and call that the community forum floor," Brown says.
Work transforming the building would begin on the first floor and proceed upward as funds became available, according to Brown.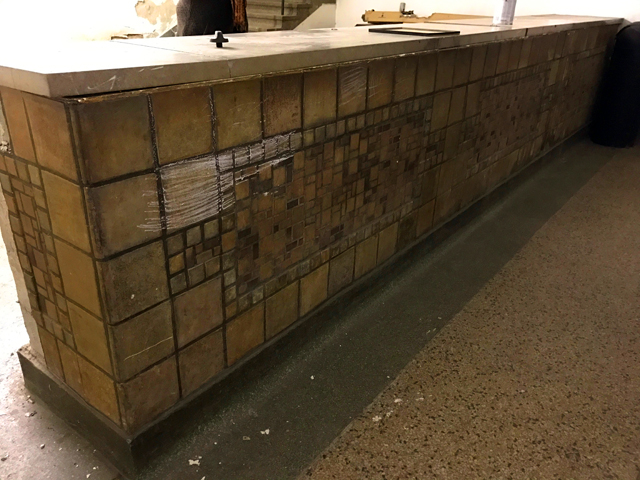 Architecture and history buffs would be pleased to know that many of the Eschweiler details inside remain. The terrazzo floors are there and so are the wrought iron railings. Perhaps best of all, that gorgeous tile-faced and marble-topped counter remains in place as does the bubbler that Eschweiler tucked just inside the entrance.
The road ahead is not an easy one. Brown needs to raise $175,000 by Dec. 23 to complete the purchase of the building and then there will be the cost of transforming the space, which needs everything from bathroom and shower facilities to heating systems to passenger elevators, and on and on. So far, Brown says she has raised just over $30,000 toward that goal, but she's not veering from her goal.
"We are optimistic," she says. "Obviously, one doesn't go into working with people who are in need or homeless without being an optimist. We're optimistic because we have several avenues working for us right now that we think we'll be able to harvest in that time period."
Brown notes that MSOE and UWM have committed to help with some of the work and others have also expressed support. The City has vowed to donate an adjacent vacant lot to the project if Brown completes the purchase of the building.
"We are doing this not just for this neighborhood, which has great need, but for the entire city."
Excelsior Room
I leave you with this curiosity. In the plans, there is a basement room called the "Excelsior Room," which was, at least in local parlance according to architect Keith Stachowiak, an ornate room in a hotel or social club.
Did Grueschow want a rumpus room in the basement of his new warehouse? Maybe. I didn't get to see the space when I visited. But perhaps the room had a more mundane use.
"It's in the basement with 8-inch brick walls, what appears to be a vent-well to the side, and an oversized door. It has to be a furnace room," Stachowiak says when I show him the drawing, adding that there was an Excelsior Furnace Co. in Chicago.
"Makes me think it is almost a really low-key joke, making the dirtiest room in the building called the 'excelsior room'."
A 1927 permit suggests a coal-burning Kewaunee boiler was actually installed in the building, however, so, was it an Eschweiler-designed Milwaukee man cave?
One reader chimed in to suggest a more likely and more mundane explanation. Excelsior (also called "wood wool") is a type of wood shaving that has long been used to stuff mattresses and furniture and storing this flammable material in a a fireproof brick room – as Grueschow's "Excelsior Room" appears to have been – makes perfect sense.
Born in Brooklyn, N.Y., where he lived until he was 17, Bobby received his BA-Mass Communications from UWM in 1989 and has lived in Walker's Point, Bay View, Enderis Park, South Milwaukee and on the East Side.
He has published three non-fiction books in Italy – including one about an event in Milwaukee history, which was published in the U.S. in autumn 2010. Four more books, all about Milwaukee, have been published by The History Press.
With his most recent band, The Yell Leaders, Bobby released four LPs and had a songs featured in episodes of TV's "Party of Five" and "Dawson's Creek," and films in Japan, South America and the U.S. The Yell Leaders were named the best unsigned band in their region by VH-1 as part of its Rock Across America 1998 Tour. Most recently, the band contributed tracks to a UK vinyl/CD tribute to the Redskins and collaborated on a track with Italian novelist Enrico Remmert.
He's produced three installments of the "OMCD" series of local music compilations for OnMilwaukee.com and in 2007 produced a CD of Italian music and poetry.
In 2005, he was awarded the City of Asti's (Italy) Journalism Prize for his work focusing on that area. He has also won awards from the Milwaukee Press Club.
He can be heard weekly on 88Nine Radio Milwaukee talking about his "Urban Spelunking" series of stories.