When the City of Milwaukee Historic Preservation Commission put the kibosh on Shepard Fairey's voting rights mural on the side of the Railway Exchange building on Broadway and Wisconsin in early August, citing concerns for the historic building, it appeared the project was dead.
But, Railway Exchange owner Patti Keating-Kahn also owns the Colby-Abbott Building on Milwaukee and Mason Streets and that building is not locally designated as historic.
So....
Fairey and his OBEY GIANT team have begun working on the 7,400-square-foot "Voting Rights Are Human Rights" mural on the north face of the Colby-Abbot, 759 N. Milwaukee St., which suffered a fire earlier this year. The painting will stretch from the third to the sixth floors of the six-story building.
According to Keating-Kahn, the mural, "had to be changed because five artists' work will be featured and the shape is different. The wall is 120 feet wide vs. Railway's 40-foot wall."
Now, rather than being oriented vertically, it will be horizontal.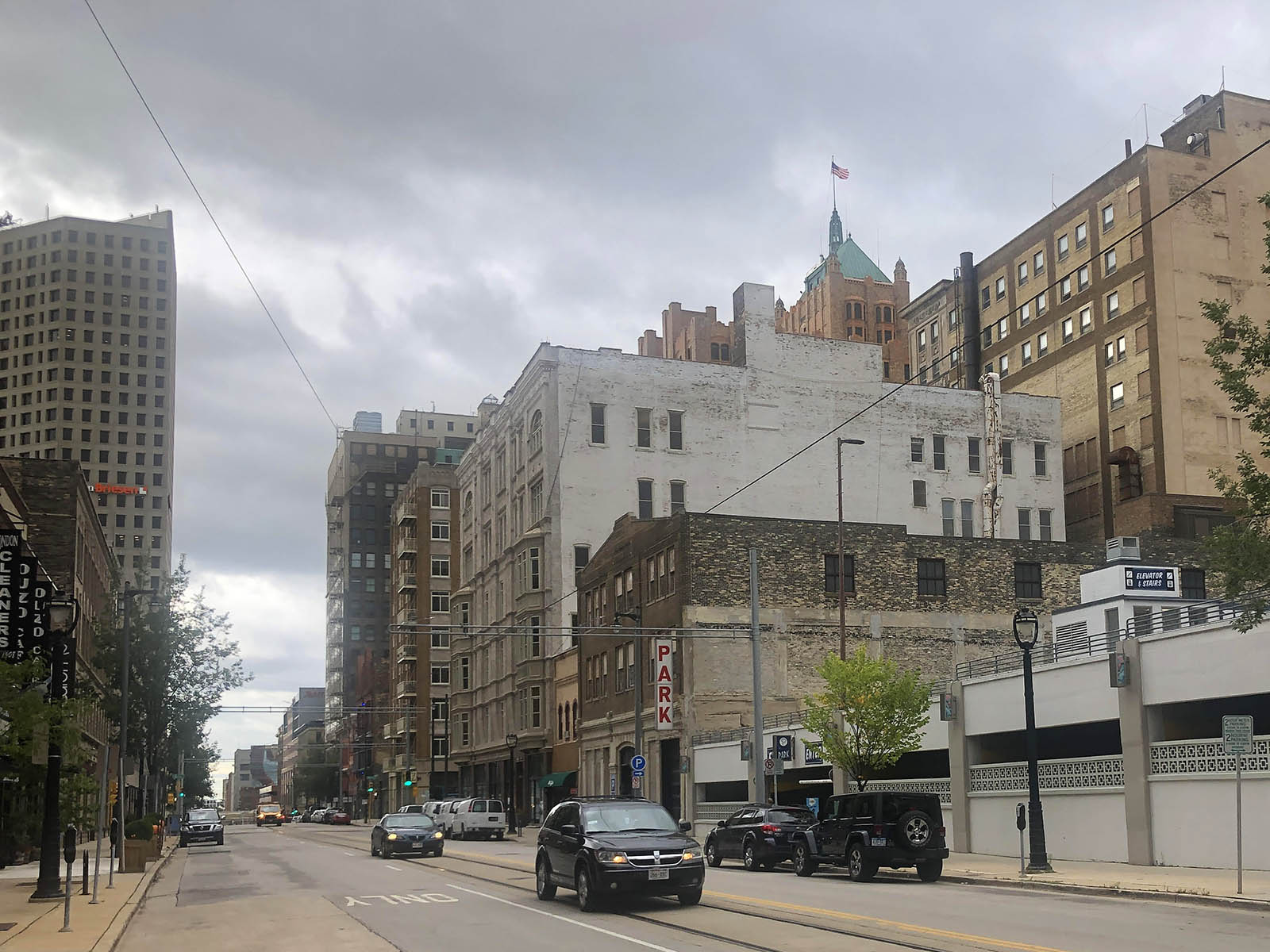 The image that circulated during the Railway Exchange discussion was already outdated by that time. The current design won't be shared so that it can emerge over time, says Stacey Williams-Ng of Wallpapered City.
"The final mural design will be revealed when the mural is completed," added OBEY GIANT's Victoria Yarnish.
Wall preparation has begun and painting will start on Oct. 10. The mural is expected to be completed by Tuesday.
The main image in the mural will feature a portrait of an African-American man looking upward and work by five artists with Wisconsin ties will surround him. This central figure is based on a Civil Rights-era photograph taken by Steve Schapiro.
Artists Tom Jones, Dyani White Hawk, Tyanna Buie, Niki Johnson and Claudio Martinez are collaborating with Fairey – who created the now iconic Obama HOPE poster – to incorporate their artworks into one giant, cohesive mural.
"The issues of health and voting for people of color are synonymous," said Jones in a statement. "We must not be complacent in these matters. Going to the polls to have our voices heard enacts positive changes for each of our communities and ripples across the United States."

"The impetus for this project was rooted in activism and advocacy," said Fairey. "Although the original pre-COVID funding of the project was stripped away due to the pandemic, it remains a goal of mine to work within the community of Milwaukee to lift up the urgent message of democracy and voting. We were able to get commitments for funding to cover the costs of travel and materials needed. I will donate my art, time and pay collaborators and my art team to work with me on painting the piece.

"We are facing voter suppression in many places in the nation, but I especially wanted to address that issue with my mural in Wisconsin since voter suppression has been such a problem in the state."
Funds for the project have come from the Black Box Fund and three local anonymous donors who are helping to rent access equipment, pay for wall preparation, pay for materials and provide accommodations for Fairey and his staff in Milwaukee.

"Art and the creative economy build a sense of community and togetherness that our society so deeply needs right now," said Secretary of Wisconsin Tourism Sara Meaney. "We in Wisconsin already know Milwaukee is a gem, but Shepard Fairey's mural may very well transcend Milwaukee, putting us on the map right along with the Smithsonian, the Museum of Modern Art in New York and the National Portrait Gallery – prominent places that have already featured Mr. Fairey's work."
Milwaukee's Wallpapered City, which created Black Cat Alley and has worked with many municipalities on mural projects around the area, is helping to organize the installation of the work.
Here is information about the participating artists, as provided by mural organizers:

Shepard Fairey is an American contemporary street artist, graphic designer, activist, and illustrator who emerged from the skateboarding scene. While attending RISD in 1989, he created the "Andre the Giant has a Posse" sticker that transformed into the OBEY GIANT art campaign, with imagery that has changed the way people see art and the urban landscape. He is known for his Barack Obama "Hope" poster, which he created in support of the 2008 presidential campaign. Fairey's stickers, guerilla street art presence, and more than 105 large scale painted public murals are recognizable worldwide.

Tyanna Buie is an artist and educator who ‹takes inspiration from the scant family photographs remaining from her youth and translates them into large-scale, print-based portraits and installations. Buie collages various elements into her prints, such as bits of clothing, jewelry, hair accessories, and other youthful adornments — adding layers and density that function as an artistic memoir on her family history. Buie's practice is intimately tied to her memories of growing up in Chicago and Milwaukee during the 1980s and 1990s.

Niki Johnson‹ is an artist and activist living in Milwaukee. ‹As a woman, Johnson is invested in creating artwork that addresses power structures, equality and identity. In the studio, she draws from a wide array of processes and materials, regularly scaffolding upon techniques when incorporating new materials into projects. Known for her political artworks and exhibitions addressing human rights, Johnson also writes and speaks on feminism's role in her studio practice.

Tom Jones‹ is a photographer from the Ho-Chunk Nation of Wisconsin. Jones' photographs examine identity and geographic place with an emphasis on the experience of American Indian communities. Jones is interested in the way that American Indian material culture is represented through popular/commodity culture, e.g. architecture, advertising and self-representation. Jones continues to work on an ongoing photographic essay on the contemporary life of his tribe.

Claudio Martinez is a full-time graphic designer in Milwaukee that dedicates much of his free-time creating artwork for Voces de los Artistas – the art affinity group for Voces de la Fronterra – the leading immigrant rights organization in Wisconsin. Over the years of working with corporate clients Martinez learned that being in the trenches with fellow artists working on political artwork and meeting like-minded misfits fulfills his soul immensely.

Dyani White Hawk is a woman of Sicangu Lakota and European ancestry; and was raised within Native and urban American communities. White Hawk strives to create honest, inclusive works that draw from the breadth of her life experiences, Native and non-Native, urban, academic and cultural education systems. This allows White Hawk to start from center, deepening her own understanding of the intricacies of self and culture, correlations between personal, and national history, and Indigenous and mainstream art histories.
Born in Brooklyn, N.Y., where he lived until he was 17, Bobby received his BA-Mass Communications from UWM in 1989 and has lived in Walker's Point, Bay View, Enderis Park, South Milwaukee and on the East Side.
He has published three non-fiction books in Italy – including one about an event in Milwaukee history, which was published in the U.S. in autumn 2010. Four more books, all about Milwaukee, have been published by The History Press.
With his most recent band, The Yell Leaders, Bobby released four LPs and had a songs featured in episodes of TV's "Party of Five" and "Dawson's Creek," and films in Japan, South America and the U.S. The Yell Leaders were named the best unsigned band in their region by VH-1 as part of its Rock Across America 1998 Tour. Most recently, the band contributed tracks to a UK vinyl/CD tribute to the Redskins and collaborated on a track with Italian novelist Enrico Remmert.
He's produced three installments of the "OMCD" series of local music compilations for OnMilwaukee.com and in 2007 produced a CD of Italian music and poetry.
In 2005, he was awarded the City of Asti's (Italy) Journalism Prize for his work focusing on that area. He has also won awards from the Milwaukee Press Club.
He can be heard weekly on 88Nine Radio Milwaukee talking about his "Urban Spelunking" series of stories.