Milwaukee radio mainstay and current 620 WTMJ morning host Gene Mueller often jokes that he has a face made for radio. But apparently somebody somewhere thought he might have a face for late night television.
Last month, during an episode of "The Tonight Show," host Jimmy Fallon went through his usual segment of quirky viewer-submitted screengrabs – a flood knocking out Noah's Ark Preschool, a Yelp review that leads with "I got stabbed" – before reaching the final photo (at minute 3:40 for those who want to sit through as little of Fallon as possible) submitted by a woman in West Palm Beach, Florida, who thought that somebody in a retro NFL photo looked a little like the former "SNL" star.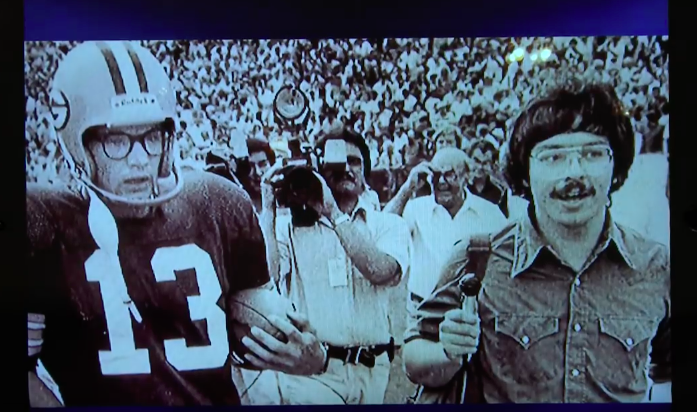 No, not the guy in the helmet on the left, but the guy with the helmet hair on the right. Now, it might be hard to tell underneath the big glasses, bowl-cut and porno 'stache, but that fledgling young WSPT Stevens Point reporter is WTMJ's Gene Mueller interviewing former Green Bay Packers kicker Chester Marcol in 1980 right after he'd caught his own blocked field goal for the game-winning touchdown against the Chicago Bears.
What I don't see, however, is a doppelgänger for Jimmy Fallon – at least until, like in all of these segments, Fallon's wardrobe department whips up a replica of the supposed twin's outfit, in this case complete with hair, mustache and barely post-disco duds. And the verdict ...
Well, he still doesn't look all that much like Mueller. Maybe I need to borrow Marcol's big specs though. Or maybe I'm just in denial because – full disclosure – Gene Mueller is my father, and I can't decide if a late night show host dressing up like my dad is the coolest thing in the world or the most embarrassing thing in the world. Help me through my complicated emotions in the comments!
As much as it is a gigantic cliché to say that one has always had a passion for film, Matt Mueller has always had a passion for film. Whether it was bringing in the latest movie reviews for his first grade show-and-tell or writing film reviews for the St. Norbert College Times as a high school student, Matt is way too obsessed with movies for his own good.
When he's not writing about the latest blockbuster or talking much too glowingly about "Piranha 3D," Matt can probably be found watching literally any sport (minus cricket) or working at - get this - a local movie theater. Or watching a movie. Yeah, he's probably watching a movie.