MINNEAPOLIS – When you live in Milwaukee and think "summer family road trip," you probably think The Dells, Chicago, a cottage up north. You may want to think farther north. Northwest, to be more precise.
The Twin Cities of Minneapolis and St. Paul bear striking resemblances to the 414 but with enough novelty to keep your Brew Crew entertained for several days. For our part, during a two-day tour, we focused on art, history and local flavor.
Our first happy accident
The nice folks at Meet Minneapolis Convention and Visitors Association offered several dining recommendations, including The Lowry, which is located downtown.
If you're like us, you'll select The Lowry Cafe on your GPS and land somewhere slightly different.
"It happens all the time," the manager of The Lowry Cafe offered, presumably to make me feel better.
Turns out we'd overshot downtown Minneapolis by a good 15 minutes to arrive in a neighborhood dotted with liquor stores and check cashing spots – and it all worked out perfectly.
A server greeted us cheerfully and invited us to select our seats. Our lunch, which included my cooked-rare Lowry Cafe Burger, hit the spot swiftly and affordably.
Diners represented a cross-section of Minneapolis: dreadlocked white hippies, grandmotherly African-American ladies and everyone in between.
"We give you a true Minneapolis experience," said Manager Taya Kaufenberg. "About 90 percent of our customers are regulars."
To St. Paul …
From there, we broadened our scope with a visit to the Minnesota History Center – one of the only historical museums to hold my now-8-year-old daughter's attention for at least an hour. She even called it "fun."
This place has "interactivity" on lock, which is probably why Mara remained engaged. Both the permanent and changing exhibits speak to the senses and take full advantage of all their assets: Linens in a display about life on the prairie serve as surfaces for exhibit information; tiles on the floor offer QR codes for the knowledge-thirsty; a replica of a grain elevator allows kids to travel the route that a soybean or corn kernel might.
My personal favorite: "Open House: If These Walls Could Talk." This exhibit uses a single, existing house (in the Railroad Island neighborhood on St. Paul's East Side) as a window into the days of people who have lived at 470 Hopkins Street throughout the years, from the first German immigrants through the Italians, African-Americans and Hmong who have succeeded them. Talk about interactivity: Stepping into the bathroom triggers light, the recorded voice of a former resident and the ambient sound of a dad running the bath for his small kids.
… And back
From there, we were off to the Minneapolis Institute of Art (Mia), home to one of the widest-ranging art collections in the country. You'll find everything and everyone from Monet to Matisse, Asian to African, 40,000-year-old artifacts to world-famous masterpieces.
While at Mia, fans of Frank Lloyd Wright won't want to miss the Decorative Arts, Textiles and Sculpture, as its strong in modernist design. While you're taking in the treasures inside, be sure to turn to the windows for glorious views of the city skyline.
As early evening began to fall, we made our way to Loring Park, a destination park in the southwest corner of the city and just spitting distance from the Walker Arts Center, as well as the Minneapolis Sculpture Garden, which re-opened in early June.
At the garden you'll find, ranking right up there with Chicago's bean, the iconic "Spoonbridge and Cherry," which begs, of course, for the obligatory "plucking the stem" photo. If you plan properly, you can pack a picnic lunch and join the young families and canoodling couples who enjoy the summer sun among gigantic works of art.
If you opt against al fresco dining, there's no better spot for a nosh than the air-conditioned, cultural melange that is the Midtown Global Market. (Milwaukee Public Market, I do love you, but this place takes it up a notch.) This market serves up a thriving, buzzing, vibrant cross-section of nations and people – a feast for the eyes and the stomach – with nearly 20 restaurants and food vendors.
And it's much more than cuisine. Back at the Minneapolis Sculpture Garden, Mara and I had splashed mud onto ourselves and our outfits, which required a costume change, of course. Each of us found an embroidered dress at Tibet Arts & Gifts. I would have lingered for hours among the many shopping options – art, crafts, home goods, candy and oodles more – but, much to my chagrin, Mara's not much of a shopper. (I'm hoping she'll grow into it.)
Once changed into our new summer frocks, we dined: Mara chose spaghetti and meatballs from Jakeeno's Trattoria and I went with the spinach pie plate from Holyland Midtown. Both dishes were ample and flavorful.
After a full day of learning, eating, driving, direction-finding, art-seeing, dress-buying and chatting, we dragged our happy-but-tuckered-out selves to our digs: the well-appointed, in-the-heart-of-downtown, staffed-with-some-of-the-nicest-people-ever Loews Minneapolis Hotel.
You really can't ask for a better base for exploring the city; Loews sits across from Target Center, two blocks from Target Field, steps from shopping and theaters and seven blocks from the Mississippi River.
Valet parking takes away the pressure of finding overnight accommodations for your ride.
Our second happy accident
Flash back to Mia, for a moment: It shares physical space with Children's Theater Company (CTC). From the cafe/store vestibule of Mia, Mara spied that CTC was staging "A Year with Frog and Toad." She squealed and started to make her way over there.
"Mom, I've read all these books. I love them."
That's all I needed to hear. We took in one of the final performances of the run and of the 2016-17 season. My review in a (hyphenated) word: Top-notch. First, the story selection is a winner; everyone can relate to the musical's themes of friendship, insecurity, mistakes and redemption. Oh, and cookies.
Second, the casting was superb. These superb performers embody their characters, selling hilarity, subtlety and everything in between. My wish for you is that you catch one of the CTC acting company members, such as Traci Allen Shannon and Reed Sigmund, both of whom appeared in "A Year with Frog and Toad."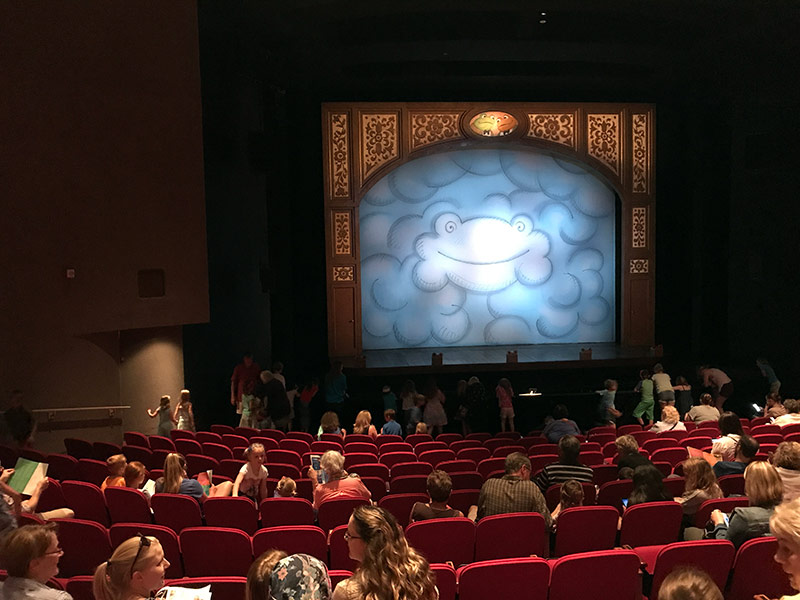 If you want to take a bit of a break from what could be a non-stop Twin Cities itinerary, you can't go wrong with a plush theater seat from which to savor a couple of hours of CTC magic.
Our second morning also included a peek at the Mill Ruins Park. The park and river-hugging pavement present perfect conditions for hiking, biking or walking.
This slice of Minneapolis history sits in the shadows of Pillsbury's and Gold Medal Flour buildings as well as the Mill City Museum. It all makes sense now, doesn't it?
All the talk of flour left us craving baked goods, so we asked Google Maps for a little help. We found Mon Petit Cheri Bakery & Kitchen just minutes away. Once inside, I spotted the Mango Chili Lime roll and never looked back – even though the shop's claim to fame is its sweet blueberry orange roll. Guess I'll have to plan a return trip.
Bullseye
Minneapolis is home to Target corporate headquarters. No visit to Minneapolis could be complete without a pilgrimage to the Target flagship store at 900 N. Nicollet Mall.
Mara wanted to have lunch there, which I was totally fine with – Target is my happy place. For probably obvious reasons, the cafe at the Target flagship store didn't perform well, so it's giving way to a robust liquor section, which will likely perform well, if I had to guess.
The Target mothership offers the standard fare, spread across two floors. So, if you're into escalators – and who isn't – you won't want to miss this piece of American consumerism and national obsession.
Velia Tarnoff counts among the loves of her life her daughter, her husband, her friends, writing, developing theories, dancing, live music, Southern California, black coffee and red wine. She's happiest when she can put as many of those together as possible. WWith more than 20 years of experience as a radio reporter and public relations professional, Velia is a natural communicator who loves to hear stories, to share stories and to tell it like it is.
Velia earned her B.A. from the UW School of Journalism and is thankful for every moment she spent on that wonderfully wacky campus.
And, in the interest of full disclosure, Velia is the wife of OnMilwaukee.com Publisher Andy Tarnoff.