It's official.
After a hectic two days of leaks and tweets, an NBA source confirms to OnMilwaukee.com that the Milwaukee Bucks have parted ways with center Larry Sanders, who just two years ago seemed destined to be the long term face of the franchise. The two parties agreed to a buyout for about half of Sanders' $44 million contract.
Once Sanders left the team following a 50-minute closed door, players-only meeting following a loss to Charlotte on Dec. 23, he made only one other appearance with the team – on Jan. 8 – to say he needed to get his personal life in order.
As of now, it's unclear as to what happened in that meeting, or what happened since, that completely changed Sanders' outlook on the game or if it fractured his relationship with first-year coach Jason Kidd, his staff and general manager John Hammond.
The details will emerge, eventually, but as for now the Bucks can move on without the center and a roster spot has opened up for the rest of this season, and going forward.
Hammond spoke about the situation Friday morning before the buyout was finalized, saying he couldn't be surprised that a player an organization once had so much invested in did not live up to those expectations.
"You know, if you look around sports, not only in the NBA, but all over professional sports, it's kind of part of what we deal with," he said matter-of-factly.
Milwaukee is once again searching for a rim-protector inside, and will likely have to pay for it, be in the draft, via trade, or in free agency, but Sanders was the last, expensive, vestige of the old ownership and way of doing things.
While there will be "dead" money on the books while Sanders is paid out, it is substantially less than the $11 million per year he owed over the next three, and it creates the roster flexibility to continue molding the franchise in the new ownership and Kidd's vision.
As for Sanders, who knows.
He may not love the game like some others, but he never seemed (at least to me) to hate it, or to not realize the gift his physical abilities were, and what they could provide. He may sit out this year, but I wouldn't be surprised if he resurfaced next year on a team with more established stars and a much lower profile – a role that he first emerged in two years ago.
But until that day, farewell, LARRY SANDERS!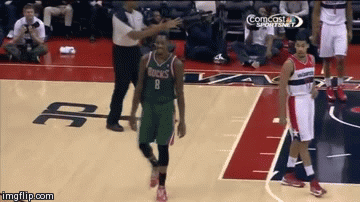 Jim Owczarski is an award-winning sports journalist and comes to Milwaukee by way of the Chicago Sun-Times Media Network.
A three-year Wisconsin resident who has considered Milwaukee a second home for the better part of seven years, he brings to the market experience covering nearly all major and college sports.
To this point in his career, he has been awarded six national Associated Press Sports Editors awards for investigative reporting, feature writing, breaking news and projects. He is also a four-time nominee for the prestigious Peter J. Lisagor Awards for Exemplary Journalism, presented by the Chicago Headline Club, and is a two-time winner for Best Sports Story. He has also won numerous other Illinois Press Association, Illinois Associated Press and Northern Illinois Newspaper Association awards.
Jim's career started in earnest as a North Central College (Naperville, Ill.) senior in 2002 when he received a Richter Fellowship to cover the Chicago White Sox in spring training. He was hired by the Naperville Sun in 2003 and moved on to the Aurora Beacon News in 2007 before joining OnMilwaukee.com.
In that time, he has covered the events, news and personalities that make up the PGA Tour, LPGA Tour, Major League Baseball, the National Football League, the National Hockey League, NCAA football, baseball and men's and women's basketball as well as boxing, mixed martial arts and various U.S. Olympic teams.
Golf aficionados who venture into Illinois have also read Jim in GOLF Chicago Magazine as well as the Chicago District Golfer and Illinois Golfer magazines.