After a six-plus week break from service, Fauntleroy, 316 N. Milwaukee St., has prepared for its return in the world of curbside pick-up.
And fans of bright, fresh herb-infused Mediteranean dishes won't want to wait to get their first taste of the restaurant's brand new take-out menu, which debuts on Friday, May 15 at 4 p.m.
The idea to shake up the French restaurant's carry-out menu took shape while chef and co-owner Daniel Jacobs spent three weeks at home in quarantine during the inaugural weeks of the COVID-19 epidemic.
"During that time, I really wanted to eat things that were comforting to me," he says, noting that growing up in a Jewish family left him with nostalgia for stereotypical dishes like latkes, braised brisket, mazo ball soup and corned beef sandwiches.
"But I also craved brighter, fresher things," he says. "Like the food I enjoyed at Zhahav years ago when we went on a trip with Paul [Zerkel] and Lisa [Kirkpatrick]. I remember we ate at José Andrés tapas restaurant, Jaleo… and I thought, 'Wow, that's going to be the best food we have on this trip.' But then we went to Zhahav, and it was literally one of the best restaurant experiences I've ever had in my life."
"It really changed my view of Israeli food culture in a really refreshing way," he adds. "The ingredients were so fresh, and just really different from everything in my experience."
Years later, Jacobs says, he and his hardworking staff have brought those fresh, comforting flavors to life through a brand new menu that takes a fresh look at classical French technique and pairs it with globally inspired flavors and healthful ingredients.
To make it even sweeter, most dishes are vegan or vegetarian friendly; and many can be easily made gluten-free.
Choose your own delicious adventure
When I gaze down at the new Fauntleroy menu, all I see are endless possibilities. That's because the available a la carte items can be eaten on their own or in any number of combinations, offering diners the opportunity to truly choose their own Mediterranean adventure.
For instance, the chopped chicken liver, a pate topped with red onion jam and served with a sleeve of Town House crackers, is screaming to be consumed with a few other items and a bottle of rose for a weekend picnic in the park.
It would pair up beautifully with the beet salad, a surprising combination of roasted beets and kale tossed in caraway dressing and served on a bed of complex, umami-rich black garlic labneh ($9).
Housemade falafel is served with traditional accompaniments including flatbread, pickled onions and cucumber sauce ($10).
It would be beautiful alongside either of two whimsically reimagined hummus dishes. The first is topped with sweet and savory components including chicken thigh confit, apricot chutney and pickled vegetables, along with a sprinkling of crispy chicken skin for texture. It's served with housemade flatbread for $9.
There's also a vegetarian version topped with pickled mushrooms, a six-minute egg and sesame greens ($9).
It would also be a great match for the fattoush salad chock-full of cucumbers, cherry tomatoes and herbs along with a flavorful eggplant relish and beautifully briny green olives ($10).
But then, it seems all of the salads are winners. In this one, spiced roasted carrots are paired with hearty farro and raisins and dressed with a beautifully perfumed dried lemon vinaigrette ($9, V).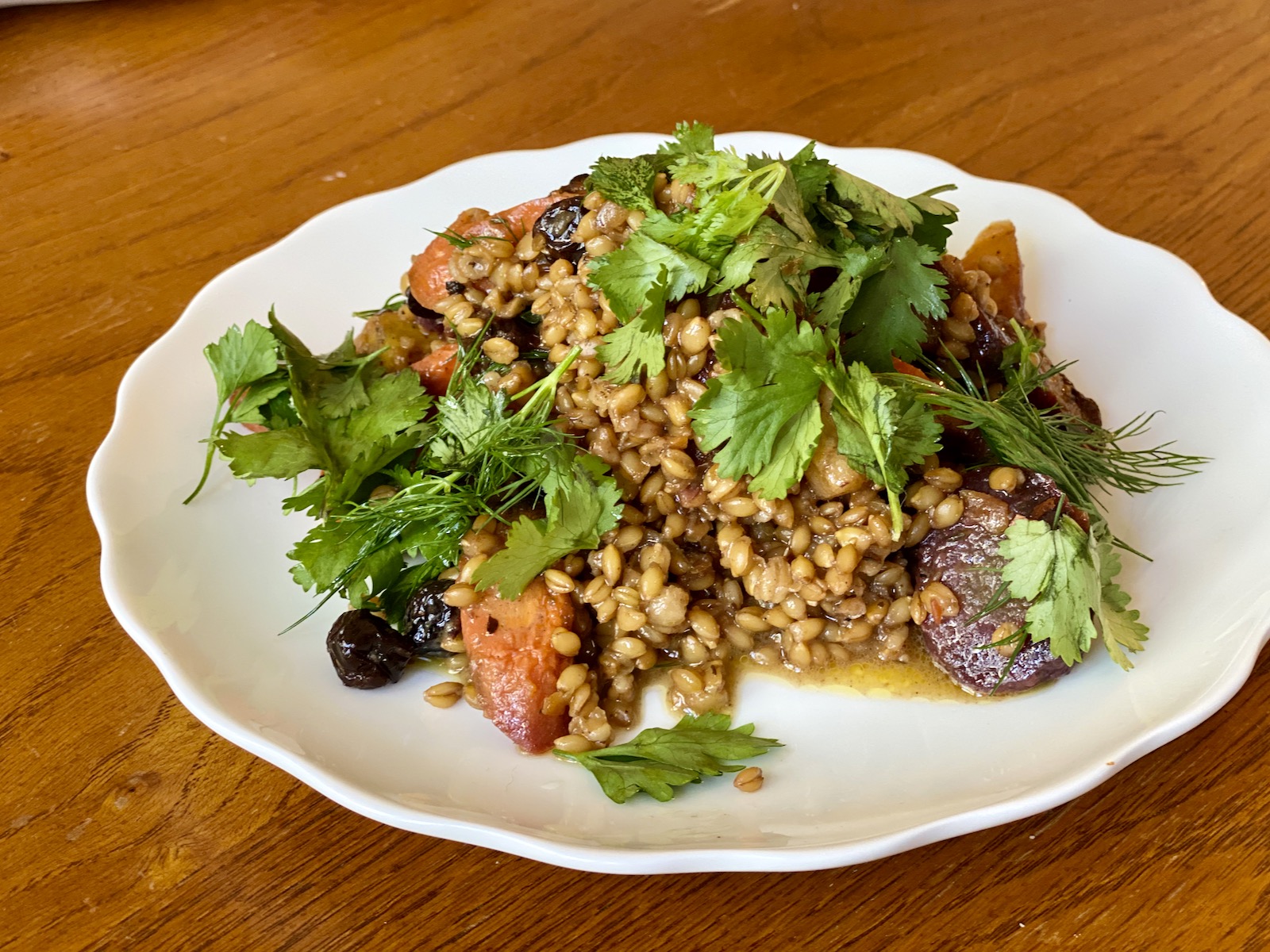 Meanwhile, a warm grain-based salad boasts roasted curried cauliflower with feta cheese, pickled peppers and a winning combination of rice, lentils, chickpeas and cranberries ($15).
If you'd like to bump that up with chicken, the grain-based salad (sans cauliflower) is also served alongside a half-chicken that's been brined and seasoned with harissa before being grilled and served with spinach yogurt ($22).
And don't sleep on the classic Mediterranean combination of shrimp and white beans. Delectable shrimp cooked with chili-butter are served with tender, buttery white beans flecked with flavorful herbs ($24).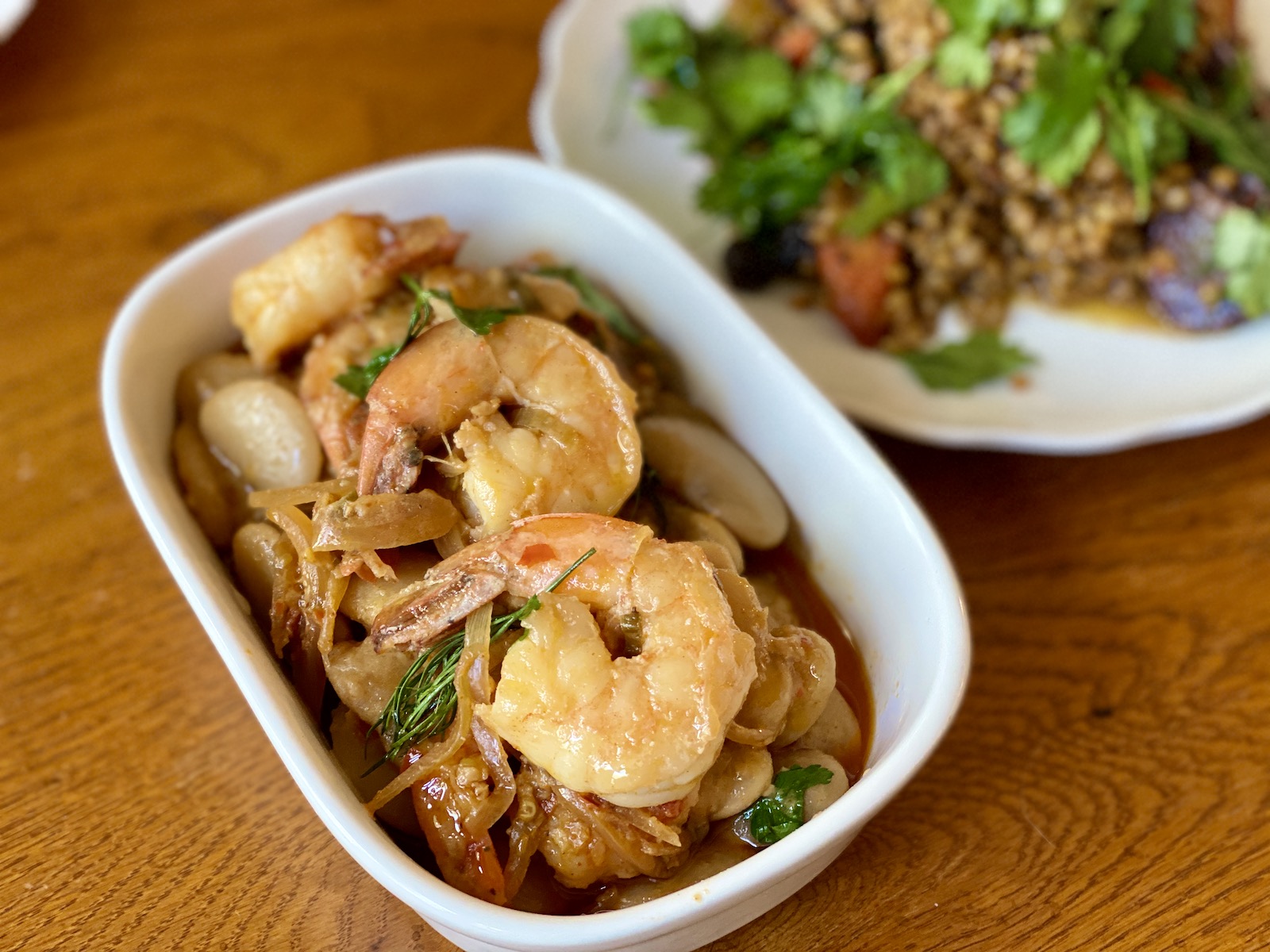 Meanwhile, you'll glimpse improved-upon takes from Jacobs' childhood in his classic matzo ball soup which boasts comforting rustic pieces of chicken, vegetables and hefty-looking mazo balls with a texture that's light as air ($7 per pint; $12 per quart).
And yes, there are latkes, served with spiced apple sauce and ramp sour cream ($10).
I'd also make a strong argument for adding rice pudding to your order. It's delicately sweet and comforting, scented with the complexity of cardamom and perfected with a topping of dates and honey ($6).
Beginning May 15, Fauntleroy will be offering curbside pick-up and delivery through Uber Eats on Friday and Saturday from 4 to 8 p.m. Orders can be placed by phone at (414) 269-9908.
Lori Fredrich (Lo) is an eater, writer, wonderer, bon vivante, traveler, cook, gardener and girlwonder. Born and raised in the Milwaukee area, she has tried to leave many times, but seems to be drawn to this quirky city that smells of beer and alewives.
Some might say that she is a little obsessed with food. Lo would say she is A LOT obsessed with food. After all, she has been cooking, eating and enjoying food for decades and has no plans to retire anytime soon.
Lo's recipes and writing have been featured in a variety of publications including GO: Airtran Inflight Magazine, Cheese Connoisseur, Cooking Light, Edible Milwaukee, Milwaukee Magazine and the Milwaukee Journal Sentinel, as well as on the blog Go Bold with Butter, the web site Wisconsin Cheese Talk, and in the quarterly online magazine Grate. Pair. Share.