The Milwaukee Film Festival kicked off Thursday night – and many of you are already 3 bags of popcorn in. I love my movie theater snackies but need a bit of variety in my life. There are an abundance of options for pre or post show eating near all of the theaters involved – these are just a few of them.
Happy festing!
Oriental Theatre
1. Von Trier, 2235 N. Farwell Ave.
Located directly across the street from the Oriental Theater, Von Trier is an easy stop pre or post film for a cocktail. Grab a pint or two on the patio before heading into the theater. Enjoy the popcorn they supply you with and save a few bucks on buying it in the theater – or try something from their new food menu such as the riesen pretzel, trio of sausages or Bayerischer Rettichteller – spiral cut jumbo Daikon radishes salted with sea salt and served with rye bread & butter.
2. Hotel Foster, 2028 E. North Ave.
Not only is Hotel Foster just around the corner from the Oriental – it is also offering up one of the best deals around the festival. Stop in and buy a drink and the second one is free with your festival pass or ticket stub. You can also check out "Soundtrack" there that will host bands The Milwaukee Music Video Show live at 9 p.m. on Wednesdays during the festival.
3. Allium, 2102 N. Prospect Ave.
Allium offers up a warm and cozy space within a few blocks of the Oriental. This taste of Europe is the perfect option to grab a cheese plate, prosciutto-wrapped dates or a pizza before your movie. The beer, wine and cocktail list is impressive for a place of this size and you may even have a hard time choosing what you'd like to imbibe in. Make sure you allow yourself enough time – you don't want to rush an experience at Allium.
Downer Theatre
1. Pizza Man
Whether you have time for an actual delicious pizza or not, Pizza Man is my top pick for a showing at the Downer. The bar is expansive and the space is one of my favorites in town. Or – with warm weather on tap all weekend long – you could even get in some open-roof seating one last time this season. It has you covered with that massive wine list – and don't worry, it has the beers to sustain you, too.
2. Cafe Hollander, 2608 N. Downer Ave.
Grab a table outside, order a High Speed Wit and some frites and all will be right with the world. The beer selection is huge and there is something for just about every palate. Want to go in a different direction? Enjoy a cup of fresh brewed Colectivo Coffee with a fudge brownie skillet.
3. Henry's Pub & Grill, 2523 E. Belleview Pl.
Stop by Henry's Pub & Grill and try the Naderburger. You can order it many different ways, but you should try the one that has blue cheese cooked inside the patty. The bun is warm and toasted, the meat tender as can be, and the blue cheese is melty and perfectly proportioned. The drinks are affordable and the laid back atmosphere is a great place to talk about the film you just got of. Note: I said AFTER, because you may want a nap after that delicious burger.
Times Cinema
1. Meritage, 5921 W. Vliet St.
The back patio at Meritage is delightful – the quaint deck feels like you are in a backyard and not just the seating of a restaurant – albeit a great restaurant. Take advantage of it before the cold air hits. Enjoy a bottle of wine with a few appetizers, like the yummy beet salad – or be really smart and visit on a Tuesday for tapas night.
2. Valentine Coffee Roasters, 5918 W. Vliet St.
Enjoy coffee in Valentine's tasting room – or maybe you need an espresso pick me up before settling in for a late showing. While I highly condone the use of caffeine I also can't resist a great cocktail – and Valentine offers some amazing ones such as a version of the Dark n Stormy that includes cold-brewed coffee, Great Lakes Distillery Roaring Dan's Maple Infused Rum, Blackstrap molasses, ginger beer and lime. Beer and wine are also available. Snack on a savory or sweet pastry from local businesses, too.
3. Cold Spoons Gelato, 5924 W. Vliet St.
Local shop Cold Spoons Gelato serves up more than two dozen kinds of gelato with flavors such as caramel sea salt, horchata (cinnamon) and roasted almond. Even with the smallest size you can get two flavors! Not sure what to get? They'll give you a small taste – just don't be like me and have to try five to make a decision.
Fox-Bay Cinema Grill
1. The Bay, 342 E. Silver Spring Dr.
Situated just down the block from Fox-Bay Cinema Grill is The Bay. The comfortable casual restaurant is a decent bet for a cocktail and an appetizer prior to heading into the theater. I would get the cheese ball for the nostalgic value.
2. Roman Candle, 133 E. Silver Spring Dr.
If you're hankering for a pizza, Roman Candle is just a few blocks down from Fox-Bay Cinema Grill. While this place may be a bit over-run with kids depending on when you go, the pizza is good and so are the salads. The retro vibe and the focus on serving local products as much as they can is just a plus.
3. Fox-Bay Cinema Grill
The cinema itself does serve food. The chicken fingers and fries will do you in a pinch, and I eat them there at least once or twice a festival. However, the stand-out winner here is the brownie sundae. That warm brownie with two scoops of ice cream and chocolate sauce? Yum.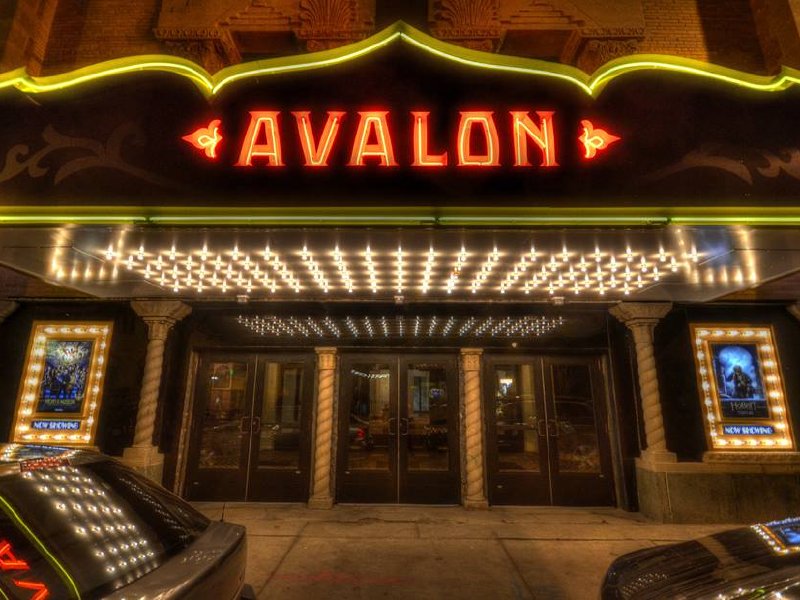 1. Odd Duck, 2352 S. Kinnickinnic Ave.
Odd Duck offers an ever-changing menu for vegetarians, vegans and omnivores of small plates, sandwiches and cocktails inspired by local ingredients. The bar is one of my favorites in town to nosh at and is a great spot to grab some food pre-show. Whether you share some of the delicious charcuterie or order the orange miso duck bowl you won't be disappointed.
2. Cafe Lulu, 2261 S. Howell Ave.
Lulu has a vibe that is funky and fresh – and the food is, too. Sample some of the house-made chips with blue cheese dipping sauce while you enjoy the expansive bar. You can't go wrong with a salad or sandwich with a local brew at Lulu – but please, please don't miss the pie.
3. District 14, 2273 S Howell Ave.
The beer is great, but so is the popcorn! Popcorn is sitting out at the bar – where they offer a few regular brews on tap and some limited time/experimental brews that change periodically – and is lightly buttered. It was delicious. Like really good. You will want to take some with and run down to the Avalon for your movie. The beer will have me coming back, but the popcorn will always be a good little motive, too. I haven't tried the pizza though it is offered – let me know how it is!
Carolynn Buser is one of Milwaukee's loudest and most adamant cheerleaders (don't dare try to disagree). She's the primary voice behind much of OnMilwaukee's social media and content direction, and apologizes in advance if she can be too sarcastic at times.
What else? She's a wine lover, closet trashy novel reader, beauty supplies addict and devourer of cheese (shocker for a Wisconsin born and bred girl, right?). She's also a bit of a foodie, which is a word most of you hate, we know. She works as hard as she plays - and that includes in the gym! So, you've probably seen her at one of the area's newest restaurant openings (and yes, she will share her opinions good or bad) or enjoying a cold one at a local pub.
All in all, Carolynn's a believer in positive thinking and will do her best to smack down your negative ones while writing about her city, her loves, quests and more.