Work on the 3rd Street Market Hall, the food hall planned for The Avenue, 275 W. Wisconsin Ave., is currently in progress. In fact, the new venue is eyeing late 2019 or early 2020 for its official opening.
When open, the forthcoming food hall is expected to house as many as 20 tenants, including concepts by the owners of Char'd, Funky Fresh Spring Rolls, Stone Creek Coffee, Umami Moto and Waterford Wine & Spirits. Debuting concepts will also include Donut Monster, Milk Can Hamburgers & Custard and Milk Bottle Bakery.
But there's more ... including a fine (of high quality) and dandy (excellent) new concept which will serve up juicy, crisp fried chicken and accompanying sides.
Fine & Dandy Fried Chicken
Fine & Dandy Fried Chicken will be owned and operated by former SURG Executive Chef Jarvis Williams, in collaboration with Bass Bay Brewhouse partners Chef Kurt Fogle, Ryan Oschmann, Laurie Oschmann and Andrew Meinen, and local pastry chef Katie O'Neil.
"Ryan [Oschmann] and I had a number of early discussions about a fried chicken concept for the food hall," notes Fogle. "We talked, and we developed an idea we thought could work. We knew we wanted to partner with someone that we trusted, someone who really had a connection to the food. Immediately I thought of Jarvis [Williams]. We've known one another for 10 years ... and he's always tried to convince me that he liked fried chicken more than I did."
Williams laughs. "I could eat fried chicken all day until I felt sick," he says. "And then I'd just break for some leafy greens and start again …"
"In the end we decided it wouldn't work unless Jarvis [Williams] was part of it," says Fogle. "When I reached out to him to ask if he'd be interested in partnering, I knew that we were reaching, really reaching. But you never know if you don't ask."
Preserving Milwaukee's soul food culture
Nearly every culture on earth has its own version of fried chicken, and countless food lovers have taste memories that hearken back to a plate of crisp, juicy fried chicken in one form or another.
And memories form the foundation for Fine & Dandy Fried Chicken.
"My mother is a great cook, and she makes great fried chicken," Williams says, "Growing up, I loved to cook it and I loved to eat it. There were also all these places in my neighborhood that offered these styrofoam boxed meals with fried chicken and sides … QF&H on Martin Luther King Jr. Drive and Port Washington Road, Bungalow on 12th and Keefe, Mr. Perkins …
"As teenagers, we'd walk to all those places. I remember my mom would call in an order and we'd walk together to pick it up. The walk was social. The restaurants we're social … I remember walking in on Saturday mornings and the places were just packed. You couldn't get out of there without saying 'hi' to people you knew. It all felt good."
"At some point, Williams says, "I realized that I didn't want to watch all of that go away without doing something to contribute to it … it was important to me to go back to that time, be a part of it."
Fogle, who worked with Williams at SURG, and who has been friends with the chef for the better part of a decade says that Williams' passion is at the heart of the concept's origin and development.
"When he told me the story, I realized he had the same feeling about those memories that I have about supper clubs and hamburgers," says Fogle. "These are things I've been passionate about preserving for a long time. We can't just let these things slip away. I think we're moving into an era where people are finally realizing that. Food is about creating what you love and expressing who you are. It's about focusing in on your true passions, finding the thing that drives you and mastering it."
Williams says partnering on the concept wasn't a hard sell.
"For me it was good timing," he says. "We worked together for years and became good friends. Because of that I knew that we'd be working together with the same mindframe. It was also a concept I was really excited about. I think this place will invoke memories for a lot of people in terms of both the food and how it feels."
Chicken & sides
As for the menu, Williams says it's still largely in development.
"Right now we're plowing through every memory we have of comforting sides, every experience we've had with fried chicken," says Williams. "From there, I'm going to dial into my childhood memories and my neighborhood memories and create food that's true to those memories."
Fogle nods. "Maybe we'll have fries, maybe we'll have mashed potatoes and gravy. Maybe there will be macaroni and cheese and greens. We have a recipe file that has 60 or 70 things in it, and now it's a matter of really zeroing in on the items we want to feature."
That's likely to include desserts made by O'Neil, including classic southern banana pudding.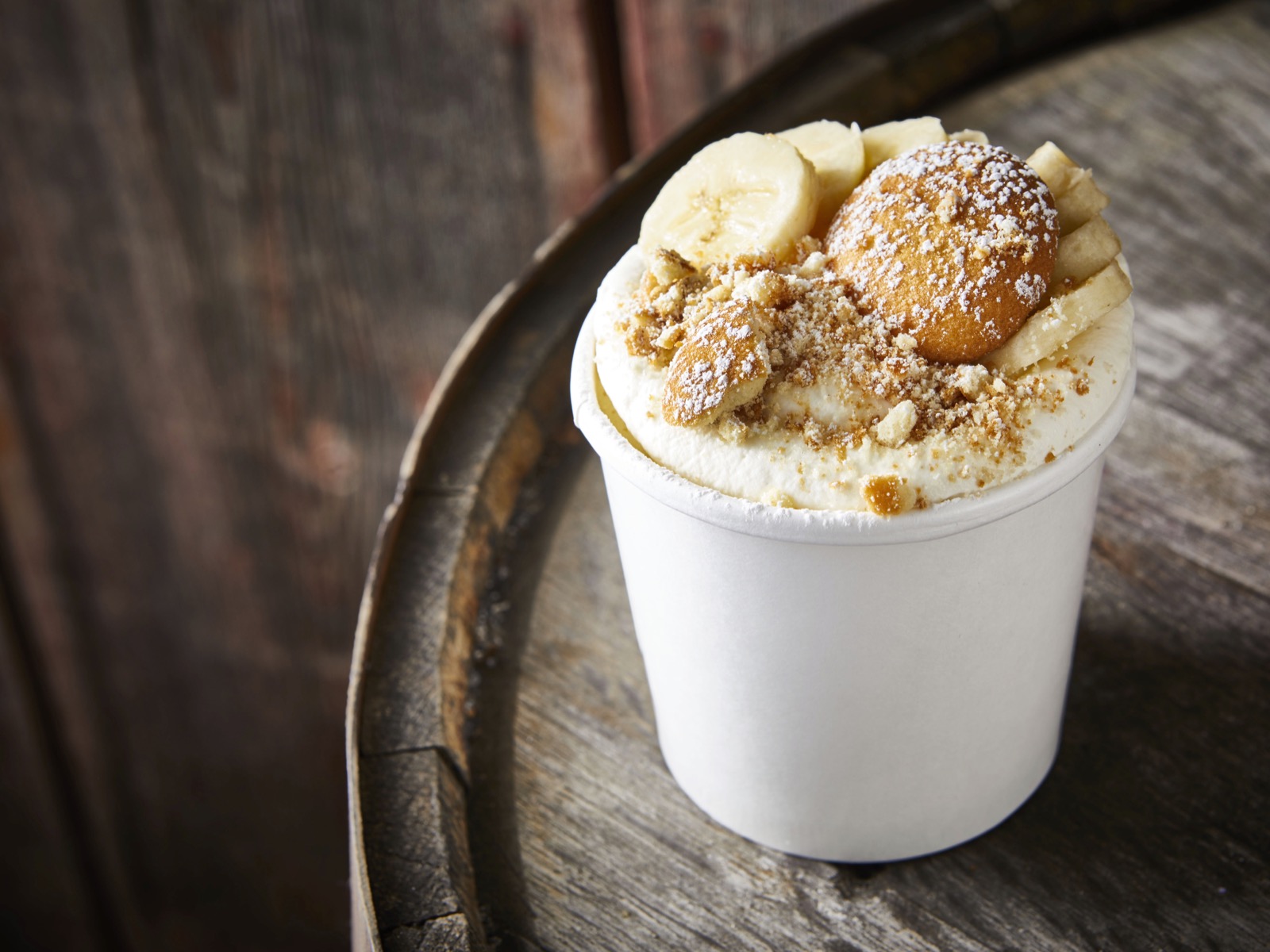 "It's really important to us to really nail all of these concepts – Milk Can, Milk Bottle, Fine & Dandy – but it's not about reinventing the wheel. It's not about smoke and mirrors. It's about creating really good food."
It's also about opportunity.
"Jarvis doesn't need me to be successful," adds Fogle. "And I don't need him. But the future that we're building is about harnessing talent and giving people opportunities to do what they love, to create balance in their work life and to have a good time doing it."
Want a sneak peek at the menu development process? Within the next few weeks, Bass Bay Brewhouse will be launching a new Sunday night fried chicken offering which will showcase Fine & Dandy fried chicken and various sides that are up for consideration. You can follow Bass Bay on Facebook and Instagram for details.
Lori Fredrich (Lo) is an eater, writer, wonderer, bon vivante, traveler, cook, gardener and girlwonder. Born and raised in the Milwaukee area, she has tried to leave many times, but seems to be drawn to this quirky city that smells of beer and alewives.
Some might say that she is a little obsessed with food. Lo would say she is A LOT obsessed with food. After all, she has been cooking, eating and enjoying food for decades and has no plans to retire anytime soon.
Lo's recipes and writing have been featured in a variety of publications including GO: Airtran Inflight Magazine, Cheese Connoisseur, Cooking Light, Edible Milwaukee, Milwaukee Magazine and the Milwaukee Journal Sentinel, as well as on the blog Go Bold with Butter, the web site Wisconsin Cheese Talk, and in the quarterly online magazine Grate. Pair. Share.