Milwaukee's barbecue scene continues to get fired up. In fact, starting next week, there will be a new option on the docket.
Firewise Barbeque Company, a mobile barbecue trailer, will be hosting its debut from 11 a.m. to 6 p.m. on Aug. 17 at Hal's Harley-Davidson, 1925 S. Moorland Rd. in New Berlin.
The trailer is owned and operated by certified Kansas City Barbeque Society judge, competitor and pitmaster Alex Obradovich, who left his job in mid-April to pursue his professional barbecue dream.
His 20-foot trailer, which contains a 14-foot commissary kitchen and a 6-foot rear porch with a mounted smoker, will offer pulled pork, spare ribs, chicken and brisket.
"My meats are smoked primarily with fruitwoods," notes Obradovich. "I've been playing with some hickory, but I really go for a more mellow smoke flavor. Beyond that, tenderness is the key for barbecue – both for contests and for the general public – and I'm focusing on that. Really bringing people good quality, flavorful meats that people will really enjoy."
His roadside menu will feature sandwiches (priced $6-8) featuring smoked pulled pork, beef brisket and pulled chicken, spare ribs ($8-22, priced by quantity), pork, beef and chicken nachos ($8), and a four meat sampler featuring three ounces each of pulled pork, brisket, chicken and one rib with cornbread for $15.
All meats are also available by the pound (priced $11 for chicken up to $18 for brisket). Eventually specials may include beef ribs, rib tips and other items like bacon-wrapped jalapeno peppers.
Meats have been dry rubbed and smoked. Some, including chicken and ribs, will be served pulled and sauced with his signature barbecue sauce, which Obradovich describes as a "sweeter tomato-based sauce" available in original, spicy or tangy varieties. Meanwhile his brisket and pulled pork will be served without sauce.
Photo: Firewise Barbeque Co.
As for sides, Obradovich admits he's not really "a big side guy."
"For me, it's all about the meat," he says. "But I really wanted to serve good, homemade sides that weren't an afterthought."
He says he'll feature corn bread ($1), smoked baked beans, vinegar-based coleslaw and American-style potato salad with mustard and mayonnaise dressing ($2.50 each).
Getting there
A former machinist and sales professional, Obradovich has been honing his craft for nearly a decade and competing in Kansas City Barbeque Society competitions since 2012.
"My dad got a hold of a Kamado, an old Japanese style smoker, about 20 years ago and started making ribs, brisket and pulled pork," says Obradovich. "And I always aspired to making ribs as good as his."
Obradovich tried to compete with his father using a gas grill, but quickly learned he'd need to upgrade his game. So, in 2009, he bought a smoker (and subsequently several more). He joined a grilling forum online and began reading and learning.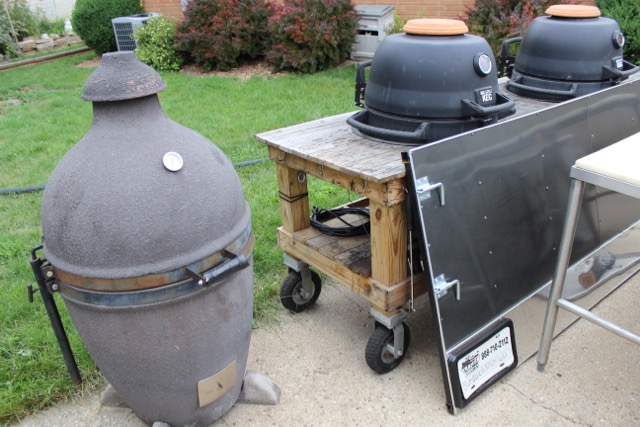 "As I learned more, I got more serious about cooking," he says. "I started using fresh ingredients from the farmer's market and things started getting better and better. It took some time, but eventually I was able to make ribs as good as my dad's. And eventually, I got into doing competitions."
In 2012, he got together with his dad and entered his first Kansas City Barbeque Society contest. They earned 11th place among 18 teams and took home fifth place for their ribs. And he says the feeling was incomparable.
"We were thrilled," he says. "It's like winning a game when you're a kid; there's just not that many opportunities for that kind of feeling as an adult."
From there, he honed his craft further and continued to compete, sometimes participating in up to eight competitions per year. In 2016, he teamed up with one of his mentors, Tony Roy of Mr. Tony's Barbeque in Fredonia, and the two secured 9th place (and first among Wisconsin teams) in a 66-team national competition held in Green Bay.
"I've had people telling me my food is good for a long time," he says. "But competition taught me a lot. Your friends and family aren't going to tell you that your food isn't so great. But judges, they get one taste … and that taste better be good."
In the end, he says, he just wanted to share his food with others.
"I've been to a lot of restaurants and tried a lot of barbecue," he says. "I've eaten a lot of food where the quality just isn't there. And that's a big goal for us: to keep the quality really high. Bringing the competition aspect to the public is where our focus lies. It's a different level of barbecue that not everyone is familiar with."
Obradovich says he's been busy putting finishing touches on the trailer (which is due to be wrapped in the next couple of weeks; see photo below for a preview of the design) in anticipation of the Aug. 17 grand opening. But he says he can't wait to start cooking.
Photo: Firewise Barbeque Co.
"Right now I'm nervous, and my wife is nervous," says Obradovich. "But I'm all in at this point. And I'm getting excited for people to try what we'll be making."
The Firewise Grand Opening takes place Aug. 17, from 11 a.m. to 6 p.m. at Hal's Harley-Davidson, 1925 S. Moorland Rd. in New Berlin. Beginning Aug. 23, Firewise keep regular hours at set locations through October or early November. They'll serve from 11 a.m. to 6 p.m. (or until they sell out) on Tuesdays at the Bartz Party Store at 4150 S. 108th St and Thursdays at Hal's Harley-Davidson, 1925 S. Moorland Rd.
Moving forward, Firewise will add a third location on Wednesdays, as well as catering and special events on weekends.
For more information, as well as updates on the trailer's locations, follow Firewise Barbeque Co. on Facebook, Twitter and Instagram.
Lori Fredrich (Lo) is an eater, writer, wonderer, bon vivante, traveler, cook, gardener and girlwonder. Born and raised in the Milwaukee area, she has tried to leave many times, but seems to be drawn to this quirky city that smells of beer and alewives.
Some might say that she is a little obsessed with food. Lo would say she is A LOT obsessed with food. After all, she has been cooking, eating and enjoying food for decades and has no plans to retire anytime soon.
Lo's recipes and writing have been featured in a variety of publications including GO: Airtran Inflight Magazine, Cheese Connoisseur, Cooking Light, Edible Milwaukee, Milwaukee Magazine and the Milwaukee Journal Sentinel, as well as on the blog Go Bold with Butter, the web site Wisconsin Cheese Talk, and in the quarterly online magazine Grate. Pair. Share.