Imagine attending your ten-year college reunion, seeing the slacker party guy in your class arrive in a suit with a nice haircut, talking about how he has two kids, a good job, a nice house with a mortgage and a 401(k). That's what it's like walking into the newly expanded and renovated Brothers Bar & Grill at 1213 N. Water St. Once merely a college bar with a dance floor, the new Brothers has grown – and impressively grown up.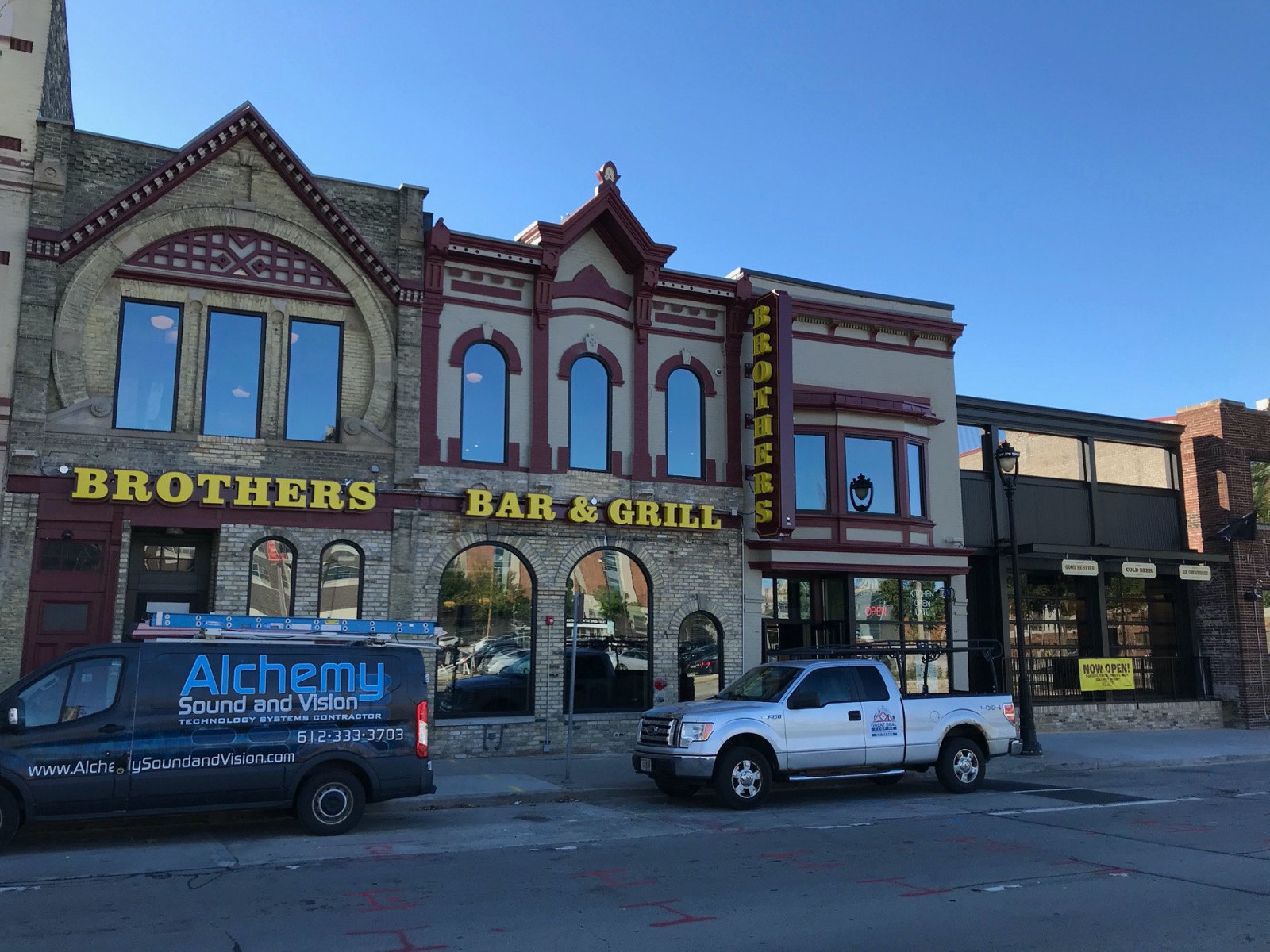 Debuting in 2006, Brothers closed last November to renovate and expand its 1213 N. Water St. location. The project – updating and making approximately 90 percent of the space brand new, according to co-owner Marc Fortney – has now almost entirely finished. Brothers has reopened to the public, utterly changed and almost unrecognizable from its former self.
"Because of what we're seeing with the growth of this area changing – the Bucks and Fiserv Forum, MSOE across the street isn't getting any smaller – we've been here for a long time, and it was our foray into the college bar world, but now it's a full-blown bar and grill," Fortney said. "We really wanted to bring Milwaukee and Wisconsin a flagship store, and we brought it to Milwaukee first. We think it's our finest work."
Most notably, the bar has increased its footprint, purchasing the former Milwaukee Moulding & Frame shop next door, knocking down the dividing wall and combining the two locales into one large indoor space. The beams in the middle of the main room show where the wall that formerly separated Brothers from the frame shop used to stand.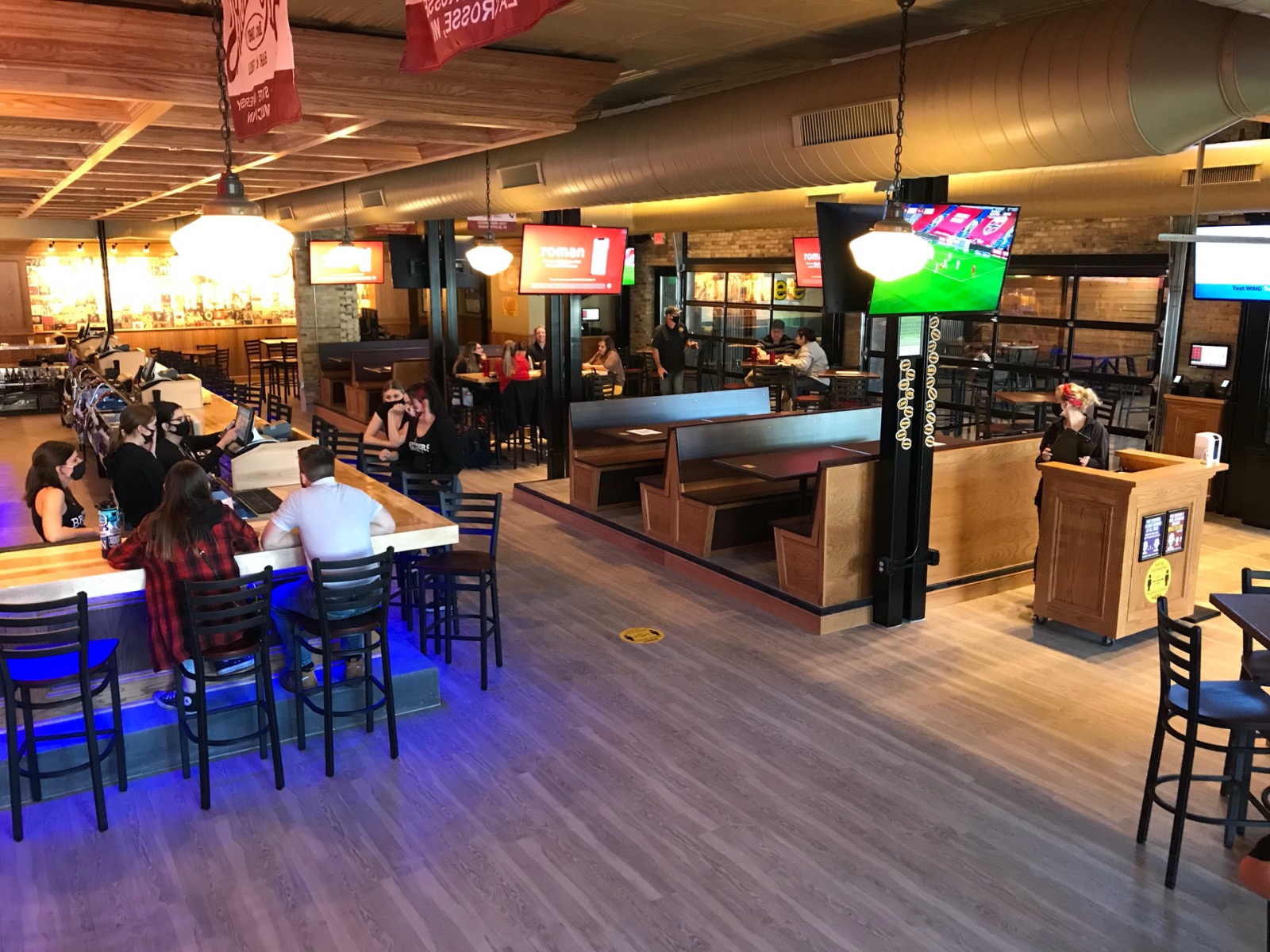 Joined together, the two venues create a massive and open two-floor main bar and dining space, with clean light wooden tables and booths as well as a 54-foot sleek, blue-hued wooden bar on the first floor with 40 draft lines.
More than 45 television screens decorate the walls throughout the location along with plenty of automotive-themed decor, such as retro Goodyear neon and old auto repair shop signs, as well as a mural on the back wall composed of CD covers old and new, across all genres, all found scattered around Brothers' Wisconsin offices. (Fortney's main offices are located in La Crosse, while Brothers has 19 other locations, mostly spread around the Midwest.)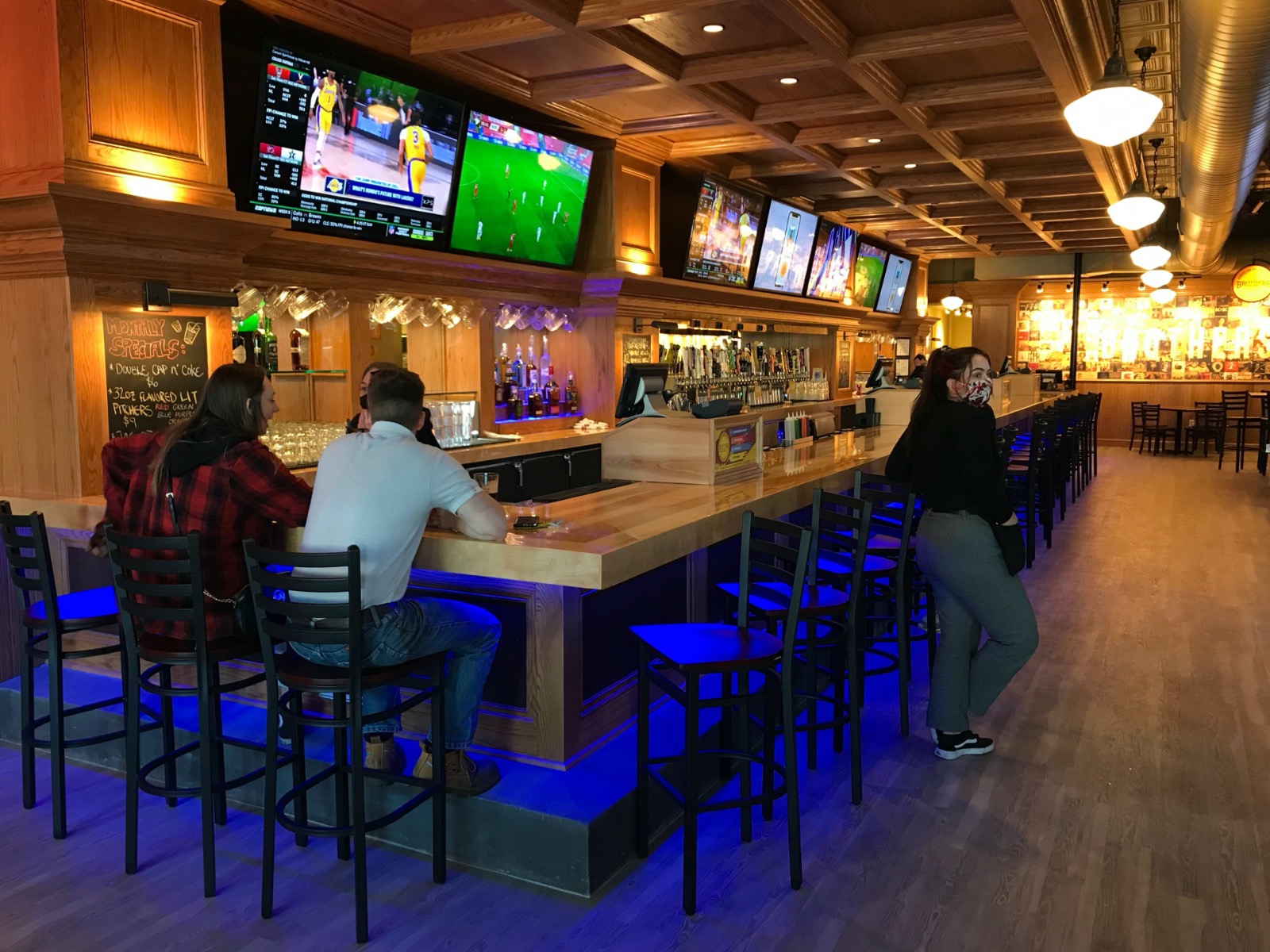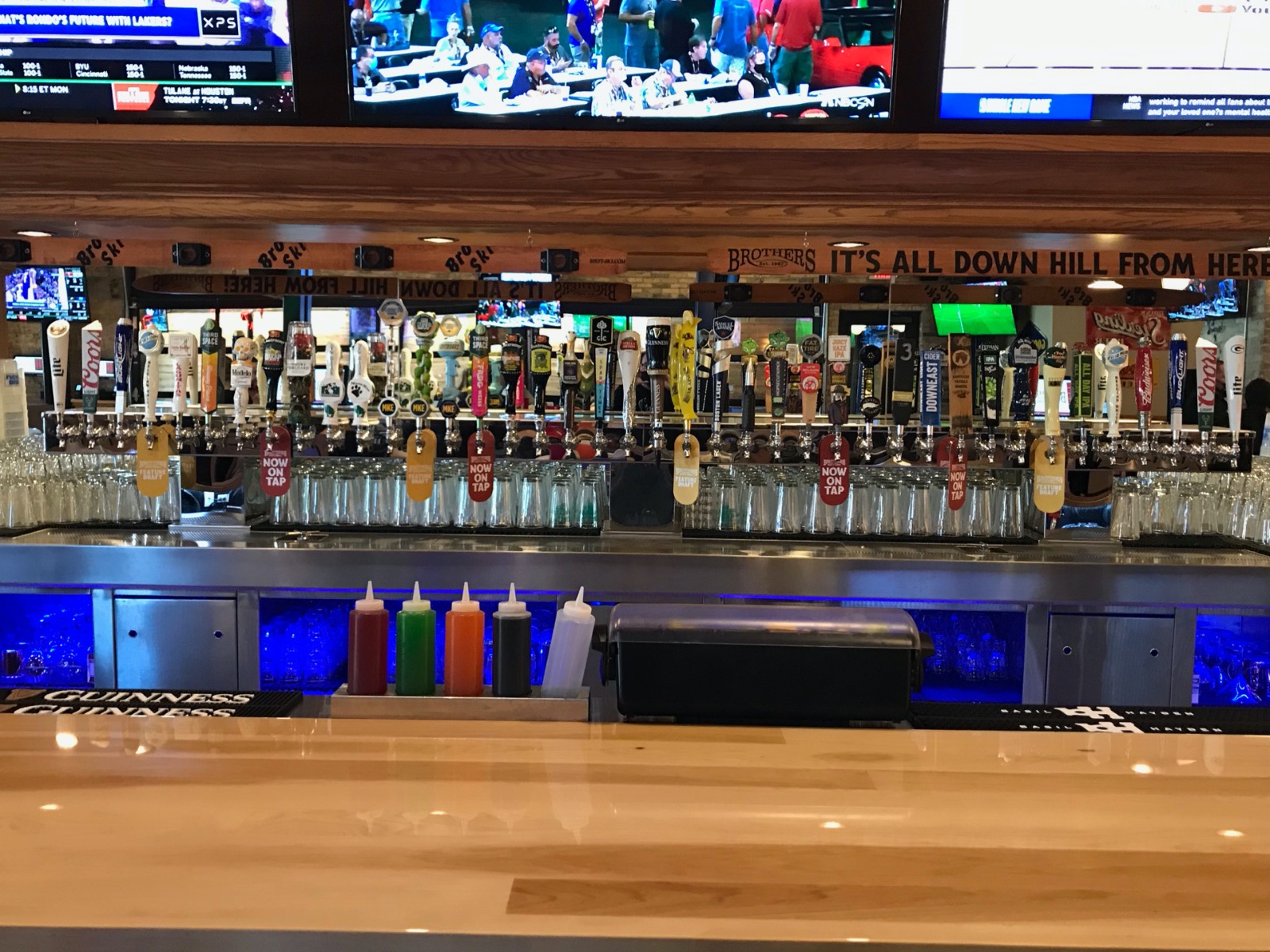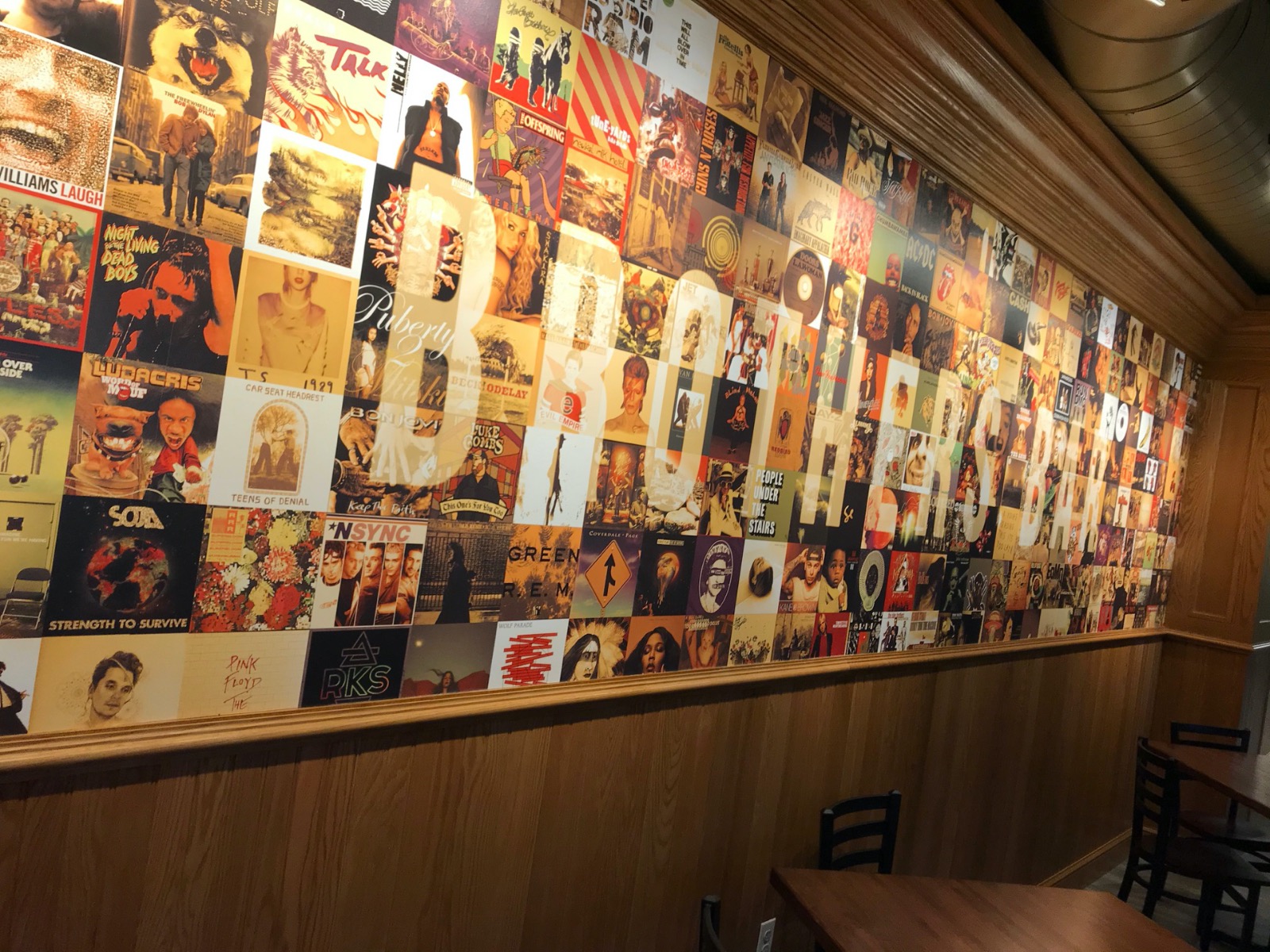 The walls themselves, though, bring their own character to the space, as much of the old building's Cream City brick remains exposed, maintaining its unique architectural history even in the slick and modernized space, making it feel new and old simultaneously.
"There's nothing old in the building except for the building itself," Fortney noted.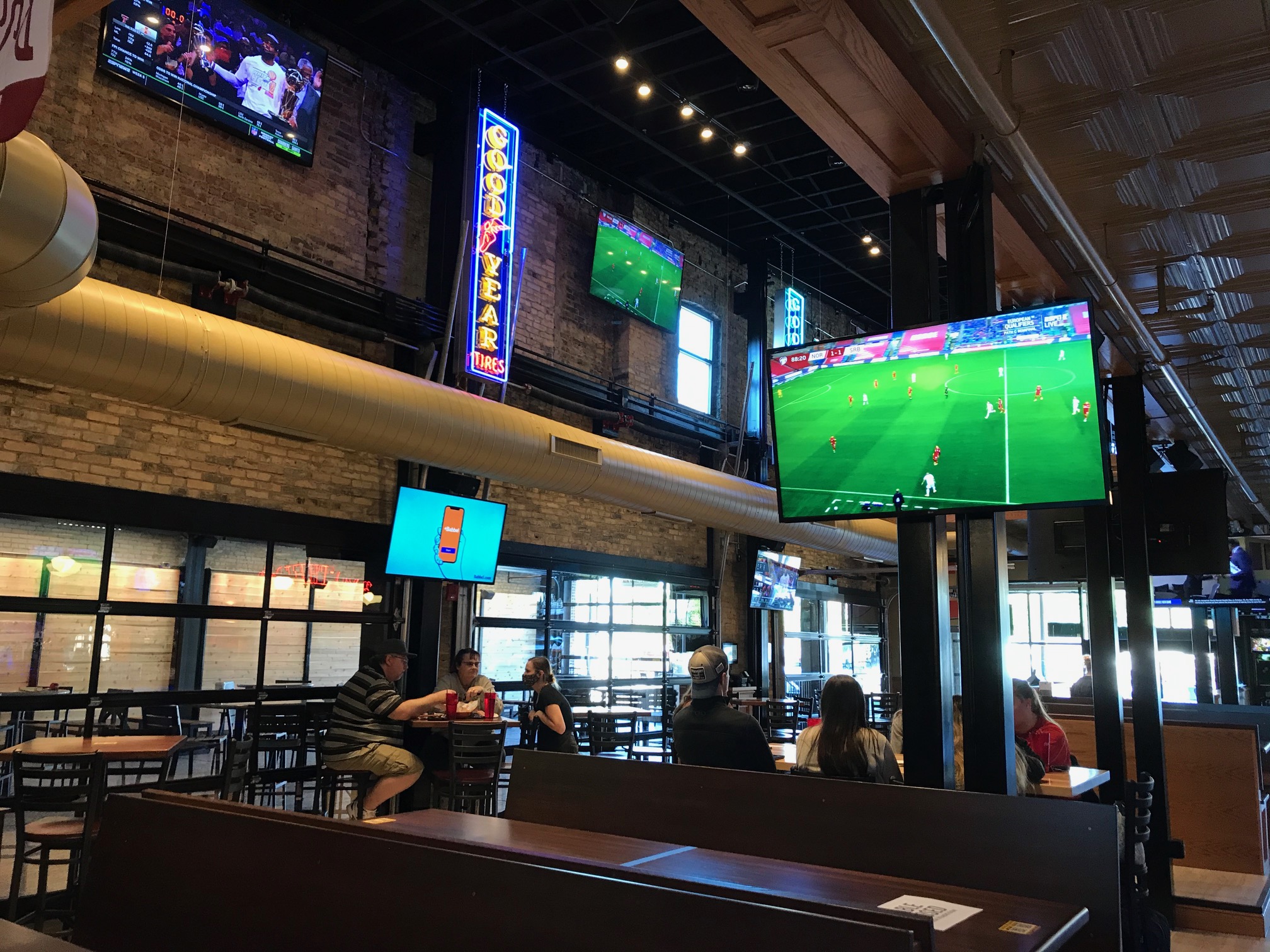 On the second floor of the main hall, you'll find another full-service bar and more tables for drinking and dining. A large chunk of the second floor – where much of the former dance floor was located – has been punched out and completely removed, and the roof has been raised, combining together to brighten and open the main house up.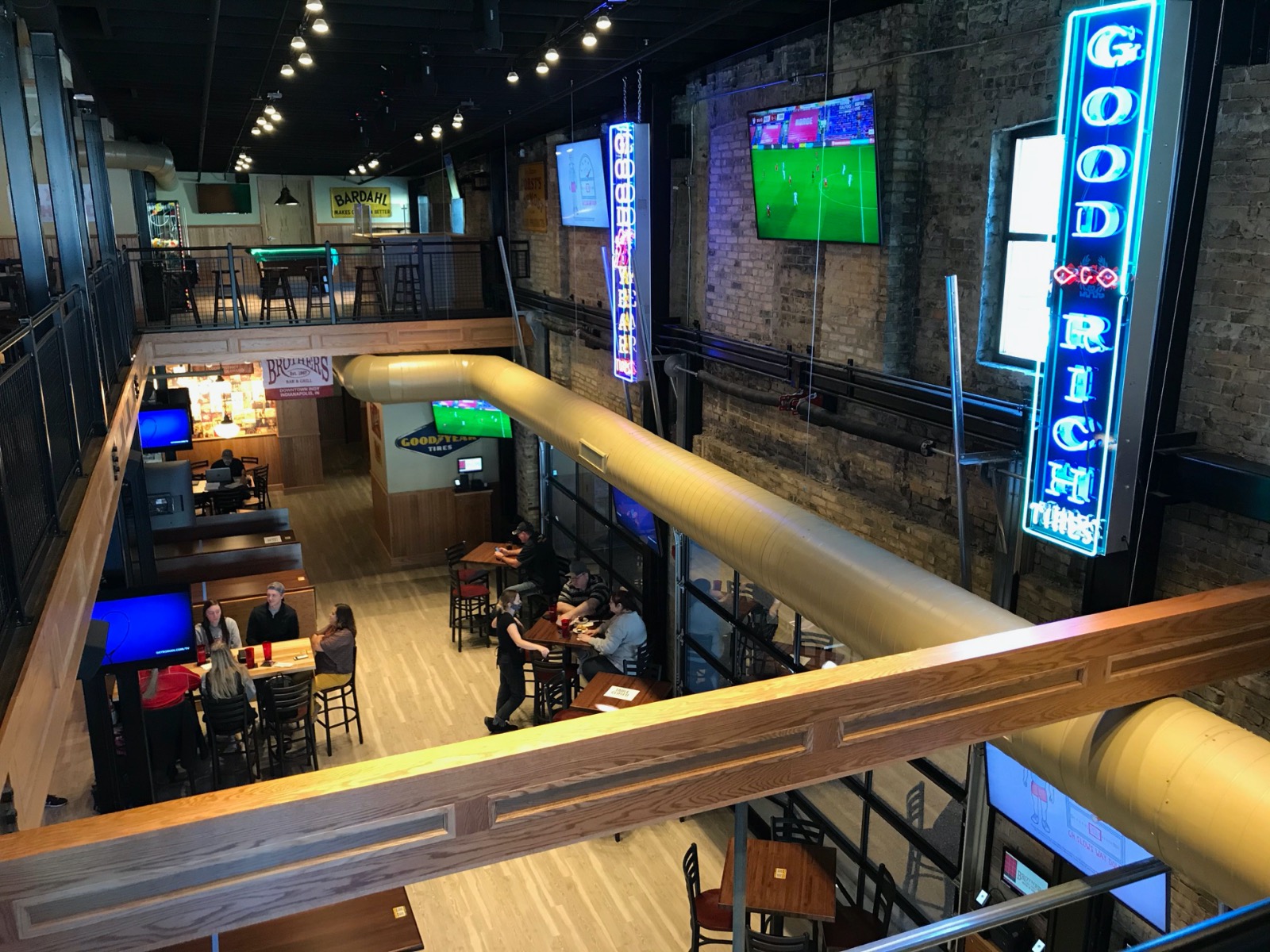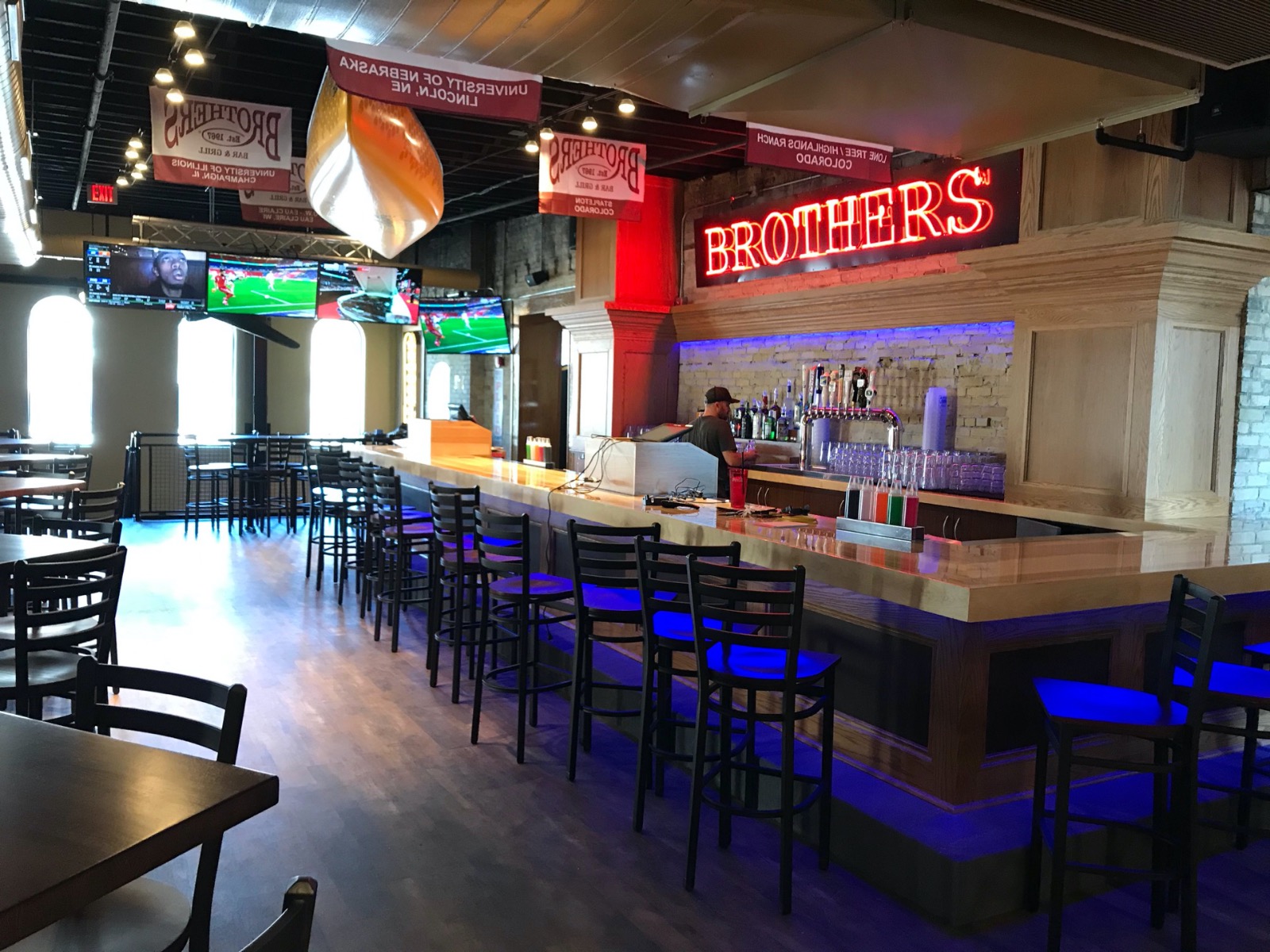 Meanwhile, Brothers also purchased the parking lot next door to the former frame shop, transforming that unoccupied space into a rentable party room as well as, most notably, a huge four-seasons patio. At first glance, it appears to be an enclosed patio space with a roof and garage doors opening to the outside as well as into the main hall, but the long built-in panels on the ceiling can shift open when the weather is nice – or when visitors want an open air space during the ongoing pandemic – and close when rain, snow or cold arrives.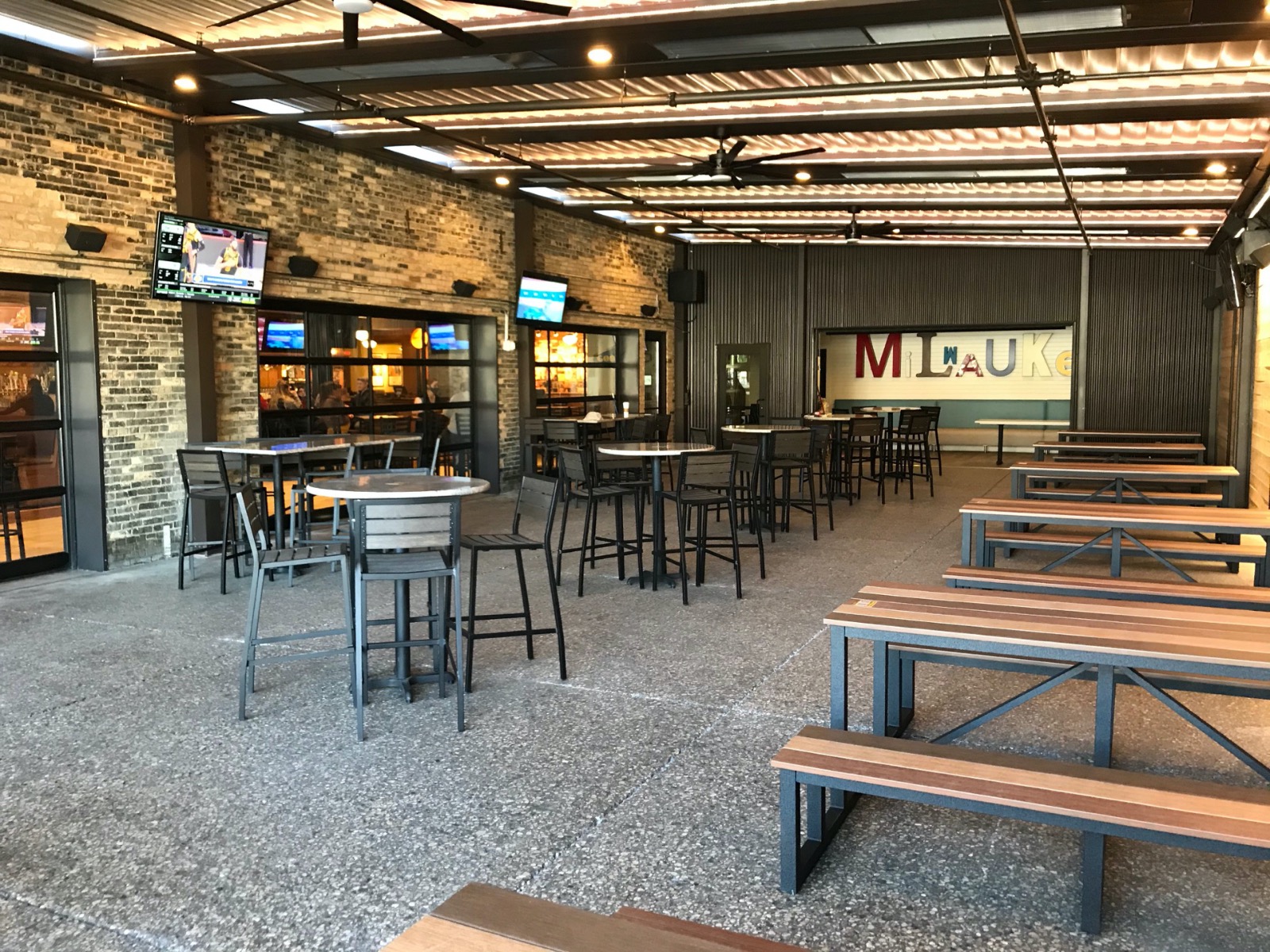 The addition of the former frame shop and the parking lot space gave Brothers room to add in an entirely new kitchen as well, now allowing the bar to serve a full menu of food and apps instead of merely limited bar snacks as before. Brothers' new expanded offerings include burgers (including a burger topped with cheese curds), sandwiches, wraps, salads, fish fry, flavorful variations on mac 'n' cheese, street tacos and sharable bar eats like cheese curds, fries, wings, nachos and more.
Of course, though Brothers has matured and grown up, there's still plenty of youthful fun to be found throughout the building. In addition to the dozens of television screens providing entertainment throughout the day, the second floor dance floor space has been converted into a small arcade, featuring multiple pinball machines, an arcade cabinet featuring several beloved video game classics and darts.
A pair of pool tables can still be found scattered across the second floor as well. And as for dancing, you can still bust a move at Brothers; the floor's simply moved downstairs into a dance hall behind the main bar area, featuring state-of-the-art sound and light capabilities to throw a worthy party.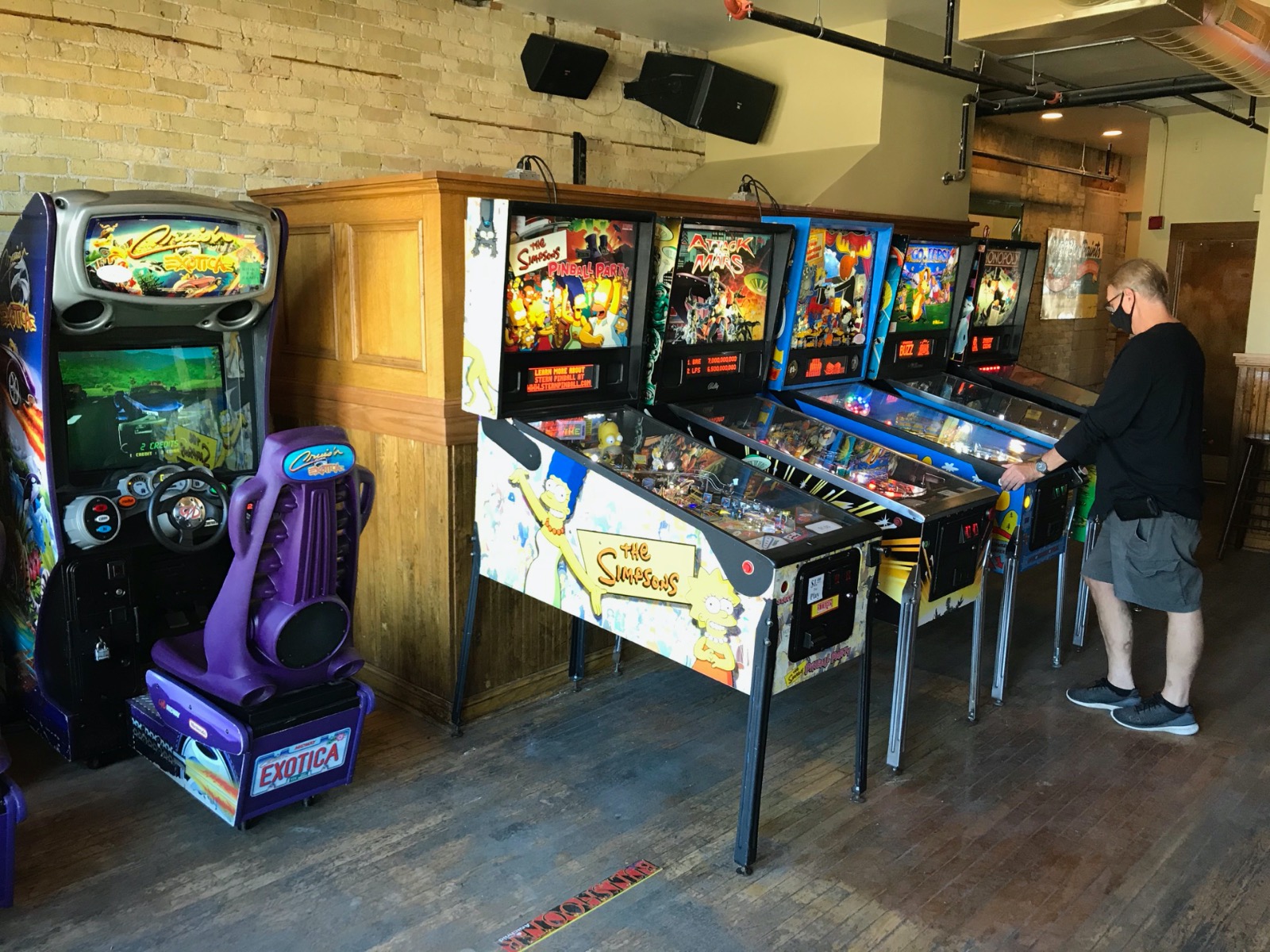 Combine that all of these elements together – new and old, dining and dancing, indoors and outdoors – and unlike its past iteration, which was focused on the young nightlife crowd, Brothers now clearly aims to be a venue appealling to all audiences, a spot for all day and all night, an old crazy friend moved into the next, slightly matured phase of life.
"We had fun with it," Fortney said. "It was very challenging, but we're beaming through our masks."
Brothers is currently open seven days a week from 11 a.m. until close, with the kitchen serving food late. COVID policies are in effect with masks required for entry, tables distanced six feet apart and hand sanitizer available. (The renovations also involved putting in a new HVAC system.) For more information, visit Brothers' website.
As much as it is a gigantic cliché to say that one has always had a passion for film, Matt Mueller has always had a passion for film. Whether it was bringing in the latest movie reviews for his first grade show-and-tell or writing film reviews for the St. Norbert College Times as a high school student, Matt is way too obsessed with movies for his own good.
When he's not writing about the latest blockbuster or talking much too glowingly about "Piranha 3D," Matt can probably be found watching literally any sport (minus cricket) or working at - get this - a local movie theater. Or watching a movie. Yeah, he's probably watching a movie.