"Great effing pasta" isn't just a catchy slogan on the t-shirts of employees at the new Bay View Egg & Flour Pasta Bar, 2273 S. Howell Ave. It's an apt description of what you'll find at Bay View's newest eatery, which officially opens today at 11 a.m.
The fast casual restaurant concept – which specializes in fresh pasta and sauces made with high quality ingredients at affordable prices – has built an impressive following since opening in the East Side's Crossroads Collective food hall in May of 2019. And guests will find the same high quality pasta at the restaurant's new Bay View location, plus bright well-appointed digs and numerous additions that make the restaurant worth a trip.
Walk into the new venue and you'll be greeted by a space with warm wood floors and rustic textures augmented by neon, murals and pops of signature bright yellow color.
The murals which grace two walls of the space, along with additional brand details and menus, were designed by Jonathan Warobick, who also had his hand in designing the Egg & Flour stall at Crossroads Collective.
Meanwhile, the space itself came together with the help of Geno Kasprzak and his team at GnNK LLC. That includes the spacious booths and literal pasta bar where guests walk up to order their meals and grab a glass of wine ($6/glass $25/bottle), bottled beer ($4 each) or tap prosecco ($6/glass) along with soft drinks and still or sparkling water.
An open micro-kitchen offers guests a bird's eye view of pasta dishes being prepared from start to finish.
Glass windows at the back of the restaurant showcase the pasta making process, from extruded varieties to ravioli.
A counter near the pasta kitchen also showcases a variety of fresh pastas, breads by Black Shoe Bakery and Belgioioso cheeses, which can be purchased for home use.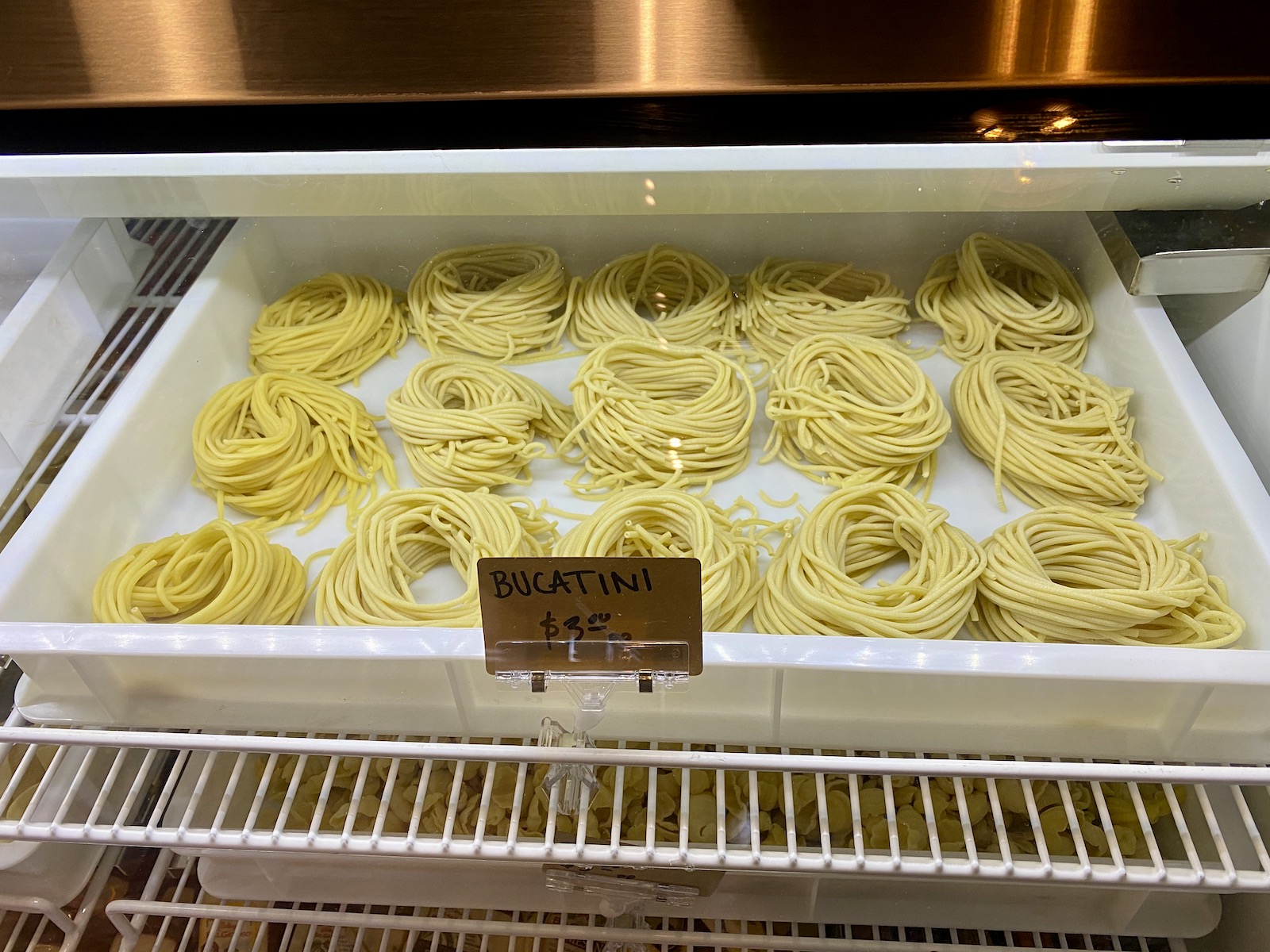 Great effiing pasta
Of course, if you head to Egg & Flour, what you're really after is the pasta (or the zucchini noodles, which can be substituted for wheat-based pasta).
The menu includes pasta staples like campanelli with pesto ($10), pappardelle with bolognese ($14), shells with cheese sauce, bacon and breadcrumbs ($12), bucatini with cream sauce and Grana Padano cheese ($12) or bucatini with tomato sauce ($11, pictured below with meatballs). You can also add housemade meatballs to any pasta for just $6.
It also also includes new signature pasta dishes including shells with butter, parmesan and truffle oil ($11); bucatini with pesto cream sauce, pistachios and parmesan ($15) and angel hair with tomatoes, parsley, garlic butter and parmesan ($12, pictured below).
Rigatoni comes topped with tomato cream sauce, basil and a 4-ounce ball of burrata ($14, pictured) or in the form of lobster mac & cheese (Fridays only, $17).
Accompaniments include house salad with mixed greens and creamy parmesan dressing or balsamic vinaigrette ($5/$9); caprese salad with burrata, tomato, pesto and balsamic vinaigrette ($6/$11) and Caesar salad with romaine, croutons, parmesan and Caesar dressing ($5/$9).
You can also enjoy freshly baked bread from Black Shoe Bakery including a baguette for $3 or a loaf with burrata, nut-free basil pesto and parmesan cheese for $8.
Desserts include Scratch Ice Cream for $4 per scoop and macarons from Madame Macaron.
Egg & Flour Bay View is open Monday through Thursday from 11 a.m. to 9 p.m. and Friday and Saturday from 11 a.m. to 10 p.m. The restaurant will be closed on Sundays to accommodate special events including pasta making classes, chef collaboration dinners and Chef's Table experiences.
Lori Fredrich (Lo) is an eater, writer, wonderer, bon vivante, traveler, cook, gardener and girlwonder. Born and raised in the Milwaukee area, she has tried to leave many times, but seems to be drawn to this quirky city that smells of beer and alewives.
Some might say that she is a little obsessed with food. Lo would say she is A LOT obsessed with food. After all, she has been cooking, eating and enjoying food for decades and has no plans to retire anytime soon.
Lo's recipes and writing have been featured in a variety of publications including GO: Airtran Inflight Magazine, Cheese Connoisseur, Cooking Light, Edible Milwaukee, Milwaukee Magazine and the Milwaukee Journal Sentinel, as well as on the blog Go Bold with Butter, the web site Wisconsin Cheese Talk, and in the quarterly online magazine Grate. Pair. Share.