The initial phase of the city's first bicycle boulevard has completed construction on Fratney Street in the Riverwest neighborhood. After myriad small infrastructure changes aimed at calming traffic along the neighborhood corridor, organizers and city planners hope to see improved safety, health and vibrancy for neighborhood residents traveling on foot and on bike, without creating insurmountable obstacles to current road users, including those in cars.
While this phase has been completed, there are still opportunities for more improvements, changes and expansions.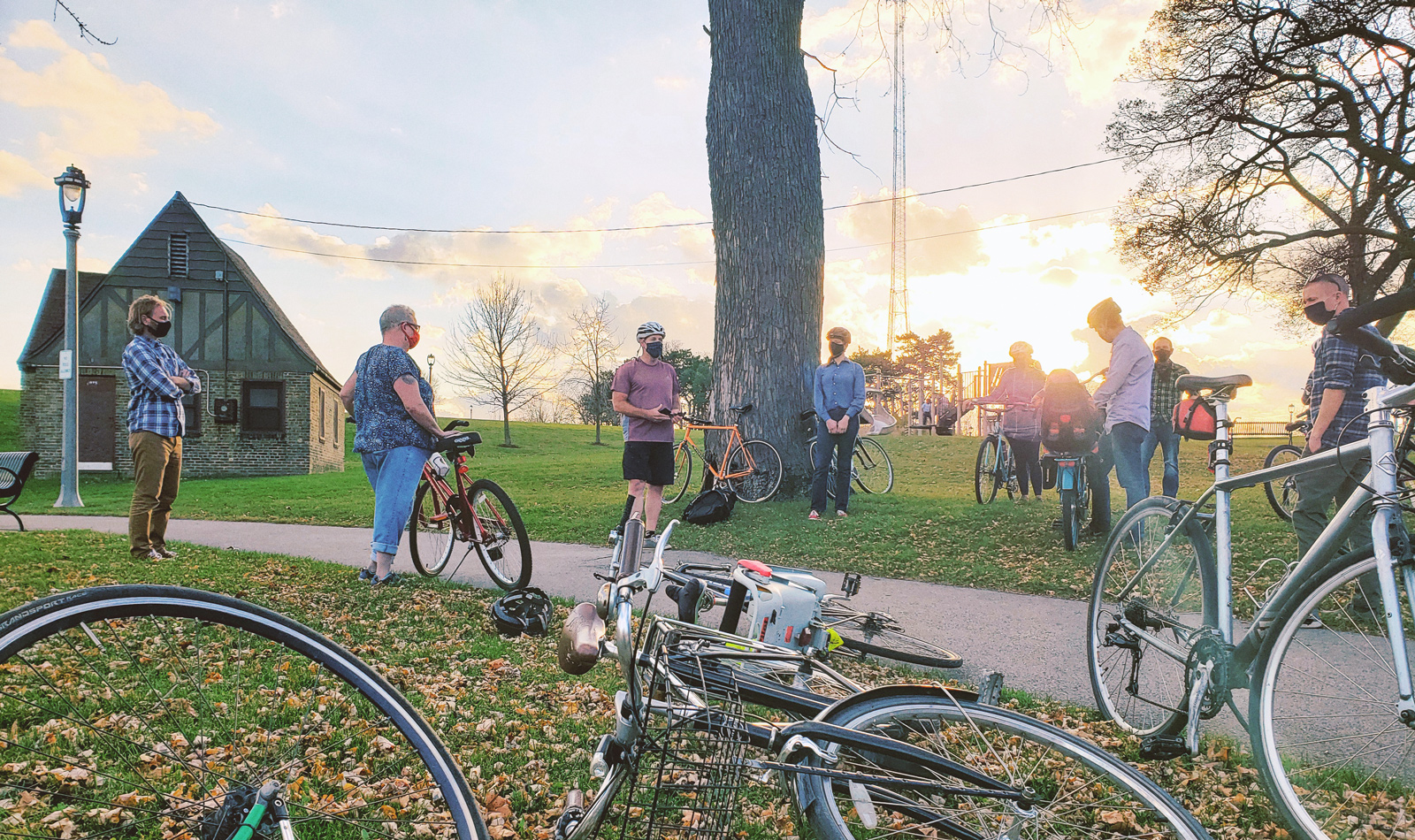 A group of city planners met on Monday, November 9 to show off the progress made on the project.
Most of Fratney Street had already been closed to thru traffic throughout the COVID-19 pandemic to provide space for social distancing activities as organized by the Milwaukee Active Streets project.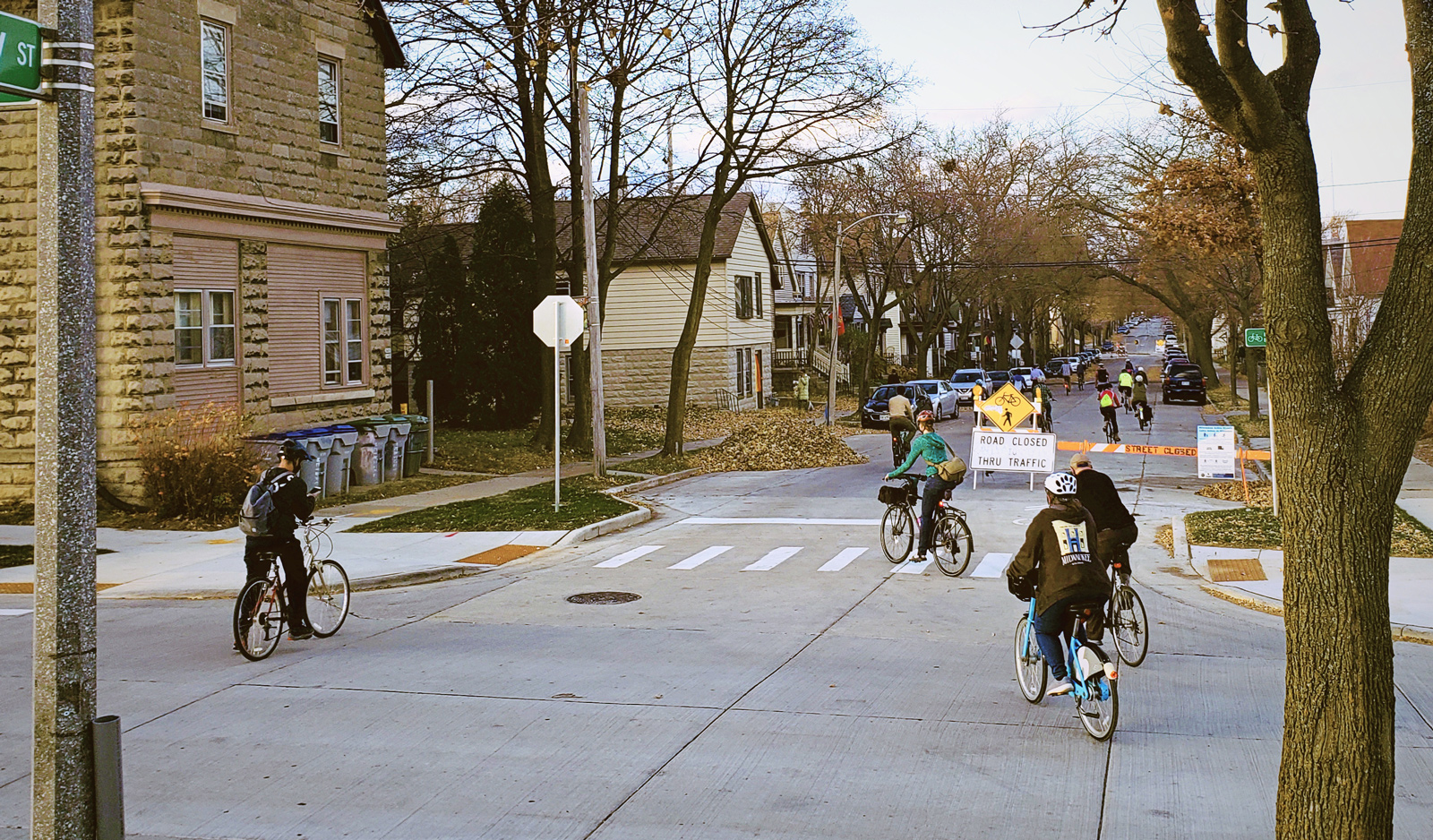 Bump-outs, crosswalk paint, sharrows and road closures add up to less traffic and lower speeds.
Curb bump-outs, such as those added at Meineke and Fratney, were added to most major intersections. These bump-outs are intended to shrink the distance between street crossings as well as create a narrower road opening to prevent sharp, fast-turning automobile traffic.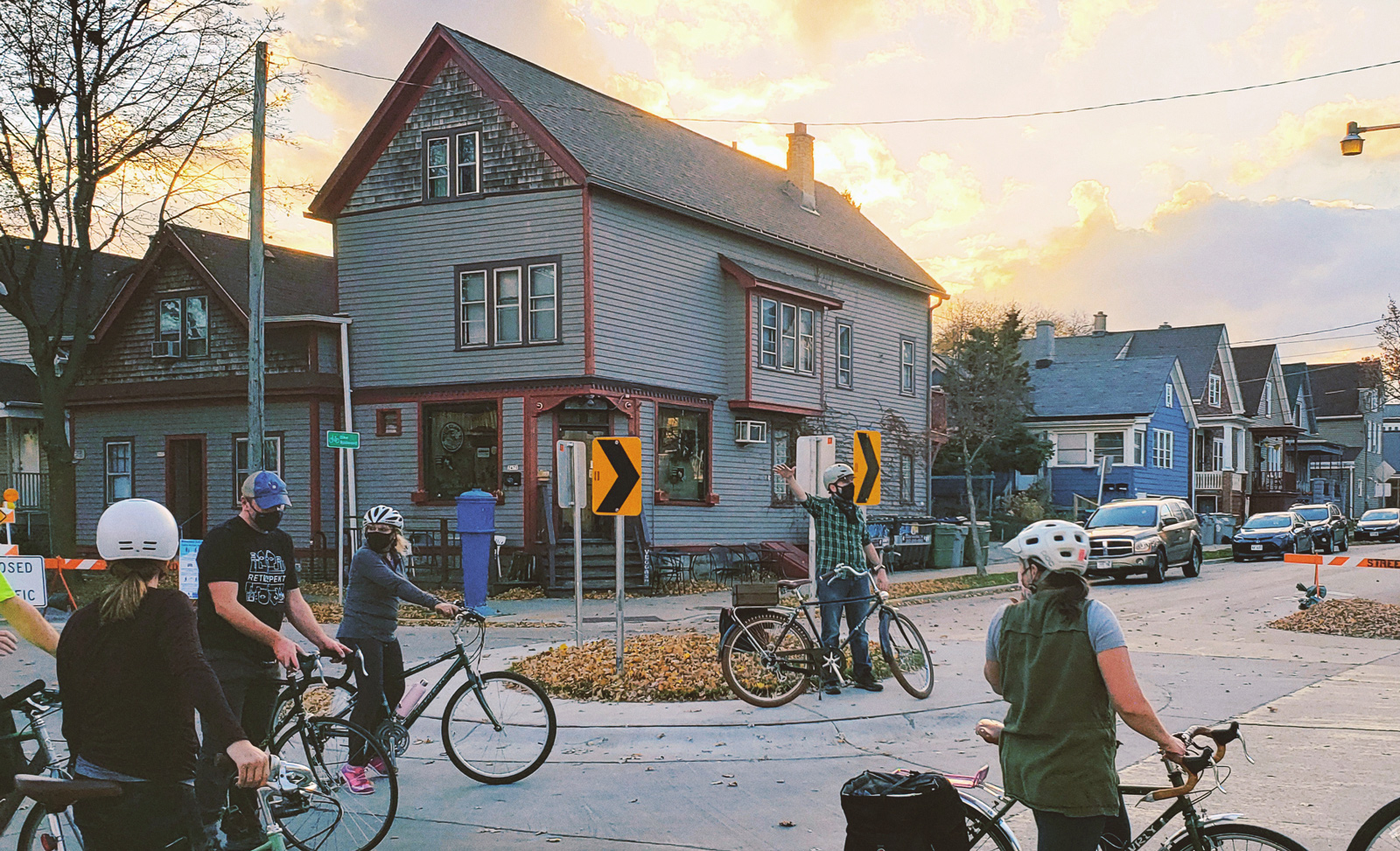 Wright Street, which intersects Fratney Street, is also part of the Bike Boulevard project. It extends west to 2nd Street and terminates east at the Beerline Trail. A traffic circle was added to the Wright Street and Fratney Street intersection. Traffic circles are intended to allow traffic to flow through intersections slowly and efficiently, without requiring a full stop on either side.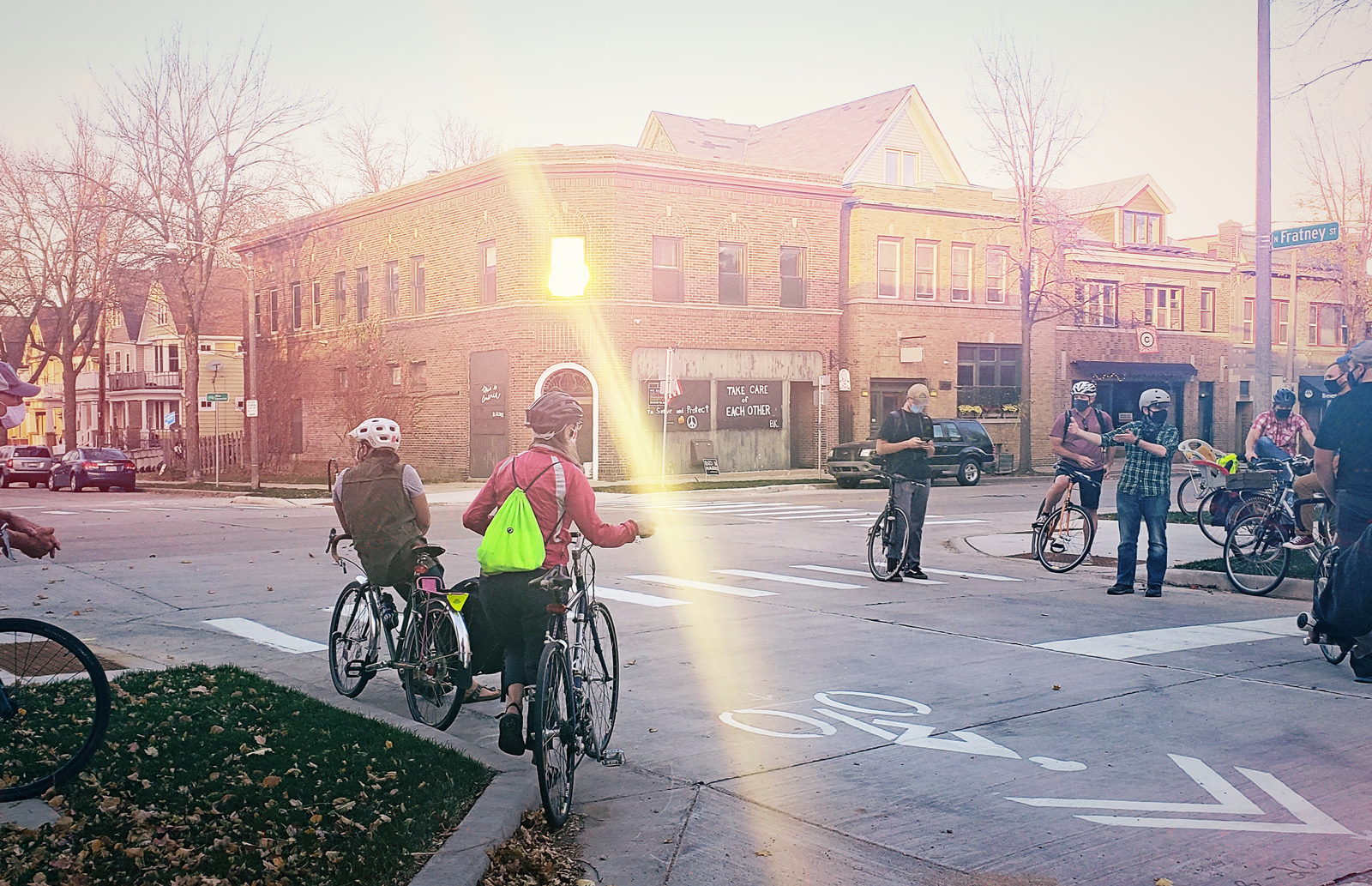 Paint and road signs can be used to guide road users and emphasize belonging to marginalized groups, but it's the least effective safety measure. Physical barriers are always better.
Center Street saw the addition of bump-outs which narrow the crossing distance from curb to curb. It also gained crosswalk markings and sharrows, which warn of the potential presence of people on foot and on bike. The speed limit on Center Street was also recently minimized to 25 miles per hour (down from 30 mph).
There has been notable discussion about other speed-calming measures on Center Street, such as a traffic signal, but no commitments have yet been made.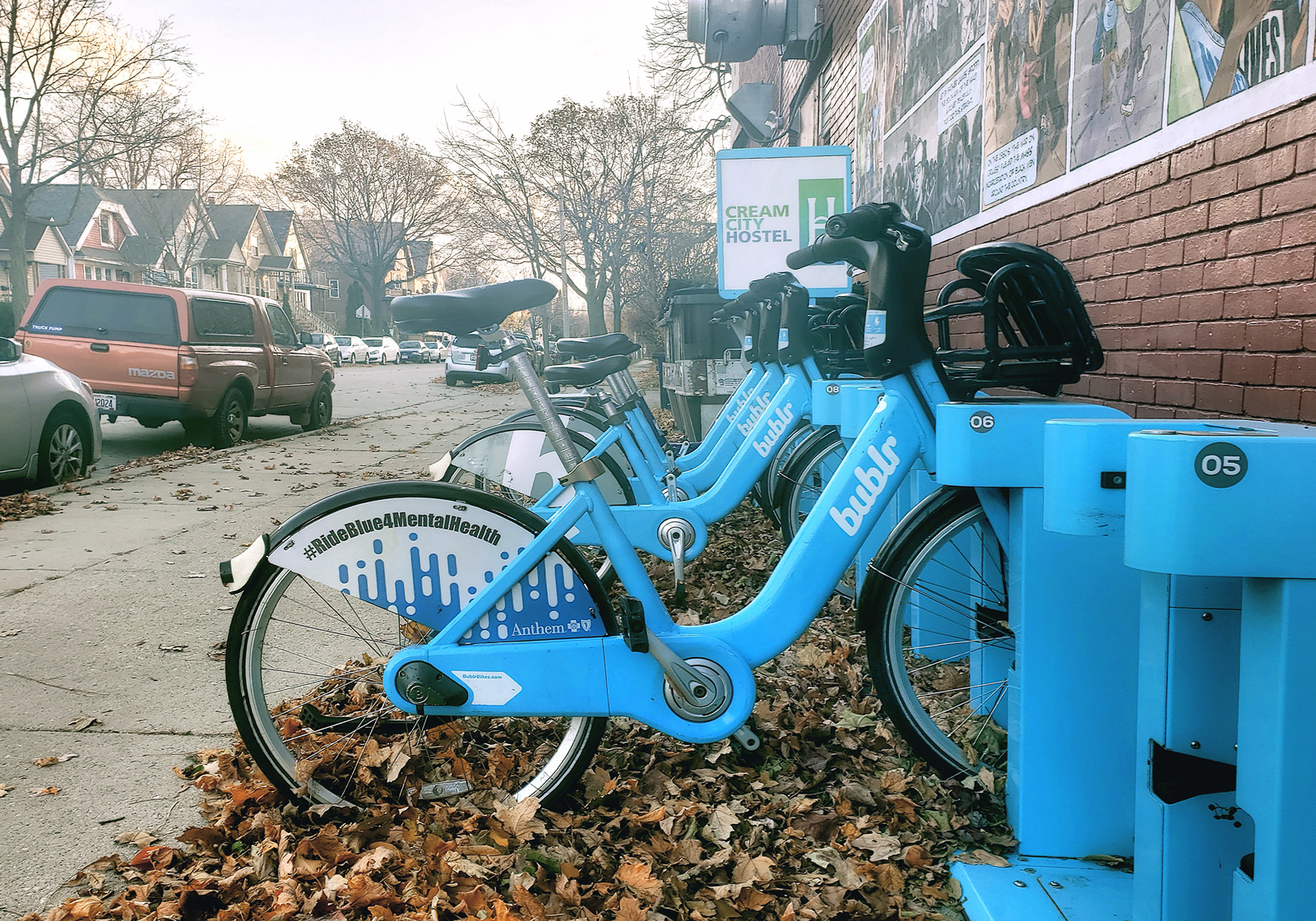 The Bublr station on Center and Fratney is currently the only station within Riverwest, but that will soon change.
The Bike Boulevard will also see the expansion of a new Bublr Station at Reservoir Park on Meineke Street as well as stations nearby on Holton and Humboldt.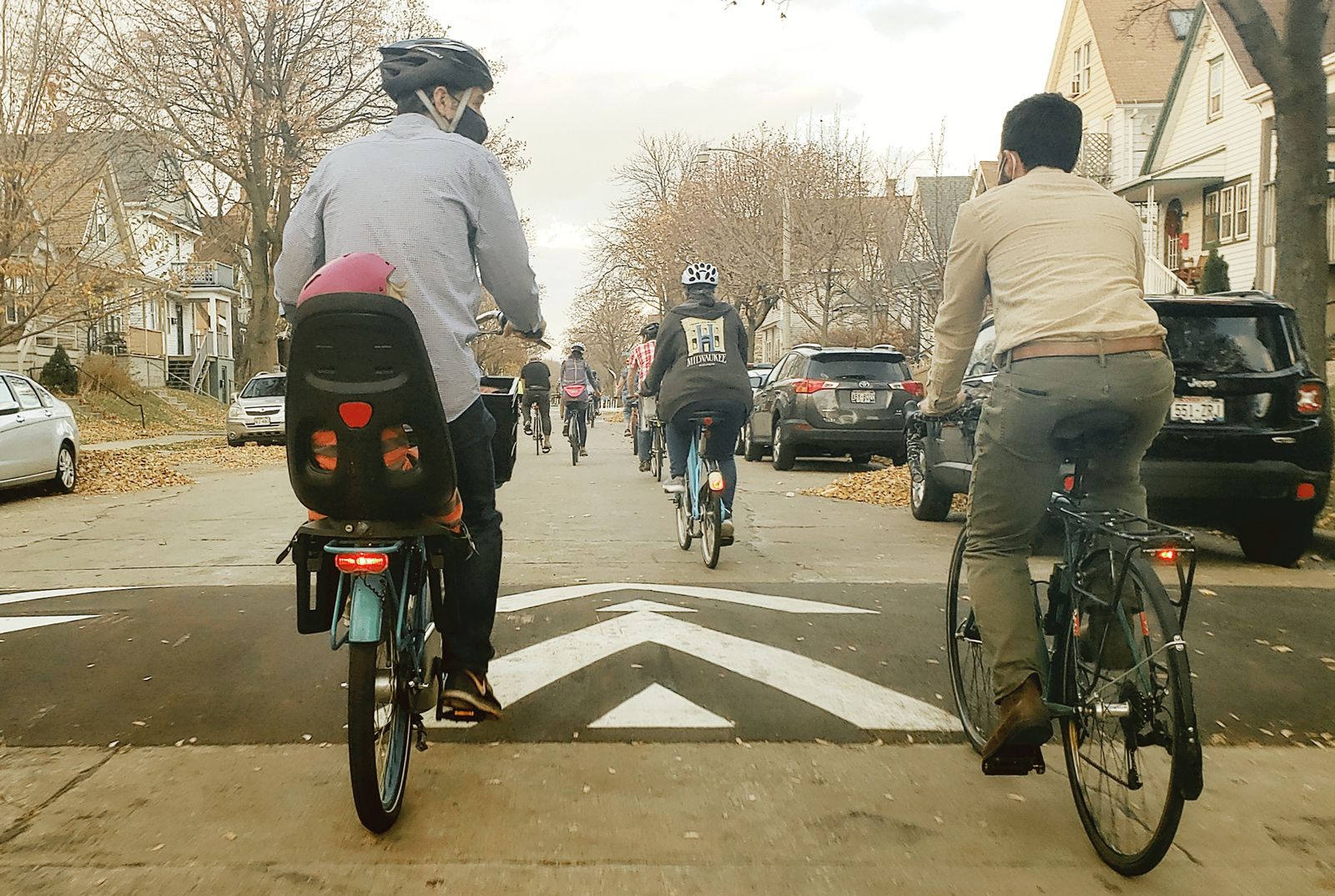 Speed humps are present at the mid-point of every block on Fratney Street. Speed humps provide a physical barrier that actively slows road users and generally discourage high volumes of traffic without preventing automobile use entirely.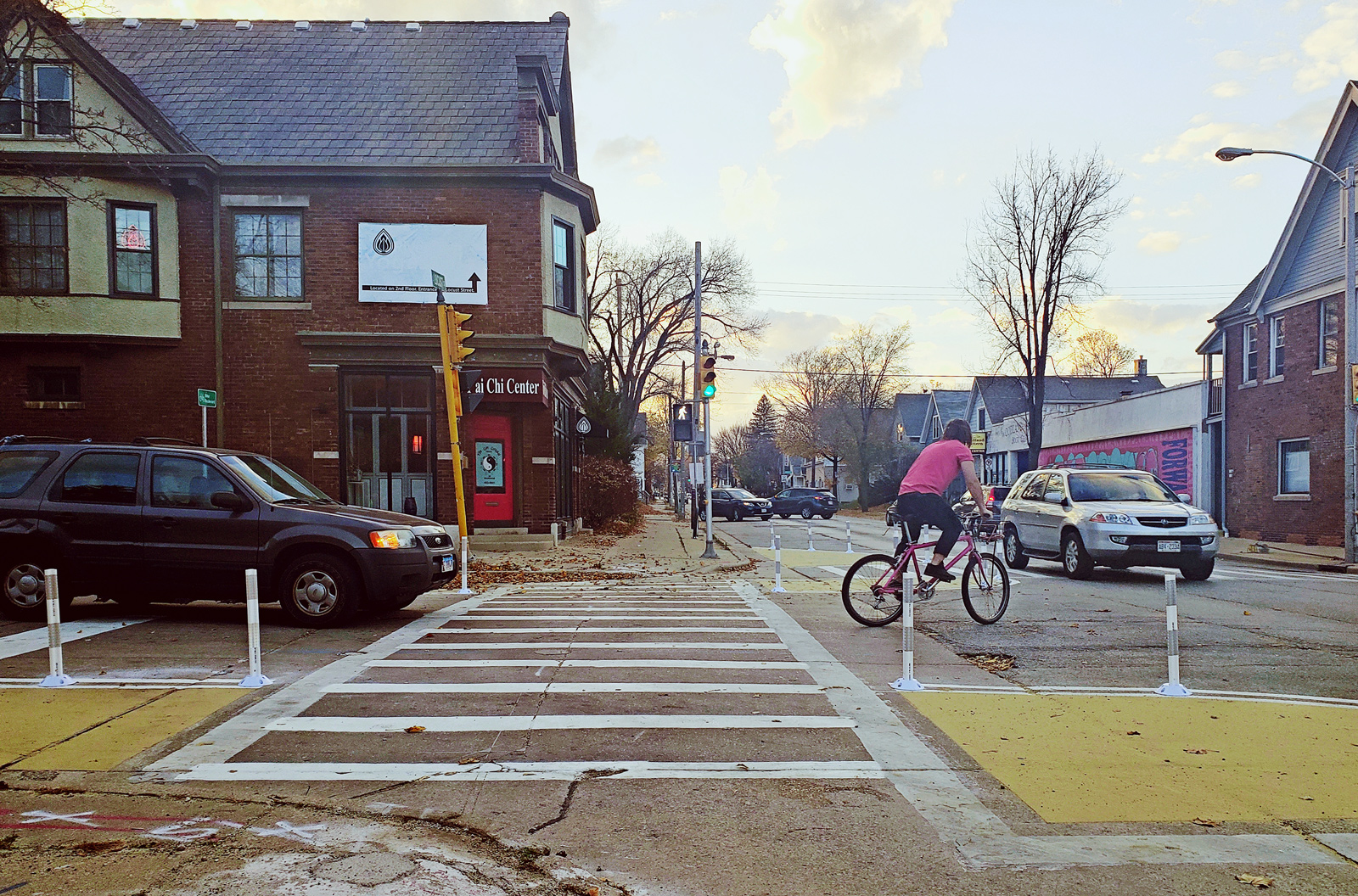 The Locust Street crossing now offers traffic signals, painted crosswalks, shorter crossing distances and quickly iterable physical barriers.
Permanent bump-outs were not added to Locust Street, but paint and plastic bollards were. Because Locust Street handles such a high volume of traffic, temporary and adjustable measures were installed to allow for quick experimentation and faster iteration if necessary. If the solution causes more problems or unforseen consequences, the design can quickly be changed. Once a satisfactory arrangment is approved, investment can be made to make it permanent.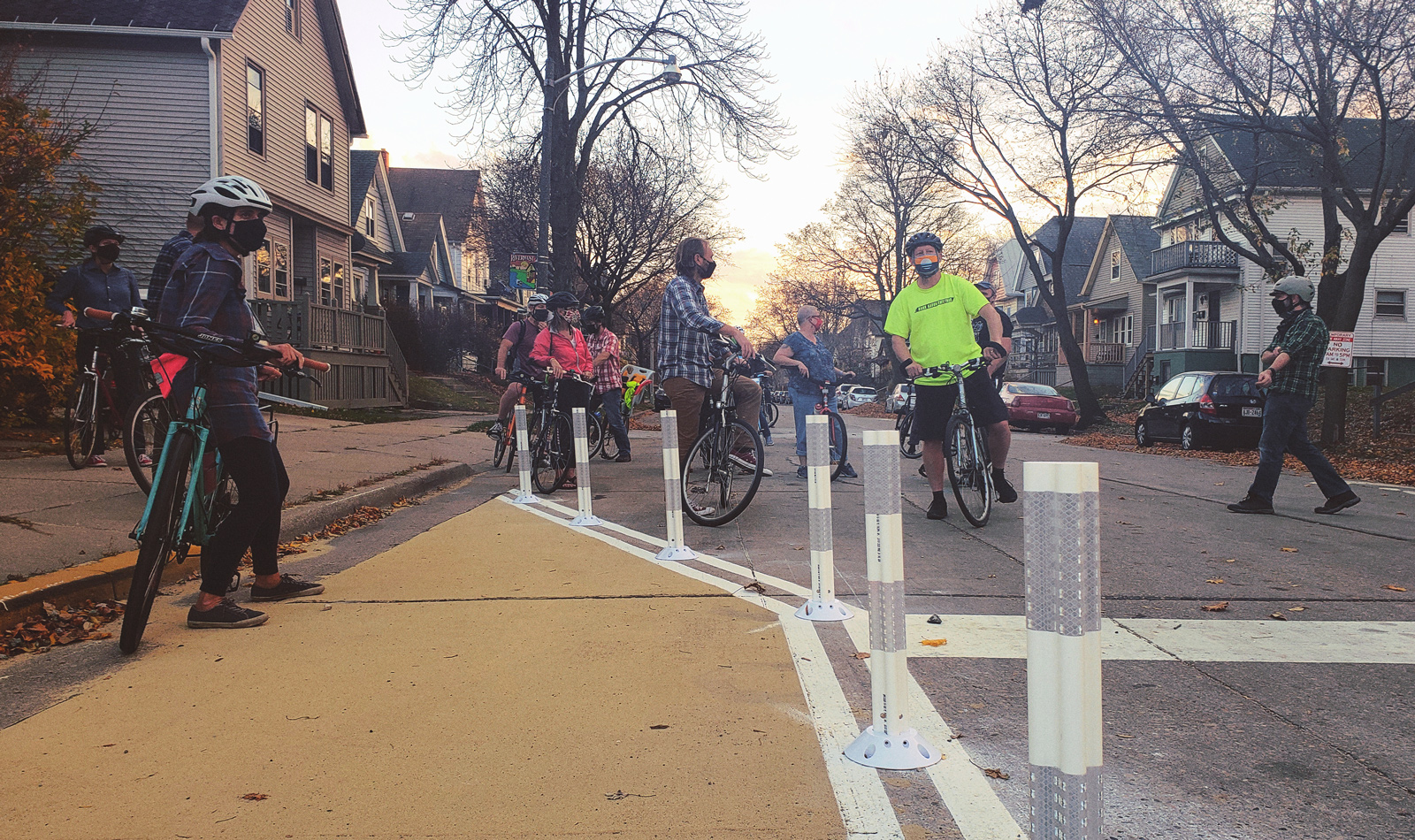 These bump-outs aim prevent what's become known as the Milwaukee Slide, a dangerous, right-side passing maneuver that impatient drivers use to bypass slower traffic. They also narrow the traffic lanes to encourage safer speeds.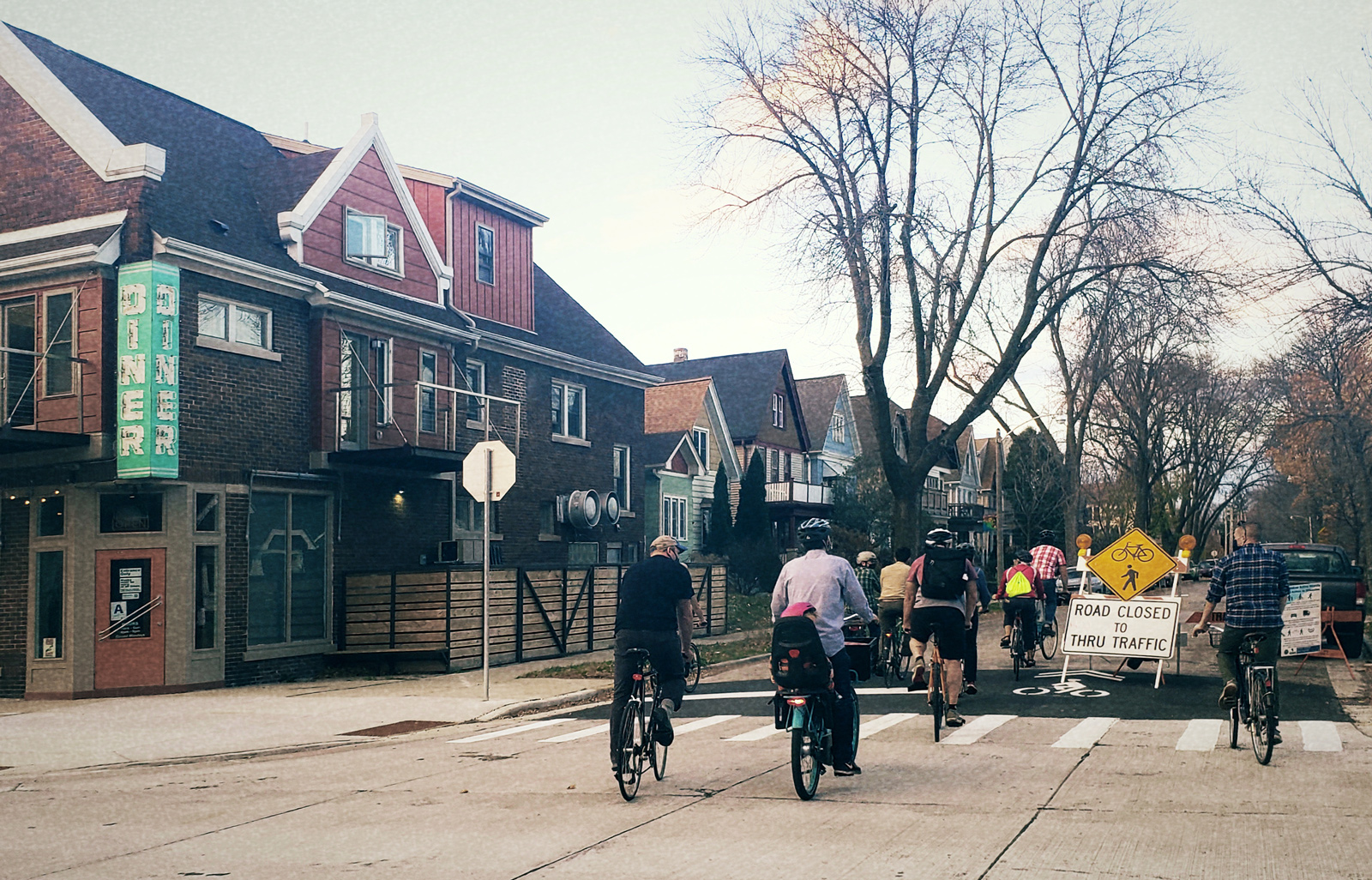 The neighborhood greenway passes by Wonderland at the Burleigh intersection.
The Beerline is a neighboring, discontinuous multi-use trail that interacts with the bike boulevard in two places: at the eastern termination of Wright Street and the crossing at Auer Street and Fratney Street.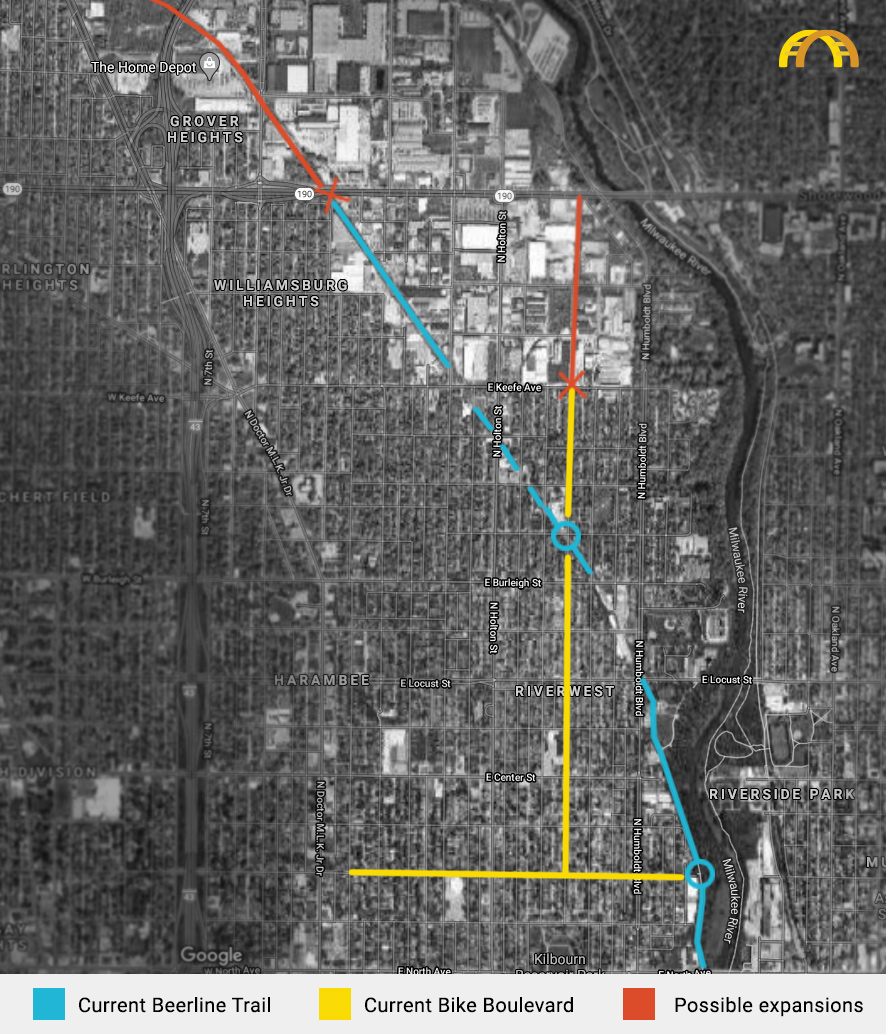 While Beerline enhancements were not included in the bike boulevard project, it does interact and work together with the bike boulevard. Thus better signage and street markings are being discussed to increase wayfinding and awareness.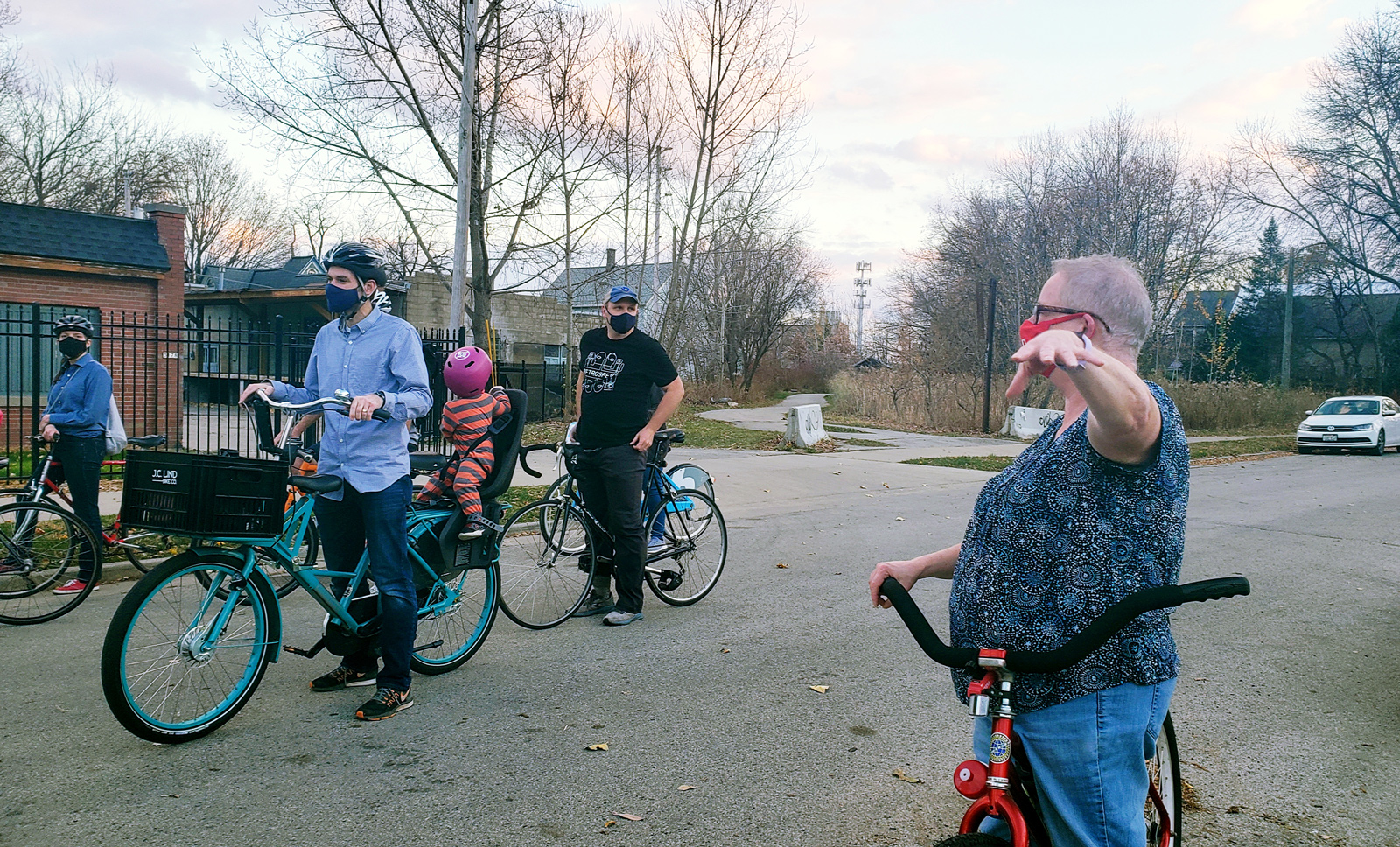 The Beerline runs along an old rail corridor that diagonally bisects the neighborhood. It is a discontinuous trail that stops and starts, and intersects many street crossings.
An expansion of the bike boulevard towards Capital Street and an expansion of the Beerline trail further north and west is also on the table, though at times it requires coordination between private landowners and the city. Riverworks, the business improvement district that looks after the area surrounding the Beerline trail, is hoping to promote artistic growth in these areas.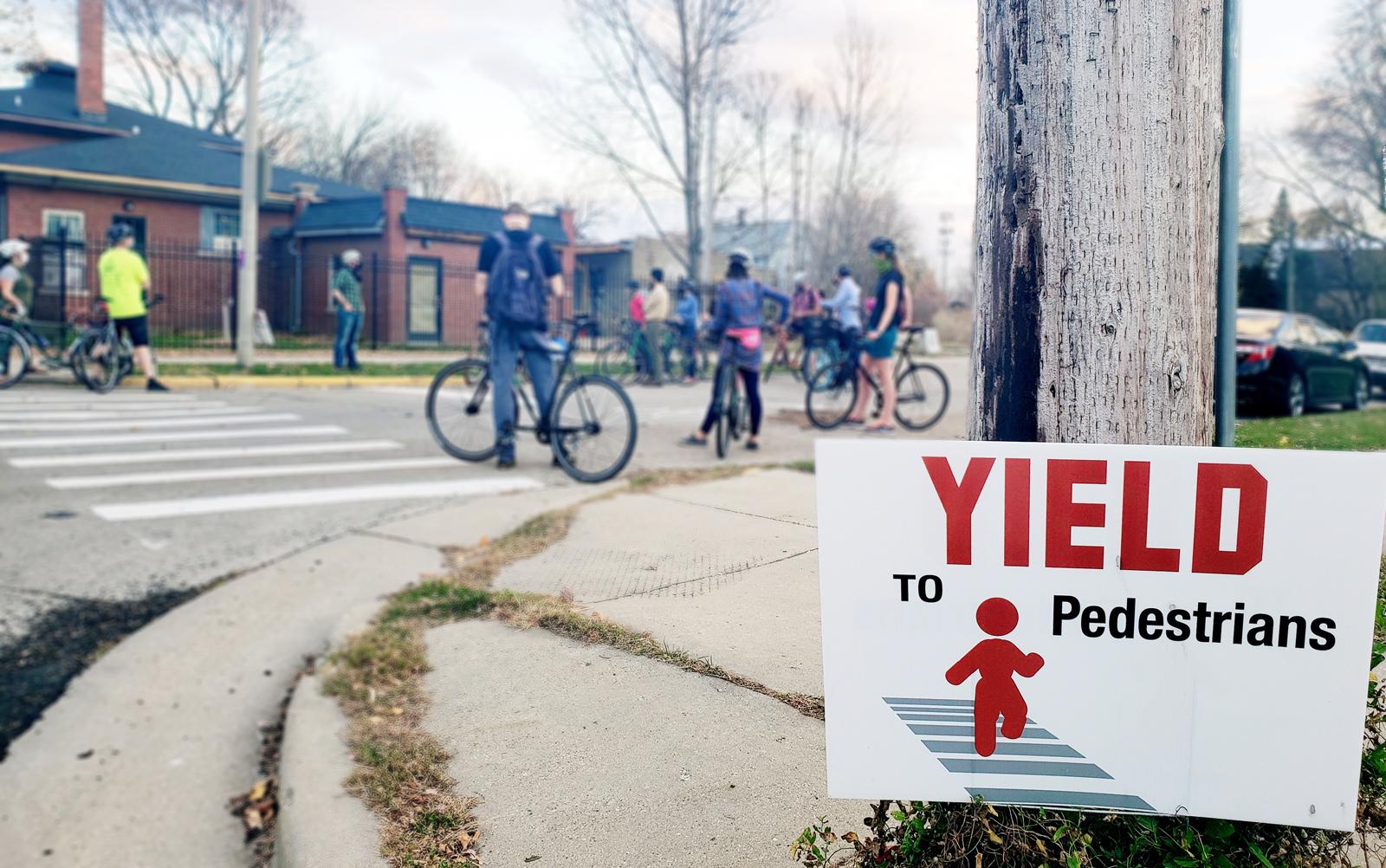 Now that the groundwork has been laid, the city can begin to use this corridor to gather data and study the impact of health and happiness upon its neighbors. There are already plans to introduce a second neighborhood greenway on Washington Street (20th to the KK River Trail) and Scott Street (Layton Blvd to 20th) in Milwaukee's South Side.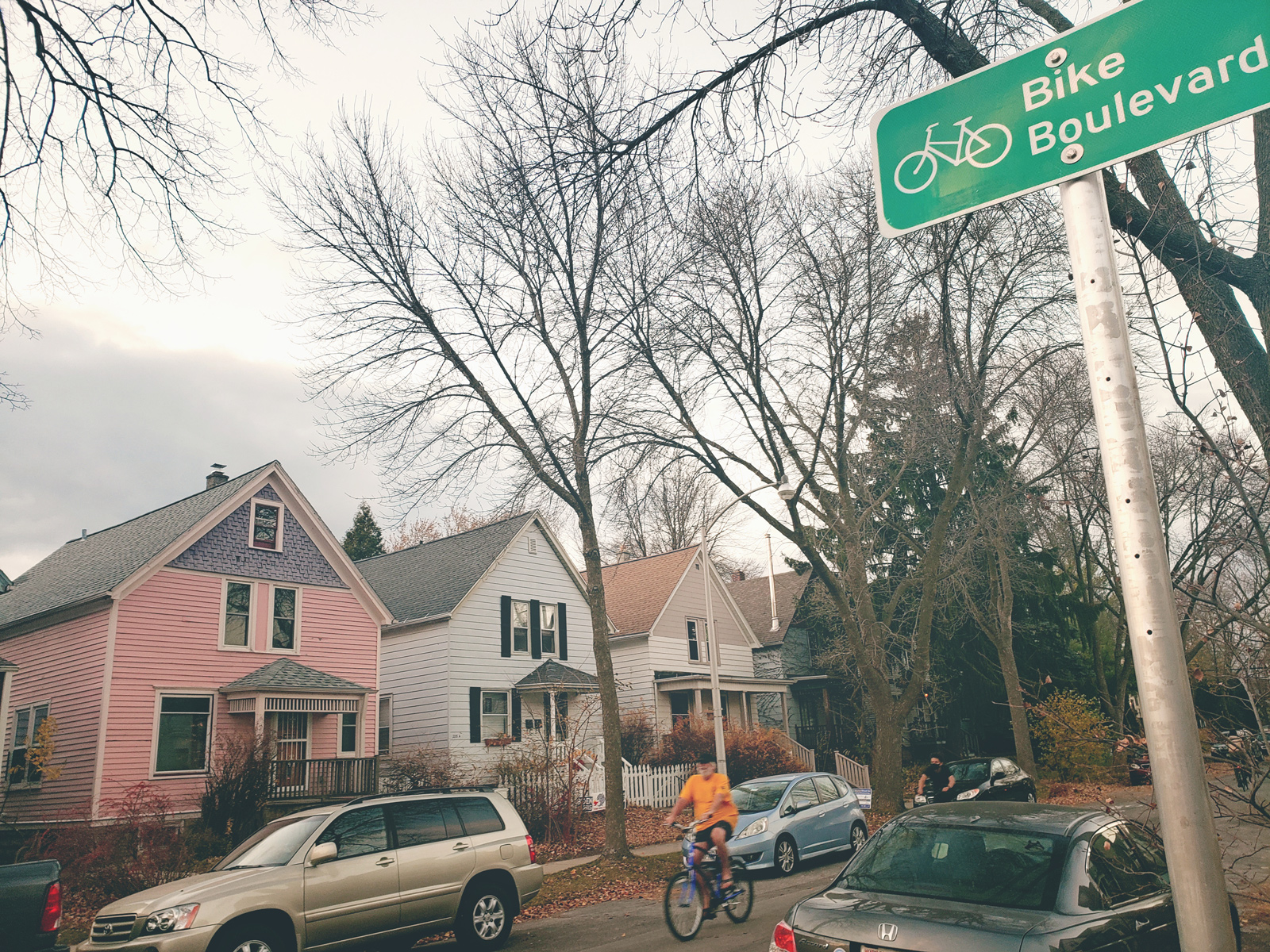 Jason McDowell grew up in central Iowa and moved to Milwaukee in 2000 to attend the Milwaukee Institute of Art and Design.
In 2006 he began working with OnMilwaukee as an advertising designer, but has since taken on a variety of rolls as the Creative Director, tackling all kinds of design problems, from digital to print, advertising to branding, icons to programming.
In 2016 he picked up the 414 Digital Star of the Year award.
Most other times he can be found racing bicycles, playing board games, or petting dogs.