There's another rooftop patio in town. And this time it's on the East Side. We reported on the expansion at Good City Brewing, 2108 N. Farwell Ave., which includes a new event space as well as a rooftop patio.
Those plans have since come to fruition, just in time for the holiday weekend, during which Good City will host special hours on Monday, July 3 from 11:30 a.m. to midnight. It will be closed on the 4th of July, but will reopen on Wednesday, July 5 at 4 p.m., with regular hours to follow.
Just two days ago, Good City Brewing's expanded space was filled with ladders, drills and saws as a work crew worked steadily to get both the new Good City Hall and rooftop patio completed. But, the work was completed in the nick of time, with final inspections taking place on Saturday morning, July 1.
Set up similarly to a beer garden, the rooftop patio features a bar with eight beer taps and a variety of seating – metal stools at the bar, high top tables and traditional German beer garden tables where folks can commune for beer drinking and conversation.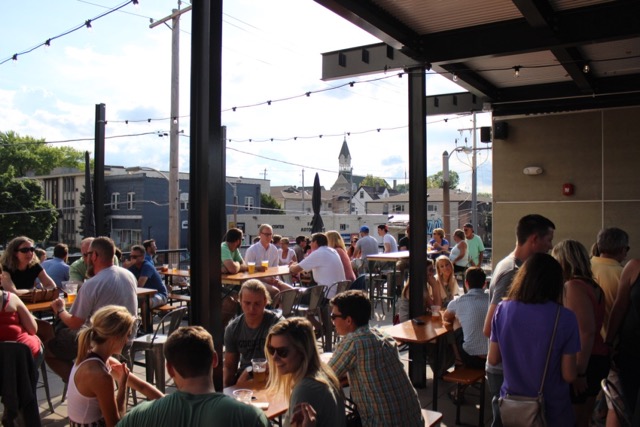 Patio lights and wooden slat walls surround the patio, which overlooks both Farwell Avenue and Windsor Place.
According to partner David Dupee, when Good City Brewing opened last June, they occupied 6,500 square feet of space in the old Crank Daddy's space. But, with the addition of the new event space, an additional 2,000 square feet of production space and 1,500-square foot rooftop patio, it has virtually doubled its footprint.
Good City Hall, which is located just to the south of the current tap room, will accommodate 150. The space reflects an industrial chic look and feel with brick and olive green walls, along with two functioning garage doors on the south and west.
The space will be used as overflow for the tap room, offering up a second bar along with games for patrons. It will also allow Good City to host programming including live music as well as events like rehearsal dinners, weddings and corporate events.
An additional kitchen, nearly three times that of the current tap room kitchen, will allow Chef Guy Davies to not only bring more efficiency to prep work for the tap room, but also accommodate catering for events as well as beer dinners.
"We really see ourselves as part of the growing movement that recognizes the incredible possibilities behind pairing great beer with food," notes partner Daniel Katt.
Good City Brewing is open Sunday from 11:30 a.m. to 10 p.m., Tuesday and Wednesday from 4 p.m. to 12 a.m. and Thursday through Saturday from 11:30 a.m. to 12 a.m.
Lori Fredrich (Lo) is an eater, writer, wonderer, bon vivante, traveler, cook, gardener and girlwonder. Born and raised in the Milwaukee area, she has tried to leave many times, but seems to be drawn to this quirky city that smells of beer and alewives.
Some might say that she is a little obsessed with food. Lo would say she is A LOT obsessed with food. After all, she has been cooking, eating and enjoying food for decades and has no plans to retire anytime soon.
Lo's recipes and writing have been featured in a variety of publications including GO: Airtran Inflight Magazine, Cheese Connoisseur, Cooking Light, Edible Milwaukee, Milwaukee Magazine and the Milwaukee Journal Sentinel, as well as on the blog Go Bold with Butter, the web site Wisconsin Cheese Talk, and in the quarterly online magazine Grate. Pair. Share.