Izzy Hops Swig & Nosh officially opened to the public on Wednesday, Sept. 27 at 2311 N. Murray Ave. And we paid an inaugural visit to the new sports bar and restaurant, which offers craft brews, bourbon and a menu featuring Italian-inspired bar fare, including appetizers, sandwiches and pizza, thanks to a partnership with neighbor Divino Wine & Dine.
The newly renovated space bears only a vague resemblance to its predecessor, Rascals, which sported wood-paneled walls, pool tables and a classic Milwaukee dive bar feel.
Named after Michael Vitucci's mother, Isabelle, Izzy Hops Swig & Nosh pairs cozy digs with a comfortable, laid-back vibe and sleek modern design that starts with the operational garage door that welcomes guests, along with the breeze on cool autumnal evenings.
Decor includes custom-designed light fixtures, modern art and a decorative door with a tiny window that offers a welcoming glow thanks to strategic back-lighting.
The bar's tables and long wooden bar were built from 100-year-old Wisconsin walnut, which is augmented with high-tech LED lighting which takes on an increasingly warm, inviting glow as the night wears on.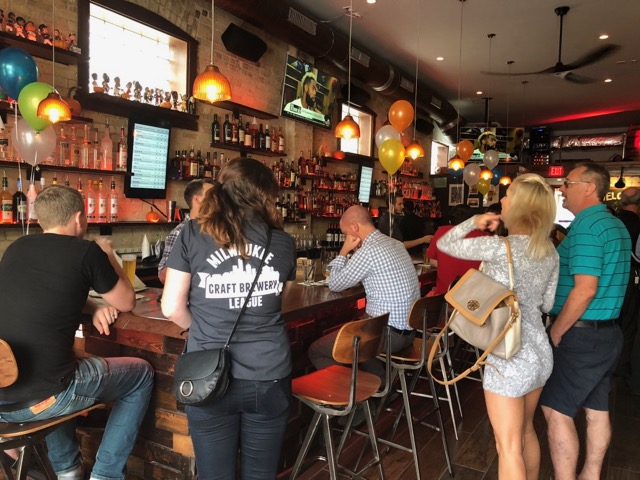 If you've come for the "sports" element of the bar, there are multiple flat screen televisions on which you can catch the latest ball games. An homage to Green Bay Packers coach Vince Lombardi on the north wall of the venue underscores the theme.
Bourbon is a specialty at the bar, which also harbors a craft beer list with selections from domestic breweries like Ballast Point, Goose Island, Flying Dog, Left Hand and Toppling Goliath, along with local shops like Lakefront, Sprecher, Third Space, Milwaukee Brewing Co., Good City and Wisconsin favorites like New Glarus, Central Waters and Karben 4.
Meanwhile, the food menu includes appetizers such as nachos, housemade chips and jumbo chicken wings (Tuesday only), as well as the immensely beer-friendly Wisconsin classic: fried cheese curds ($6.95).
There are also salads, soups, sandwiches, burgers and four types of housemade pizza, including Izzy's Creation featuring artichoke and cream cheese spread with spinach and Fontinella cheese ($18 for a 12-inch pie).
And stay tuned. Izzy Hops will be adding a brunch menu in the coming weeks, as well as Tuesday trivia and Wednesday bar bingo.
Izzy Hops is open Monday through Thursday from 4 p.m. to 2 a.m., Friday from 3 p.m. to 2:30 a.m., Saturday from 10 a.m. to 2:30 a.m. and Sunday from 10 a.m. to 2 a.m. The kitchen will be open until 10 p.m., offering a more limited late-night menu until midnight.
Lori Fredrich (Lo) is an eater, writer, wonderer, bon vivante, traveler, cook, gardener and girlwonder. Born and raised in the Milwaukee area, she has tried to leave many times, but seems to be drawn to this quirky city that smells of beer and alewives.
Some might say that she is a little obsessed with food. Lo would say she is A LOT obsessed with food. After all, she has been cooking, eating and enjoying food for decades and has no plans to retire anytime soon.
Lo's recipes and writing have been featured in a variety of publications including GO: Airtran Inflight Magazine, Cheese Connoisseur, Cooking Light, Edible Milwaukee, Milwaukee Magazine and the Milwaukee Journal Sentinel, as well as on the blog Go Bold with Butter, the web site Wisconsin Cheese Talk, and in the quarterly online magazine Grate. Pair. Share.