Mad Chicken, a locally owned fast casual restaurant specializing in chicken tenders, wings and sandwiches, officially opened its doors to the public at 2045 E. North Ave. on Friday, Jan. 10.
It's the first stand-alone brick and mortar restaurant for Mad Chicken, which was founded in 2017 as a food court concept in the Fox River Mall in Appleton, expanding to include locations at Mayfair Mall in Milwaukee as well as in Santa Ana, California.
As for what you'll find when you go, we made a trip to the restaurant earlier this week to find out.
As far as the look and feel of the restaurant, it's designed with an urban vibe. Graffiti-style art is painted on the wall above the service counter, and the music reflects a similar vibe. The space is bright, thanks to walls of windows that welcome in plenty of natural light. Seating is available for right around 25 guests at low-top tables and window side bar-style seating.
On the menu
Not surprisingly, the menu focuses on fried chicken. Options include six chicken sandwiches, including one grilled chicken option ($7.99-$9.99); Caesar, BBQ or Buffalo wraps ($8.99); four, six or eight-piece chicken tenders ($6.99-11.99); boneless or traditional wings (six to 12 wings priced $7.49-$14.49).
There are also fried chicken baskets (two, three and four-piece options with sides, priced $11.99-$14.99); a Caesar or garden salad ($9.99) and sides including Mad fries (topped with chicken tenders, shredded cheese and guests' choice of sauce ($5.99/$7.99) and sides like waffle fries, onion rings, cheese curds, jalapeno poppers, fried pickles and mozzarella sticks ($2.99-$6.99).
On top of everything, you have a choice of 16 housemade sauces including Mad Sauce, ranch, blue cheese, garlic parmesan, honey mustard, sweet chili, smokey bbq, honey barbecue, spicy Mad sauce, Mad Sriracha, mango habanero, mild, hot buffalo, xtra hot buffalo, sweet spicy bbq, gold bbq and hot honey garlic.
The experience
Service on our visit was friendly. It was apparent that employees were still learning the ropes; but we placed our order without a hitch. After that, our food took about 10 minutes or so to be prepared (not too shabby considering the chicken is breaded and fried to order); in the end, it gave us a chance to fill our cups with fountain sodas and find an open seat in the dining room.
On our trip, we tried the Mad Fire chicken sandwich featuring a half-pound of chicken tenders topped with lettuce, tomato, fried onions, pickles, cheddar cheese and spicy serrano Mad sauce ($9.99).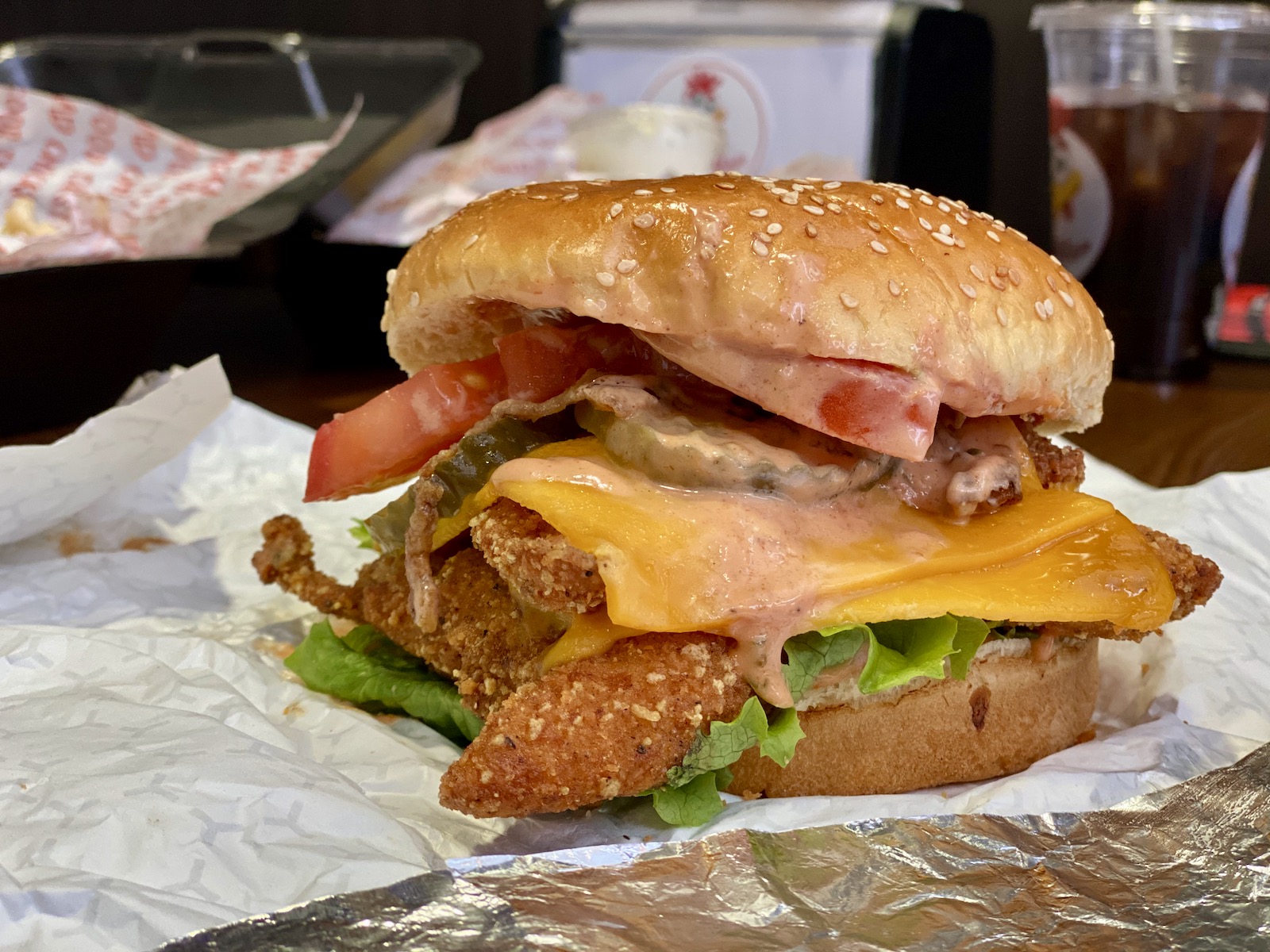 First, that sandwich was hefty; it definitely requires a two-handed grip to tackle, and it's a good amount of food for the money. It was also a delicious mess, sporting plenty of sauce (it was slightly spicy, but unlikely to shock most palates) and fresh, flavorful ingredients. The cheese could've used a few more moments to melt thoroughly, but the chicken tenders were crisp and not overly greasy, comprised of chicken breast pieces with a relatively thick breading.
A three-piece chicken basket included fries, a fountain drink, biscuit and a side of mac 'n' cheese for $12.99 (all side choices include: coleslaw, mashed potatoes, mac 'n' cheese or sweet corn). Our chicken was crisp and flavorful with a medium-thick breading and tender, nicely cooked chicken.
The accompanying biscuit was ever-so-slightly doughy in the middle, but possessed good flavor. The waffle fries were light in color, but fairly crisp and paired well with a side of housemade ranch dressing. Meanwhile, the macaroni and cheese was a bit overcooked, but very creamy and nicely flavored.
Of all the items we ordered, I was least impressed by the Mad fries ($5.99), which were short on cheese and got soggy fairly quickly. They'd likely make a decent snack after bar time. But, I'd be more likely to order a chicken tenders combo with sauce for dipping.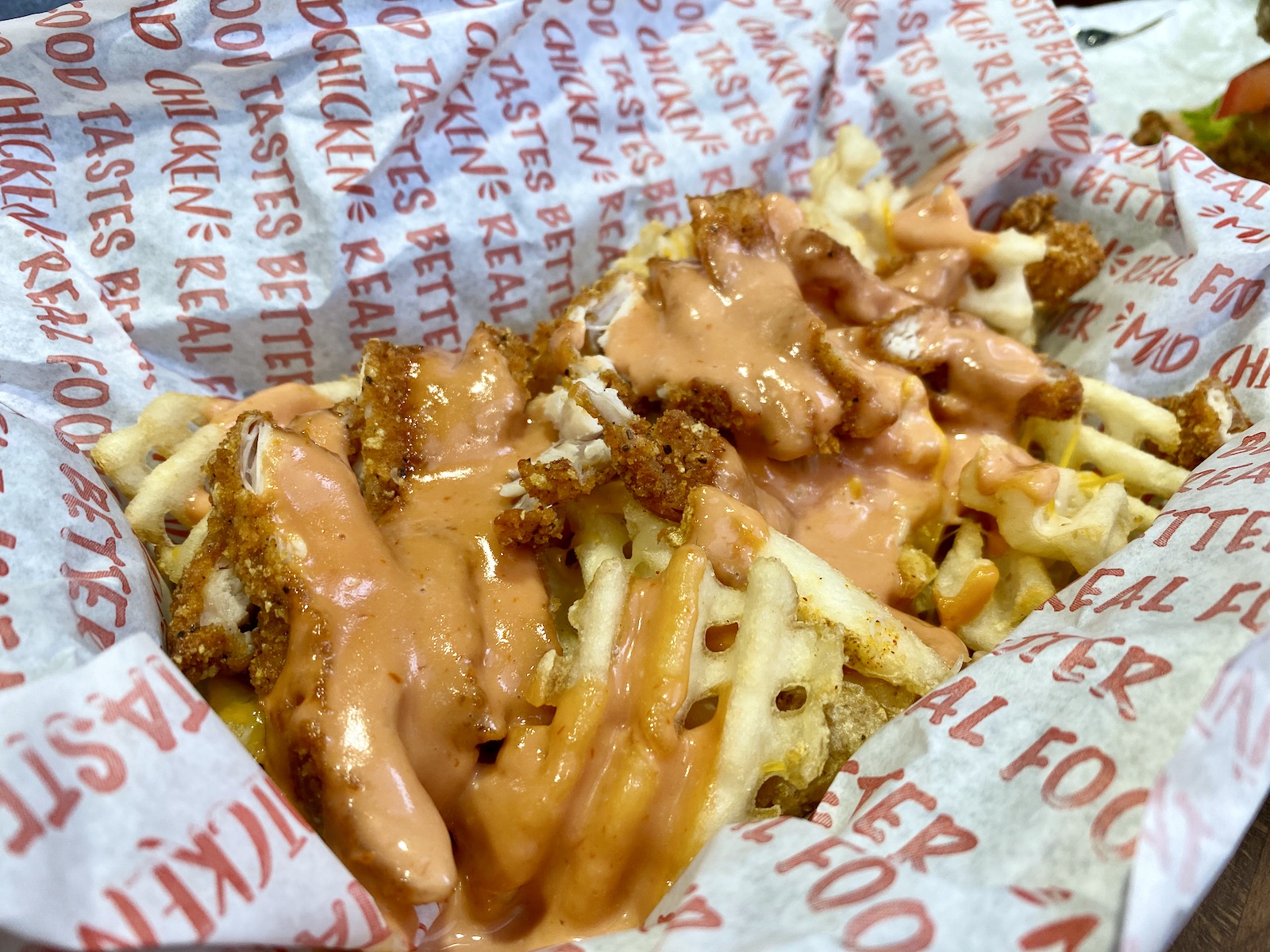 As should be expected after less than a week of operation, Mad Chicken has a few kinks to work out (so be a patient guest, and give them the appropriate time to perfect their food and service); but the quality of their ingredients was evident, portion sizes were generous, and I'd likely revisit if I was in search of a quick bite on the East Side.
Mad Chicken is open Sunday through Thursday from 11 a.m. to 2:30 a.m. and Friday and Saturday from 11 a.m. to 3 a.m.
Lori Fredrich (Lo) is an eater, writer, wonderer, bon vivante, traveler, cook, gardener and girlwonder. Born and raised in the Milwaukee area, she has tried to leave many times, but seems to be drawn to this quirky city that smells of beer and alewives.
Some might say that she is a little obsessed with food. Lo would say she is A LOT obsessed with food. After all, she has been cooking, eating and enjoying food for decades and has no plans to retire anytime soon.
Lo's recipes and writing have been featured in a variety of publications including GO: Airtran Inflight Magazine, Cheese Connoisseur, Cooking Light, Edible Milwaukee, Milwaukee Magazine and the Milwaukee Journal Sentinel, as well as on the blog Go Bold with Butter, the web site Wisconsin Cheese Talk, and in the quarterly online magazine Grate. Pair. Share.