Jump for joy(stick): After a year of waiting, Up-Down MKE, the latest player in Milwaukee's growing arcade bar scene, has finally pressed start, opening up Friday night at 615 E. Brady St. in the former Comedy Cafe space.
On Thursday night, however, the nostalgia-heavy bar soft opened for friends, family and media members, giving us a change to take a look around the massive new space – and try to set some high scores. Here's what to expect when you cash in your quarters this opening weekend.
1. Bigger is better
Even before you walk in the front door, you have your first impression: This place is humongous. The building features two floors, two patios and endless entertainment packed into literally every corner. Unsurprisingly, it took a long time to get to this point – exactly one year after we wrote our article announcing its arrival. And that's because, for the first time in Up-Down's history, they had to build up completely from level one.
"It's the first location we've ever built out from scratch, so it was a great opportunity to build something that was exactly what we wanted," said marketing manager David Hayden.
2. High-score decor
Surgeon general warning: Your eyes are going to boggle out of your skull at Up-Down – well before you're trying to avoid the dive-bombing aliens high stages deep in "Galaga." Even before you get to a video game, you're going to want to peruse the walls, covered in neon-soaked '80s and '90s nostalgia, TVs showing retro movies and wrestling matches, wallpaper slathered in classic arcade icons and even some hometown spirit – such as the above photo of some old-school Milwaukee Bucks.
"This is our fourth location, so I guess we're officially a chain," Hayden said. "But we really make an effort to make each location unique and to accentuate the local flair."
3. So many games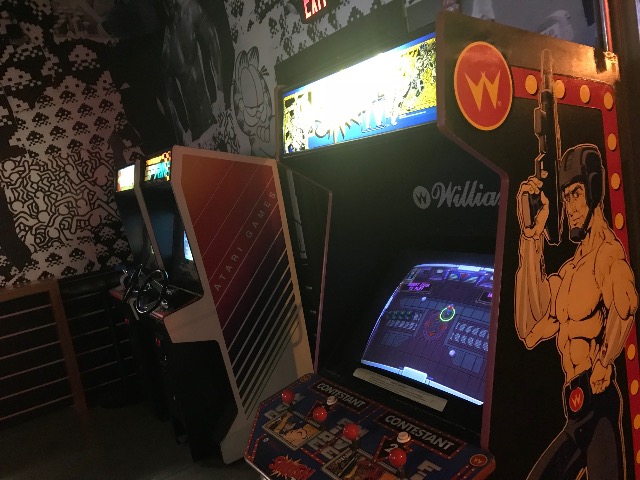 But really, the decor that matters at Up-Down MKE is the decor that you'll be playing: the video games. Upon its opening tonight, the video game bar will have more than 70 old-school arcade cabinets crammed into every possible corner and wall in the two-floor building, ranging from "Donkey Kong" to "Pac-Man" to the above "Smash TV" and many, many, many more. Each play costs a token (or 25 cents), but in case you don't have any change on you, Up-Down MKE's token machines take cash AND card. In short: Your days of spending your entire allowance at the arcade are back.
Penny-pincher pro tip, however: On Fridays, the first 100 guests through the door receive 20 free tokens, while Thursdays feature 10-cent tokens and Saturdays are two-for-one tokens until 9 p.m.
4. So, SO many games
When I said that Up-Down MKE crams arcade cabinets into every possible corner and wall in the two-floor building, I was not kidding. I found these two games wedged in between a small chunk of wall between the second floor patio and the men's bathrooms. And considering Up-Down MKE's arcade collection will be added to and rotated regularly, you'll always be finding new games to play – and new high scores to pursue. For the current list, visit Up-Down's website.
5. Multiplayer power
As if you need an excuse, gather up your buddies for your visit to Up-Down MKE because they've got pretty much every one of your favorite multiplayer arcade games from youth – from "X-Men" to "Turtles in Time" to "The Simpsons" and much more. And if your friends are tired of you kicking their butts, the open space gives plenty of room to wander around, explore and join back up for round two.
"We're very different from most concepts," Hayden said. "You don't sit walled off in a booth. You come with friends, but you go off and do your own thing. And you mingle with friends and strangers. It's fun for everyone."
6. New-school old school games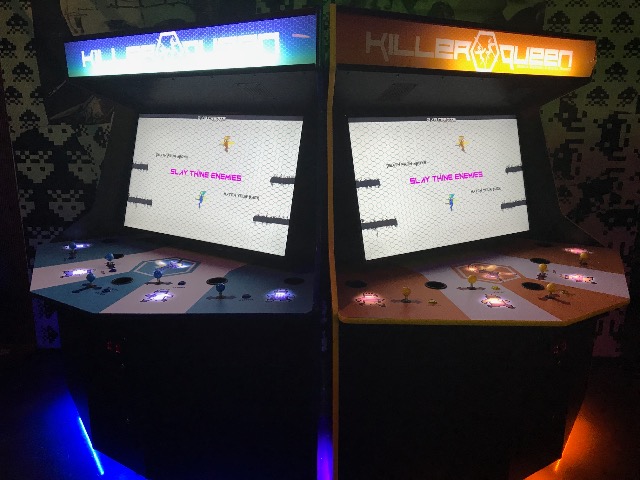 One of the games Up-Down MKE is most excited to showcase is ironically enough one of the newest in its collection: Killer Queen. Though the 16-bit animation looks retro, this is a new breed, serving as the first five-versus-five arcade game.
"It's everything we want from an arcade game in this day and age," Hayden noted. "Coming together with strangers and friends to play together: It's an element that's been missing from culture for a while."
7. Pinball wizard
Why not take a break from all those arcade games ... and play some pinball games! Up-Down MKE features 14 machines in its first days, featuring popular names like "Family Guy," "Game of Thrones," "Tron" and more. And if you're wondering, "Hey, there's only seven pinball tables in this photo" ...
8. Even MORE pinball wizard-ing
That's because the rest are upstairs on the arcade bar's second floor. I cannot emphasize enough how big this place is and how many arcade games are packed into this building. You've died and gone to retro heaven.
9. N64-ever
Home video game consoles may have killed the arcade back in the day, but at Up-Down MKE, the two live in perfect harmony. Case in point: Near the front door, the bar will feature an N64 with classics like "Mario Kart" ready to play.
10. Skee ball and Goldblum
If you want to kick it REALLY old school, you can ditch those fancy screens and pixels and roll some old-fashioned balls at old-timey targets with these four skee ball lanes – complete with shirtless Jeff Goldblum watching on in approval.
11. The BFB (Big Effin' Bar)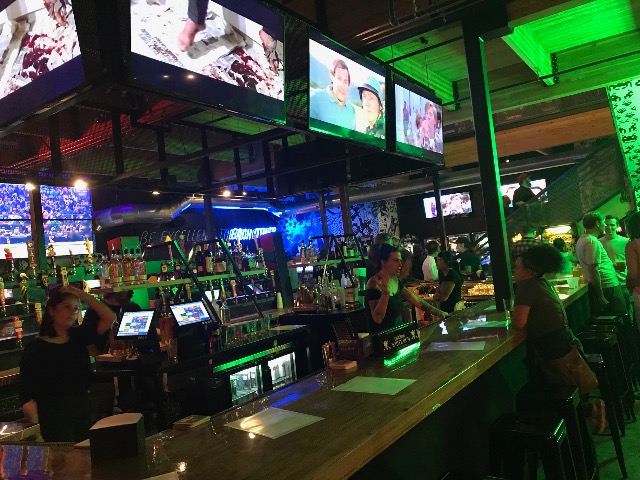 All that arcade action is sure to work up a thirst. Luckily, this massive space features an equally massive bar featuring more than 60 beers to help refuel in between levels. For the entire beer menu, check out Up-Down MKE's website.
And in case that's not enough, the second floor also features a bar of its own with more than 30 beers on tap. With all those brews available, unsurprisingly Up-Down MKE is exclusively a 21-and-over bar – and everyone gets carded regardless of age, so make sure to bring your ID or you'll be gulping down a big foamy glass of FOMO instead.
12. Ready patio one ... and patio two
There's so much exciting stuff packed inside the building that we haven't even gotten to the stuff outside Up-Down MKE: its two patios, one for each floor and each equipped with classic backyard games like giant Connect Four and Jenga.
13. A few bugs in the system
As expected for the soft open of a massive new bar with dozens upon dozens of old arcade games to monitor, there were a few glitches in the system. I had some issues with the controls on Robotron 2084, for instance, and the fire button on Galaga didn't shoot as fast as I'd hoped. (Though there's also a good chance that I just haven't played in a while and now suck.) But as mentioned before, Up-Down MKE will be rotating games in and out regularly and surely repairing any that take a beating. (And considering how much deserved excitement there is around the new bar, I imagine they'll take QUITE the knocking.)
In addition, the soft open didn't feature the bar's food options, but the menu – featuring pizzas by the slice as well as salads for those who want to play like a crazy kid but eat like a responsible adult – is coming soon.
"Pizza is handheld, so you can manage it while you're doing other things," Hayden said. "We serve it by the slice, so there's no waiting. And our menu features some pretty unique styles. Everything from a chili dog pizza to a loaded baked potato pizza, along with the standards."
14. Come on and Jam
So what are you waiting for? Oh ... it's not open right now. But Up-Down MKE will have its grand opening tonight at 5:30 p.m., with 20 free tokens for the first hundred people through the front door. From there, the new Brady Street bar will be open Mondays through Fridays from 3 p.m. until 2 a.m., as well as Saturdays and Sundays from 11 a.m. until 2 a.m. For more information on Up-Down MKE's games, beers and specials, visit its website.
As much as it is a gigantic cliché to say that one has always had a passion for film, Matt Mueller has always had a passion for film. Whether it was bringing in the latest movie reviews for his first grade show-and-tell or writing film reviews for the St. Norbert College Times as a high school student, Matt is way too obsessed with movies for his own good.
When he's not writing about the latest blockbuster or talking much too glowingly about "Piranha 3D," Matt can probably be found watching literally any sport (minus cricket) or working at - get this - a local movie theater. Or watching a movie. Yeah, he's probably watching a movie.