Midwest BikeShare announced its second kiosk opening today, and the city is abuzz about it (or maybe it's bubbling about it?), so I had to check it out. After signing up online and plunking down the membership fee (you can save $10 on your yearly pass with discount code: bublrnow), I went to checkout my first bike. While there, I saw Kevin Hardman, the launch director for Midwest BikeShare.
"Looking good," I told him. "I love the name: Bublr. It's friendly. It makes this program sound fun."
The name Bublr was derived from the Wisconsin-centric slang for "drinking fountain," which helps localize the program within the community.
"We wanted to make it sound easy," Hardman said, who mentioned that even the term "bike" can be intimidating. "Don't ride a bike, ride a Bublr."
So I did.
The checkout process was easy. Just insert the card you used to sign up, and follow the on-screen instructions. If you haven't signed up online, you can pay a daily fee at the station.
"Some of the instructions need slight updating," Hardman noted. "We're still working to make it more user friendly."
The main problem is that even when you have a membership, the screen still incorrectly says you'll be charged a daily fee, which is not true.
"Soon we'll be mailing out keyfobs," Hardman said.
Keep your card in your wallet; these keyfobs will replace the need to interact with anything besides the bike you want to borrow. Just wave it over the sensor of the bike you want and "beep beep beep," the bike is yours to ride.
The Bublr bikes are designed to be more upright and sit the rider in a comfortable position. The seat height can be adjusted with the flip of a lever. Each bike comes equipped with fenders, skirt guards, chain guards, a rack, a built-in lock and a bell.
I had a bag with me, so I threw it in the basket at headed out.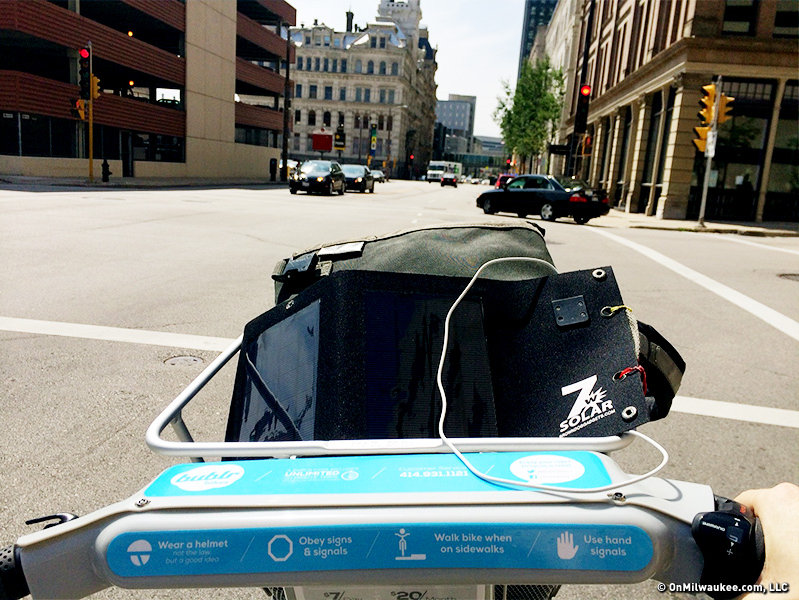 The inital start was a little different than my preferred bikes. With the upright fork, it felt a little twitchy. I attributed part of this to my bag in the basket, but after half a minute, I was sailing along very comfortably. I Bubl'd around Downtown for about 10 minutes getting a feel for the machine and then decided to check out the only other available kiosk: the lakefront. There is a short term plan to get at least 10 kiosks up and running before the end of the summer, and a long term plan to have 40 or more in the next year or so.
Going to the lakefront meant going up and down some of Milwaukee's meanest hills.
The bikes are equipped with three-speed grip shifters and internally geared hubs. With these shifters, you don't have to worry about misaligned derailleurs or complex combinations of gears. Three speeds: easier, cruising and faster. These proved sufficient for Milwaukee's reasonable sized hills (though, in my opinion, you can never have too many gears).
The brakes are a kind of roller or drum brake, which makes maintenance easy, but were not sufficient for my faster, more aggressive riding style. They just stopped too slowly for my taste.
The built-in lock will likely be the biggest learning curve. You have to know where to plug it in to make it lock and figure out where the key comes out. But master this problem, and you'll have figured out the hardest part of the program.
As I cruised along, I thought about my own bikes and whether it would make sense for me to continue subscribing to the bike share. Do I need to rent when I already own?
It certainly seems useful for a lunchtime run to restaurants that are just slightly beyond walking distance. The basket also makes sense for small grocery store runs. If I'm out on my own bike and get a flat, Bublr bikes could save the day. I wouldn't have to leave my bike unprotected and vulnerable at the intermodal station or airport for long periods of time when I leave the city, and I wouldn't have to wait for someone to pick me up.
Yeah, I think I'll keep it. I'm looking forward to the day when the city is busy (or fizzy?) with Bublr bikes.
Jason McDowell grew up in central Iowa and moved to Milwaukee in 2000 to attend the Milwaukee Institute of Art and Design.
In 2006 he began working with OnMilwaukee as an advertising designer, but has since taken on a variety of rolls as the Creative Director, tackling all kinds of design problems, from digital to print, advertising to branding, icons to programming.
In 2016 he picked up the 414 Digital Star of the Year award.
Most other times he can be found racing bicycles, playing board games, or petting dogs.