If you're at all interested in internationally inspired cuisine, you're likely to be drawn in by Easy Tyger's tagline "eat the world." And that's OK because the phrase aptly sums up the diverse small plates offerings at this new East Side destination, located at 1230 E. Brady St.
Walking into the restaurant, just about any diner will be impressed by the attractive decor, which includes exposed cream city brick with charming wood accents, hip artwork and a bright, partially exposed kitchen with a community table that overlooks the action. Comfortable bar seating, a mix of high and low-top tables, along with cozy booths along the back wall make for a variety of dining experiences, none of which seems better or worse than the others.
Small plates
Our group easily plowed through about half of the delicious small plates on the "street food inspired" menu, which includes offerings from a variety of locales including Africa, Greece, Hungary, Scandinavia and Asia. All were relatively easy to share, but a single diner could readily make a meal from options which range from fresh salads to composed dishes that eat like small entrees.
We opted for a bottle of relatively well-priced Primitivo ($27) from Easy Tyger's nicely curated international wine list. But there are also plenty of additional choices, including a nice selection of sake, creative takes on classic cocktails and a lengthy list of both international and domestic beers, both on tap and in bottles.
On the food side, we started our journey with grilled halloumi salad ($8), a fresh balanced dish featured a portion of the salty Greek cheese, grilled and laid to rest atop a bed of roasted beets with greens, supremed citrus and lemon-yogurt dressing. A sprinkling of hazelnuts adds crunch and richness.
Meanwhile, house-cured gravlax ($13) is a fresh flavored dish featuring creme fraiche, slices of new potato, crisp house crackers and salmon roe.
Pig ear nachos ($5) – a dish that has the potential to become an Easy Tyger classic – are a delicious excursion featuring tender-but-crisp shreds of pig ear topped with pickled chiles, lime crema, radish slices, cilantro and cotija cheese.
Quick cured duck forms the basis of the duck pastrami dish ($15), a deconstructed New York style sandwich which eats like a salad. The pastrami spiced duck is served atop dark rye panzanella with a mustard seed vinaigrette and a drizzle of Gruyere soubise forming a rich, satisfying dish with lots of character.
Meanwhile, piri piri chicken wings ($8) are tender and meaty, sauced with traditional Portuguese pepper and garlic sauce that's definitely spicy, but also savory and flavorful. The wings are served atop a sweet potato slaw with cilantro-yogurt dip that can quite effectively cut the heat of the piri piri, if you're so inclined.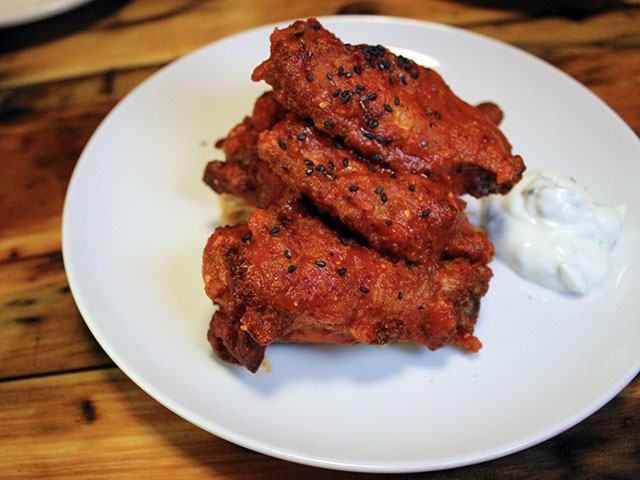 Tender Mediterranean style octopus ($14) is sliced and served up with a delicious array of eggplant, tomatoes, capers, fennel and watercress that's dressed with sherry vinegar and marcona almonds. Use the grilled bread to sop up every last bit of the piquillo pepper puree that lies underneath; it's well worth the effort.
On the Asian side of things, there are the soft chewy steamed buns ($8) filled with flavorful char siu beef brisket, cucumber kimchi (oi sobagi), daikon and spicy mayo.
Or you can indulge in the pork tonkatsu ($13), a popular Westernized Japanese dish featuring tender panko-crusted fried pork that's served, in this case, atop chewy udon noodles bathed in pork broth and seasoned with shishito peppers red shiso.
Dessert
I wouldn't necessarily say it's always the case, but at Easy Tyger you definitely should save room for dessert (priced right around $6). After all, there's the lemon tart, which strikes a perfect balance between sweet and puckeringly sour.
If you're looking for something traditional, opt for the pumpkin pie which is classic in its execution, but topped with a sweet drizzle of caramel sauce and a smattering of peanuts.
And if you're looking for a chocolate fix, we'd highly recommend the chocolate ganache tart. Dress up the infinitely rich dessert with a scoop of Purple Door lavender lemon ice cream, which is a striking complement to the rich, bittersweet chocolate.

Easy Tyger is open Monday, Wednesday and Thursday from 11 a.m. to 11 p.m., Friday and Saturday from 11 a.m to 12 p.m. and Sunday from 10 a.m. to 9 p.m.
Lori Fredrich (Lo) is an eater, writer, wonderer, bon vivante, traveler, cook, gardener and girlwonder. Born and raised in the Milwaukee area, she has tried to leave many times, but seems to be drawn to this quirky city that smells of beer and alewives.
Some might say that she is a little obsessed with food. Lo would say she is A LOT obsessed with food. After all, she has been cooking, eating and enjoying food for decades and has no plans to retire anytime soon.
Lo's recipes and writing have been featured in a variety of publications including GO: Airtran Inflight Magazine, Cheese Connoisseur, Cooking Light, Edible Milwaukee, Milwaukee Magazine and the Milwaukee Journal Sentinel, as well as on the blog Go Bold with Butter, the web site Wisconsin Cheese Talk, and in the quarterly online magazine Grate. Pair. Share.