We've had the special opportunity to cover the progress of the Bartolotta-managed restaurants at the Mayfair Collection from start to finish, including their design and build-out. And, after months of meetings, design conversations and construction, the second of the three restaurants is preparing to open.
Taqueria El Jefe will open on Tuesday, June 21 at 11200 W. Burleigh St., and we got an exclusive peek at the finished product, along with a glimpse into the journey to completion.
The journey
For eight weeks, we made weekly trips to the construction site to take note of the progress being made on the restaurant. And here's a bit on the transformation we witnessed.
The eats
From house-made corn tortillas to vertically broiled meats, Taqueria El Jefe will offer up fresh, simple fare that's perfect for folks on the go.
According to Zach Espinosa, executive chef for the Mayfair Collection restaurants, tacos will be priced between $3 and $6. Traditional tacos will feature fillings like pastor-style pork, pork belly and chicken, which will be roasted over two spits behind the service counter. Barbacoa made with brisket and oxtail will be another feature, along with carne asada.
There will also be more "chef-inspired" options, including a vegetarian taco featuring fried poblano, potatoes and mushroom mole with avocado crema and crispy potato shreds.
Fried shrimp, calamari and jerk duck tacos will also be on the list of a rotating list of about 30 varieties which will roll out over the next few months.
Espinosa says he's especially excited about El Jefe's version of the sincronizada, a tortilla sandwich of sorts featuring melted cheese, shaved ham, mustard mayonnaise and crispy potato shreds.
"I love this one," Espinosa notes. "It's totally like Mexican drunk food. It's so super authentic, but it's a relatively unfamiliar thing in this area."
There will also be a Friday fish fry taco and a children's menu featuring options like quesadillas. Sides will include chips and salsa, guacamole and beans, as well as desserts such as churros served with three sauces (chocolate, mango and dulce de leche) and puerquitas, which are adorably decorated pig-shaped cookies.
On the beverage side, there will be a variety of fountain drinks, specialty sodas, agua fresca and margaritas.
The atmosphere
Orders are taken at the counter at El Jefe, where customers will be able to see their tacos being made.
Although it's a fast casual joint, that doesn't mean there won't be places to linger. You can take your seat at one of the bright booths along the windows.
Or grab a chair at one of the tables. There is also counter seating if you'd like to get a view of the action behind the counter.
And there will be outdoor seating at picnic tables near the entrance, if you'd prefer to eat your tacos in the open air.
Taqueria El Jefe will be open from 11 a.m. to 10 p.m. daily, beginning Tuesday, June 21.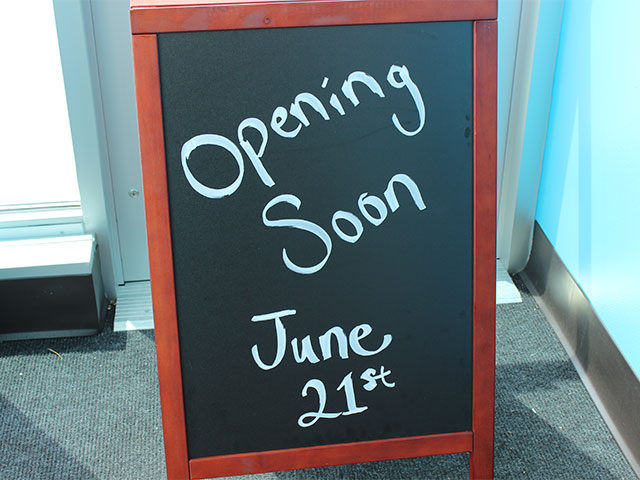 Lori Fredrich (Lo) is an eater, writer, wonderer, bon vivante, traveler, cook, gardener and girlwonder. Born and raised in the Milwaukee area, she has tried to leave many times, but seems to be drawn to this quirky city that smells of beer and alewives.
Some might say that she is a little obsessed with food. Lo would say she is A LOT obsessed with food. After all, she has been cooking, eating and enjoying food for decades and has no plans to retire anytime soon.
Lo's recipes and writing have been featured in a variety of publications including GO: Airtran Inflight Magazine, Cheese Connoisseur, Cooking Light, Edible Milwaukee, Milwaukee Magazine and the Milwaukee Journal Sentinel, as well as on the blog Go Bold with Butter, the web site Wisconsin Cheese Talk, and in the quarterly online magazine Grate. Pair. Share.