Fiserv Forum is officially ready for its first summer in Brew City as today Deer District unveiled the new arena's latest feature: The Fountain, located on the south end of the plaza in front of the Bucks pro shop and the large "Bucks" sculpture/seating area.
Geysering every day from 10 a.m. until 5 p.m. through Labor Day, The Fountain at Deer District – designed as three individual circles of shooting water – can reach up to 10 feet high and features LED lighting to provide a color-changing light show as long summer days turn into dusk.
"Sustainability is one of our focuses," said Bucks president Peter Feigin, at Friday morning's announcement. "This fountain is a self-contained, recirculating system ... It's a great entryway as we enter the District south-wise."
But as Feigin noted during the press conference, the real fun of a fountain is watching it in action, so here are some photos from The Fountain at Deer District's debut (or, as one very smart Bucks fan has already dubbed it on Twitter, "Splash Fountain"):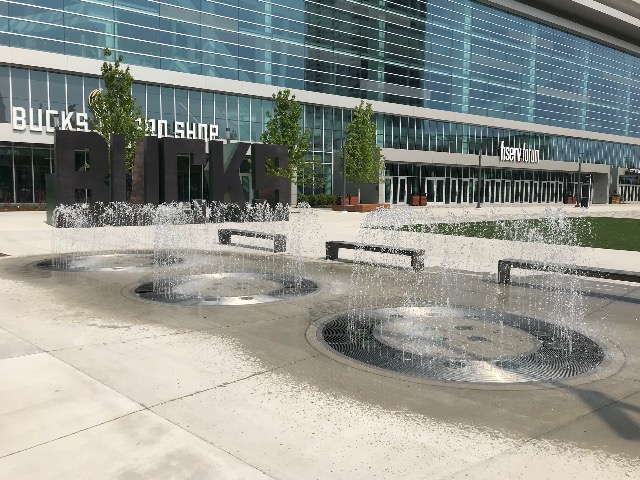 For those confused about how to best utilize the new Fiserv Forum water feature this summer, here's Peter Feigin with a helpful and delightful demonstration.
You will love the new fountain at @FiservForum @DeerDistrict as much as @pfeigin does. #DeerDistrict #onmilwaukee #greatmkesummer

Our @aManAboutFilm will give you details soon. 😍 pic.twitter.com/apXMbYUIzo — OnMilwaukee (@onmilwaukee) May 31, 2019
As much as it is a gigantic cliché to say that one has always had a passion for film, Matt Mueller has always had a passion for film. Whether it was bringing in the latest movie reviews for his first grade show-and-tell or writing film reviews for the St. Norbert College Times as a high school student, Matt is way too obsessed with movies for his own good.
When he's not writing about the latest blockbuster or talking much too glowingly about "Piranha 3D," Matt can probably be found watching literally any sport (minus cricket) or working at - get this - a local movie theater. Or watching a movie. Yeah, he's probably watching a movie.