So you've got your tickets for an upcoming Milwaukee Bucks game or Marquette game or big concert at Fiserv Forum. Now ... how do you actually GET your tickets?
You may have heard inklings during the opening days of Fiserv Forum that the arena was going paperless when it comes to your actual tickets – meaning they've all gone digital, with no more printed PDF tickets or anything like that. According to Jamie Morningstar, senior VP of ticket sales and service for the Milwaukee Bucks, they're far from the only place going in this ticketless direction, as venues and festivals across the country and globe nix paper stubs and PDFs.
"The main reason is that, from a security purpose, it lets us know more about who's in the building and help from that standpoint," Morningstar explained. "It also helps us help people track their seats. We used to hear, 'I can't remember who I gave my tickets to Sunday against the Hornets to,' and we would have no way to share that with them. Now we can help them figure it out.
"Part of it is also to eliminate fraud. As we continue to have an international superstar and a team on the rise, more people are going to try to take advantage of that. So the elimination of PDFs eliminates a ton of that."
So that you've got the rationale, it's time you got your tickets – and to help out, here's a step-by-step guide to accessing your admission and gaining entrance into your next exciting Fiserv Forum event. (For a bonus video tutorial to guide to getting your tickets, click here.)
1. Download the Milwaukee Bucks app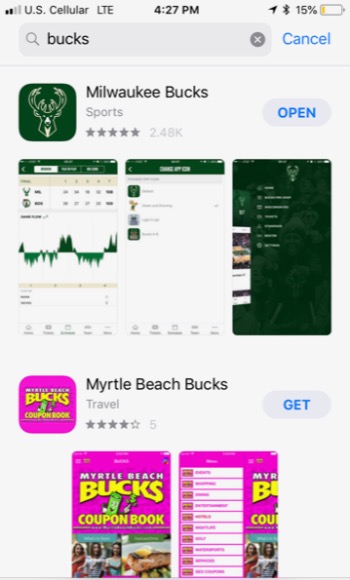 All of your tickets – Bucks games, Fiserv Forum concerts, Marquette games – are accessible through the Milwaukee Bucks app. So go to the App Store – or the Google Store, for Android users out there – find the Bucks app and download it onto your mobile device. Don't worry; the app is totally free.
2. Hit the "Tickets" tab
When you first open the app, you'll see a lot of Bucks stuff: the score of the latest game, the latest news about the team, etc. If you're looking for your tickets, however, you'll want to look to the bottom of the screen at the menu bar and tap the "Tickets" tab that's second from the left.
3. Hit "MyBucks Account"
There's plenty of stuff in the tickets section – 2D and 3D maps of Fiserv Forum, parking info – but when it comes to accessing your actual digital tickets, you'll want to hit the top box that says "MyBucks Account."
4. Create an account
If you already have a MyBucks account, feel free to skip this step. Just hit that top box on the screen similar to above, put in your name and password and – boom – you're in.
However, if it's your first visit to a game or concert at Fiserv Forum, you'll likely have to create an account. To do that, click "forgot password" below the "Sign in to Bucks" button. That'll take you to the full ticketing site. From there, click "Sign in." It'll ask you for your sign in and password – or, what you're looking for, the prompt to create a new account. You don't have to enter in any sensitive info – just your first and last name, email address and password of choice. And congrats, you now have your key to your MyBucks account – and to all your Fiserv Forum event tickets.
5. Log in
Now that you have your account – or if you already had an account – head back to the Bucks app and log in with your information. Then you're in!
6. Choose your event
Welcome to all of your tickets! Simply click on your event of choice. From there, you'll find a screen like the one above. That's your ticket! There's lots of options on this page – from sending the ticket to a friend or reselling the ticket on a verified site – but in order to actually use it at Fiserv Forum, hit "View barcode." That'll pull up the scan-able QR code that the usher will ring up on your way into the building.
Considering all the people coming through the gates for a game or an event, Morningstar does recommend putting your ticket into either your Apple Wallet or Google Wallet so that way it's quickly accessible right away without worrying about your phone's connection or anything like that. To do that, just hit the "Send to Apple Wallet" prompt and follow the instructions – and it'll be saved, no worries, in your digital wallet, easy to pull up with little hassle or wait for those behind you in line.
7. Enjoy the show/game!
That wasn't too hard! And now here's the easiest part: enjoying the show or the game!
Now, let's say that you own a flip phone or your mobile device died while you were enjoying a beer before the game or you don't own a computer and you don't have a library card and internet cafes haven't existed since around Y2K. You can still definitely get into Fiserv Forum.
"You can give us a call, and we have solutions for those folks. At no point is this technology meant to prohibit any type of person from getting into the building," said Morningstar, explaining that they can print off tickets or verify your tickets on location at Fiserv Forum for those in need. But they handle these all on a case-by-case basis – and honestly, that'd be more of a hassle than simply downloading an app, making an quick account and hitting a few buttons.
So just follow these steps, and you're in Fiserv Forum!
As much as it is a gigantic cliché to say that one has always had a passion for film, Matt Mueller has always had a passion for film. Whether it was bringing in the latest movie reviews for his first grade show-and-tell or writing film reviews for the St. Norbert College Times as a high school student, Matt is way too obsessed with movies for his own good.
When he's not writing about the latest blockbuster or talking much too glowingly about "Piranha 3D," Matt can probably be found watching literally any sport (minus cricket) or working at - get this - a local movie theater. Or watching a movie. Yeah, he's probably watching a movie.